Priddy Ugly is a great example of how difficult it is to make it as an independent rapper in South Africa.
---
Last year, the man had one of the most solid releases with his EP You Don't Know Me Yet (we listed it among the best South African hip-hop albums of 2016).
His music videos—especially the one for "Cocaine Ghost"—are impressive and put your faves to shame. His acrobatic antics on stage put him up there with your Cassper Nyovests and AKAs. Yet his music has struggled to go beyond the virtual realm, into mainstream radio and TV, with all the mainstream appeal it has.
Even though he was a loyal disciple of independence, as expressed in interviews and his music earlier this year, Priddy Ugly finally signed a record deal with Ambitiouz Ent, home to Emtee, Saudi, Sjava, Amanda Black and previously A-Reece, Fifi Cooper, among others.
"At times I don't even feel like I'm signed," the 24-year-old rapper explains to me just before a late night studio session in a home studio in Midrand, Johannesburg, a space he personally prefers working from. "The difference is now I have a team behind me that makes sure things are happening, and we have people like you coming. I've been in the game for like 12 years, but it's the first time that I'm focusing solely on making music."
Independence was tough—getting airplay was near impossible, which meant less bookings. He had a small team that was difficult to sustain, as not everyone made money. He had to drive himself to shows and do his own admin.
Ambitiouz Ent offered him a deal that he was happy with, as opposed to other offers he'd been given before.
Just after announcing his signing to the label, Priddy Ugly released a remix of his single "In The Mood." The remix, which features label mate Saudi, is his biggest song to date. It's playlisted on most major South African radio stations and is currently sitting on close to 300k YouTube views.
Producer Wichi 1080. Photo by Sabelo Mkhabela.
Even though the rapper performs frequently and had made appearances on albums and singles by the likes of DJ Sliqe, Xtatic, Frank Casino, and Big Star, he hasn't been this busy his whole career. He tells me he's feeling insecure about his body, as he hasn't been hitting the gym as regularly as he'd like to.
Tonight, he's recording songs for his upcoming album, EGYPT, until the early morning. He has an 8AM flight to Durban to promote the "In The Mood" remix and a campaign for his label mate LaSauce's music video, which Priddy Ugly and his actress, dancer and TV presenter girlfriend of close to 10 years, Bontle Modiselle were part of.
Thanks to the campaign, the past few days have been hectic for the rapper. The video shows Priddy Ugly and Modiselle on their wedding day, starting with him proposing to her. The photos leading to the video's release caused a huge stir on social media and media at large (as it happens when personalities get married). What caused the controversy, however, was when the lovebirds announced there was no wedding, it was all just for a music video.
"Journalists and friends have been calling asking about the marriage, but I couldn't really say anything until the video came out," Priddy Ugly says as he puffs on a blunt before recording the adlibs and backup vocals for his next single, a song called "Tshela," which he says has been in the works for almost two years. On the song, Priddy Ugly raps mostly in vernacular—a mixture of SeTswana, SeSotho, IsiZulu and Tsotsitaal. Priddy Ugly's music up until now has mostly been in English, except for a few vernacular phrases thrown sporadically on some songs.
Bontle Modiselle and Priddy Ugly. Photo by Sabelo MKhabela.
He knows that fans will feel Ambitiouz Ent has changed him. The label is known for the subgenre ATM—African trap music, in which artists rap and sing mostly in vernacular over trap beats.
The rapper couldn't release "Tshela" two years ago because he wasn't comfortable with the amount of vernacular lyrics it contained, he mentions. He felt rapping in English increased the chances of his music being exported.
"The idea was cool," he says, "But the approach wasn't. I can't expect to be bumped overseas before people care about me here. I was just hoping someone from the States would hear me, but no, it's not gonna work like that. You need to make an impact where you're from first so that, even when you land there, you're like 'I'm an award-winning artist, I did this, I did that,' and they look at the Insta, and take me seriously. It wouldn't help if I landed in the States and told Young Thug 'I'm the nigga that did "Cocaine Ghost."' He would be like 'fuck outta here.'"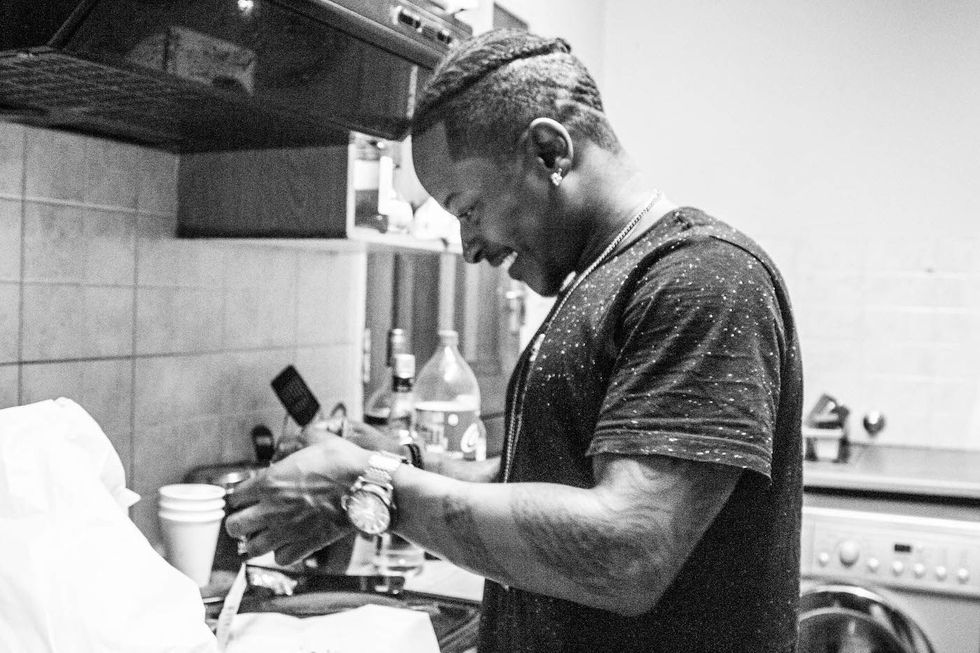 Priddy Ugly during a studio break. Photo by Sabelo MKhabela.
But he's still looking into breaking into the international market. Just in the meantime, he's focusing on building in South Africa, where visibility is long overdue for him.
The rapper and his producer Wichi 1080 have blessed their niche fanbase with a blend of hip-hop that's hard to box, let alone describe. Priddy Ugly's delivery is a combination of whispering, singing and conventional rapping. His enunciation and aggressive emphasis of some syllables when he raps make sure he sounds like no rapper you've heard before. He stays on-beat like the instrumentals are created around his voice instead of him picking beats.
Wichi 1080 conjures magic by combining deep bass lines with a selection of pads and synthesizers—the ingredients for any trap hit. Only his beats don't necessarily sound like what you hear everyday. There's something special about his knock of his bass lines and the fluidity of all the other elements he uses.
"I used to play drums for a Christian rock band," says Wichi as he connects his laptop, preparing for tonight's session.
His history as a drummer explains his beats leading with eardrum-wracking kicks and 808 snares, while the high-time hi hats give Priddy Ugly direction of what flows to use. There's a chemistry between the two—they have plenty of inside jokes to a point where it feels like they have their own language. They met while studying sound engineering, which Wichi dropped out of on his second year.
Wichi 1080 and Priddy Ugly. Photo by Sabelo Mkhabela.
Right now, the producer, who was born in Zambia but grew up in Midrand, is playing one of those pieces of magic while Priddy Ugly gets ready to perform a ritual—taking a few shots, as he does before every recording session. "I'm not a heavy drinker, but this is to set the mood, so we are not tense," he says.
The studio, owned by artist and producer Thaiwanda, consists of nothing but studio monitors, a PC, and a condenser microphone. Modiselle's face is lit up by her phone which she is staring into as she sits in in the session. This is normally how studio sessions go—the two are inseparable. Wichi 1080 is nonchalantly telling me he's still trying to figure out the project's direction sonically. He is unfazed, and is optimistic fans will "get it."
Priddy Ugly at Hipnotik Festival in Swaziland. Photo by Sabelo Mkhabela.
Trapsoul artist KLY, whose EP KLYmax was produced entirely by Wichi 1080, was recorded in the same room. So was You Don't Know Me Yet. Priddy Ugly tells me the project, excluding the singles which were already out such as "Boola Boot," "Hunnids" and "Cocaine Ghost," was recorded in one weekend. He admits it was rushed, as he was chasing a deadline. "We started Thursday night, and were done by Monday morning," he says. He embellished it and released it as 15-track deluxe with additional features a few months later.
The EP cemented the rapper's spot as one of the best of his generation. It caught the ear of Ambitiouz Ent's CEO who, at first, was in talks with the rapper to re-release it.
"He told me You Don't Know Me Yet is a gold-selling project. There are some songs on there that we can put on EGYPT. But for me it was like I'm not in the same mind state anymore. It's unfortunate that a lot of people won't get to hear it (YDKMY). But I'm hoping that when people hear EGYPT, they will go back and dig for it. But when it comes to putting on some songs from it, nah. Maybe a song like 'Ambition' because it's very close to me. Maybe 'Thula Mama.' But I feel like the music I'm putting out now sounds better anyway."
Priddy Ugly performs at Boogie Boutique in Cape Town. Photo by Sabelo Mkhabela.
He's confident about EGYPT, which will have a maximum of 12 tracks. He's also in no rush this time—the label didn't give him a deadline. Even though the rapper loves the nation of Egypt (he has a tattoo of King Tut), the album has nothing to do with it."EGYPT" is an acronym for "Everything Great Yearns Patience and Time," a mantra he lives by.
A song that he's working on tonight that catches my attention is produced by Lunatik, the same producer behind K.O's game-changing mega hit "CaraCara." The track, in which Priddy Ugly chants "smokolo, smokolo" on the hook has a kwaito feel. It's Priddy Ugly like you've never heard before. Imagine a warmer and slower version of "Ugogo" by rapper MaE.
Then there's a song called "Piki" on which he features Emtee, who he's been meaning to work with for a long time. It's a continuation of "Tshela." "It's about weed and pussy, nothing important," he says. On the song, Emtee sounds like the trap god that he is, auto-tune and all, over low-creeping pads and a dark bass line. You can smell the lean through the studio monitors.
"It's about the fine things in life," says Priddy Ugly about the song, "It's about finessery. It's rider music, for the club. We've performed it a few times in clubs, and it gets lit."
Priddy Ugly at Hipnotik Festival in Swaziland. (GIF by Sabelo Mkhabela)
And it always gets lit when Priddy Ugly performs. His history as a krumper (he was part of the once popular krumping crew Freeze Frame in the early 2010s), gave him reflexes for life. He's light on his feet on stage, and stomps the floor with an aggression that matches his songs. "I don't even realize I'm dancing on stage," he says, "I'm just feeling my songs and vibing to them."
At a point in time, dance came first before rapping. "I come from a history of battle rap," he says. "I was in grade 8 and battling matrics in my high school. It was fun times. We had just watched 8 Mile, and everyone was rapping and battling in school. And the dancing came from Stomp The Yard, and all the other dance films that followed."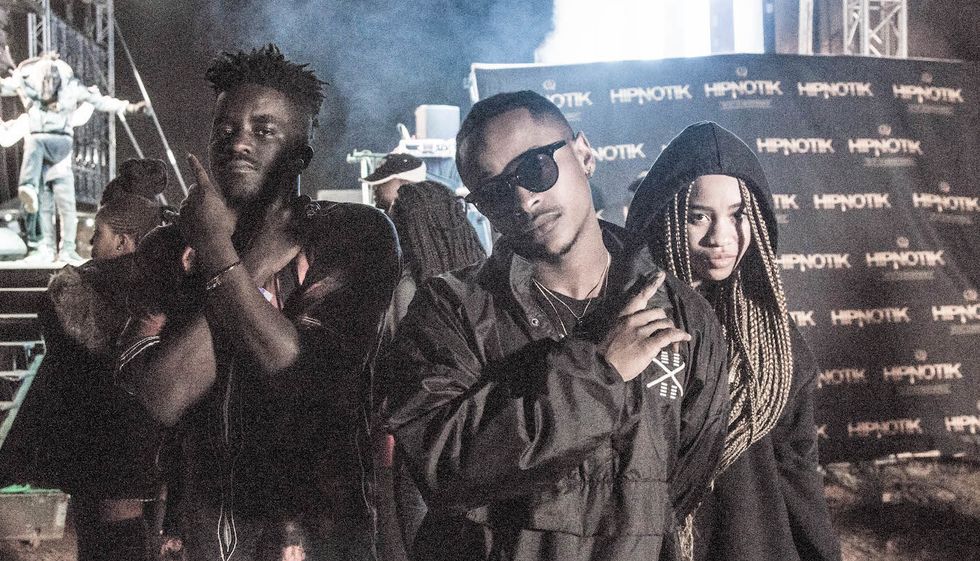 Wichi 1080 and Priddy Ugly backstage at Hipnotik Festival. Photo by Sabelo Mkhabela.
For a few years, krumping was big in South Africa—even bigger than rap music. Events like Masters Of Rhythm attracted thousands of young people that local rap shows couldn't. Then there was the Vuzu TV reality show Rolling With The Reps, which focused on the then-popular crew The Repertoires.
But Priddy Ugly had to stop dancing in his final year of high school. His parents told him to choose between rapping and dancing, as he couldn't do both and still focus on his studies. He chose rapping because at the time a crew he was part of was signed to a label.
It's a decision he surely doesn't regret. During another studio break, he recounts an incident in which fans recognized him in Swaziland while he was there for the Hipnotik Festival. "I was eating at a restaurant, me and the boys," he says, "and one girl who was walking past saw me, and she cried. She spazzed and went to call her other friends. The love was amazing. My first time in Swaziland, it was great, I had fun."
With a lot of hip-hop albums released this year sounding mediocre, unlike the few songs I'm hearing in this studio today, Priddy Ugly could just save the year with EGYPT.
EGYPT currently has no release date, but expect it before the end of the year. Listen to the first single "Tshela" below and download it here.