Ed's note: South Africa's national channel SABC 1 recently aired a 2-part documentary on the making of Dankie San, the late South African rapper PRO's 2007 album which is considered by many as his magnum opus. The album is considered a "kasi rap bible." In this Op-Ed, South African hip-hop producer and powerhouse of kasi rap, SPeeka reflects on the album's impact on the South African scene and his own life.
2007 was a strange year for me. I had matriculated the previous year, and, thanks to succumbing to peer pressure, was studying I.T.. I eventually dropped out because instead of doing my Programming assignments, I focused most of my energy on being a hip-hop head and making beats.
I cared very little for anything outside hip-hop culture. I was deeply entrenched into both American and South African hip-hop—listening to everything from Mr. Selwyn to Kanye West, Morafe, The Roots and PROkid.
Of all the South African MCs I was listening to at the time, PRO (then known as PROkid) was right at the top of my list. He was one of the few MCs who was able to spit in English and vernac (IsiZulu and South African township slang known as tsotsitaal) with the same lethal precision – both written and freestyled.
---
I respected him heavily for this, but I gravitated more towards his vernac tracks. The joints I mostly played from his first two previous albums Heads & Tales (2005) and DNA (2006) were the joints where he was spitting in township slang – think "Wozobona," "Ungaphel'umoya," "Fede Fokol," "Where u At," "Amabhadi" and "Wild West" to name a few.
At the time, there already had been many MCs who had rapped in vernac before PRO, but none of them sounded as technically polished as he did. Ask anyone who attended the legendary Slaghuis session in Diepkloof Zone 4 circa 2004.
A fitting apology to SA hip-hop from TS Records
Fast forward to the last half of the year when I was still trying to figure out what to do with my life after realizing that I.T.. just wasn't it for me. Word got out that PRO would be releasing a new album under one of the most successful black-owned South African record labels of all-time, TS Records (Zahara, Ntando, Brown Dash etc.). To keep it a hundred, I was a bit apprehensive when I first heard of this considering that Mzekezeke (DJ Sbu's alter ego and one of the label's leading artists) literally put out "Amakoporosh," a diss track targeting SA hip-hop a few years before.
However, the feeling of doubt quickly faded away when I realised that PRO would be benefitting from the label's legendary relentless marketing strategies. For me, I saw this was a fitting apology to SA hip-hop from label heads DJ Sbu and TK Nciza by putting on the Slaghuis god right after his stint with Gallo Records had come to an end after the release of his sophomore album DNA.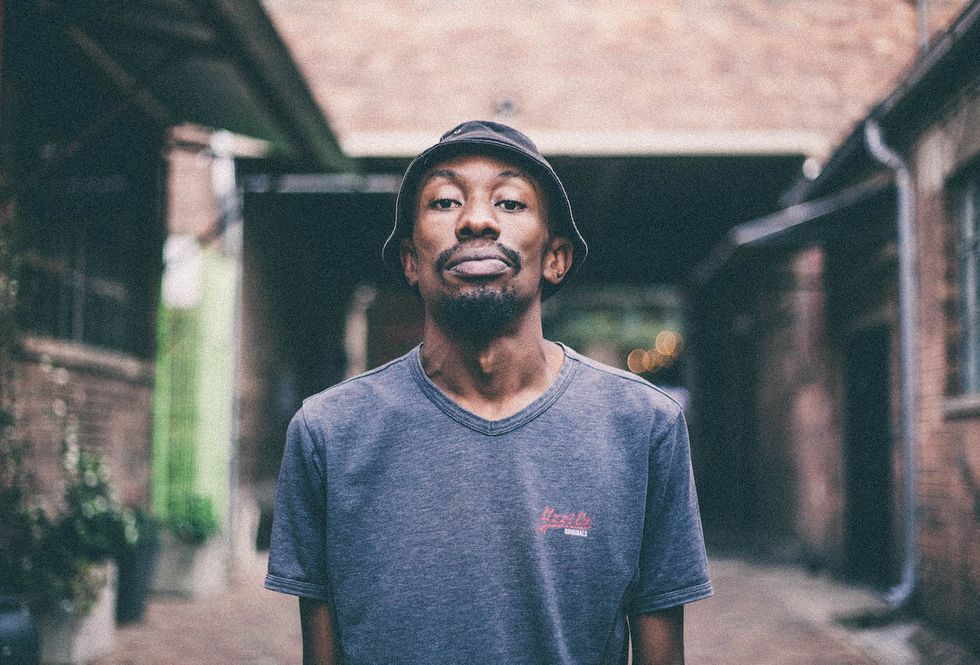 Speeka. Photo by Sabelo Mkhabela.
I mean, even though he was previously signed to a major label, PRO was big, but he wasn't TS Records-big—if you know what I mean. The MC went on a television and radio tour promoting the release of the new album under the label. The album was said to be dropping in October 2007, which PRO had dubbed "PROctober."
During the promotional run of the album – which he named after his catchphrase "Dankie San" ­– he appeared on the country's biggest TV music show One (now known as Live AMP) on SABC 1 to perform the lead single titled "Bhampa."
The track blew me away upon my first listen. This was PRO in his element. The flow. The street swag. The bounce. The beat from this new production team, the trioIV League (AKA, Kamza and Buks) was utterly flawless.
This joint reignited the same excitement I felt when I first heard "Wozobona" in 2005.
A sense of Sowetan pride
The final blow that convinced me that I would be buying the Dankie San CD come hell or high water, was when I heard PRO rap on the song's third verse: "To all the crooks abaz'shaya ngama PRO Ink boots/ Sengisho nalaba abakhule nge-beer ne-loose/ Ngoba i-culture yase Loxion is part of your roots…" I even remember the hand gestures he made during this part of his performance.
Strange as it may seem, considering that through those lines, he briefly touches on the sad reality that is underage drinking and smoking, those bars filled my heart with an overwhelming sense of Sowetan pride similar to the pride we all felt when we first heard his debut hit single "Soweto."
Another one of PRO's stops during the album's promotional run that fuelled my excitement was his appearance on Tbo Touch's then-popular radio show Rhyme & Reason on Metro FM. On the show, PRO exclusively performed two songs: "Uthini Ngo PRO" and "Ringa Mo." A number of things made this radio appearance special, namely Tbo Touch's genuine excitement for having PRO on the show. Tbo Touch wasn't just a radio host interviewing an artist on his show, he was a huge PRO fan and wasn't afraid to express it.
His reactions to PRO's lines were the same as those of us, the listeners. We, along with Tbo Touch, lost our minds when PRO first delivered the now-iconic line, "uPRO yinjayam! Um'yisa nin' e-SPCA?" on "Uthini Ngo PRO." Another factor that made this radio appearance dope was hearing DJ Sbu in the background, yelling and proudly backing his newly signed artist.
When the album finally dropped, I wasted no time and immediately got myself a copy – which I still own to this day. Dankie San gave me my favourite version of one of the country's finest MCs—effortless vernac raps accompanied by the spellbinding production of IV League, Dome, Omen and Semi-Tone.
Influencing a whole generation of kasi rappers
Dankie San proudly paid homage to PRO's kwaito roots, as heard in RingaMo (which sample's Mapaputsi's "Manga Manga Business" intro) and "Is'khathi Sewatch" (which references the late great Mandoza's song "Sikhathi Sewashi"). It can be argued that PRO's bold exploration of blending kwaito and hip-hop, also done by the late great HHP on more than one occasion, contributed to putting an end to the unnecessary war between the two genres. The kwaito influence wasn't only apparent in the sampling and referencing, but also in PRO's overall attitude and delivery.
The album's influence on South African hip-hop, more particularly kasi rap, is undeniable. Many will disagree, but I believe that this marked the beginning of an avalanche of rappers all attempting to emulate PRO's technique, which resulted in what most consider as the "njenge" generation (a generation of kasi rappers who use a lot of similes—"nje nge" is "like" in IsiZulu).
On a more personal note, Dankie San found me at a time when I was still searching for myself. It brought me closer to kasi rap and helped bring a perfect end to a year that was filled with regrets and uncertainty.
The first time I met PRO, I was too star-struck to even put together a complete sentence. You can't blame me. I mean, what do you say to the man who used his gift to inspire you and make you proud of where you're from? Looking back now, all I really had to say was, "Dankie San!"
Stream Dankie San on Apple Music and Spotify.
Revisit our profile of Speeka here and watch his Slaghuis Joint Elements documentary below:

Slaghuis Joint Elements (2019) - Documentarywww.youtube.com