It has been more than a week since young people in Nigeria took to the streets to demand that the Special Anti-Robbery Squad, infamously known as SARS, be scrapped for good. Created in 1992, this police unit was originally set up to beat back armed robbery, the use of firearms and rising cases of kidnappings that grew in the late eighties. However, the unit went rogue, becoming more notorious for its savagery than actual crime-fighting. With a rap sheet ranging from profiling, harassment and assault to, in more extreme cases, slaughtering innocent citizens, these quasi-officers have unleashed terror on the nation for more than two decades.

Their victims are predominantly young Nigerians profiled on appearance—whether they drive exotic vehicles, use the latest gadgets, have their hair dyed or locked, or have piercings. In some cases, working in tech often gets conflated with financial fraud. For people who don't meet the absurd criteria, the mood of the officer can often become the difference between life and death.
---
Photo: Jide Pinheiro (@JidePinheiro)
On October 3, a video surfaced on social media and went viral for the wrong reasons. It reportedly involved SARS officers shooting a young man in Ughelli, Delta State, leaving his maimed body behind to escape in his vehicle, a Lexus SUV. In what had become something of a yearly ritual since 2017, this video re-triggered Nigerians on social media who began sharing their various harrowing experiences with the hashtag #EndSARS. This is not the first time a SARS officer has murdered an innocent citizen. In May 2010, an officer in Enugu State gunned down a 15-year-old boy in school and claimed thereafter that he had been mistaken for a wanted kidnapper. In August 2019, four SARS operatives were arrested and charged for the extra-judicial murder of two alleged phone thieves in broad daylight. These are just a few of the more incredibly shocking cases of brutality which have also included sexual harassment, rape and more.

The protests, which started on October 8, were kickstarted on Twitter, where days of angst and agitations online eventually spilled on to the streets with dozens mobilizing for peaceful demonstrations in cities around the country. The demand was unequivocal—the complete dismantling of SARS and justice for victims. These protests started in Lagos, with protesters camping at the state's House of Assembly in Alausa, Ikeja, the state capital. It would later move to other cities, all unified in a common cause.
At the heart of the spread of these protests has been an underlying element: technology. Young people in Nigeria have successfully managed to use technological innovations to organize and run #EndSARS protests efficiently. The irony remains that these are the same individuals that the Nigerian president, Muhammadu Buhari dismissively referred to as 'lazy Nigerian youths' while speaking at the Commonwealth Business Forum in 2018. This moment will go down in history as a revolution that was birthed via technology.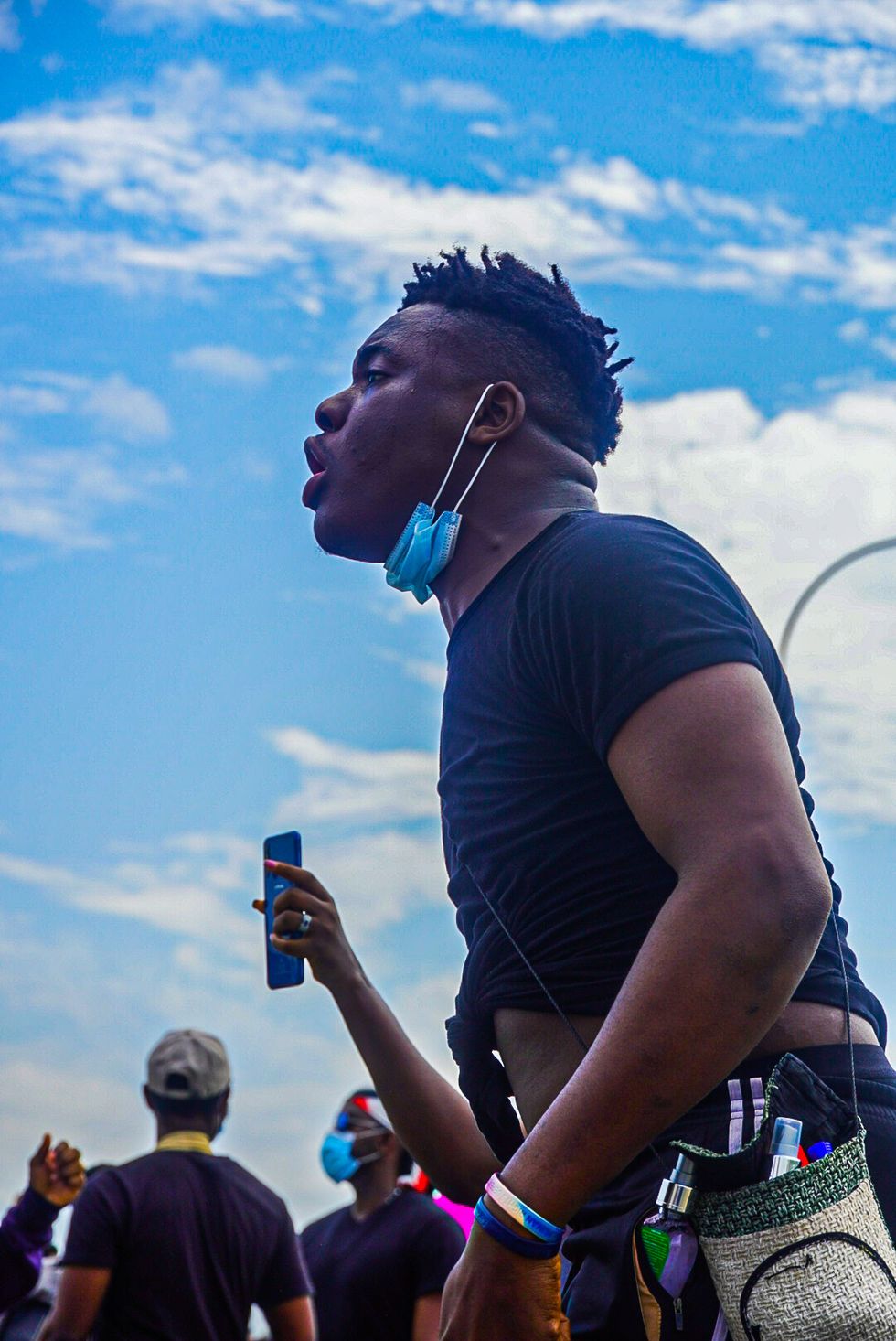 Photo: Jide Pinheiro (@JidePinheiro)
Hashtags and Twitter

Young people have employed hashtags including #EndSARS, #SarsMustEnd, #EndSWAT, #EndPoliceBrutality and a host of others to coordinate their activities, planning, and execution in the different cities in Nigeria, as well as abroad. A few of these hashtags trended internationally, with various celebrities joining in but back in Nigeria, it has become a bookmark of sorts for the gruesome tales of surviving victims or their relatives. The protests are still ongoing with people trying to keep the hashtag on the trend table, and telling their stories while other people swell the numbers on the streets carrying placards denouncing SARS and appealing for an end to police harassment, extortion, and brutality.
The protests received extra backing when on October 14, Twitter CEO, Jack Dorsey, tweeted a link to a Techcabal newsletter that explored police harassment especially within the tech community in Nigeria. He also tweeted a link to the website of the Feminist Coalition, a group that has fundraised millions for the protests using social media. Dorsey also ensured that some of the protesters were verified and added a custom emoji to the #EndSARS hashtag showing a hand (decked in the Nigerian colors, white and green) that appears when the hashtag is used.
Twitter is also playing an important role in fighting misinformation and verifying stories from various protests within the country. In Ogbomoso, for example, 20-year old Jimoh Isiaq was shot and killed on the first day of the protests, with photos on Twitter documenting how he went from an idle bystander to a corpse wrapped in burial white. That same day, Television Continental, a news channel had reported that no shots were fired and nobody was killed. Traditional media has been seemingly gagged by the government regulator. There have also been untruths, which thanks to the speed and power of the internet were corrected and verified within hours.
Photo: Jide Pinheiro (@JidePinheiro)
Tech For Fundraising

Outside the successful organization of the protests, technology has also played a huge role in fundraising for protests. These protests have mainly been independently funded by the goodwill of Nigerians who have either donated time, professional resources to the cause and/ or donated money to the Feminist Coalition, a group of Nigerian feminists who are fighting injustice and remitting money to people organizing the protests and people injured during these demonstrations. As at the time of writing, the coalition had disbursed NGN 15,443,280 (more than $40,000 USD) to support 128 protests across the country and still has a fund to accept donations. Boki, a protester in Abuja, says the fact that mainstream media was gagged through all of this just goes on to prove how important technology has been to the prominence of the protests, from the ease of donating money, to the trending hashtags for awareness.
Still, on the topic of fundraising, it is very interesting to note that after years of vilification, financial technology companies like Flutterwave and Wallets Africa have come full circle in aiding the donations for the cause. In the beginning, there was a Flutterwave donation link through which donations could be received. Eventually, donations were moved to an account number powered by Wallets Africa. It had been alleged by various sources that a higher force has created restrictions, making it harder for the coalition to receive funds via its bank account, thereby causing a move to bitcoin as the most effective way to receive donations.
Photo: Jide Pinheiro (@JidePinheiro)
In a tweet from the Feminist Coalition's official account on Twitter, it says "Over the past 2 days, we have experienced repeated restrictions on all the centralised Nigerian financial channels we have utilised for donations. Our payment channels have been taken down multiple times, making it harder for us to receive donations, and forcing us to move to decentralized currencies." While bitcoin is a decentralized system of payment, there is still a lot that people don't know about it. According to Teju Adeyinka, Product Manager at Buycoins, a cryptocurrency company in Lagos, crypto adoption in Nigeria is fast-growing with more than $200m worth of trades happening monthly. She goes on to say that the interest has gone beyond speculative trading as people are discovering different use cases around cross-border transfers, investment opportunities and most recently, fighting state censorship.

The Feminist Coalition is also calling on Nigerian financial institutions to look into these allegations and, if true, explain why these restrictions are in place for donations earmarked towards the safety and well-being of citizens expressing their rights across the country.
New Media Platforms
New media platforms are also giving a voice to the protests and documenting everything for proper information, and above all for posterity. In an era of fake news, it is easy to be misled and misrepresented. A day after the physical protests started, the front page of the popular Punch Newspaper talked about 2021 budgets in bold, with no mention of the protests either on the front page or inside. When protesters took note of this, they began calling on international media organizations to report on the protests. New media platforms like BellaNaija, The Native, Pulse Nigeria, Arise TV and Zikoko were quick to fill the gap, consistently reporting on, attending, and documenting details about the protests.
Photo: Jide Pinheiro (@JidePinheiro)
Amidst all of these, photographers were out on the streets, taking pictures of the protests, which were immediately uploaded on Twitter and have gone viral. Videographers and YouTube stars like Dinma Umeh and Elsa Majimbo shared videos explaining what is happening, graphic designers have created designs in various languages explaining the state of things and the technology community, which is unarguably one of the most affected by the harassment from SARS, has built a website where people can share stories about their experiences with the SARS officials. In addition, various bots targeted at messaging sitting senators and officials asking them to speak and comment on the state of things and pass legislation designed to effect change are also being utilized. While traditional media has turned a deaf ear and in some cases, tried to misrepresent, this young new school has shown the truth and keeps collecting evidence and collectively sharing it for all to see. According to the Features Editor for BellaNaija, Niyi Ademoroti, it has been said that the revolution will not be televised—yes. But no one said it won't be digitized.

While all of this collective effort is being expended by protesters on social media and the streets, the government is still struggling to satisfy them enough to make them suspend the demonstrations. On Sunday, October 11, Nigeria's Inspector-General of Police, Mohammed Adamu, announced the "dissolution" of SARS. This announcement was criticized by protesters, who continued with the protests and pointed out that similar promises had been made in the past but no definitive actions had been taken. The government's plan also stated that former SARS officers were going to be reassigned to other existing police departments rather than eliminate them from the force entirely. There was no mention of punishment for any officers who harassed and terrorized citizens. Barely two days after the announcement by the Inspector General of Police, the Public Relations Officer of the Nigerian Police Force, Frank Mba, announced the setting up of a Special Weapon and Tactics Team (SWAT) to replace SARS. The new outfit, it was announced, would take off within seven days, and the selected officers would undergo a psychological and medical evaluation to determine their fitness before commencement. Even though all SARS officers are banned from joining SWAT, the government has not provided a clear plan on how it hopes to punish those accused of extra-judicial activities.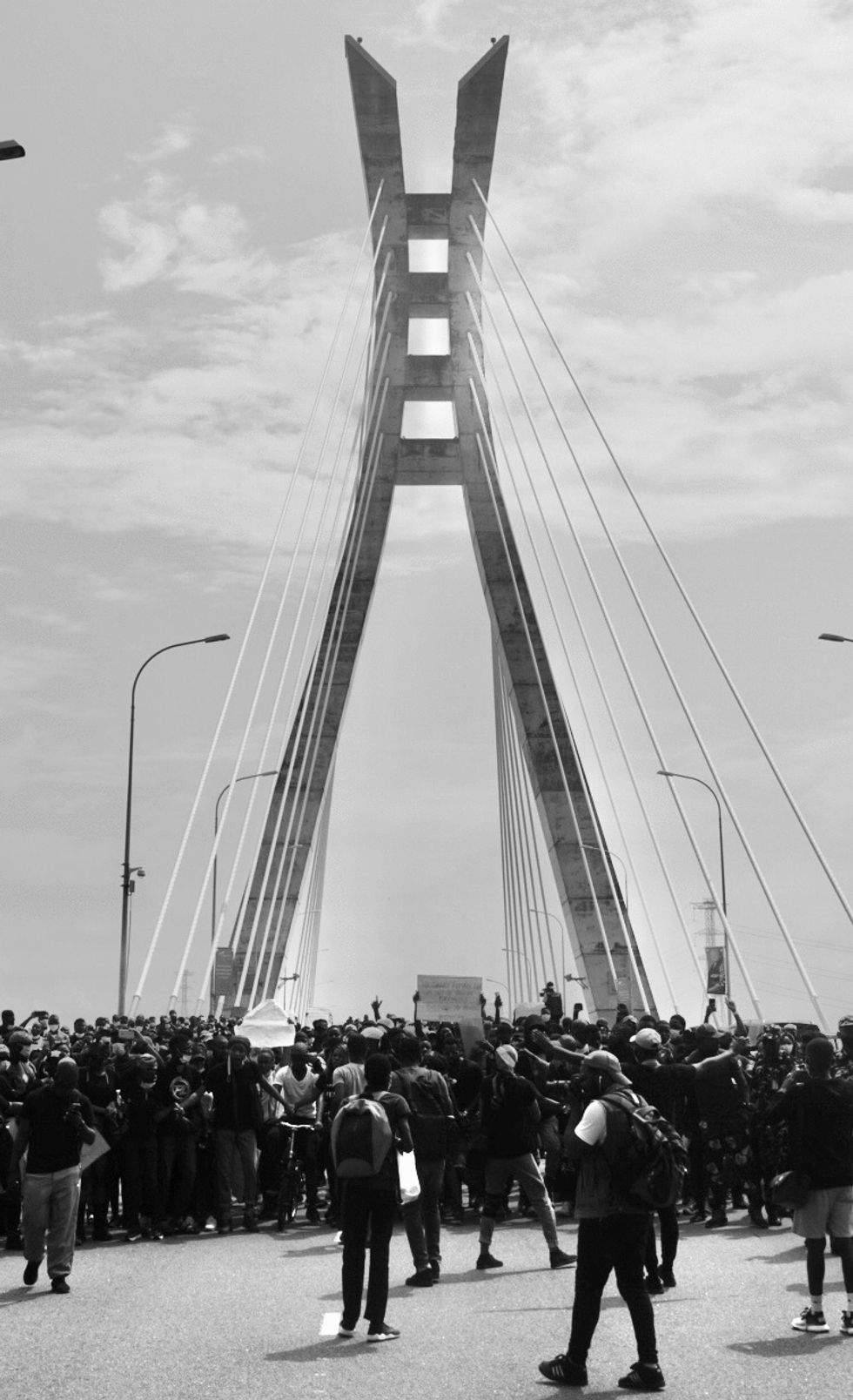 Photo: Jide Pinheiro (@JidePinheiro)
The demands of the protesters are simple. Firstly, they have asked for the immediate release of all protesters arrested during the demonstrations as well as justice and compensation for all who died through police brutality in Nigeria. They also demanded that an independent body be set up to investigate and prosecute all reports of police misconduct. The protestors have also asked for psychological evaluation and retraining of all SARS operatives before they are redeployed to any other police unit. Lastly, the protesters have asked for adequate remuneration for police officers. While these demands have been accepted by the government, protesters are unconvinced they'll be faithfully implemented.

In a matter of days, the #EndSARS protest went from a tepid yearly ritual to the most engaging youth-led movement Nigeria has seen in decades, and most of it is anchored on the use of technology. The global attention it has garnered has become a source of international embarrassment for the President Buhari-led government, leading to fears the former military dictator could resort to a measure as drastic as shutting down the internet within the country's borders. Even though this is still considered a far-fetched possibility in certain circles, protesters are not leaving anything to chance and have started sharing the knowledge of a technological workaround if it happens. More Nigerians are installing VPN applications and switching to encrypted platforms to ensure that they're able to communicate if an internet shutdown is implemented to disrupt the protests.
The menace of SARS as a unit existed for years, leaving countless bodies in its bloody wake, but social media exposure has over the years intensified public scrutiny of the rogue unit and has finally succeeded in burying it.
Technology has made it possible for Nigerian youths to coordinate a campaign that has travelled further than anyone would have imagined a week ago, and forced the government into making concessions, an unfamiliar trend.
And the general feeling, even as protests continue, is that this is only the beginning.