The number of times cars have very nearly killed me while navigating New York City as a pedestrian is beyond what I can count on ten fingers. With my blaring headphones and smartphone in hand, my spatial awareness is limited. Just one second of looking down at my phone could mean the end.
---
A new app wants to save my life—and yours.
Look Up, developed by Nigerian-American designer Ekene Ijeoma, just launched on Android (and will soon be available for iPhone users) as a participatory public art app that prompts New Yorkers—and soon other city dwellers—to look away from their phones at street intersections to embrace the diversity and interact with the city.
Running as a background wallpaper, Look Up uses GPS and intersection location data to detect when you're near an intersection, where you'll get a vibrating alert and notification to look up, or if you're on your home screen, you'll see eyeball animations. You can determine if you want to be notified at every one to three intersections or at random while walking, biking or driving.
Look Up doesn't tell you who or what to connect with, but it's notifications are meant to let you know to put your energy back into these intersections where energy has been lost due to crash fatalities and injuries.
"Safety is one thing, but really the project is about empathy and how we can [be empathetic], from sharing the streets between pedestrians, cyclists and drivers," Ijeoma tells Okayafrica. "For there to be safety, there has to be empathy. With empathy, all that stuff is inherent; it was easy—I made the product to change the conversation around the way we think about that."
Using data from NYC DOT's Vision Zero road safety project, you'll notice every intersection vibrates a certain number of times, or that there's a specific number of iris rings in the eyeball animations. Both indications are based on an energy score from one to five, to remind you why New York's streets need your energy—the higher the score at an intersection, the more crashes occurred.
The free and open source app seeks to tear down the digital walls we build up, where we can see value to acknowledge the people and the city around us.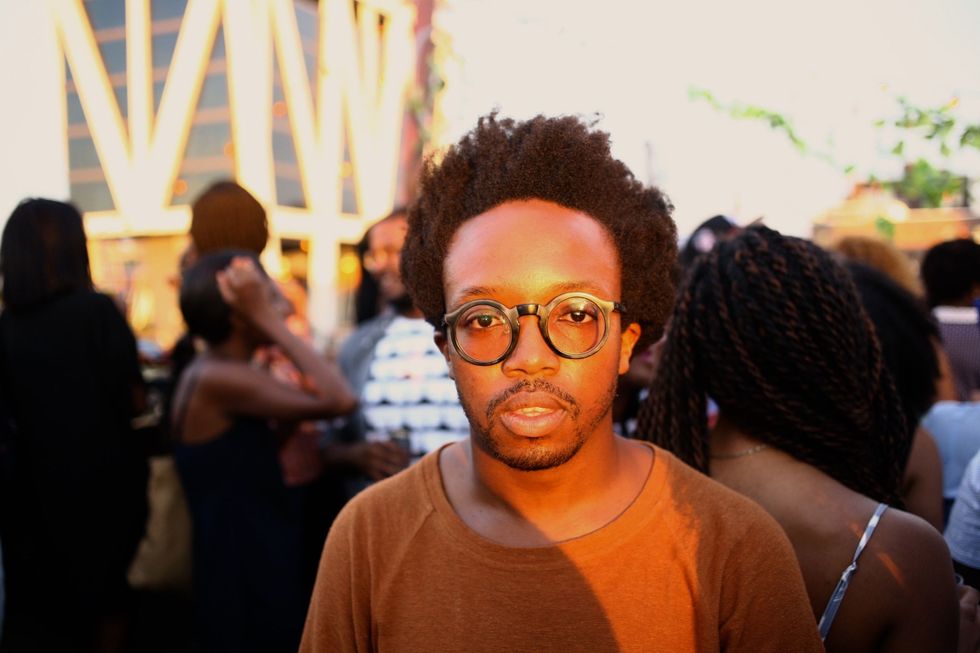 Ekene Ijeoma. Photo by Aaron Leaf.
"If you were aware of the person—if you're saying hello to the people in your neighborhood then you're putting yourself outside this social media system of likes where you're more or less speaking to the people that agree with you most of the time," Ijeoma says.
"For you to get out of that you might have to step out into one of the most diverse cities and hear something from someone else. Whether you're just saying hello to someone, making eye contact, all those small things—seeing, acknowledging and valuing people more—that's pretty much the essence of the product."
As a designer and artist, Ijeoma bases his projects around social issues. A NYFA Fellow in design, urban environments and architecture, he plans to develop new ideas around alternative ways of healing in urban environments. He's also continuing to work on America Offline—a project about the 49 million offline population in the U.S.
Ijeoma built this app using the Processing language and with support from Google Creative Lab's Android Experiments. Visit Look Up's website for more info, and for our New York Android users, download it on Google Play.