Everyday life as a trans-woman in East Africa is fraught enough, but for Ugandan transgender activist Cleo Kambugu, it's international travel and the inevitable interaction with transphobic bureaucracy that she dreads.
---
"I've had to be stripped naked in Kigali [at the airport]," says Cleo. "They submitted me to the test to prove I was who I said I was." The test is the process of having her genitalia checked by a customs agent to confirm her identity. "That was painful," she recalls. "People don't think these are things that happen in their countries" she adds. "In Uganda, they think it's for Jerry Springer."
We met at Cleo's apartment in Nairobi. Watching her from across the room, it's clear that these humiliations are hard on her. But, like her favorite TV character, Brea Van de Kamp, from the show Desperate Housewives, she always comes back from a crisis with her dignity and appearance in check. Cleo's hair is blow-dried straight, and she shows off her slim shape in animal print leggings and a sleeveless top. Her sartorial choice is both bold and subtle – I see the curve of her breast from the side. She owns her swag.
Cleo is the subject of the 2016 documentary The Pearl of Africa, which shares the same name as the YouTube series that debuted a year ago. The doc tells the story of Cleo fighting for her right to love in one of the world's most transphobic countries. Her fiancé Nelson, who is also featured in the doc, joins us in her apartment. He heads out to the balcony while we talk.
The series led to an Indiegogo campaign that successfully raised more than $10,000 for gender reassignment surgery in Thailand. In an open open letter posted to Facebook, Cleo wrote, "I cried, they were tears of disbelief, of utter happiness, but then again I can't believe any words could possibly describe what I felt deep inside. I just couldn't believe that this dream, that seemed so distant and trivial, has finally come true."
The Ugandan transgender community faces a range of unique challenges from eviction and denial of health services to arbitrary arrests according to research by the Danish Refugee Council. In 2014, a day after Ugandan President Yoweri Museveni signed the Anti-Gay Bill calling for harsher punishments against homosexuals, the Ugandan tabloid newspaper The Red Pepper published the cover story, Exposed! Uganda's 200 Top Homosexuals, which included her name. Cleo lost her job and had to live in seclusion for one month following the report.
Cleo calls Nelson in from the balcony as she heads to the bedroom. He lights a cigarette, and offers to ask the children outside to play further down the corridor but I decline.
"It is all about acceptance," Nelson tells me. "Like any other person, I guess everyone comes with their own ish. It is really accepting it, digesting it, dealing with it," he says of their relationship.
The two met in high school, when Nelson dated Cleo's friend and confided in her about the relationship. As adults, the two reconnected and started seeing each other before getting engaged after almost three years together.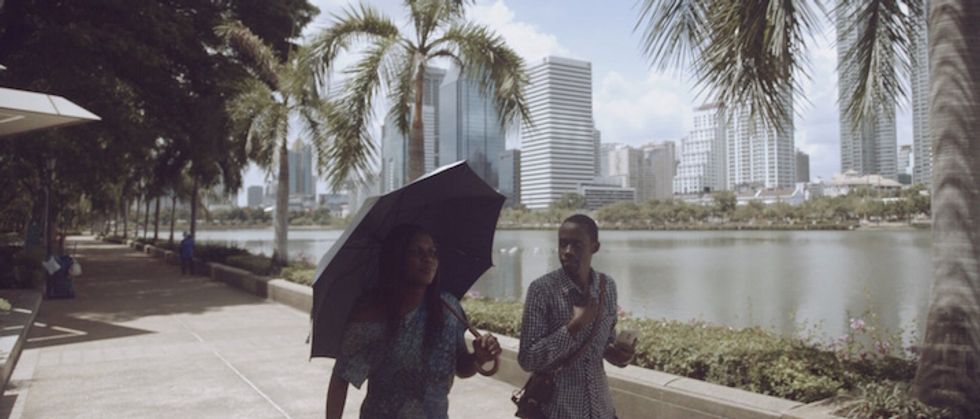 Cleo and Nelson in Thailand. Photo: Jonny von Wallström. Courtesy of The Pearl of Africa.
Nelson admits to having reservations about filming alongside his fiancé. "I was more comfortable with being private," he says. "But she sold me on the idea. 'Don't think only about you, think about all the people who will benefit from this.'" As for Cleo, she says: "I don't want people to see it as a journey of just me and Nelson, it's also a journey of [the filmmaker,] who is trying to broaden his lens. He's looking at it with a very Eurocentric eye, but he's trying to understand."
Nelson is clearly uneasy about sharing too much. Uganda has a reputation for being one of the world's most transphobic places and not everyone in Nelson's family knows about Cleo. His last name, for example, is left out of the film (and this article). "My main fear was the backlash [the film] would create and how I would have to deal with that," he says. But his fear of a social backlash is not the same as a personal reckoning.
"The first thing is to deal with yourself, and really understand yourself," he says as way of advice. "If you're having an internal struggle then there's no way you're even going to go and explain to someone that I'm dating a transgender person."
Cleo recalls how an ex-boyfriend questioned his own sexuality for being with her, and opted out of the relationship. His silence when people said Cleo "spoiled him," was humiliating for her. His private apologies did little to diminish her low sense of self-worth as a result of the break-up. The activist went into a deep depression, during which she isolated herself from people, and lost weight. In Nelson, Cleo found a man who accepts her and their relationship. "There is not enough light shown on friends, family and partners of people who are transgender and what they go through. That is not something that is discussed enough," Cleo explains.
Cleo speaks on the "wrongness of gender having to be sexualized," which led her to accept the label people around her agreed on when she was younger: gay. Cleo questioned that belief and says of her realization in her 20s: "I knew I wasn't gay, but I didn't know what I was. I didn't have the language [and] even when I got the language, it was not affirming." The Ugandan trans community is growing says Cleo. "When the LGBTI community started in East Africa," she says "people didn't question the language in the beginning. A lot of detail and nuance is lost."
Cleo in Thailand. Photo: Jonny von Wallström. Courtesy of The Pearl of Africa
People who can't see past Cleo being transgender dismiss her as an "abomination", or pull the "un-African" card on social media. "There are times I'm bashed on Facebook and I don't have to say a single word…I like that I don't have to be there defending myself all the time," says Cleo of Nelson's support and willingness to protect her. "The positive comments are good, the negative ones don't really deter us, because we don't really expect it to be smooth sailing," Nelson adds.
Nelson, Cleo and I all sit in the room together for the first time since I arrived. Next year will be a test of radical acceptance. The film's debut and the reality of post-surgery bills loom. Despite the challenges to come, inside Cleo's apartment the banter is lighter just like the opened pack of cigarettes. Nelson accepts a handshake and Cleo a hug, at which point it's time to leave.
Watch a 30 minute clip from 'Pearl of Africa' here, and donate to Cleo's post-surgery healthcare via the same link. The full-length film is due for release in 2016.
Josephine Opar is a Kenyan-born arts & culture writer, womanist and magazine hoarder. You can keep up with her on Twitter at @viewfinderSS.