I'm in between the boda boda driver and Ratigan Era — Uganda's rising dancehall star, tearing through the lunchtime chaos of Kabalagala, Kampala on a motorbike. We are weaving through traffic with food on our minds. "Nobody is hungry in Uganda," he says, yelling over the engine and heavy traffic. "It's hard in the city, you have to hustle but as a roots man I come from the ghetto. I know how to stay alive".
Food is in abundance in Kampala. On the street you will find the Rolex (a finger scolding, rolled chapati with fried egg, fresh tomato, and red onion) and buzzing away from traffic we pass by the smoke plumes of charcoal grilled chicken and goat on wooden sticks, vendors piling up fruit and vegetables on sheets and long stems of sugarcane chopped by machetes that catch a vicious sun.
Today, we are eating our way through Ratigan's localities and the first stop is Lawafu, a small neighborhood close to the recording studios where Rattigan creates his storming dancehall tracks. With a second album on the way and more tours in Europe planned, 2023 may take this young Kawempe born star further away from home, to places he has found at times bewildering. "It was hard for me, I don't eat pork and didn't recognize the food," says Ratigan. "It took a while before I ate something... and then it was KFC".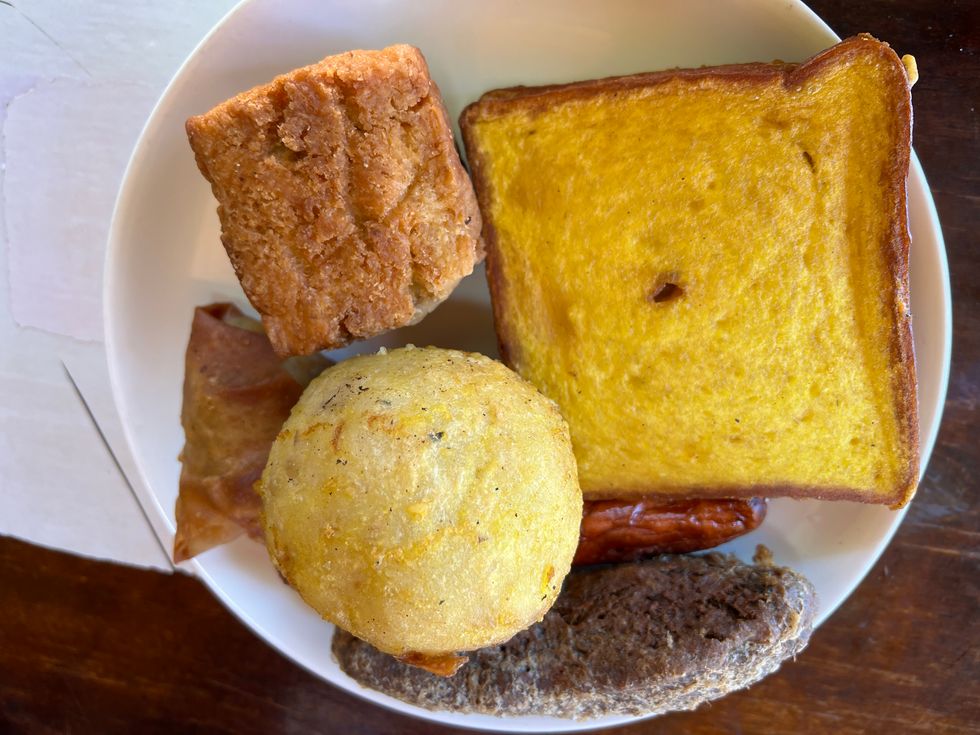 A collection of snacks from Enhanced Food in Lawafu, Kampala.Photo Credit: Frank L'Opez
Leaping off the bike I get a closer look at the man who was just in my ear. He has the swagger of being in his environment' made real by solid recognition. We are at Enhanced Food, a stand run by Sado, an events manager turned chef that Rattigan trusts. Everywhere we go today is extended family. The kitchen sits attached to a bar that serves us bottled beers as we await Sado's speciality: the Lusaniya—an East African dish popular amongst the Islamic community. Before the main dish arrives, we sample a plate of snacks. There's an absurd custard yellow French Toast cut thick as a door step; a smoky beef sausage that tastes like it isn't really there; a hand-mashed mincemeat kofta riddled with parsley; a "half-cake"—a kind of rectangular donut bread; a traditional samosa; and the "Irish potato," which is a a boiled egg hidden inside a large round fried ball of mashed potato.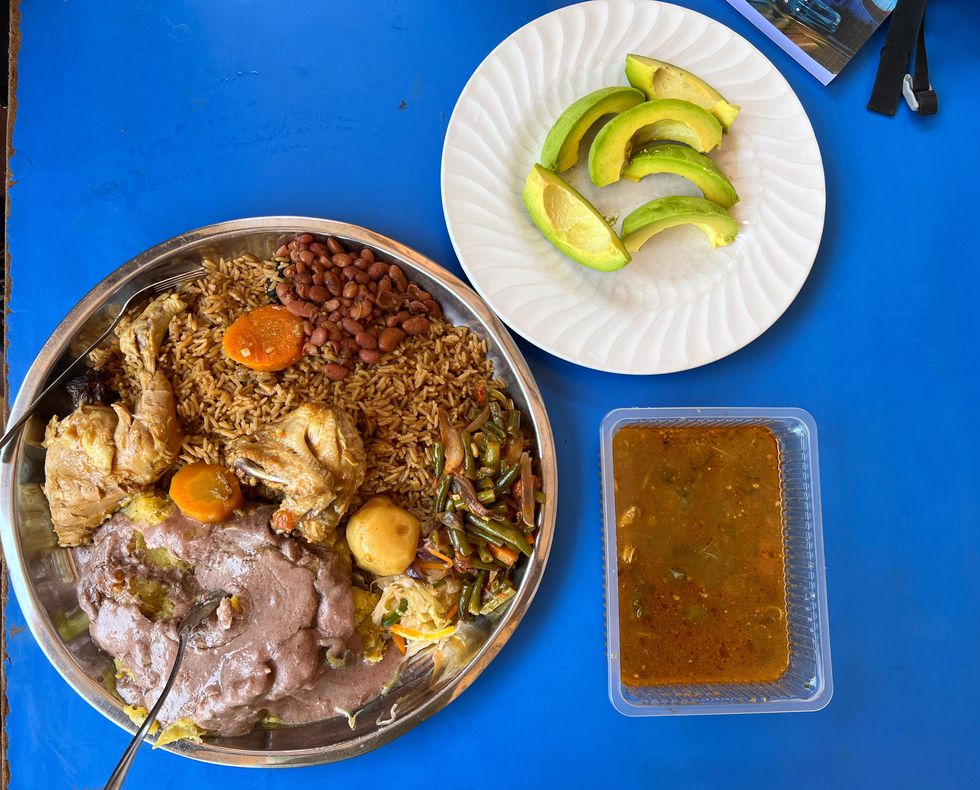 The Lusaniya is an East African dish popular amongst the Islamic community. The dish features rice that has been cooked with onion, garlic, ginger and cloves.Photo Credit: Frank L'Opez
The Lusaniya majestically arrives on a metal platter. Instead of using a table we place it on a white plastic garden seat and delve into it with our hands. Between huge mouthfuls of pilau rice that has been cooked with onion, garlic, ginger and cloves I ask Rattigan about his faith. "I am a Muslim and a Christian," he says. "My parents are Christian but they let me decide."
I pour beef stock over everything, the light catching its oily sheen as it gives life to the Matooke made from boiled and mashed green plantain. We pull chicken apart and mix it into thick mushroom looking G-nut sauce. G for satisfying groundnut. "When you start eating you already feel your belly full," Rattigan says contentedly. We finish by sitting in a small corridor behind a closed door, laughing through more vapours of smoke.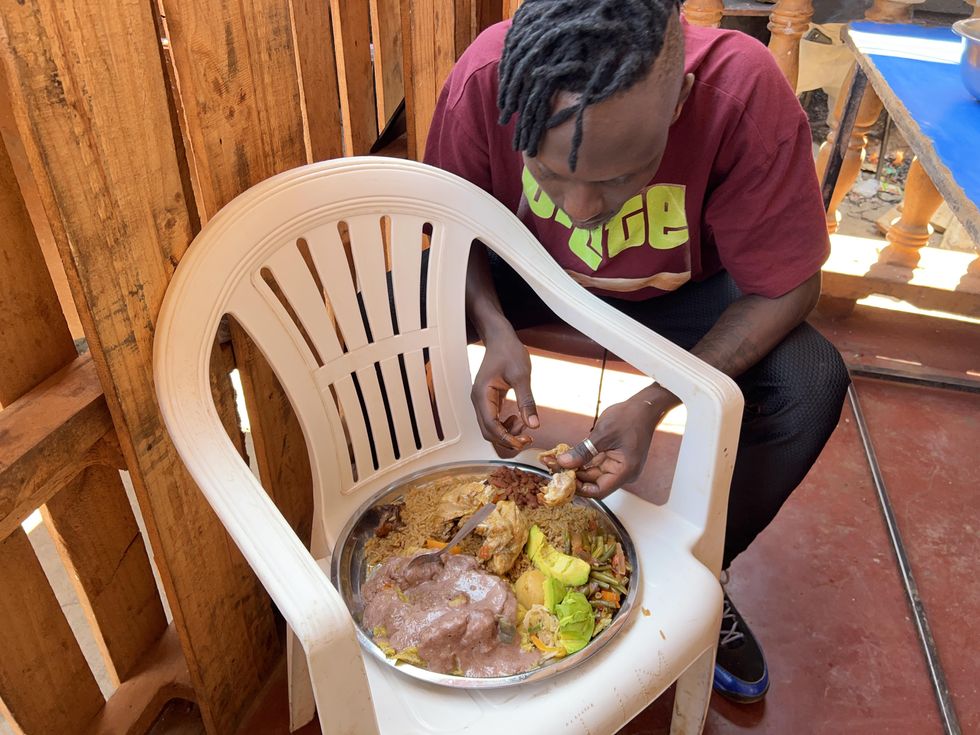 "When you start eating you already feel your belly full," Rattigan says after digging into the the Lusaniya.Photo Credit: Frank L'Opez
A friend arrives to drive us to Legend Production Studios in Salama Road where Rattigan often records. During a break I check for what the artists are digging into. I approach Rattigan's spar, who goes by the name Machete. There is a double carb on his plate of spaghetti and chips accompanied by a tiny amount of tomato beef sauce and some sliced avocado on the side.
Soon we are on our way to the notorious Kabuuma district. (Machete reassures me: "Don't worry, we are ghetto Vikings".) Our car rumbles to a halt at a desolate market. Meat scarcely hangs on hooks as a woman spoons up piles of rice and more Matoke or Ugali—a maize flour mash. We relax by a tiny shack made from haphazardly nailed pallet-wood. New Paradise Happy Vibes is scrawled upon it with marker pen but today this bar is closed. From here, the ground all around us into the distance is saturated with water. The open horizon and distant bird calls making it feel safely remote. Rattigan buys a small cellophane bag of drinking water and some herbs. "This here are local herbs. They keep me in my musical space and help me meditate," Rattigan says. "They keep my appetite for food."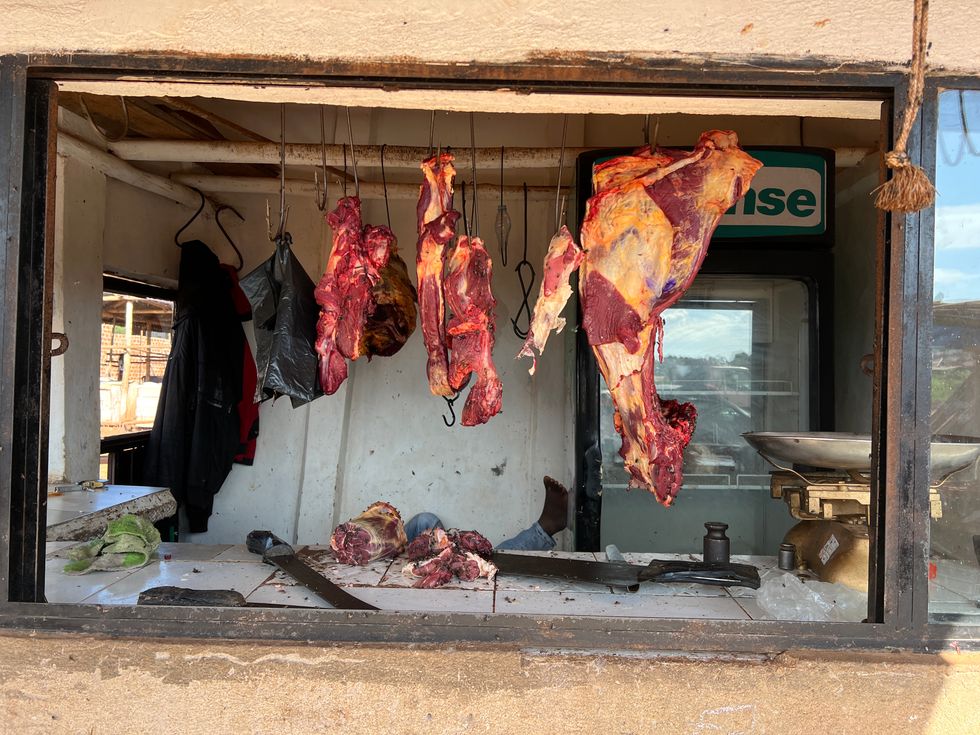 Outside a market located in the Kabuuma district.Photo Credit: Frank L'Opez
Driving back across town we stop for what is being prepared roadside. By a roundabout, a man expertly slashes at sugarcane that falls in lumps into a plastic bag. It is overwhelmingly succulent, a flood of nectar that is hard to contain in a closed mouth." This is sugar! Original sugar! For natural energy and for blood regulation and dehydration! It kills cancer and malaria!" Ratigan yells, his outburst is a glorious eulogy to what tastes and feels like a miracle.
Along the way a woman smiles as she carves sweet and fleshy jackfruit. It brings back wistful memories from Ratigan's childhood of climbing trees with his friends: "We would smash them open on the trunk," he says. We spit out the large black pips into the gutter as school children filter home.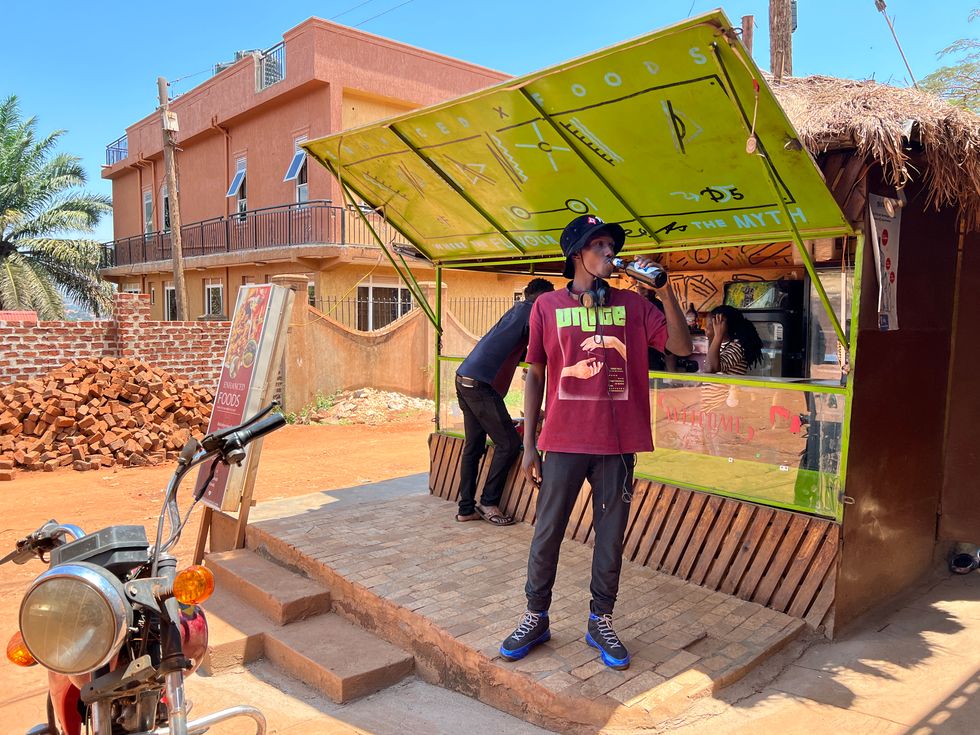 "I'm a ghetto yout' and this is ghetto food... I've been eating it all my life".Photo Credit: Frank L'Opez
On the way back to the car we grab corn on the cob off red hot charcoal. Rattigan chants out to his own music as we pull out wildly into oncoming traffic "I'm a ghetto yout' and this is ghetto food," he says."I been eating it all my life".