Nigeria's rich history of classical music gets a convincing revival in Ekele: Piano Music by African Composers, the debut album by Rebeca Omordia, a London-based pianist of Nigerian and Romanian descent. An alumnus of Trinity College of Music and Royal Birmingham Conservatory, where she has taught for the past ten years, Omordia has collaborated with a range of celebrated international musicians that include Julian Lloyd Webber, double bassist Leon Bosch, pianist Mark Bebbington, cellist Raphael Wallfisch and Chineke! Orchestra, the first professional orchestra consisting of majority black and ethnic minorities in Europe.

Ekele is a result of a five year research into the works of pioneering Nigerian composers Ayo Bankole, Fred Onovwerosuoke and Christian Onyeji.Most of the works were composed pre-independence in 1960 and in the years after, at a time when the country was shaking off the shackles of British colonialism while defining its own cultural identity.
"Rebeca is a fluent pianist. She's classical trained in Eastern Europe and has a certain technical facility and a flexibility, rhythmically-wise" says DY Ngoy, the Congolese executive producer with whom Omordia created Africa Concert Series, a year-long recital by musicians of African descent at London's October Gallery. "What is fantastic about Ekele is that she played the music of African composers and made it relevant to our time." Examples of monthly themes for the African Concert Series include "String Quartets by African Composers," "African Art Music for Woodwind," "Arabesque: Piano Music from the Arab World," and "The South African Bass."
"It's a great project that Rebeca has started and I commend her" says Chi-Chi NwanokuOBE, the British-Nigerian double bassist who founded Chineke Orchestra alongside whom Omordia often performs. "There's something else about playing music by someone that comes from the country of your fatherland. Sometimes there's a familial feeling that you aren't even aware that you've got, until you've discovered it."
OkayAfrica sat down with Omordia in London to discuss her album Ekele, her current role as the Artistic Director of African Concert Series and the history of classical music in Nigeria and Africa. The following are edited excerpts from the interview.
---
Rebeca Omordia plays Studies in African Rhythms by Fred Onovwerosuokeyoutu.be
How do you find the state of classical music in Nigeria today?

They have a very vibrant scene. I think the problem in Nigeria is the funding, and the financial resources that are allocated for that. And because musicians cannot afford living just from playing in an orchestra, they have to look for other means of work, including teaching, playing gigs, doing concerts for churches and this I believe in my own opinion takes their focus from what could be one of Africa's best and biggest orchestra.
That's a huge claim to make.
Well, I think if MUSON [Music Society of Nigeria] had the resources, if they had the personnel to really look after how they are organizing the event, Nigeria would be the center of classical music in at least West Africa if not in Africa. They have everything, they have the hall, they have instruments, they have pianos, they even have the audience which they have built over the years. In South Africa, they already have the Western influence. And they have different financial resources for art there, but we are talking about West Africa, Nigeria and all the African countries that have music schools, classical music schools and orchestra.
Do you see yourself being part of this new shakeup any other way than visiting and just going there to play concerts?
I am supporting MUSON and I am very happy to go there and perform. The audience is really receptive and they really welcome me. Also the musicians, there are musicians I have been working with.
What is Nigerian Art Music?
Nigerian art music or African art music is a blend of Western classical music and traditional rhythms and melodies. It was generated from Western classical music. The father of Nigerian classical music, Fela Sowande (1905-1987) was an organ player in a church where his father was a music director. He came to London to study music and after doing that he became very known in London. He went back to Nigeria to broadcast and to lecture and he used all the cult tunes, all the traditional music in his compositions.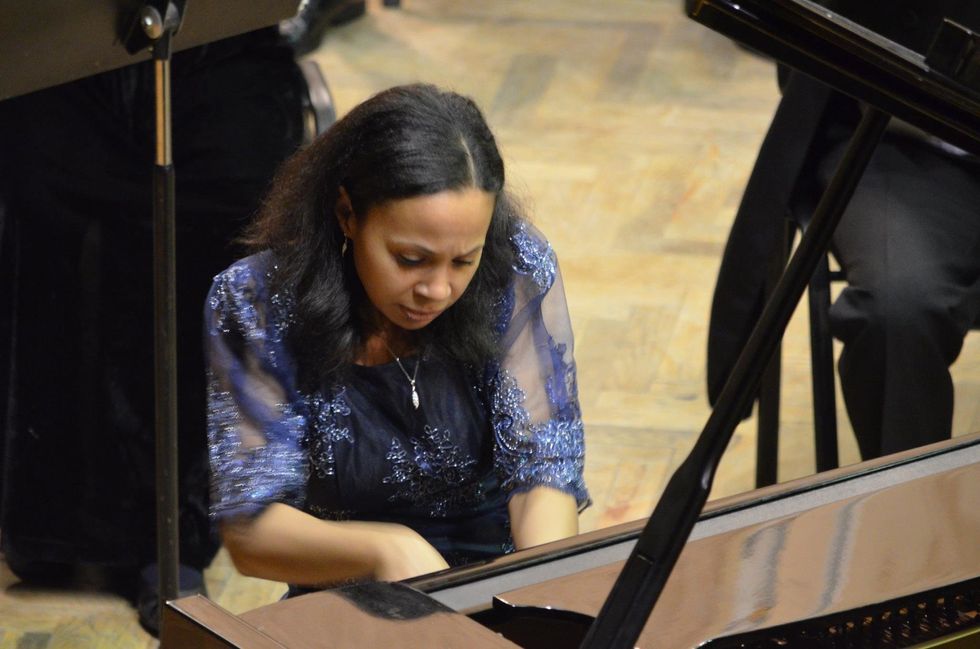 Rebeca Omordia. Image provided by the artist.
Today, a lot of the compositions by the pioneers of Nigerian Art Music are in manuscript form and were never recorded. What are the reasons for this?

The problem is not even just the recording, 95 percent of the music has never been published. My research took such a long time to find the compositions. Some of Ayo Bankole's music was published but not all of them. So I had to get in touch with his son, Ayo Bankole junior who's a musician in Nigeria. Fred Onovwerosuoke"24 Studies in African Music" is published under his own label, I would say, but the rest of the music is not published. So then, of course it's very difficult for anybody, including, Africans to access it and then record it.
Because some of these composer's work contains melodies or songs that existed for ages before being notated into classical compositions, are they mere translations and still regarded as original compositions?
Nobody has ever composed anything like that before. So I think they are original composition. In that sense, for the Western world and also for the African world this is something completely new. Because for the Western world, this music might sound exerting because of the rhythm and because of the cues. Each piece, or each composer they use melodies from the tribe they came from. Ayo Bankole is Yoruba, so we see so many Yoruba songs there, even Fela Sowande does that. Christian Onyeji, he's in the Igbo song.
Can you give an example using any of the compositions on Ekele?
So for instance, Ayo Bankole's piano sonata is completely original, even though he is using the idiom of some Yoruba song. It's not the actual Yoruba song. It's not a particular Yoruba song. Christian Onyeji's "Ekele Diri Chineke" is an arrangement of an already existing gospel Igbo song. So the tune itself is not his, it was from the '80s. It was sang by a gospel artist and he arranged it in a Western classical form. That's why that song is called "arrangement," his own arrangement. It's not his own composition.
Why is Ayo Bankole's piano sonata the centerpiece of Ekele?
As a length and as a style and as a conception, it's the most solid work from a Western classical point of view. Its construction is as a sonata which has a Western classical structure and that already places Ayo Bankole as a classical composer.
Is there anything else about technique perhaps that distinguishes the compositions by African composers from that of others?
The rhythm has become a very strong element of the classical music but because African rhythms, they are already so original, this changes the way you play a classical piece because of the rhythm.
Fred Onovwerosuoke - Studies in African Rhythms: #24 Raging River, Rebeca Omordia pianoyoutu.be
What is "African Pianism"?

Akin Euba totally invented African pianism which means he found the piano, as a Western instrument, favorable for impressing certain elements of Nigerian traditional music. That's why his pieces are very rhythm based, more than melodic based. So then this will reflect on how the technique of writing the music and also how the technique of playing the music and then the piano becomes more of an instrument of percussion. It gets closer to the African or the Nigerian traditional instrument. And can this be done with most of the other instruments that are not traditional in Nigeria and Africa.
Tell me more about Akin Euba.
He wrote things for cello and other instruments but he found the piano particular close to expressing with other Nigerian instruments. It is known that piano is quite a percussive instrument and it's usually the job of the West in particular to bring out the melodicity of the piano and to try to get over the percussive effect but Akin Euba used it to his benefit. He was closer to expressing the traditional Nigerian music that the African instrument would usually do.
Why was it important to include the shorter compositions, "Little Variations For Ayo" and "Ya Orule" by Ayo Bankole?
The audience reaction works with that. They also have an important value because his child, Ayo junior, and Femi his sister, were raised to learn to play the piano. So he wrote this for them so they will have what to play and because both pieces have their own elements of Nigerian music, it would have been easier for the children to practice that than to practice some very Western traditional song that might be boring for them. They do stand next to the biggest "miniature" work of the biggest Western composers.
What, to you, is special about Fred Onovwerosuoke's "24 Studies in African Rhythms"?
He uses the same syllable staccato percussor segment on the piano, which makes it quite difficult for a pianist and for the hand to perform it and then he is using the seven rhythms. Three plus four in a bar. To play this is quite difficult—and then he's mixing them. This will be the starting rhythm at the base for the whole study and on top of that, he is bringing other rhythms too. Okay, this could be quite an accessible rhythm to play for a jazz pianist, but for a classical pianist, where you don't really find rhythms like that so often, it can be challenging because you are used to a different composition style.
And the difficulty is what makes it exceptional?

I think, from a pianist's point of view, his work is the most original of all the African composers because he's not trying to stick to the Western style. He is already a classical composer through his education, but because he traveled Africa, he wrote down materials, music, songs from all these countries and all the tribes and used them in "24 Studies in African Rhythms." That's why he's not just a composer, he's an abnormal musicologist as well. He used a completely different rhythm in every study such as the music melodies in Ethiopia, Ghana, everywhere in Africa he traveled. So this is really, really exceptional.
Is it always clear what compositions are based on specific melodies from specific countries? How do you distinguish one from the other?
You will notice it even if you are not a musician from the rhythms and the melodies, how different they are. There's a piece, it's a lullaby from Congo, and it does seem like a lullaby, and it has all the elements of a lullaby but then the tune itself, even if you have not listened to Congolese music, you will know that this is something Africa.
Bartók is said to be a strong influence on Fred Onovwerosuoke's approach to the piano. Can you explain why?
Because they have a common element. Bartók made musical language his rhythm and he also was inspired by Africa. Because he traveled, he was inspired by Northern Africa. It was easy for him to adopt Bartók even though Bartók was inspired by African rhythms himself.
In an old interview you spoke briefly about one of your first tutors who, when she passed, bequeathed her entire collection of CDs—over 400—to you. Could you tell me more about how formative the relationship was for you?
There were many people that had really influenced my growing up as an artist. That particular lady was so special because I grew up with her. We are talking about a relationship that lasted over a decade. She was my first or second piano teacher and I worked with her for six, seven years. And after I finished working with her we stayed friends. I used to go and visit her on a weekly basis and we would discuss music. Even though I had stopped working with her as a pianist, she took over raising me as an artist and as a musician. We would listen to recordings and analyze them. Even after I graduated from university, she write me letters. We would listen to recordings or something that she discovered because she was really with everything that was new, with all the new pianists and she had the latest recordings at that age.
Why are these particular arrangements special to you? What about them is special?
It's the most difficult piece for cello and piano. For a pianist because it's almost like a piano concerto with very difficult technique and at the same time you're playing with a cellist. So, you have to have... I would say "double attention"... to what you are playing and towards what your partner is doing. I think it's a fantastic piece. It really suits my personality, my temperament and my technique.
What is special about performing to a live audience?
Every concert is special because every concert is completely different. This is also the excitement about it that there is no concert that is the same. And you never know how it's going to go.
Can you single out a memorable moment?
One of the most important solo concerts was, I think, the first time my father came to my concert [in Romania in the late 1990s]. After the concert he told me that tears came into his eyes when he was listening to a particular piece. And it reminded him of where he was from in Delta State. I think it was Beethoven's sonata.