Before "Calm Down" was gifted to the world, producer Andre Vibez and Remahad already forged a connection. This was during Rema's early years in Benin City as a teenager and a budding artist, part of the musical duo RNA. Andre Vibez was well-known in the city for his grasp with unproven talents and his enviable heritage as the son of Sir Victor Uwaifo, a Nigerian music legend.

But Andre, who journeyed into the music world first as a rapper before being nudged by his Dad to master music production, sought for more outside Benin. Thus, a move to Lagos, the nation's creative hotspot, surfaced. While that phase came with a state of lull, news of Rema being unveiled in 2019 ignited a sense of hunger in Andre Vibez to go harder at music production than ever before.
A meeting with Don Jazzy happened through his cousin in 2020. The partnership with Rema would be struck again and a year later, Andre Vibez would supply the sonic rudiments that morphed to become the most streamed Nigerian song in 2021, "Feeling" by LADIPOE. He and Rema would create "Calm Down" —the monstrous hit that has continued to shatter existing records—that same year, creating new landmarks and pumping in new opportunities both for the producer and the artist, who's just finished touring India.
We spoke to Andre Vibez below.
You often add elements from other genres to your Afropop beats. What's your creation process like?
It differs for everybody. But the thing I do is, when I make my beats, I have an artist or similar artists in mind. So if I'm making a certain beat, I can make it thinking Rema will be great on this, Ayra Starr will be great on this. I try to make it in a way that it's so good that when I play it for that particular artist, they can instantly connect to it.
Another secret is leaving a lot of room on my beats when I start making them so when any of the artists jump on it, I can go back and add other elements or melodies to it. So it all complements what the artist did on that record. There were some beat elements on Mavins' "Won Da Mo" and Crayon's "Too Correct" that were added after the artist had recorded so it gave me room to experiment and be creative.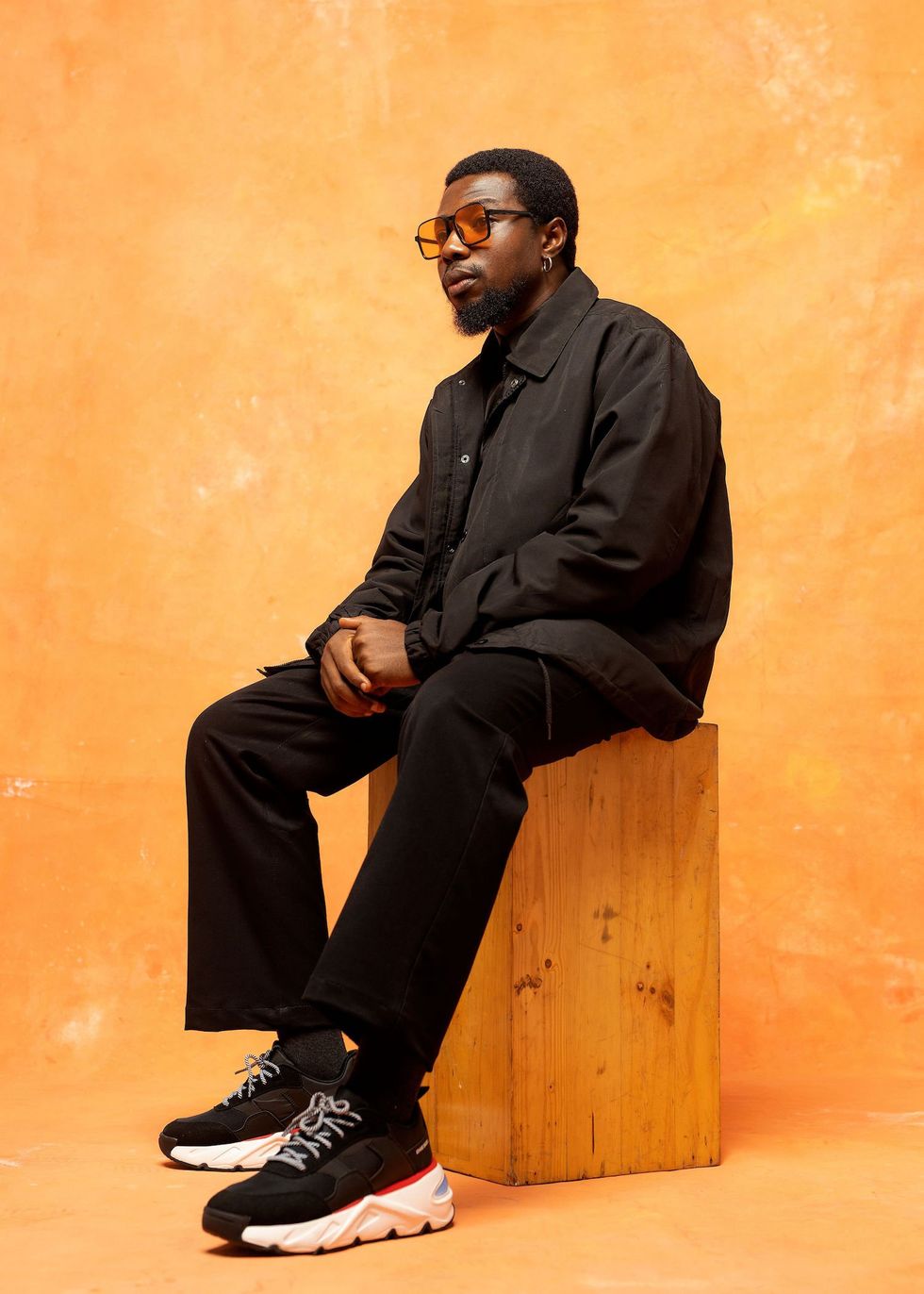 Andre VibezPhoto courtesy of the artist.
Your dad Sir Victor Uwaifo was a legend, did he influence your choice to become a music producer?
Yes. Getting into production was quite easy for me. Considering the fact that I grew up in music, my father, the late Sir Victor Uwaifo was like one of the biggest musicians out of Nigeria and Africa in his prime. I just grew up listening to his music, watching him perform, watching him record, rehearse, cut records. I took all of that in but I didn't realize I was going to do music until I became a teenager.
My dad's influence is so great on me that if you listen to the beats I make, you'll hear that there are elements of different genres. That's what my dad created. Also, he was very experimental. My dad wasn't exactly highlife, he made a highlife hit and people tagged him highlife. And when you hear the instrumentation in his beats—the percussion, the orchestral sounds, horns and the jazz melodies... imagine growing up, listening to that kind of music every day, it'd definitely have a big impact on you.
You produced "Dirty" and "Calm Down" off Rema's Rave and Roses album. How did that connection with Rema begin?
Rema and I go way back to 2014, when I first met him. I mean Rema is Rema. But Rema is like my younger brother. Because when I met him, obviously he was really young, he was 13 or 14 when I first met him, I was the one who made his first record when he was in a group (RNA).
I made about three other records for them. Fast forward to when he was unveiled by Mavin. To be honest, Rema is one of the people who motivated me to get back to doing music production. Because I remember I was in SoundCity at the time. When I saw that, it just sparked something inside of me. It felt like, I came here, to Lagos for something and I'm seeing someone that I know, we have some history together. And he's here at this level, I can do this as well. So that was what sparked that idea of me just quitting my job and getting back to this.
Once I got into Mavin, Rema and I started working. When he had the time, we would record and the synergy started to come back. I started to understand him and he understood my stuff. Rema is someone who knows exactly what he wants. And once you understand him, then it makes it easy for a relationship to be formed.
So how was "Calm Down" made?
After we recorded "Calm Down," we knew it was a special song. I just didn't know how big it was going to be. I think it was during the day we recorded the song. So Rema came to the studio, this was sometime in 2021, and I played him a couple of beats. The "Calm Down" beat must have been the third beat I played him that day. As soon as he heard it, he was like I should keep that. I played him another one and he was like let's go back to the previous one, which is the beat for "Calm Down."
He just told me to keep playing it and he started coming up with the lyrics, the melodies. He came up with the vocal melodies first. And then we started putting in the words and recorded it. After we were done, we listened to it and we knew this song was special.
"Won Da Mo" became a popular hit in December and although produced by you, it spelled out your versatility. How do you infuse elements from other genres into the Afropop records you make?
I mean we can make rock music or metal music in Nigeria. So if you're going to infuse any of that you have to balance it out with other things.Every Afrobeats song that you hear today regardless of the melody or the rhythm, it's the drums that drive Afrobeats. Because for African music, before we started making contemporary African songs or like what we make today, if you go back in time before we got civilized, you'll notice that literally every culture in Africa plays drums. They play heavy drums, the percussions, congas and shakers. So African music first of all is drums. And what Afrobeats is using to dominate is firstly the drums and the addition of nice melodies which you can borrow from anywhere else and add to the drums.
How did that happen for "Won Da Mo"?
For "Won Da Mo" we were going for something really fast because it is supposed to feel like it's an action movie. That was the idea. The idea wasn't coming from me though. Rema was definitely a heavy part of that process. In fact, the main melody was Rema. That "Tan Dan Tan Dan Tan Dan" you hear at the beginning, Rema is the one who wanted that. Then I started playing the drums, adding like all the other elements, getting a guitarist to come to the studio to play some melodies too, directing him on what to play.
Once I realized that it was a song every artist in Mavin was going to be on, I had to find pockets for each artist to come in which was very difficult because you have eight artists. How do you want to fit eight artists into a song that's not so long? The most difficult part was the transition from one artist to the next artist. I had to make it work in a seamless format. If you notice, for every time the next person comes in, there's something that leads into that person's part.
So those sounds that I added, those things I added to make the record what it is, the whole rock sounds, R&B feel, is just an approach I like. For me, it's something that makes me stand out. And for you to be recognized, for you to stand out, you need to be able to do something that's different from what other people are doing.
You also produced Ayra Starr's "Rush," her biggest record yet which has amassed over 100 million Spotify streams and just went Gold in France. How did that happen?
I just did my own bit. I had made the beat a while back, maybe April last year. So I worked with another producer, Hopp, from the U.S. who's on the production credits. After we dropped "Calm Down," I had a lot of international producers reaching out, wanting to send samples. So this guy, Hoops sent me samples and loops. I heard one particular loop, loved it instantly and wanted to create around it and then I just worked it my own way. You know, added other things and gave it that Afropop feel.
I then shared it with Mbryo, who co-wrote the song with Ayra Starr. That's it. I wasn't even present when it was recorded. I recorded Mbryo but when Ayra recorded I wasn't there. I just heard the record when she had done it and sent it to me. I was like cool, I love it. And after, I added some other elements to it. There was this particular bassline I included and some little strings and transition sounds I added here and there.