Scorpion Kings, the duo made up of producers Kabza De Small and DJ Maphorisa, continues to spearhead and make efforts to take amapiano to new spheres. They are part of a handful of the genre's acts who have performed outside South Africa — in countries such as Tanzania and Kenya — where the yanos is proving to be popular. Kabza De Small's 2020 album I Am The King of Amapiano: Sweet and Dust features Nigerian heavyweights and recent Grammy winners Wizkid and Burna Boy. "For me, it's like we are just expanding the amapiano wave so other people can reach it and we can grow the music," DJ Maphorisa said in the album's official press statement.
For their newly released album, Rumble In The Jungle, Scorpion Kings teamed up with South African-based Congolese pop maven TRESOR. The album shares its name with the iconic boxing match between George Foreman and Muhammad Ali which took place in 1974 at the stadium Stade Tata Raphaël Kinshasa, Democratic Republic of Congo (formerly known as Zaire). A collaborative project between TRESOR and Scorpion Kings is, in itself, a championship event and a historic moment — a timestamp of where amapiano as a genre currently stands.
---
For TRESOR, the album was an opportunity to expand his artistic palate. "With the amapiano sound being quite different, I was up for the challenge because I love thinking of new ideas that make me grow as an artist," he told TimesLive recently. "This particular album is special, for me, because it represents a bold statement of pride in the diversity of our culture as Africans, embracing the rich musical landscape of our home," said TRESOR in a press statement.

TRESOR Meets Amapiano
"I am not one to jump on trends but Maphorisa introduced me to amapiano in Lusaka, Zambia," revealed TRESOR in a recent interview with NotJustOk. "I knew about the amapiano sound, but wasn't into it until Maphorisa and I were headlining a festival about three hours outside of Lusaka. He played me a couple of songs while we were driving."
The trio's first shot at collaborating came several months later on the song "Play Your Part — Africa Unite", a campaign by Brand South Africa aimed at encouraging adherence to COVID-19 safety regulations. For "Play Your Part - Africa Unite" Kabza De Small's Dr Peppa was reworked and used as an instrumental for the campaign song which featured Sha Sha, Riky Rick, Rouge, YoungstaCPT and TRESOR. It was on this very song that the public got to hear TRESOR on an amapiano beat for the first time.

DJ Maphorisa is no stranger to working with diverse sounds, having dabbled in hip-hop, kwaito, Afro-house, gqom, Afropop, Afrobeats and now amapiano. His list of collaborators includes Major Lazer, Drake, Wizkid, Mafikizolo, Davido, Runtown, Diamond Platnumz, Busiswa, Patoranking and Mlindo The Vocalist. "I told Kabza: 'We need to work with this guy because he's great and he brings a different kind of texture and is really authentic'. I felt like his sound could go with amapiano," Maphorisa shared.
In the interview cited earlier, TRESOR mentions how they wanted to fuse their sounds and styles to create something new and different. The trio started working on Rumble In The Jungle in June 2020, and completed it within six months.
A Pan-African Project
The album is well within the realm and soundscapes of amapiano. It's the integration of equally distinct sounds — alternative-pop, soukous, bubblegum and Afrobeats — into malleable compositions that makes it unique and experimental. The songs are emotive and mostly speak on themes of love, and the use of language is employed to convey that messaging.
The album's lead single Funu, finds TRESOR hurt and seeking to mend a broken romantic relationship. The beat's dynamic percussion is mashed with lush piano chords and gleamy synths. The lyrics are predominantly sung in Kiswahili, with a few lines in English. "I'm lost in you bae, there's nothing I wouldn't do to make it right /Shall we rewind, there's nothing I wouldn't do to make it right," TRESOR croons in the hook, before breaking into a wail-like hum, carefully weaving it into the beat.
On the album's current single Folasade, TRESOR sings about his admiration for a woman he's enamoured of. Folasade is a name of Yoruba origin, which means "honored with a crown" when loosely translated. The song has mesmerising West and East African melodies and chants which also spill over to the song that follows, Soro and, later on, Malaika. In the hooks of album opener Stimela, TRESOR sings in isiZulu while La Vie Est Belle is sung in French and Kiswahili. Other songs in Kiswahili include Soro and Neriya. Limbisa Nga is in Lingala. This blend of cultures and languages echoes throughout the album.

TRESOR has, in multiple interviews, revealed that he first worked on the vocals for most of the songs, and sent them over to the duo. The Scorpion Kings then crafted beats around the singer's strikingly soulful vocals and falsetto-laden hypnotic melodies, resulting in richly textured amapiano songs. They managed to archive this, all while allowing each of the elements to breathe. Most of the songs still contain heavy-drumming sections, as well as piano solos and synths that are synonymous with the genre.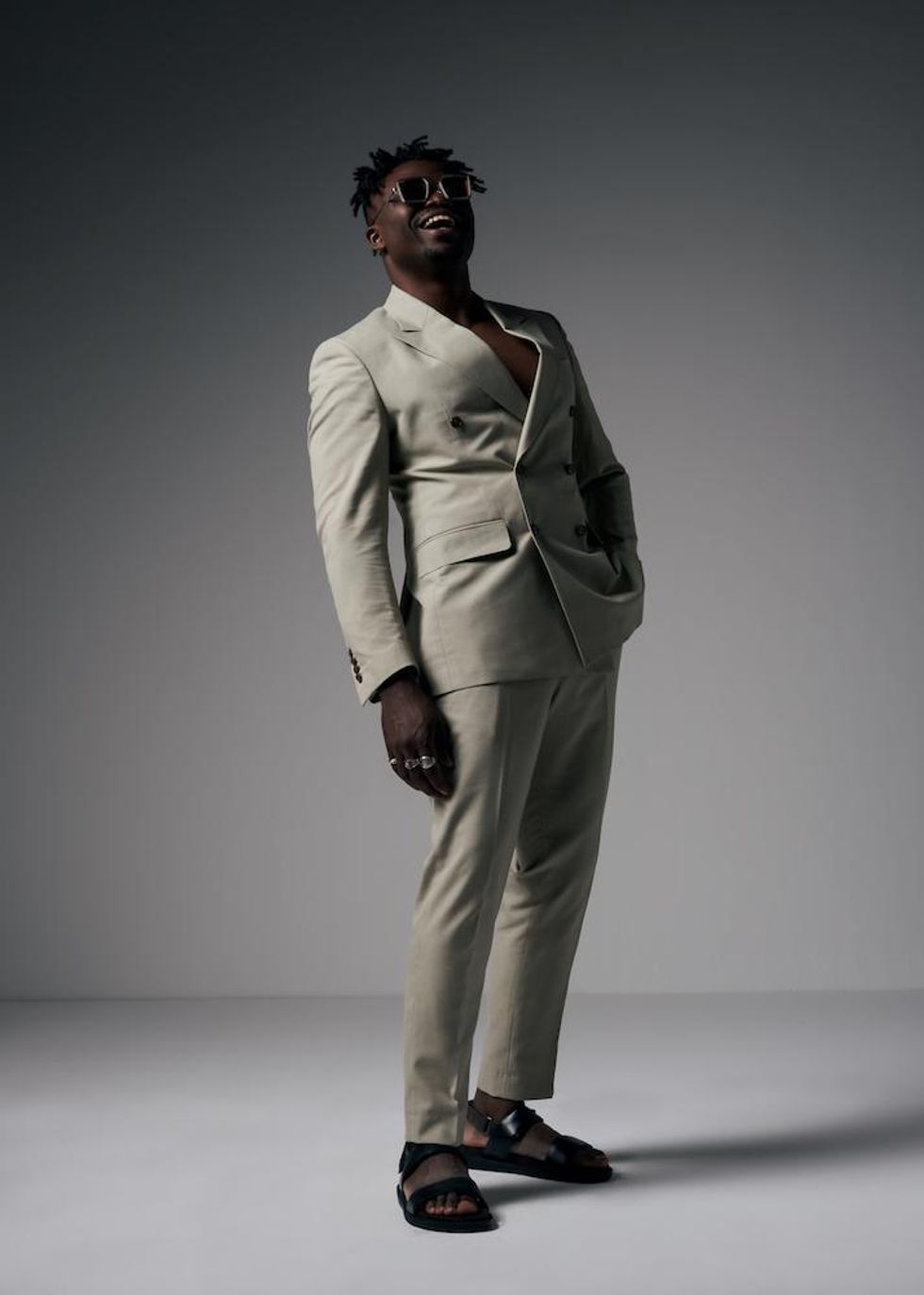 TRESOR brought his sonic identity to 'Rumble in the Jungle' via his own catalogue which spans over eight years.Image supplied.
Additional production on the album comes courtesy of Tyler ICU, Mas Musiq and Matthew Field, the Beaternberg frontman who worked on Cherie, Mali Mali and Dust In The Wind, respectively. The only other vocal contribution is from Cape Town-based band Beatenberg, Tresor's frequent collaborator, which appears on the pop-inflected Dust In The Wind.

TRESOR Referencing His Previous Work
Referencing is a recurring theme on TRESOR's solo efforts, as in some portions of all albums, he draws inspiration from past eras. So when challenged with the task of jumping on the trendy sounds of amapiano, TRESOR brought this sonic identity, via his own catalogue which spans over eight years.
The original composition of Limbisa Nga appeared on Zahara's 2013 album, Phendula. TRESOR wrote and featured on the song, which helped introduce him to the masses. A reprised solo rendition appeared on the repackaged version of his debut album VII in 2016. La Vie Est Belle, the most personal song on the album according to TRESOR, was first used for a 2018 Ford Everest campaign and featured as La Vie on his 2019 album Nostalgia.
The Scorpion Kings Return To The Desert
The duo's moniker makes reference to their shared star sign, Scorpio, and the fact that when they started, their sound reminded them "of an Egyptian desert". Egyptian aesthetics also come forth strongly on the album's visuals. Previous Scorpion Kings have always taken a rather simplistic approach to their albums' artworks; a lot of them are results of Twitter contests hosted by the duo, usually, a few days before release.
Scorpion Kings X TRESOR - Folasade (Official Music Video)www.youtube.com
This time around, things were different. Rumble In The Jungle's cover art was designed by renowned visual artist and sculptor, Hedi Xandt, also the creative brains behind the cover art for Beyonce's The Lion King: The Gift album. The single and promotional artworks for Funu and Falosade feature luxurious motifs and symbols of diamonds, crowns and a scorpion; representing both Scorpion Kings and TRESOR, whose name means "treasure" in French.
Rumble In The Jungle's official artwork is a spectacle. It features a striking image of a three-headed gold sculpture of Memnon, over a black background. Legend has it that Memnon was a powerful Ethiopian king who almost defeated the Greeks in the Trojan war. Many believe that Memnon was based on an Egyptian Pharaoh. In ancient Egypt, it is believed that after the statue of Memnon was destroyed, it produced musical sounds when the sun's rays touched its surface.
TRESOR's Unique Approach To Amapiano
Rumble In The Jungle owes its cohesiveness to the artists keeping the number of guest features and producers low. Maphorisa, or his vocalist alter ego Madumane, and Kabza occasionally dabble in some vocalisation. On this album, however, they stick to producing, allowing TRESOR's unique approach to the genre to define the project.
If given the attention and push it rightfully deserves, Rumble In The Jungle could put Kabza De Small and DJ Maphorisa at the forefront of the genre internationally. If the George Foreman and Muhammad Ali fight could unite Black people from all over the world, then it is reasonable to expect this album to do the same!
Stream Rumble In The Jungle on Apple Music and Spotify.