I wasn't prepared for the immense feeling of gratitude, wonder and possibility that enveloped me as I entered the theater to view The Burial of Kojo. Just short of a year ago, I remember sharing, supporting and writing about the Kickstarter campaign for Blitz's impending film, while sending wishful vibes out to the universe in hopes that this project will come to fruition. Blitz teased us with stunning photos of a young girl under a shower of golden electric sparks, a car burning below early morning daylight on a monochrome shore, and behind the scenes shots of the jubilant team posing near mines. The mystery and magical realism of the photography only heightened our anticipation of the birth of this film.
At this month's Urbanworld Film Festival, I watched The Burial of Kojo come to life in a sold out theater. From the opening visuals—filled with softly rustling waters, humble homes resting near rivers, bodies painted delicately in brown and sunshine with no desire to abandon—I was immediately transported to the land my mother dreams of and recalls to me in longing details. Ghana. And from the onset, it seems The Burial of Kojo is solely happening here. However, the film is occurring just as much in our psyche as it is in the afterlife and our fantasies. It is happening inside and out, upside and down.
---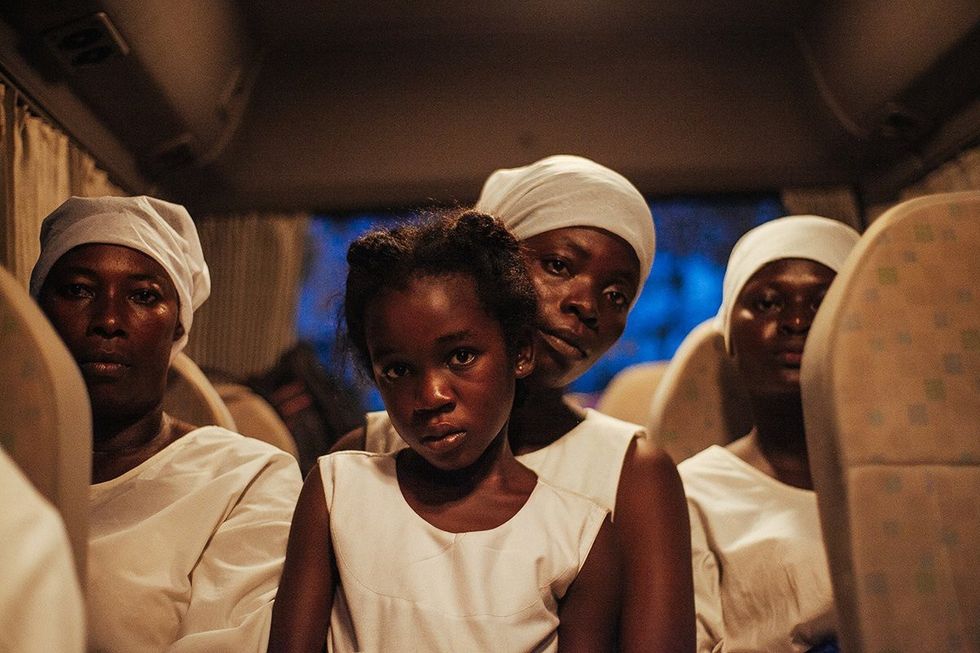 Photo by Ofoe Amegavie via 'The Burial of Kojo's' Kickstarter page.
This tale follows a family of four: Esi, the inquisitive, wildly perceptive daughter, Kojo, a silent lover and father concealing secrets we can't predict, Ama, the wife and mother with stirring facial expressions yet very few words, and Kwabena, Kojo's enigmatic brother whose intentions we cannot easily place. The energy that flows between this ensemble makes the film compelling and heartbreaking, however it doesn't allow for each character to express themselves to their fullest extent. This decision lends insight to the nature of narration: when we enter a story, we are usually guided by one point of view, and this sets up a relationship that is not completely trustworthy, no matter how entangled we are in the narrator's emotions. There's more than one side to every story.
We are encouraged to believe that Kojo and Kwabena are the heart of this tale. Seven years ago, Kojo's mistake leads to a fatal incident that both he and his brother can never forgive. Kojo has created his own version of purgatory by running away, settling in a new community and starting a family, in hopes of escaping his past. Esi, the light of his eyes, possesses the gift of traveling between this world and the spiritual realm, which causes her great discomfort until Kojo is finally able to acknowledge his past wrongdoings. Surrounding their troubles is the widespread threat of galamsey—illegal mining—environmental and infrastructure issues and unproductive foreign intervention for profit that is occurring in parts of Ghana. All of these elements are sewn together with the sins of Kojo and the burden it places on his powerful and intuitive daughter.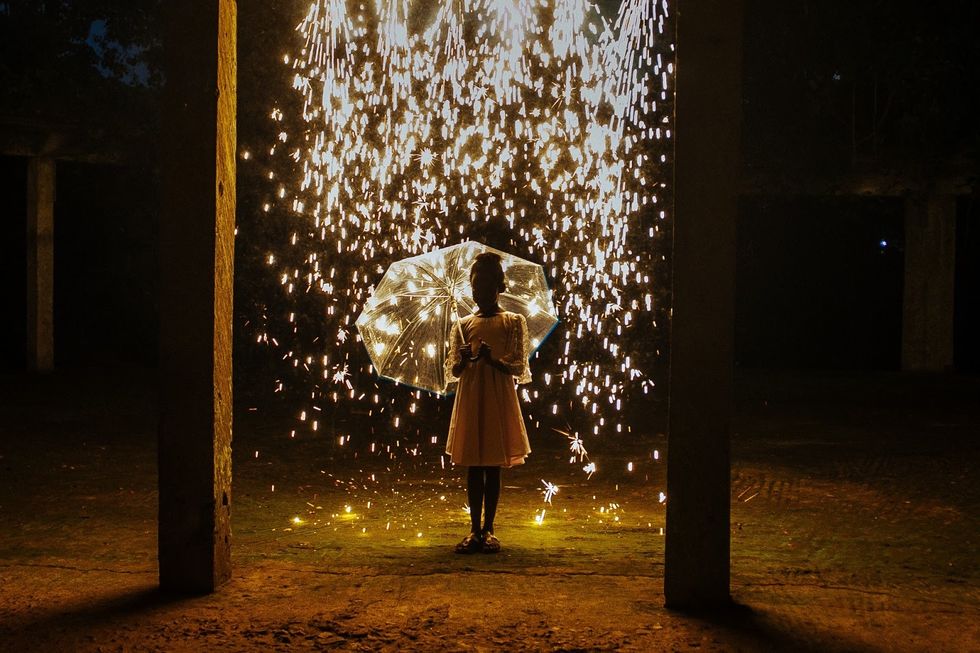 Photo by Ofoe Amegavie via 'The Burial of Kojo's' Kickstarter page.
Yet, as I mentioned above, things are not always what they seem. Destination is a key factor in this film, especially how it relates to our mortality and ancestry. We accept that death is inevitable, but we like to believe that death and all of its friends exist in another room, behind a door we step into when time has run out, when it's actually all around us—it's less a door and more a sheer curtain. Submitting to this harmony brings a shining light to the afterlife, rewriting it as another plane of existence instead of consequential doom.
Blitz has spent the majority of his career using music, style and visuals to explore the power of female children, spiritual omens and Ghanaian values. The Burial of Kojo was fateful: it was written in his stars before he even realized the fantastical patterns occurring in his music videos. This question looms throughout the film and has lingered within me since stepping out of the theater: what are we leading ourselves into with every move we take—and how will we submit to it and turn it into something meaningful when that pivotal moment finally arises?
'The Burial of Kojo' took home an award for Best Narrative Feature (World Cinema) at Urbanworld Film Festival. Keep a look out for screenings in major cities around the world by following the film's Facebook page.