Too Many Blackamoors (#8) , 2015, Heather Agyepong. (Courtesy of the artist/Autograph ABP)
---
In her latest project, Ghanaian-British photographer Heather Agyepong reimagines Sarah Forbes Bonetta 's complex legacy through a contemporary lens. And, exactly who is Sarah Forbes Bonetta? That's the question I asked myself after reviewing Agyepong's sepia-toned portrait series.
At the time of publication, a quick Google search of the name yields 200-plus search results. Most of the article titles simply allude to Bonetta's being a little-known figure in Victorian history. The more conspicuous of the bunch pigeonhole her as an "African Princess," making sure to mention her even lesser-known relationship to Queen Victoria. "You'll Never Guess Who This Woman's Godmother Was," reads a Buzzfeed article . Yes, Sarah Forbes Bonetta was a member of the South-West Nigerian clan formerly known as Egbado Omoba and born into royal blood. And, yes, Queen Victoria was her godmother.
But, Bonetta was also orphaned at age eight following the slavery-related massacre of her family, and promptly given to a British naval officer. She was promptly renamed and presented to the Queen as a gift. She was publicly praised for her exceptionally high intelligence and musical aptitude, often in comparison to her young predominantly white peers. She was coerced into marrying a Yoruba business man 14 years her senior, with whom she had three children before dying of tuberculosis in 1880.
Bonetta has since become a historical figure whose convoluted life story casts harrowing shadows and sheds critical light on the varied experiences of Blacks living in Victorian times. That's why Agyepong felt compelled to center her archive research project Too Many Blackamoors on a small sepia-toned photograph taken of Bonetta during her London honeymoon.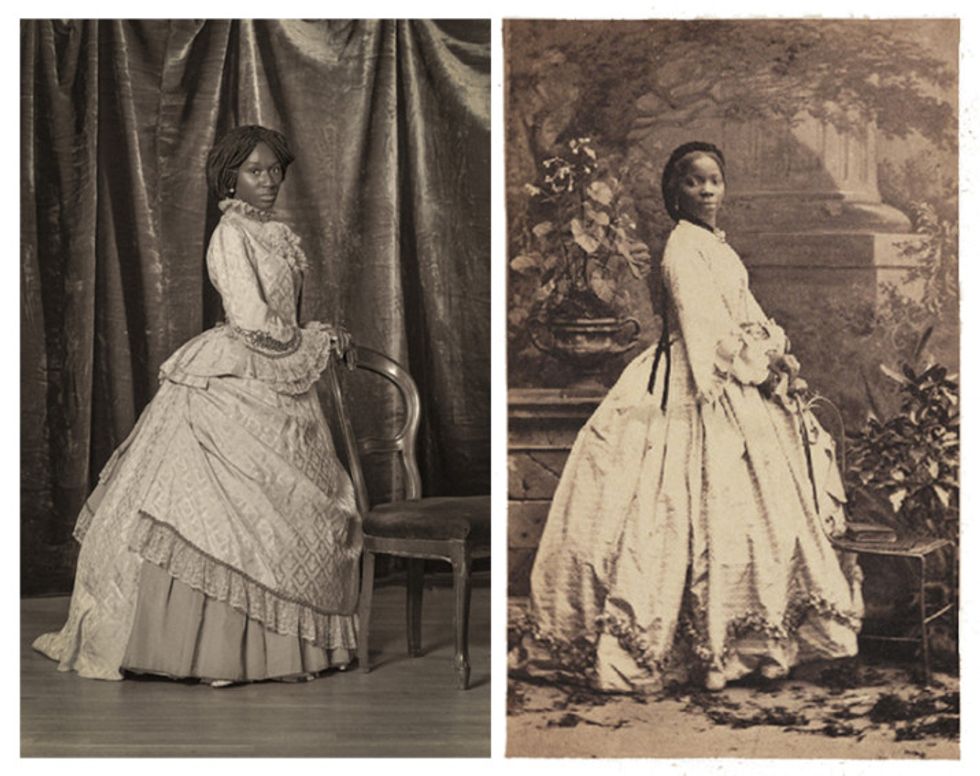 Left: Too Many Blackamoors (#1) , 2015, Heather Agyepong (Courtesy of the artist/Autograph ABP). Right: A carte-de-visite portrait photograph of Sarah Forbes Bonetta (d. 1880), taken by Camille Silvy in 1862. Source: The Royal Photographic Society at the National Media Museum .
" Too Many Blackamoors aims to challenge the strong, independent, Black female narrative that can burden and often entrap black women," Agyepong tells Okayafrica. "With Sarah as my template, the project attempts to illustrate the effects of such perceptual limitations whilst exploring my own internal conflicts of falling short from such mainstream ideals."
Now on display in London, Too Many Blackamoors is available for viewing alongside a host of new multi-media productions by young creative practitioners also responding to 19th century photography. We reached out to Agyepong via email to learn more about her artistic process, the making of this project and the role that archives play in contemporary art.
What is the story behind the project's name?
The title refers to the feeling I often get whilst traveling in various European countries; trespassing, unwanted, becoming a threat. There can be not a single person of color on the whole street and I'll still have an encounter with someone as if you have invaded the land. However, no words ring more true than what the late great Stuart Hall said: "We are here because you were there."
Who was your mentor during the six month process and what did you learn from him or her?
Adelaide Bannerman, the Archive Coordinator at Autograph ABP, and The Missing Chapter's Assistant Facilitator Ama Josephine Budge were my mentors. They were great at providing a safe space to allow me to dig deep and explore really personal struggles that responded to the archive. They were incredibly knowledgeable and guided me through both a personal and artistic journey. They were from two different generations and that worked well in regards to understanding the complexities of Black female narratives and how they are changing.
In an earlier email with us, you had mentioned that fear, shame and vulnerability were topics you begun to explore during the re-enactment process and that those topics fit "within the limitations of mainstream ideas of the Black female narrative within the African diaspora." Can you please further explain the latter part of that statement?
Overall, the project is a response to my own idea of the Missing Chapter regarding the lack of multiplicity within Black female narratives. The expectation of us always being strong, independent and resilient has often made me feel guilty, ashamed and embarrassed of presenting myself in any other way; especially when dealing with my own issues surrounding mental health. I believe Black women have been pigeonholed throughout history as emotionless punching bags who often get the brunt of a lot of discriminatory behaviours that go unreported. I hope the project encourages debate towards a nuanced presentation of Black women and adds to a more open discussion about Black woman and mental wellbeing.
What are your thoughts on the importance of archives and heritage, particularly in regards to your generation?
I think there needs to be a real urgency as young people to seek out archival history. Stories have been mistold, rewritten or simply erased and this particular lack of information may have caused us to internalise really negative beliefs about ourselves. Years of learning about the great movers and shakers of the world as solely white Europeans have made us feel incredibly isolated. But, uncovering the forgotten histories can only inspire us to reclaim and preserve our own stories to prevent the systematic erasure of the Black presence in Britain from continuing to the next generation.
"Too Many Blackamoors" is now showing at The Missing Chapter TMC Collective Showcase from January 15 to 30 at Rivington Place in London. The project was commissioned by Autograph ABP for The Missing Chapter supported by the Heritage Lottery Fund. For more information, visit the exhibition website .
Follow Heather Agyepong on Twitter to stay up-to-date on her work and shows.
(Editor's note: image attributions have been fixed)

Too Many Blackamoors (#1), 2015, Heather Agyepong. (Courtesy of the artist/Autograph ABP)

Too Many Blackamoors (#3) , 2015, Heather Agyepong. (Courtesy of the artist/Autograph ABP)

Courtesy of Heather Agyepong

Courtesy of Heather Agyepong

Too Many Blackamoors (#5) , 2015, Heather Agyepong. (Courtesy of the artist/Autograph ABP)

Too Many Blackamoors (#6) , 2015, Heather Agyepong. (Courtesy of the artist/Autograph ABP)

Too Many Blackamoors (#4) , 2015, Heather Agyepong. (Courtesy of the artist/Autograph ABP)