Sarkodie is a veteran as far as African rap is concerned. That status comes with certain privileges that artists of a different stature might not be able to experience in their full measure, one of them is the liberty of total and complete creative freedom. At the present stage of his career, Sarkodie is not bound by expectations, formulas, or the need to create music that caters to markets or tedious stipulations outlined by major labels or investors.

The Ghanaian star has done it all, from 30-track albums to rap-focused EPs, strings of bar-heavy freestyles, and much more. JAMZ is the Tema native's eighth studio album. "The name explains itself, it's jams." Sarkodie tells OkayAfrica. "I started taking some trips, going on vacations back to back with the family and the team, and I was inspired by just taking time off to just enjoy life and these are the type of records I would want to listen to when I'm on such trips and just having fun. So that's what inspired the whole project."
Sarkodie's albums are known for being laden with diverse sounds with rap at the core, but this time around he had a different mission. He describes the JAMZ album as a "playlist." It's the kind of music you can kick back and relax to while on vacation or out or a night of spirited partying—songs you can vibe to and enjoy. However, although that was the overall outcome of the project, it wasn't necessarily the plan when he started making the album.
"I don't necessarily try to set the tone for a project when I'm about to record one," he explained. "For other people it might work, but for me it doesn't. The album has to create itself. Subconsciously the music just keeps coming, and before you know it I realize oh that's a project. It's not really something I planned, it just happened. And mostly my music comes in the certain state that I'm in. That's what dictates the type of sounds that I go for. So that's how the project was formed."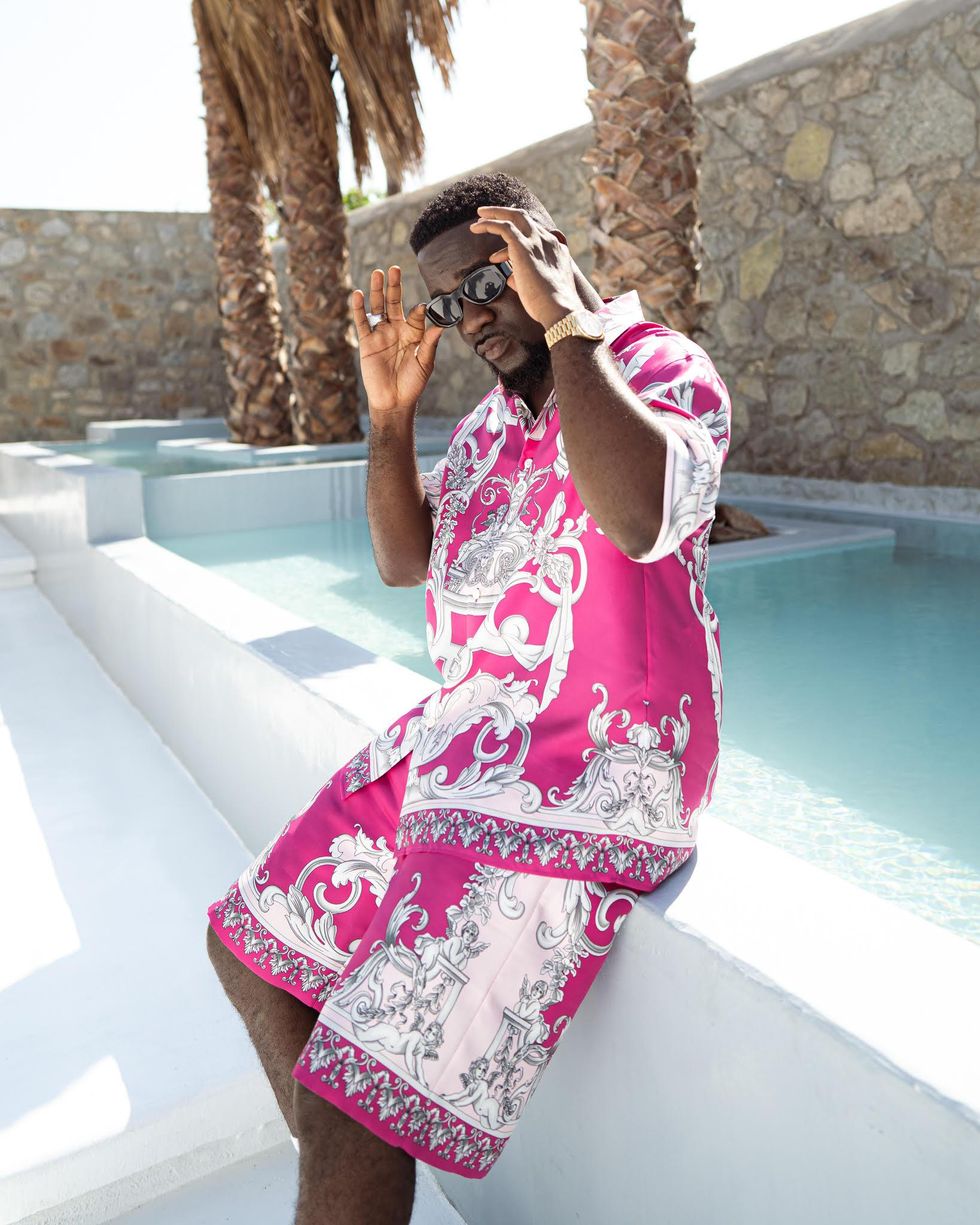 Sarkodie.Photo: Samuel Mironko
On JAMZ, Sarkodie worked with his producers MOGBeatz,GuiltyBeatz, DJ Coublon, Atown TSB, and Masterkraft behind the boards to bring the album to life. Speaking on his creative process while working on the project, Sark illustrated how he went about making the songs on JAMZ using the album's lead single "Labadi" as a case study.
"I love how Labadi came about. Coublon sent me the beat and I didn't even write anything back to him because I was so moved by the beat and I started writing. So I got lost in it and I wrote the first verse 'All my beautiful ladies we could link up.' I like to listen to producers and know where they were and what they were thinking when they produced the beat, because that helps me and I think it's very spiritual. Because they could be in a space and sometimes I wanna tap into that. If it's too off I can do something else, but it's always right to tap in with the producers and know where they were when they produced it. So I hit him back and I was like 'What were you feeling when you were producing this?' He was like boat rides, 'beach vibe, all-white party,' and I was like 'Wow, that's crazy.' Because that's literally what I wrote. I literally wrote boat rides, all those things. So I was like that's very spiritual. So that song is very personal to me. That's why it was the first single, because I believed in it so much."
Another standout track on the album is the song titled "One Million Cedis," in which he featured a relatively unknown Nigerian singer called Ink Boy. Speaking on the song, he explains how he spotted the emerging talent and how the collaboration came to life.
"Ink Boy is a superstar in the making. On thing about me is, I'm really about the music. I'm not about the gimmicks and the trends and clout chasing and all those things. I don't do that. So whoever sang the music, wherever you're from, if you suit the music and I love what you did, that's what I'm gonna go for. I was in Nigeria and I had a couple artists and producers in the building. Rexxie, Masterkraft, Joeboy, incredible artists, Phyno, everybody was there."
Sarkodie - Labadi feat. King Promise (Official Video)www.youtube.com
"We created 'One Million Cedis,' and this kid was just in the corner making melodies. I was like 'yo lemme hear that,' and he came closer and I loved it. I was like put this on. He wasn't even sure that I was gonna do it, and I was like I like the way your vocals are and the melodies you're going for, let me hear how that would sound on it. Even Masterkraft was asking if I was sure, because he knows I could call on anybody that I want to get on the record. But I was like 'nah, this is exactly what I want.' Also, that can pass to be one of my best records [on the album] as well. It made me rap how I want to rap at this point of my career, it's very calm, dark, but still very commercial. So Ink Boy is somebody I just met. He came with the Nigerian comedian Father. He was with him and I spotted him, and I know he's gonna go far."
As to whether the kind of music you hear on JAMZ is what his creative direction is going to be like for the foreseeable future, Sarkodie prefers to leave that to fate.
"It's hard to tell. I've never been that type of person that tries to force something to happen. We have structure as far as business is concerned, yes. You have to be specific and you have to be calculated on things you wanna do. But I need the creative side to be as organic as possible or I'm not gonna feel right within me. If I say 'this is what I'm trying to do' it never really works for me. There are a couple records that I did that on and as dope as the records were, because my spirit was not behind it the songs did not do what we thought it could do."
"But anything I do organically works. So I'm not gonna say this is gonna be what you're gonna hear, but if I go back to listen to all my projects I noticed one thing. I get tired, fatigue is the word I use. I get fatigued on a certain sound if I overdo it. This project, since I've done a lot of afrobeats, amapiano, chill vibes I know I'm gonna be tired. I will have to refresh my mind so I can come back. It's definitely gonna be something different. I don't know what it's gonna be, hip-hop, highlife, whatever but it's gonna change. Definitely."