Taking a stroll in Dakar is an overwhelming sonic experience. One of the busiest metropolises of West Africa, Senegal's capital is flooded by taxis with lousy tailpipes and drivers who are keen to honk every now and then while cruising long avenues by the seaside. All over the city, several minarets' speaker boxes remind the prayer times throughout the day, adding chants to daily people's chats in different languages and dialects.
At first, it may not seem too different from other big cities in Africa, but one kind of music sets a unique dakarois tone. Whether in a clothing store, having a thieboudienne for lunch or taking a cab, one's ears will be caught by mbalax music.
A new generation of artists wants to bring different sounds to the main stage of the Senegalese arts. They are the likes of the electro-fueled trio Guiss Guiss Bou Bess, the big afrobeat-ish band Sahad & The Nataal Patchwork and the experimentalist sound-maker Ibaaku. He's one of the founders of Kandang, a newly-born platform that aspires to build up a healthy environment that could develop the work of Senegalese musicians through concerts, workshops and promotion.
---
"I love to listen to this new jazz music scene from London and, once you think about it, it's a music scene that is flourishing ten years after a structure was created," says Ibaaku. "We're living a key moment in Senegal, we are struggling, we are trying to do something."
Born between the mid-80s and mid-90s, these artists have grown up under the influence of Senegalese singer Youssou N'Dour. The mbalax godfather's achievements also show the rising popularity of that music genre throughout the decades. Once a party singer in the '70s, N'Dour is not that different from a hip-hop mogul today: he's one of the richest men in Africa, performing arena-concerts abroad while owning businesses that span from media companies to music studios.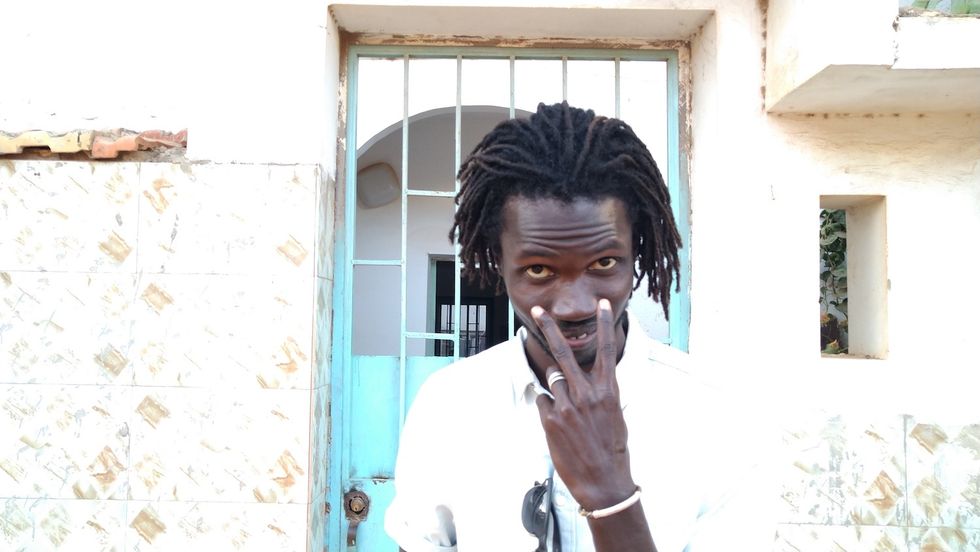 Mara Seck.Photo: Felipe Maia.
Eventually, this industrial mbalax complex proved to be an ideal platform to keep the wheel spinning. The main radios and TV channels in Senegal broadcast this frantic music that revolves around catchy keyboard lines and vocal melodies along with the sabar talking drums.

Supported by projects like Kandang, the new generation of Senegalese artists want to face this local dominance of mbalax and nurture an ecosystem for local music. "We live in a time where music genres don't matter anymore," says Ibaaku. "In Senegal, we absorb a lot of influences. We just need to bring all of this together while being authentic to ourselves."
Keeping it real does not mean to refuse such popular music as mbalax or any other West African music genres, but rather to embrace them as a choice—and not the only choice. Guiss Guiss Bou Bess' lead vocalist, Mara Seck, comes from a long heritage of Senegalese griots. He's used to listening to and playing the sabar, the traditional music that is both a resource to mbalax and to his songwriting. "With the global pandemic, we said to ourselves: we need to stick together because we also represent Senegal, he says.
Breaking through the local and regional music landscape is not only a matter of expression: it's also a decolonial procedure. "We are still living a tradition of being popular abroad, but we are against that, against this reshaped colonization," says Ibaaku, who recalls that many Senegalese artists have quit the country in the past years to work in Europe or the US.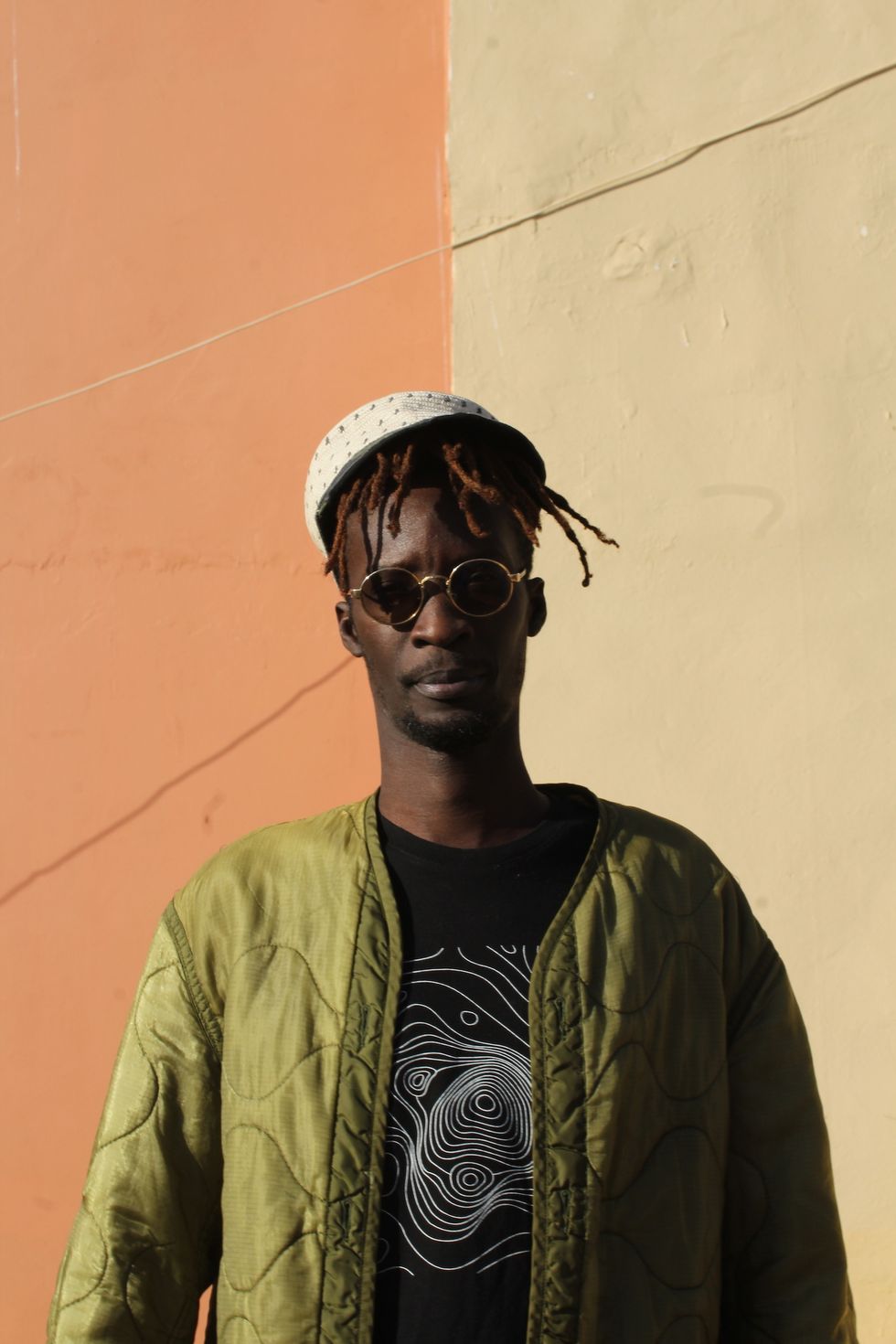 Ibaaku.Photo: Felipe Maia.
Those who stay in Dakar have also to navigate the upcoming wave of Lagos-based afropop and the long-living tide of Senegalese hip-hop. If francophone Africa is still finding a place among the rising stars from Nigeria, Accra, or South Africa, hip-hop has been a music toolbox for many Malian or Senegalese youngsters throughout the past decades. Major labels are just starting to become aware of that—Def Jam signed a deal with Senegalese rapper Omzo Dollar back in May—but rap has been popular in Dakar for more than 30 years now.

"I believe the media in Senegal broadcasts almost exclusively mbalax and hip-hop, but if there's diversity in music, people will get to know more and grow some interest in different music," says the music manager and promoter Camille Lomey. "Many Senegalese people don't know local artists like Guiss Guiss Bou Bess."
For Lomey, the coronavirus pandemic was a huge hit for Senegalese musicians that still rely on touring abroad. "It's still complicated because we need to take tests and even quarantine once we get to Europe," she says. "There's all the logistics, and we're talking about an industry that's already suffocated."
Camille is also one of the heads of the Dakar Music Expo, a summit-slash-festival focused on bringing new music business to West Africa. The first edition took place in 2019, and this year's event was canceled. "Dakar is still a cultural hub today,", she thinks, "But it's not that really."
The good old days go back to the first World Festival of Black Arts, held in Dakar in 1966, or the nights when groups such as Xalam and the Orchestra Baobab used to fill nightclubs in St. Louis or Thiès. Artists like Mara don't want to recreate that age, but rather replace their country as a cultural hub of their time. "People in Senegal love music", says Mara. "We are trying to make them know more about our music, new music."
See our list below and listen to some new music from Senegal.
Ibaaku
Self-described as an alien, Ibaaku is a restless music-maker. He's one of a kind in Senegal and West African music, blending non-linear rhythmic lines, noise-art and deep research into different Senegalese regions and ethnic groups. For his next album—a quarantine yet to-be finished project—he brings together different timelines, places and media. "I want this to be a mix of music, film and performance, a back and forth movement to the past," he says.
Guiss Guiss Bou Bess
Coming from a recent release, the album Set Sela, Guiss Guiss Bou Bess spearheads new music in Senegal. Less than four years since their founding, they have brought to light an original approach to sabar—a traditional music genre in Senegal. Its numerous patterns and sound combinations are crossed with synthetic sonic layers, enhancing the drums' main attacks and accents. "Our music is made to dance to," says Mara Seck, the group lead vocalist.
Omzo Dollar
Since Positive Black Soul "Je ne sais pas," one of the first rap hits in Senegal, different artists have hit the high ranks of the galsen hip-hop. Omzo Dollar is the new kid on the block. The young rapper can spit bars in French, English and Wolof, dropping trap or afrobeats flows.
SAHAD & The NATAALPATCHWORK
Sahad Sarr is the bandleader of one the most exciting big bands in Senegal at the time. Along with the Nataal Patchwork, he blends sweet reggae melodies with afrobeat harmonies and jazzy maneuvers into dancing, easy-listening tunes.
Collectif Boukan/Galass
The newly-born music collective is headed by Galass, an electronic music producer based in Dakar. Darkroom ambient textures, heavy hardcore drum kicks and cyber-Yoruba aesthetics are behind tracks such as Olokun or the End of Standard EP.
First started in Kenya, Electrafrique set foot in Senegal a few years ago. The party is a mandatory stop for anyone who wants to see the best dancers in town and listen to some of the best DJs of the continent. When DJ Cortega is on the decks, he doesn't miss a chance to drop new afro house tracks, the latest kizomba releases or hints of gqom all over the dance floor.
Both a party and a blog for crate diggers, Analog Dakar Club is the place to be (or the profile to follow) if you want to listen to African and diaspora gems that are not easily available in your streaming service.