Style
Prêt-À-Poundo: Have You Heard of Seraka?
Interview with Senegalese designer Selly Raby Kane, founder of Seraka.
---
Designer Selly Raby Kane. Photo credit: Layepro
Senegalese designer, international traveller and world citizen Selly Raby Kane is a fantastic emerging artist and the founder of Seraka. Kane gives us an opportunity to look at the value of art in society and its influences in our artistic choices. Pop art, street art, and music all contribute towards her vision and design choices, giving her an original aesthetic appeal. Celebrating modern shapes, prints and colors makes her pieces come alive — the ideas begin to flow and the innovations begin to make their way as you move along. Every piece is different and unpredictable, bringing on another universe. Capsule, Seraka's S/S 13 collection, recalls a pop-art African mask and shows us how to stand out by entering the futuristic realm. We spoke with designer Selly Raby Kane and get a look at the collection below.
All pictures by Eduardo Acevedo / Styling Quanasia Graham / Model Angelina Lee / Make Up Milan Staples / Hair Aretha Covington
Who is Seraka?
Seraka is a designer brand created in Dakar and destined to fashion forward women.
How did you start creating? When did you start considering fashion?
As a kid, I used to collect from here and there thousand of small fabric pieces and sew crazy outfits to my dolls and teddy bears. I think creating styles and looks came from there.
Did you study fashion? If yes, where?
Yes I did. In Mod'Spé Paris.
Where do you seek your inspiration?
Fantastic movie genre, travels, people, colors, music, cartoons ,streets
What materials are you using? Where do you get these materials?
I adore basin, a traditional textile usually used for boubous, it's so rich silky, complex, simple and graphic. I use a lot of leather, suede, wax, denim, jersey. I like cool materials and atypical mixes.
Where does the conception happen?
It happens whereever I live at the time. For example I created my three first collections in my small Parisian apartment, eating coockies and drawing 24/7!
How would you describe Seraka signature in one line?
It is fresh, easy, cool, edgy, tricky sometimes and most of the time colorful.
What makes a good look?
Statement accessories, mix of influences, a bit of rock 'n' roll and an edgy haircut.
What is cool?
Creepers!
I had the chance to visit your website, I saw your pictures, I can't see your eyes, what is going on behind those glasses?
Well a lot of things! And if you look closer to my clothes you'll discover a bit of me in each piece.
I think that you're great example of the African inspired revolution, mixing cultures with African prints and these modern shapes, do you think that you are bringing something new?
Well I'm definitely expressing my own point of view. I think fashion should be fun and easy. Born and raised in Dakar then studying fashion in France, then coming to the United States, then traveling in Africa, made me build a cosmopolitan conception of fashion. I don't think of where I come from when I design clothes; it just comes from who I am and where I've been.
Where have we seen your work? What is your last collection? Could you describe it to us and tell us what was different from the previous one?
My last collection was an homage to streets through street art, through cinema and music. I was inspired by street artists such as Banksy, Basquiat, Invader, Herakut etc. It was more structured and less naive then the previous one.
What is your masterpiece? The one which will describe you the most.
The Iconic Black & White top of the Iconic capsule collection is what would describe me the most. It's cartoony, and graphic.
Today, as a fashion designer who has media coverage, are you using fashion as a way of talking? Or maybe inspiring the youth?
We are in a period in Senegal where a new generation of artists, designers, shows that things can be done differently. Today is the perfect timing, a revolution in arts is taking place in my country and I'm honored to be a part of that mutation! In an international context, I just want to broadcast that revolution.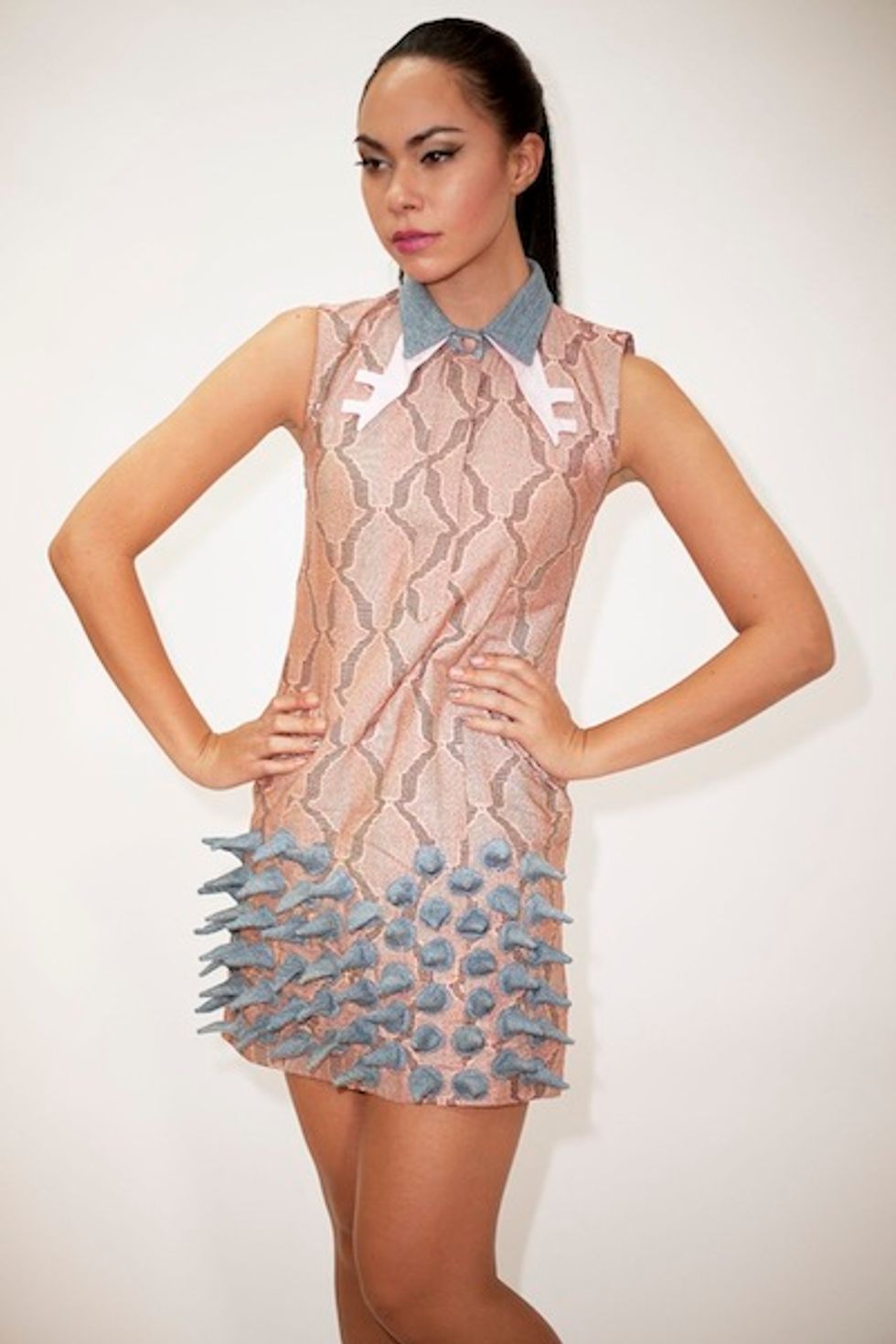 Today, we have the emergence of many African fashion week in many countries. This evolution is the proof of the existence of African fashion, should African designers be present in regular fashion weeks? Is there any discrimination?
I think we should feel challenged and not discriminated. The African market has millions of people. Let's create our own fashion industry!
What do you think of the African fashion? And the evolution?
African fashion is rich, free, open minded and so democratic. You can wear whatever you want, wear handmade garments for less than $12. This is what I like in African fashion, it's a symbol of democracy and freedom. Now, the evolution is a consequence of the elimination of any type of boundary between neighborhoods, cities, countries and continents. Each of us bears a part of someone else's culture and that is the very beauty of humanity.
What are your hopes for the African fashion?
The main one is to create a strong fashion industry and elaborate a fashion offer that can meet the local demand.
What's next? Do you have any other event planned?
I'm preparing my annual Dakar show with a collective named les Petites Pierres which I'm a member of. It's composed of young alternative artists from the Dakar scene. Alternatively, I'm working on my next collection and on a concept store opening.
Describe Seraka in one word.
Fun!