Nigerian singer-songwriter Seyi Shay shares her sophomore studio album, Big Girl. This follows the eclectic EP, Electric Package released in 2018 and her 2015 debut album Seyi or Shay. Big Girl is a documentation of the singer's experiences, "from losing bad friends to gaining good ones, reconnecting with old ones, losing an ex and finding true love."

Big Girl features a lineup of artists like UK's Backroad Gee, Portuguese duo Calema, Nigeria's Simi, Wande Coal and Yemi Alade. The singer's eight-year-long run in the Nigerian music industry culminated in her appointment as a judge in 2021's Nigerian Idol, alongside Obi Asika and DJ Sose. "I couldn't afford to let just anything slide or anybody get through because it would affect my own credibility and integrity too," she says of the experience.
On Big Girl, Seyi Shay wears her complexities as a badge of honour, as she opens up to OkayAfrica about the journey leading to this point.
---
How does the music in Big Girl compare to your last project?
Electric Package was experimental. I featured artists from different parts of Africa and the sound was a lot more 'Afro' — unlike my debut album which was a mix of R&B, soul, afrobeats. With Big Girl, I'm back to my roots.
Congratulations on your appointment as judge on Nigerian Idol. How was that experience?
It's a big honour and accolade to be trusted with such a responsibility. I'd performed on Nigerian Idol about five years ago, so they've seen my growth. Judging people is never easy because you have to be careful as it's based on first impressions. It also helped that I'm a totally honest person and that's what's needed for such a show.
You were presumably cut-throat during the show
I was just being myself. Typically, I don't take prisoners and as it's such a big responsibility, I couldn't afford to let just anything slide or anybody get through because it would affect my own credibility and integrity too.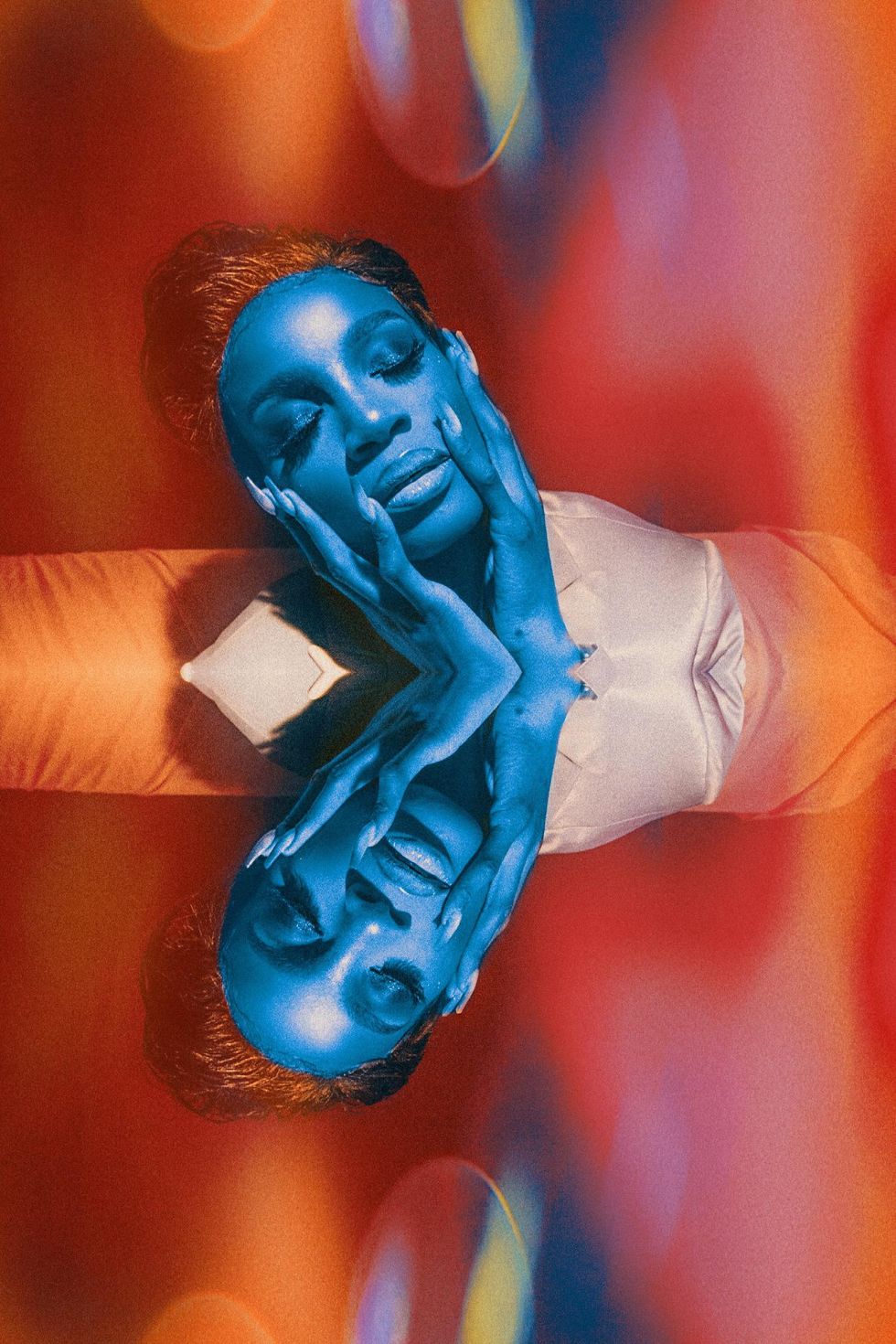 Seyi Shay.Image courtesy of the artist.
Going by the commentary of viewers, is it fair to say you were misunderstood?
Of course. I feel like I'm the most misunderstood person in the industry but Big Girl will take them to school. They will understand.
Do you think such misunderstanding from the public influences their reception of the music
No, I think music speaks for itself. Music has its own communication level while the person behind the music is another story. I feel like people misunderstand me without actually trying to know me and it's typical of Nigerians to not take time to get to know somebody or something. They kind of follow the trend when one person says they don't like you — without knowing why. We can be surfaced but also strong and determined to make whatever we believe in pop and that's been proven with growth of Afrobeats.
Seyi Shay is known to be an artist of few releases per time. Is there a philosophy backing this?
The consistency in me releasing music has not been optimum as many of my fans would want because I like to take my time, be genuinely inspired, not influenced or pressured when it comes to my craft. I felt like that's the way to do it but it took my new team to make me realize the amount of music I've been sitting on. I've just been in my own head and going at my own pace, maybe because it's not just music that makes me tick everyday. I'm into acting, philanthropy and business and so many different things but music remains my first love. I'm from here on being consistent. A new body of work now, another one next year and hopefully every year henceforth.
At the crest of the pandemic last year, you shared a hearty piece on OkayAfrica. What was your headspace like at the time?
As the pandemic struck, I lost a major deal worth hundreds of thousands of pounds after already putting pen to paper. It was a depressing and dark phase before I realized it wasn't just me but everybody. My encounter with a roadside trader, vulcanizer and other low income earners made me realize the severity of the pandemic on the masses. It kind of inspired me to release "Tuale," write that piece and not make it about myself.
Did it also inspire your move to invite some women over for a closet raid?
Maybe. I'm all about giving back. I believe in women genuinely supporting women which is often not the case in reality. I realized despite the silent competition or resentment among women, when we come together, we actually love each other, and share so much more in common. The activation included women from different walks of life — from an influencer, a former stripper to a dancer, petty trader, makeup artist. A few weeks later, I also met with ten female entrepreneurs where we networked and discussed the struggles of entrepreneurship in Nigeria over dinner. I want to build the culture of women loving and helping each other.
Tell us, what does the 'Big Girl' phenomenon entail?
Big Girl is a documentation of the experiences, growth and evolution that I've undergone in the last five years. From losing bad friends to gaining good ones, reconnecting with old ones, losing an ex and finding true love. It's an exercise of digging deeper into myself and realizing that I am who I am because I'd been insecure at a point. The Big Girl journey is realizing this girl is now a woman who's secure about who she is and doesn't have to explain too much because you hear it in the songs where she talks about vulnerability, love while flexing a little too.
And it's important for the album to have taken this long, right?
Certainly. If I had released it two years ago, the songs would've been slightly different and maybe not as honest as they are now because I would still be thinking I need to live up to expectations of the public. That's a bullshit life.
What was the creative process like?
It was scary because I'm used to doing everything myself. It used to be either my own way or the highway. The whole concept of the project is about me growing up, relinquishing some control, trusting other people and sharing the accolades.
How would you describe your evolution between who you were on Seyi or Shay and who you are on Big Girl?

Well, I'm a badder bitch now [laughs]. Jokes apart, I feel like I'm just owning it more — in a way that's not shouty or forceful. When they hear the music and see what's coming and happening, they'll understand. When you give people something long enough, they start to believe it. My consistency in my character, behaviour is what will tell everything. My attitude has changed slightly but everything else is pretty much the same — all for the better.
In your own words, how will you define the 'Big Girl' experience in a nutshell?
It's a journey of growth. It's a journey of honesty and a woman coming into herself and embracing all her super powers and being unapologetic about it.
What do you aim to evoke with the album cover?
Different things. It's kind of depicting nostalgia of the '90s, if you remember Biggie, Nas and the like, which is where a lot of the vibes from the album stemmed from. It also comes from a memory of my 8-year-old self. It was a turning point in my life as I was graduating into the next level of school in the UK and I remember feeling like a 'big girl' because I picked my own outfit and told my big sister how I wanted to comb my hair. That's my earliest memory of feeling grown. I remember feeling empowered and just felt it would be cool to have it as the cover of this album.
How would you describe your almost a decade-long experience in the Nigerian music industry.
[Laughs] Full of ups and downs, rounds and rounds, enemies and frenemies, lovers and others but all in all, it's been a fantastic training ground for my next phase.
Is there anything random about Seyi Shay you would like to share?
Errr, I eat Amala for breakfast [Laughs].
Huh. Excuse me?
I do, because it's light and doesn't make me bloated throughout the day.
Interesting. How important is it for you to be so open about your personal experiences on this album?
That's what music is about for me. My aim is to connect with young girls that are going to become big girls one day and women that are not necessarily comfortable with being so open. I'm giving these people a voice in some way because I know I'm not the only one that has experienced some of these vulnerable moments in life. Sharing it helps to break the walls and the silence of people dying to tell their own story.