South African-Zimbabwean artist Sha Sha is the queen of amapiano and with good reason. She burst onto the South African scene a few years back with a string of successful singles with the likes of Samthing Soweto, DJ Maphorisa and Kabza de Small that received a ton of airtime on radio—endearing her to many. Towards the end of 2019, she went on to release her debut Blossom EP and immediately proved that she's an artist who is set to make waves for a long time.
Last year, the emerging artist received a nod from the BET and was awarded "Viewer's Choice: Best New International Act" beating out Nigerian artist, Rema, who was nominated in the same category. According to Sha Sha, her win has since opened many doors and gotten her into contact with a number of music heavyweights who are looking to collaborate.
More recently, the artist has been wrapping up her upcoming album. And while she's remaining pretty tight-lipped about the specifics of the project, she assures us that it will diversify her fans' amapiano palate just a little. Additionally, she's currently working on a documentary which will tell the story of how she came to catch her big break in South Africa, the people who helped her along the way and navigating a dual heritage as an artist.

And so we caught up with Sha Sha to discuss her upcoming album, a number of the projects she's been involved in as well as navigating life and music during an ongoing pandemic.
This interview has been edited for length and clarity.
It's been close to a year since you last sat down with OkayAfrica. What has changed for you during that time?
I'm trying to maintain my relationships because it's so easy to get lost in all of the work, work, work. It's good to have a great work ethic, but the people who keep you grounded and remind you where you're from, are your family. So I try to make a little bit more time for them, regardless of the fact that I'm busy. Definitely, me winning the BET, it was definitely a shift. So now, I'm basically now trying to...transcend.
And on that note, with regards to your BET win, were you surprised by that? What did it mean to you and for you as an upcoming artist to be honoured in that way?
I wasn't expecting that. The fact that I even got nominated to me was just like, "Oh, my word, this is crazy." And I was like, "Ah, thank you God for the nomination, amen." I had no idea I was going to win it, and winning it just was just like, "Wow." So I definitely didn't expect it. It's definitely done the most for me right now because it's opened the world for me and so many doors. So many people want to work with me and a lot more people have heard my voice. It's really exciting, to be honest.
How have you been navigating your career in light of the pandemic? What has been the same and what has changed for you?
Definitely our performances because that's our livelihood. The stage is my favourite place and I was bummed about it but you are forced to think outside of the box. And thank goodness for these platforms that we have; the Instagrams and Twitters and all these things. Living in this digital age, we're able to still connect with our fans through our socials and still maneuver through this time. We've been literally saved by this. I mean, we keep pushing. You just have to.
"The stage is my favourite place..."
You are currently working on your debut album. At what stage is that right now and can you give any details?
I like working under the radar. I like people knowing that, yes, I am working on an album and lots more. I'm working on an album and a documentary, but I think what I can give you for my album really, is to just expect to be surprised. Expect to be surprised because people know me for amapiano. I am the amapiano queen. But I want to surprise people here again.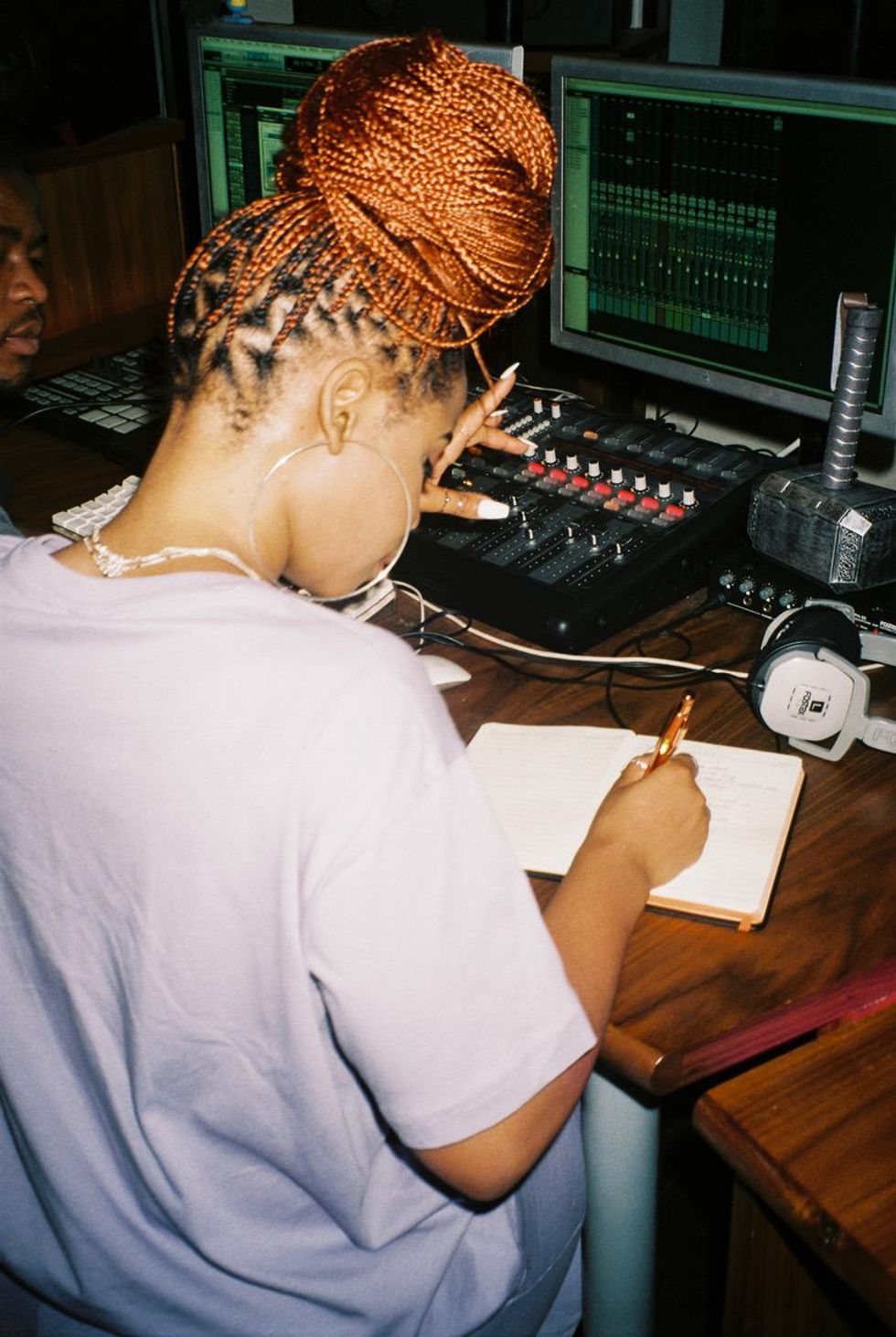 Sha Sha in studio.Image supplied.
Without divulging specifics of the album itself, how would you describe the creative process behind producing a project like that?

Oh man. Personally, with the pandemic, obviously you're trying to deal with your own life, your own personal problems and all these things happening all around you, the shifts, all of it. That definitely inspired me to do this project, really. To be honest, it's mixed emotions. There's everything; there's happiness, there's sadness, there are good days and bad days. But I wanted to work with people who would relate to what I was going through and understand what I wanted to create on this album.
Again, I don't want to say who I am going to work with but honestly, it was really a spiritual journey for this album. And it's a whole lot of, spiritually, being aware of who I am and loving myself unapologetically.
"...It was really a spiritual journey for this album."
What would you say has been a really valuable lesson that you have taken from the collaborations on your album? Something that perhaps even shifted your perspective as an artist.
There are so many lessons. I'm just trying to put it into one whole thing but it's not even just about the album and working on it. It's about the mere fact that you woke up today and you are alive and able to interact with these people and dance and eat and feel the sun on your skin and all that. That was my overall lesson for 2020 but that kind of carried through into my album. I don't know if that makes sense.
Absolutely. Are you working on any other projects outside of music that you can talk about?
Well, recently, I worked on Coming 2 America. That was super exciting for me. There was also this amazing feature I did with Killer Tunes, Walshy Fire and Like Mike. These, again, are opportunities that came from the BET award. There are more people right now that are in my DMs actually wanting to work internationally and some from Nigeria. It's crazy how there's quite a lot. I'm one to work in silence and let the work talk for itself. That's really who I am. But with the documentary, it's really along the same lines as my album. I'll be touching on my journey back home and from Zimbabwe to South Africa and all the amazing stories and people that helped me through this journey. That's what I can say about the documentary right now.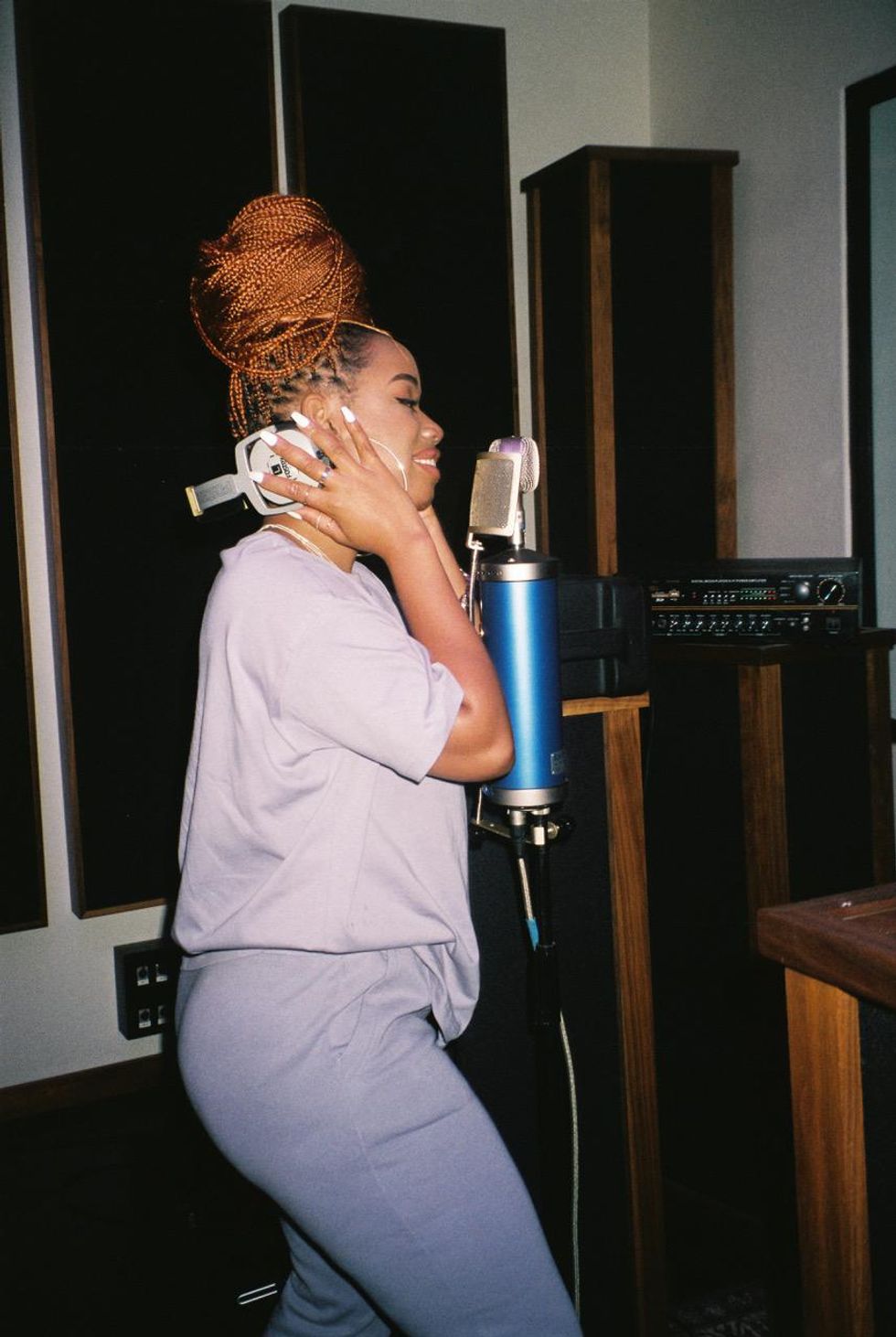 Sha Sha in studio. Image supplied.
You're a South African-Zimbabwean artist and we're talking about how part of the documentary is going to be about how you came from Zimbabwe to South Africa. Unfortunately, South Africa is very often accused of being an Afro-phobic or xenophobic country. Has that been your personal experience?

Absolutely nothing. It's very unfortunate that it's something that's present. It's real. It happens here in South Africa, but I haven't encountered that. And thing is, with me growing up, I used to travel back and forth. I used to come and stay with my mom here in South Africa. So I would travel back and forth and that's how I really got the hang of the languages and the vibe and the people and all of that. For me, I've never had to experience [xenophobia]. I've never had to see it, really. And my heart really goes out to people who have experienced these situations.
You're working on a number of exciting projects and we'll talk about that a lot more once you've made them available to the public. However, what would you say is your mission for this year?
For people to get to know me. That's number one. I would love to have people know me because I'm very shy. I'm very in my little bubble. I'm an introvert so I just want to live a little. Share a little bit more in my life and open up a little bit more. That's something I want to do this year. And I mean, personally, I'm Christian. I would definitely want to have my spirituality in a better place too. And just good mental health and to keep pushing and working. But, overall, I really want people to get to know me.