If you find yourself in the NYC area, then there's still time left to view Chicago-based artist Shani Crowe's exquisite photo series BRAIDS currently on display at the Museum of Contemporary African Diasporic Art (MoCADA)Museum until July 10.
---
BRAIDS is a 10-piece collection of Crowe's labyrinthine cornrows, drawing from different time periods, that she describes as, "an amalgamation of inspiration from ancient artifacts, traditional African braid styles, popular culture, and Afro-futurism, filtered through my perspective" in her artist statement on MoCADA's site. Adding, "each portrait can be appreciated at face value, but the imagery conjures a specific nostalgia for African American women who remember both having their hair braided and braiding someone else's."
Despite what white media publications would have you believe, Crowe's style of intricate braiding isn't called "box braids," and it's not a new trend started by Kim Kardashian. Cornrows' long history originates on the continent, and it's an art form that has been used to denote African identity and status from religion to kinship and ethnicity to age as well as communicate cultural values and social bonds between generations and among friends.
When Refinery 29 asked Crowe her opinion of the cultural appropriation term, "box braids," she says, "I've learned that spending efforts to change someone's opinion is often mute. The only person I control is me, and I choose to create and photograph beautiful braids to honor Black women and hopefully foster connectivity and Black unity."
"Shakere" by Shani Crowe
Crowe, also a creator of ink illustrations, collages, plush items, and experimental videos, says she first learned how to braid as a child from her relatives, but as she tells Refinery 29, "when I was around 11, and my aunts couldn't execute the designs I wanted, I began braiding [on] my own. I was a walking advertisement for myself, and ended up attracting clientele."
Even Okayafrica favorite Erykah Badu has taken notice of what the Howard University alumna calls her "unapologetic assertion of my pride in my braid art, my culture, and my African ancestry." One of Crowe's portraits from the exhibition has been featured on the concert promo poster for the Summer Spirit Festival in Washington, D.C., which Badu is headlining along with Jill Scott.
Crowe's haute coiffure can be viewed at MoCADA's Window Gallery on South Portland Avenue in Brooklyn, NY. See her impeccable work below.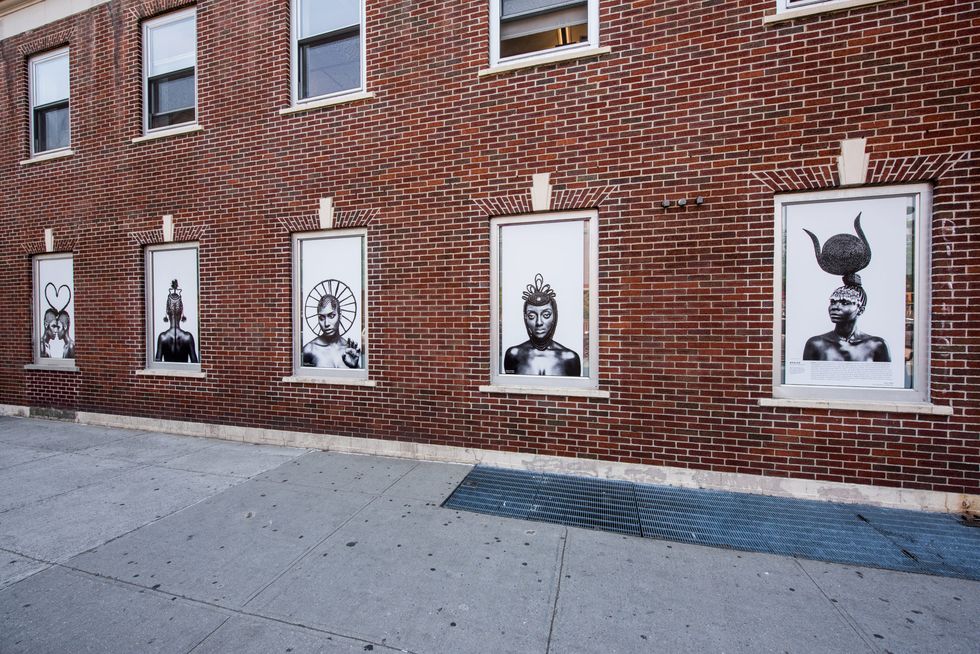 BRAIDS: Photography by Roy Rochlin, courtesy of MoCADA
"Fingerwaves Saint" by Shani Crowe
"Above All" by Shani Crowe
"The Breadth We All Share" by Shani Crowe