Sharon Chuter didn't start out her career with the aim of shaking up the beauty industry. As a young woman growing up in Nigeria, she had her sights set on becoming an engineer. "But then I just didn't imagine myself covered in grease all day," she tells OkayAfrica. So she decided she wanted to be a singer. "And then I realized music does not pay the bills – until you become Beyoncé." She needed a job, and so she looked to another passion she had: make-up. "I literally stumbled into it, because, [at the time] I couldn't understand why we didn't have any beauty brands in Nigeria."
Falling into the beauty industry has been fruitful for Chuter, and for the industry itself. Her need to find a job, paired with her desire to do something she loved culminated in her bringing Revlon to Nigeria when she was just a teenager. Disappointed by the lack of beauty brands present in Nigeria, she started contacting every brand she could think of, with most ignoring her. Until she reached Revlon, which had been trying to get into the country's market but had battled against regulations that classified cosmetics as drugs. "My crazy self talked to a few people, found a loophole, and figured it out," she continues. "That's the beauty about being a teenager. You have no fear, you have no idea what is appropriate, what's inappropriate. And that in itself is a gift because you just do whatever."
---
That kind of fearlessness has guided Chuter throughout her career. After she sold the distribution contract she had with Revlon in Nigeria, she wanted to learn more about how the beauty industry worked. So she left Nigeria to pursue a corporate career that took her around the world, working her way up as an executive at brands like L'Oreal and Benefit Cosmetics. It culminated in, a decade later, setting up her own company. This time, instead of bringing a US brand to an African country, she brought an African-inspired brand to the US.
Chuter launched Uoma, which means 'beautiful' in Igbo, as an inclusive beauty brand in 2019. Inspired by her Nigerian heritage, the range debuted at Ulta stores with 51 shades of foundation available in six custom formulas. "For me, everything I do is about cultural celebration. I'm here to make everybody realize that beauty starts the moment you decide to be yourself and beauty is you," she says. "I'm here to empower people to love themselves authentically as who they are. And to love yourself authentically, you have to be at peace with your culture, because that's who we are, right? We are a culture. It's because of the old western influences…The West doesn't have a lot of culture, and so they sterilized the world and made it uncool to have culture because it was seen as being savage. And that's not the way it should be," she says.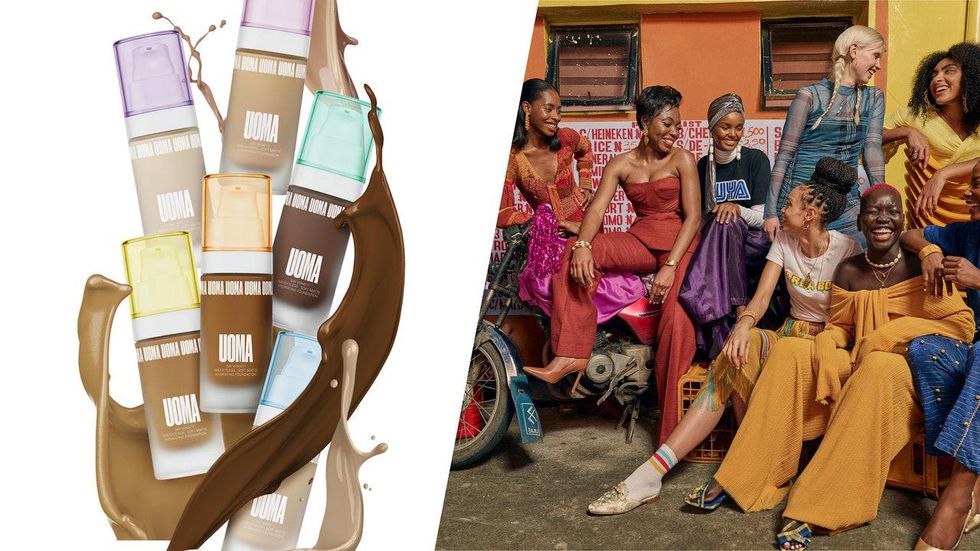 Inspired by Sharon Chuter's Nigerian heritage, Uoma debuted at Ulta stores with 51 shades of foundation available in six custom formulas.Photo: Uoma
It was through her own personal reclamation of her Nigerian roots that led Chuter to forming Uoma. "When I first came to the US, I wanted to assimilate so badly," she remembers. "I dropped everything Nigerian about me – my accent, my name, everything. I wanted to leave that behind. Because when you're in the West, it's sort of made to look as a thing of shame. I got everything I needed, because I did all of that so I can be wealthy and can have status. And I got all of that." But she was miserable. "I left my job at the peak - how do you quit to do that? But I realized I was empty."
Chuter found the answer to filling herself back up in reconnecting with her heritage. "The second I reconnected my roots – I got my braids back on, got myself back being who I am, eating my Nigerian food, reconnecting with my language, understanding my story, understanding my people – and the amount of joy I got from that made me a different human being," she says. "The confidence I got, the courage, the ability to stand as myself and truly love myself. I feel like I only started loving myself when I came into peace with who I was in my heritage."
This is what she aims to share through Uoma. For its newest collection, the brand partnered with the Tewa tribe to create an inclusive eye-shadow palette that highlights their Pueblo Native American culture, with profits going to benefit the tribe. A photo shoot for the collection featured an all-Indigenous People crew. "That's why I strongly always celebrate everybody's culture, and use my platform to do that, too," she says. "On one hand, it enables people to love themselves and be proud of their culture, because culture becomes a thing of celebration. On the other hand, culture is beautiful, for me. I'm just living a luxury because I get to go and immerse myself in all these beautiful cultures. Where do I sign up forever?" Chuter chuckles. "It's all different and that's what makes the world beautiful."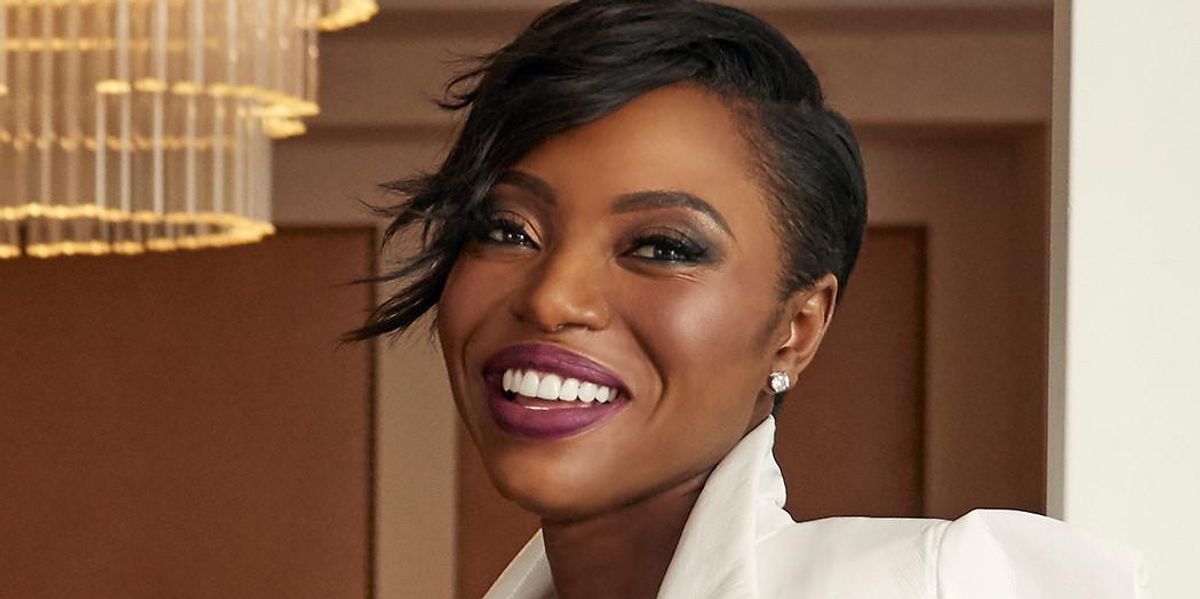 "I keep bringing people back to this idea of equality celebration, to keep propelling my culture into the mainstream," says Sharon Chuter.Photo: Jared Schlachet
Chuter has aims of taking the brand back to Nigeria too, but is taking time in doing that because she wants to make sure she supports the local ecosystem and creates a beneficial space when she does. There is also still much to be done on a bigger level, too, she believes. Last year, she started the #PullUpForChange grassroots campaign in 2020, challenging beauty brands to disclose the number of Black employees on their payroll. "Am I not still talking about the same thing Martin Luther King was talking about? Nina Simone was talking about? James Baldwin? Miriam Makeba? Hugh Masekela? Have we really changed? There's still a long way to go. And that's the work I've committed myself to do," says Chuter, the fervor in her mile-a-minute speech rising.
"I keep bringing people back to this idea of equality celebration, to keep propelling my culture into the mainstream," she says. "There is no other beauty brand in the world who is mainstream in a Nordstrom store that has a Nigerian name on it." She believes the shades Uoma creates, its tagline, 'for the Soro Soke generation' (a Yoruba phrase meaning 'speak up'), all help make African names and concepts a little more familiar. The Badass Icon Lipstick range features odes to Brenda Fassie, Funmilayo Anikulapo-Kuti, Miriam Makeba, and Winnie Madikizela-Mandela alongside Whitney (Houston), Rosa (Parks) and Tina (Turner).
"Through my products, we celebrate these people, we tell their stories, and the world is getting to know these people," she says. "So that's what's next, we'll continue to do this. We'll continue to amplify it, and do it until it becomes mainstream. Until it becomes normal, and the world moves a little bit forward."