If you listen to Ghana music, even casually, then dancehall acts Shatta Wale and Stonebwoy need no introduction.
34-year-old Shatta Wale, who rose to national fame after rebranding from his former name Bandana in 2012, is currently one of Ghana's foremost and most widely celebrated musicians, a singer and producer with a simple but catchy afro-dancehall template which he repeats to score hit after hit.

Stonebwoy is a 30-year-old afropop, dancehall, and reggae artist with a quite impressive career. He made his official debut in 2012 and has been at it ever since, bagging several achievements along the way including winning Best International Act: Africa at the 2015 BET Awards. With a few lengthy albums, several international collaborations, and a couple world tours, Stonebwoy has definitely proven himself as a mainstay in Ghanaian music.
In Ghana, there has been a debate for several years on who is the "King of Dancehall," which escalated from just a debate to an intensive rivalry between three of Ghana's biggest artists. The main contenders for the country's dancehall king title are Shatta Wale, Stonebwoy, and reggae/dancehall singer Samini , who is seen and recognized as a veteran in the Ghanaian music space. The competition for the title has led to high tensions between the three artists, resulting in social media jabs, diss tracks, angry rants during live broadcast interviews, and much more.
---
Shatta Wale - Dancehall King [Official Video] www.youtube.com
The rivalry was fueled by the artists themselves, quite frankly mostly instigated by Shatta Wale, who repeatedly claims the title on his records, and regularly calls out his competitors on social media and during interviews, especially since winning "Artiste of the Year" at the 2014 Ghana Music Awards as a result of his hit song "Dancehall King".
Samini has typically never taken an active role in the beef, only responding when called out by Shatta Wale or asked for comment by the media. Stonebwoy also has made sure to steer clear from disrespecting Samini, who is his mentor and the one who signed him in 2012 to his Samini Music record label, under which he released his debut album. Right now though, tensions are especially high between the duo of Stonebwoy and Shatta Wale, who have had a long running beef which has been getting widespread media attention since about 2014, but in reality has been going on for much longer than that.
Shatta Wale had been active in the music industry long before his rise to national fame, scoring his first hit as way back as 2004 while still going by the name Bandana. Stonebwoy had also been active several years prior to his official debut, at the time performing as an underground rapper. The beef is reported to have started during that time, years before they got into the limelight. While both artists were still upcoming, they would participate in the "Battle Days" event at the popular Tawala Beach in Accra, Ghana. Battle Days held a dancehall competition that Stonebwoy dominated, eventually leading to the bad blood between the two.
Shatta Wale - No Mercy For The Cripple [Stonebwoy Diss] (Audio Slide) youtu.be
The duo have even reconciled publicly over the years, with 2015 seeing Stonebwoy invite Shatta Wale on stage during his acceptance speech at an awards show. However, 2018 saw the beef between the duo rise to a climax, with Shatta even pulling rapper Sarkodie into the mix this time around. Early in the year the two singers continued throwing shots at each other, mostly during interviews and live broadcasts over social media channels. March 2018 saw Shatta Wale release a song "No Mercy For The Cripple," which was a direct shot at Stonebwoy as well as a reference to the singer's knee condition. Stonebwoy did not grant the song a response.

Things became even further heated in September 2018, where during an interview on Accra radio station Hitz FM, Stonebwoy was questioned about claims by Shatta Wale that he has been trying to reach out to Stonebwoy for a collaboration but Stonebwoy won't respond. Stonebwoy became infuriated, angrily responding that Shatta Wale cannot stir up rumors that he is responsible for his mother's death (whom he lost in July 2015) and still come to find peace with him like nothing happened.
Stonebwoy Blasts Shatta wale on Hitz 103.9FM youtu.be
He said: "You go around and diss my mother and say that I kill my mother and I see some fans tweeting it and some bullshit and some foolishness… I kill my mother?! You go and say I kill my mother and you go behind me and say … I'm waiting for one person to come and stand in front of me including himself to tell me that I killed my mother. And it would be beautiful in this Ghana, you understand. So tell him to f**k off!… If it was in the same Jamaica, he'll be dead by now! … Nigga thinks he's a G, Nigga thinks he's a Jamaican... Don't diss people and go back and beg them! … Who dey insult other artistes pass you? You think say the country be your own?"
Shatta Wale denied the allegations on a TV interview shortly afterwards, claiming that he said no such thing. Shortly after that, hip-hop heavyweight Sarkodie , who had been silent the whole time despite intermittent jabs from Shatta, dropped a freestyle video which set social media in the country on fire. It was a diss track titled "My Advice" clearly aimed at Shatta Wale, which nearly broke the internet. It was full of advice for the singer, as the name suggested, as well as shots addressing the singer's antics and demeanor, where he calmly but brutally put him in his place.
Sarkodie - My Advice (Freestyle + Lyrics) youtu.be
Even after the beginning of the New Year, Shatta Wale continued to throw shots, and it doesn't look like the beef between him and his counterparts will be ending anytime soon.
There was a similar long running beef between the "big two" top acts in Nigeria, Wizkid and Davido . The beef saw them calling each other out severally on social media (subliminally however, never directly), and even responding to each other's new releases with releases of their own, just to make sure the other artist doesn't dominate the airways solely at any given time. This beef was squashed on Christmas Day in 2017, when Wizkid brought out Davido during his annual headline concert in Lagos, Nigeria. The duo performed Davido's smash hit "FIA" together, and Davido returned the favor by bringing out Wizkid to perform his hit "Manya" at his own headline concert a few days later. This happened to the joy and approval of Nigerian music fans and stakeholders around the world, reviving with even more strength the sense of unity within the industry.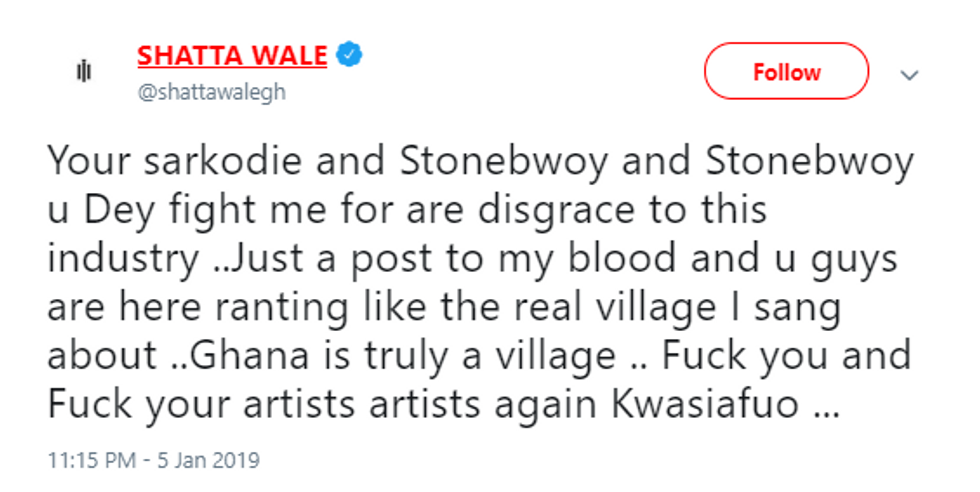 Screenshot of Shatta Wale's tweet.
As African creatives, we are collectively striving and pushing to be the best we can be, and present our best selves to the world. Our efforts and activities are geared not only towards self-advancement, but securing opportunities that will also pave the way for other African creatives to flourish and prosper in the future and reap the benefits of our hard work and sacrifices. When African creatives in any sector, but especially in entertainment, harbor unhealthy rivalries, not only does it set a negative precedent but it actively works against all we are trying to do and achieve.

Every industry is an ecosystem and when the players stick together, they all prosper. Amazing things are happening in the Ghanaian music space, and what the top players should be doing is capitalizing on these happenings, and coming together to work towards the progress of the industry. Not just to put the country on the map, but to secure the future for the next generation of creatives, that they may have a fertile ground to do exploits for their homeland, hopefully even in ways their predecessors couldn't.
Update 5/20/19: A new altercation occurred over the weekend at the Ghana Music Awards. Stonebwoy was receiving the award for Dancehall Artist of the Year when Shatta Wale and his crew attempted to come on stage. A fight started between the two artists' groups and, video shot of the event, shows Stonebwoy pulling out a gun. No one was harmed and the awards eventually went on.
"I only had to react out of natural instincts because we all know how premeditative some people can be. We've seen on social media the threats and everything so we couldn't come in unprepared," Stonebwoy reportedly said. "I come in peace and I go in peace and I apologise to the whole masses of Ghana that the awards is going to continue."
"My crew had good intentions," Shatta Wale was reported mentioning. He says he was going on stage to congratulate Stonebwoy and bring unity to Ghanaian music.