For many filmmakers, it can take years to get a project off the ground and finally onto a screen -- be that of a movie theater or a streaming network. This year will see some films make their debut that have been a long time in the making, while others will pick up steam after gaining a solid push in 2022.
Some of the filmmakers OkayAfrica has our eyes fixed on are well-known names already, some are still finding their way in the world of cinema. No matter where they are on their paths, these are the directors that have us excited for what's to come over the next few months, as we dive on into 2023.
---
Ellie Foumbi
Ellie Foumbi's first full-length feature is an astounding work of film. The director, who is from Cameroon, has earned tons of praise for the redemption thriller Our Father, The Devil -- so much so that the film has deservedly found itself among the esteemed company of Everything Everywhere All At Once and Tár in the best feature category of the Film Independent Awards. Foumbi, who is also a producer on the film, will find out in March if Our Father, The Devil wins that statue, but she's already notched up a number of accolades since the film first premiered at the Venice International Film Festival in September 2021.
Our Father, The Devil won best narrative feature audience award at the TriBeCa Film Festival, and jury prizes at the Mill Valley Film Festival and New Orleans Film Festival, among others. It will make its African premiere at FESPACO next month, and will be screened in Santa Barbara, Los Angeles, Glasgow, Burkina Faso, Montreal and Toronto, over the coming months. According to Foumbi, a theatrical release is planned for late this summer.
Foumbi has been an exciting talent to watch from her start as an actor to her forays into writing and directing. She made her TV directorial debut on BET's hip-hop anthology, Tales, and her short film, Home was commissioned by Netflix, for their Netflix Film Club's Youtube channel. It will be a treat to see more people experience the moral ride of Our Father, The Devil as it continues to play around the globe.
Blitz Bazawule
What haven't we said about Blitz Bazawule that still needs to be said? 2023 will see the culmination of the rapper/painter/author/filmmaker's major studio release, The Color Purple. The Ghanaian-born director, who made a cinematic splash with his whimsically delightful debut The Burial of Kojo, in 2018, has been working on the retelling of the Alice Walker novel alongside a cast that includes Fantasia Barrino (as Celie Harris), Colman Domingo, Halle Bailey, Danielle Brooks, Corey Hawkins, andH.E.R.
The film, which is produced by Steven Spielberg and Oprah Winfrey, is due to be released in December, after being in the pipeline for many years. Bazawule has said he intends to focus on imagination to bring this version of the story to life. As a multi-hyphenate artist, he's been known to bring a meticulous sense of wonder to his work -- from his paintings to his novel, The Scent of Burnt Flowers, which was released last year. It'll be intriguing to see how he brings that sensibility to a story as known and as loved as The Color Purple.
Milisuthando Bongela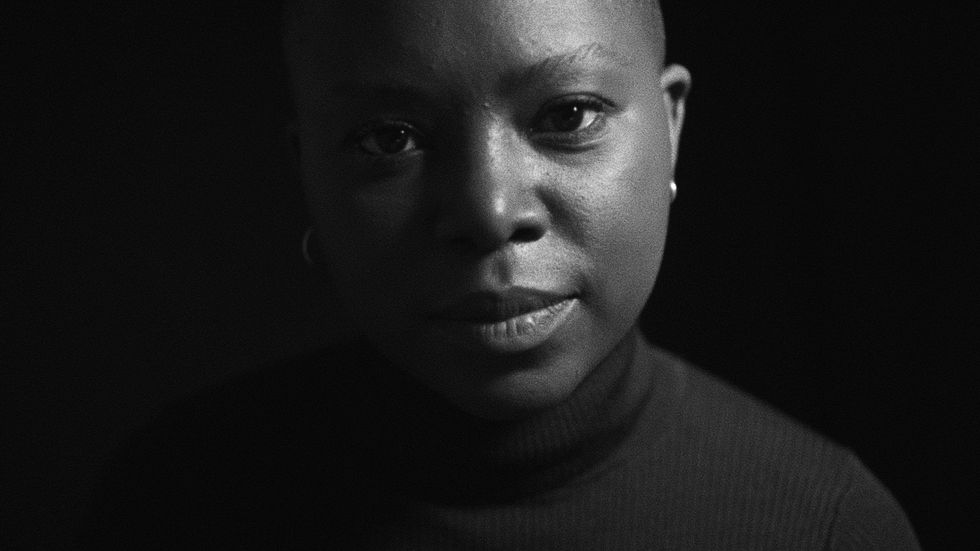 Photo: Sundance Film Institute
South African Milisuthando Bongela has worked across the arts as a writer, editor and fashion consultant, all the while interrogating post-apartheid life from the perspective of Black middle class South Africans and women. For eight of what she calls "the longest and most profound years" of her life, she has been working on a documentary film. Soon, she will finally get to share that part of her life, as a director, when Bongela's long-gestating documentary, Milisuthando, makes its world premiere at the Sundance Film Festival later this month.
Bongela has written extensively about the intersections of race, class and gender for publications like the Mail and Guardian,W Magazine, and Dazed and Confused, and we're looking forward to what will certainly be a very honest film. Described as a "coming-of-age personal essay documentary on love and what it means to become human in the context of race," the film will explore Bongela's own life, as a young woman growing up during apartheid, not knowing it was happening until it was over.
Mbithi Masya
When he's not making music with Just A Band or creating award-winning advertising campaigns, Mbithi Masya is making breathtaking work as a feature film director. His first film, Kati Kati, a dazzling spin on the afterlife, won several international awards, including the International Federation of Film Critics (FIPRESCI) award at the 2016 Toronto International Film Festival (TIFF). Hailed back then as 'an exciting and unique new voice in cinema,' Mbithi has only continued to further showcase his talent as a creative in every sense of the word.
His latest work, the short film BABA, has picked up much acclaim, winning the Film Africa 2022 Baobab Award for Best Short Film. BABA is the story of a six-year-old boy living on the outskirts of Nairobi who has an unusual ability to escape any situation. While the film deals with an uncomfortable subject matter, it has a tenderness and humanity to it that underscores the filmmaker's craft. This year, Msaya will travel with the film further afield, to events like the International Film Festival Rotterdam, and hopefully shortly after then, should land an outlet for the public at large to see it, too.
Walé Oyéjidé
Among the many hats Walé Oyéjidé wears -- of designer, writer, speaker, photographer, musician and lawyer -- is filmmaker. Fans of the Nigerian American artist have had the chance to experience his work in these various realms, especially his designs, which have been seen in films like Black Panther andComing 2 America, as well as in museums around the world. But 2023 is set to showcase his skills behind the camera even further, when he introduces the world to Bravo, Burkina Faso, his debut feature, at the Sundance Film Festival.
As the founder of Ikiré Jones and creator of After Migration, Oyéjidé has become known for using fashion design as a vehicle to celebrate marginalized perspectives. His debut film is supported by the Ethical Fashion Institute, and has been created in collaboration with asylum seekers, Italian artisans, and traditional Burkinabé weavers. Shot on two continents, it tells the story of a Burkinabé boy who flees his village to Italy, and promises to turn the traditional narrative of migration on its head. And if the trailer is anything to go by, to do so in stunning fashion.
Thierno Souleymane Diallo
Photo: The Berlinale
Guinean director, scriptwriter and producer Thierno Souleymane Diallo has been making short films since he started studying. He went to Niger in 2012 to pursue documentary filmmaking, and trained at Saint-Louis Gaston Berger University, in Senegal the following year. Eight years ago he pitched a documentary titled The Cemetery of Cinema (Au Cimetière De La Pellicule at a workshop, and now, this year, it will debut at the Berlin Film Festival (the Berlinale) in February. The premise sounds captivating, as he sets out with his camera to research the birth of filmmaking in his home country of Guinea.
Diallo also works for the Guinean public television, and the film notes suggest he has a deep passion for the importance of film archives and preserving film history. This film is sure to add to what is sorely lacking when it comes to the history of African cinema.