Two Fridays ago, September 30, Solange put out her third studio album, just three days after announcing its existence, through her Saint Records label. And just like that, A Seat at the Table is officially the No. 1 album on the Billboard 200 chart (which ranks the most popular albums of the week in the U.S. based on multi-metric consumption).
---
According to Nielsen Music, A Seat at the Table sold 72,000 equivalent album units in its first week to take the top spot. (And disprove industry prognosticators that suggested the album would earn around 60,000 units in its first week.) Of those 72,000, 46,000 were in traditional album sales. Bon Iver's 22, A Million, which came out on the same day and was originally predicted to take the top slot, debuted at No. 2 with 71,000 units. (Bon Iver did however sell more traditional album sales with 58,000.)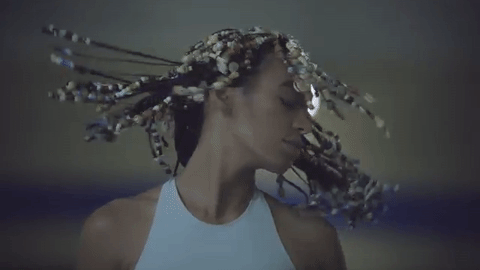 This is the first time Solange has scored a No. 1 album, and one of the very very few times in history a pair of solo siblings have scored No. 1 albums in the same calendar year. Michael and Janet Jackson were the first to accomplish the feat with Invincible and All For You in 2001. Solange and Beyoncé are however the first and only solo artist sisters to have scored No. 1 albums in the same year.
Her follow-up to 2012's True EP, Solange's 21-track A Seat at the Table features collaborations with Lil Wayne, Sampha, Blood Orange, Tweet, Moses Sumney, Q-Tip, The Dream, Kelly Rowland, Kelela, Sean Nicholas Savage and more. Accompanying the album, the singer and Saint Heron founder released a digital book of lyrics and photos taken by Barcelona-based photographer Carlota Guerrero.
Read: Solange's New Album 'A Seat at the Table' is A Balm for Black Suffering
Read: The Audacity of Solange in 'Don't Touch My Hair'
Read: How the Beautifully Black Art of Lynette Yiadom-Boakye Inspired Solange's 'A Seat At The Table'