In 2019, Ostinato Records became the first label granted access to the grand Archives of Radiodiffusion-Télévision de Djibouti (RTD), a vault of secrets and stories from East Africa. Below, Ostinato Records founder Vik Sohonie writes about their new release, Djibouti Archives Vol. 1: Super Somali Sounds from the Gulf of Tadjoura.
In 1977, on the eve of independence of the Republic of Djibouti, a small country on the Red Sea in East Africa, a densely packed archive was pieced together in a quiet corner of the national radio. Over the years, it became a premier but largely unknown African archive housing thousands of master reels and cassettes of the finest East African sounds.

It has endured fires and theft of invaluable recordings. Those scars linger on the delicate films of quarter-inch reels and cassette tapes. It remains one of the most expansive, well-maintained archives in Africa—but also one of the most restrictive. For decades, the archive remained off-limits to foreign entities of any kind.
In 2019, after negotiations spanning many years, Ostinato Records became the first label granted access to the grand Archives of Radiodiffusion-Télévision de Djibouti (RTD), a vault of secrets and stories—from East Africa, Somalia, Ethiopia, and of course Djibouti itself.
---
The story of epic Somali supergroup 4 Mars, authors of one of the most popular songs on the Grammy-nominated Sweet As Broken Dates compilation, is the first chapter in Ostinato Records' "Djibouti Archives" series because their rich globalized sound reveals a brand new history of the world.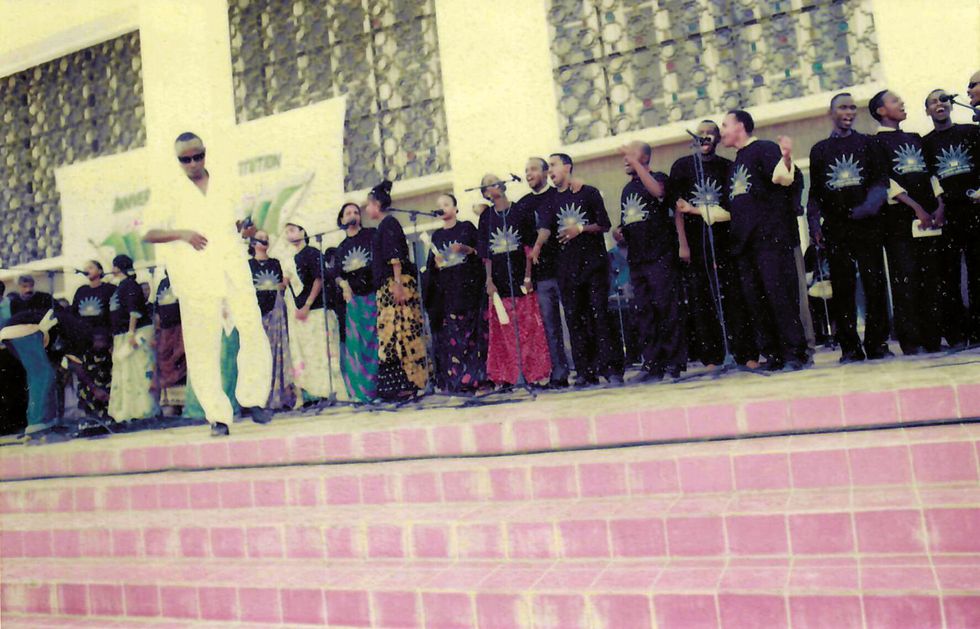 4 Mars performing in Djibouti, 1990s.Photo courtesy of Ostinato Records.
For centuries, all roads led to this corner of Africa, not Rome. As the major transit point connecting Africa, Asia, and the Mediterranean, goods, ideas, peoples, and culture were briskly exchanged. Egyptian, Turkish, Arab, Persian, Indian, and Chinese traders and tastemakers dropped anchor in Djibouti's Gulf of Tadjoura, each arrival deliciously peppering a deeply layered sound.

Egyptian and Yemeni rhythms. Sudanese music structures. The synth melodies? Turkish-inspired. The signature off-beat licks of reggae? Depending on who you ask, they came from Jamaica's greatest export or are simply identical to the Somali Dhaanto rhythm. The horns are courtesy of master saxophonist Mohamed Abdi Alto, first featured on our contemporary studio album, The Dancing Devils of Djibouti, by Groupe RTD. 4 Mars was his first gig. Alto was a distant but diligent apprentice of Harlem's jazz era. Both the flute traditions and the instrument itself were imported from China and Mongolia. The vocals? Somali singers infatuated with Bollywood.
Today, a third of world trade again passes through Djibouti's straits and a similar mix of characters roam the streets and docks. A South African diplomat pointed to Djibouti on a map and told us, "This is the future."
4 Mars offers a bright window into its past, when an African country was building itself from scratch. Their name—Quatre Mars in French—translates as the 4th of March (1977), the founding date of The People's Rally for Progress, the political party in charge of Djibouti since independence. 4 Mars was the party's band.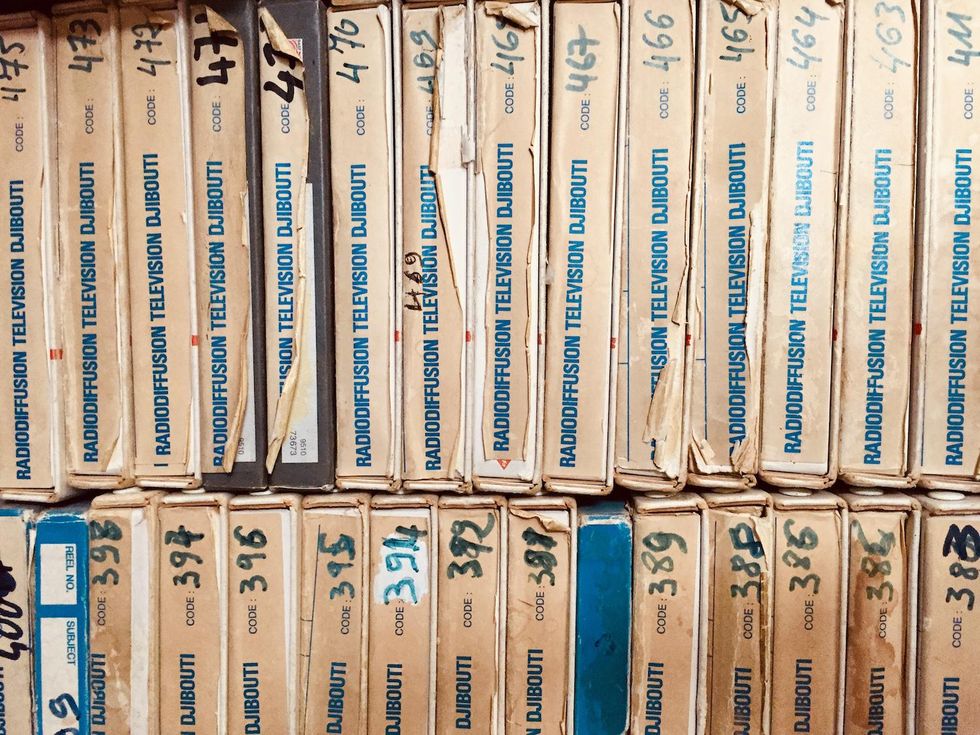 Master reels at the RTD Archive.Photo courtesy of Ostinato Records.
Young countries need unity. Djibouti's leaders saw music, and 4 Mars especially, as the ideal soundtrack to an independent era. Almost all music was brought under the state's wing. But this is not propaganda music. In the context of a new country, think about what "propaganda" means. You have a divided society. You need to build a national identity and instill values. Look at the track titles: Power. Compassion. Motherland. Gratitude. Hello, Peace! These are not just songs, but the nurturing of a country performed by world-class musicians.

An off-limits archive aside, 4 Mars is unknown outside the region because of its 40-member Olympic-style entourage, staffed by actors, singers, dancers, musicians, and percussionists. Only wealthy leaders like Libya's Muammar Gaddafi brought them on tour.
At home, the once-lavish national theater, dilapidated and out of commission for years, was the center stage of 4 Mars' legendary live shows. A new 800-seat theater built by China and training in analog music technology at Chinese universities for the young archivists at RTD offer opportunities for a revival.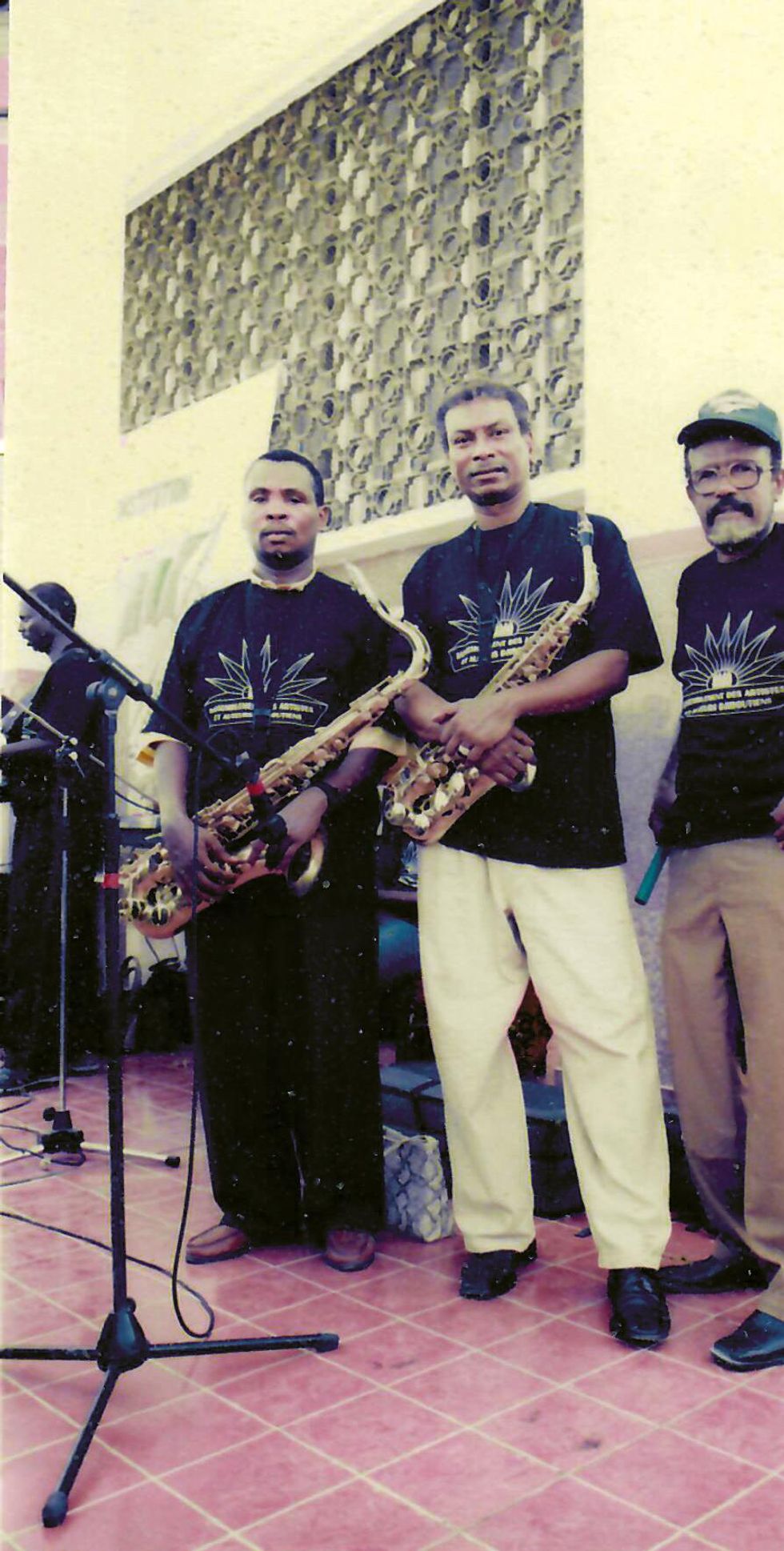 Mohamed Abdi Alto (L), 4 Mars' chief sax player, and bandmates in Djibouti, 1990s.Photo courtesy of Ostinato Records.
Ostinato Records operates on the guiding principle that no physical historic recordings should leave a country and agreements with archives should be a win-win trade, not aid. Part of the deal for archival access and licensing rights included a finely refurbished Technics reel-to-reel player from the '70s with upgraded software to replace a worn-out model for RTD to continue their digital preservation of the entire archive in high-quality.

Compiled from master tapes and reels, all recordings were done in RTD's studios and during live performances at the national theater between 1977 and 1994. Authorized by both RTD and The Palace of the People, which founded and oversees 4 Mars, this seminal anthology of a Goliath of a Somali group is a perspective-shifting journey through ancient trade routes and the currents of history that gave this small but grand Red Sea hub a signature music style that in every sense reveals a truer story of our world. Listen to Djibouti's past so you can keep an eye on its promising future.