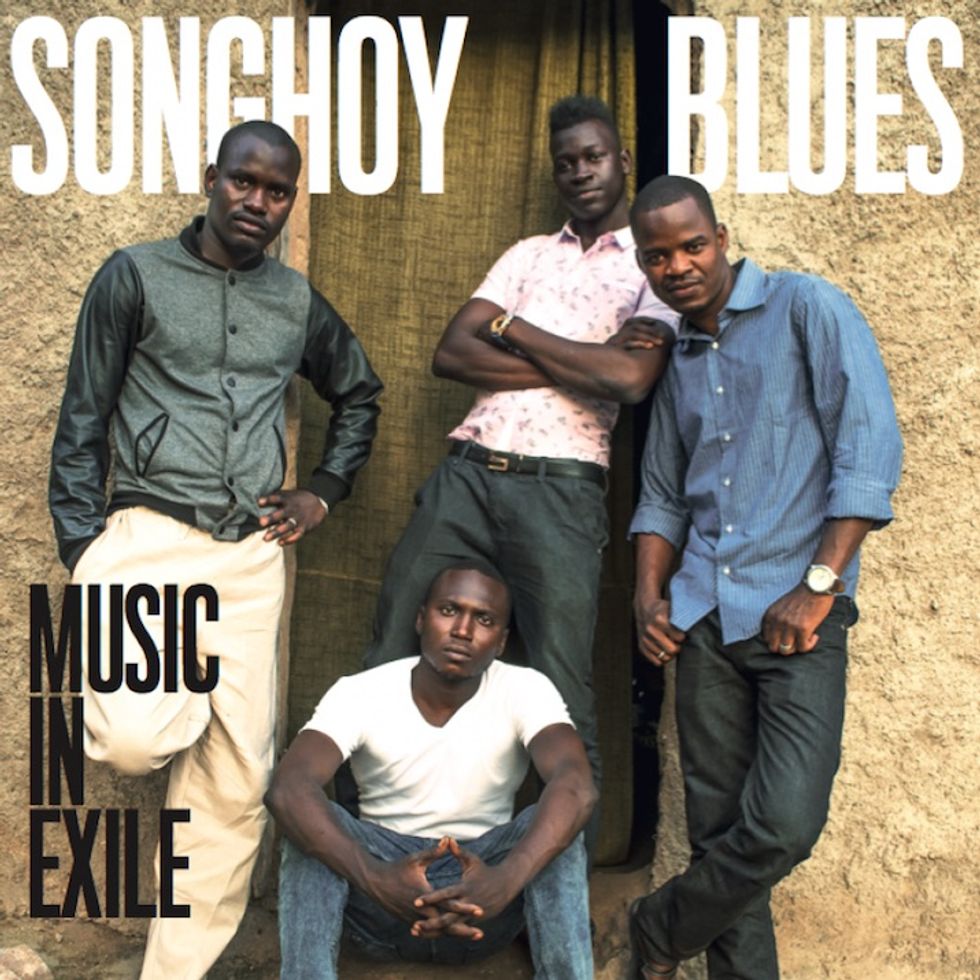 ---
This week marks the release of Songhoy Blues' debut album Music In Exile. The Malian band first rose to prominence through the contribution of their electrifying track 'Soubor' to the Damon Albarn-led Africa Express album Maison Des Jeunes. Shortly after, they released their debut LP's mesmerizing first single "Al Hassidi Terei," along with an amazingly vibrant music video. Produced by Yeah Yeah Yeahs guitarist Nick Zinner and Africa Express/K'naan/Amadou & Mariam producer Marc-Antoine Moreau, Music In Exile blends the elements of contemporary rock and hip-hop on top of a solid foundation of the homegrown songs and dances of Mali's Songhoy people. Songhoy Blues' sound also reflects a direct lineage to West Africa's most celebrated guitar heroes, such as Baba Salah and Ali Farka Touré. In fact, Songhoy Blues' guitarist, Garba Touré, is the son of Oumar Touré who was the long term percussionist in Ali Farka Touré's band.
Songhoy Blues first came together during the growing unrest in northern Mali which forced them to re-locate south to Bamako, hence the album title. Growing tensions from political and religious extremists have transformed Songhoy Blues' stance as a band into a sort of act of rebellion, since music has been forcefully banned throughout the country. A new film, entitled They Will Have To Kill Us First: Malian Music In Exile, documents this pressing issue and will feature Songhoy Blues as well as other Malian musicians who have been valiantly resisting the cultural repression that has swept through the country. The new documentary is set for world premier next month at Austin's SXSW Film Festival 2015 and the screenings will include Q&A sessions with the band.
Songhoy Blues will also embark on a series North American live dates, beginning with their first-ever U.S. show, set for Monday, March 9 at New York City's famed Mercury Lounge.  The band will then join Alabama Shakes for two nights at NYC's Beacon Theatre on Wednesday, March 11 and Thursday, March 12. From there, they will head to The Chicago Theatre Saturday, March 14 and Milwaukee's Riverside TheaterSunday, March 15.  Additional North American tour dates will be announced soon. Watch the trailer for They Will Have To Kill Us First: Malian Music In Exile and Songhoy Blues' video for 'Al Hassidi Tarei' below. Music In Exile is available now.