Sons of Sonixare going global.
Hailing from the UK, and of Nigerian descent, Mikey Akin and Mo Samuels are have now moved to Los Angeles—and they've brought their same skills, talents, passions, and work ethic from back home. From Stormzyto Ariana Grande, Sons of Sonix' catalog covers over a decade in the UK underground scene as well as the mainstream, while preserving the Nigerian sound they grew up on.
Having successfully proved themselves overseas, Mikey and Mo are currently focused on taking over the American market. Under the guidance of Grammy-award winning producer, Harmony Samuels (Mo Samuels' brother), the duo refuse to be boxed by a sound. Linking with Verse Simmonds on their debut single, "Full Speed," is no exception.
---
For those who don't know, who are Sons of Sonix?
Mo Samuels: Sons of Sonix is Mikey and I, we came together in 2009. We were on a church retreat, and we weren't happy with the way the industry was treating us individually. No one was giving us opportunity. No one was bringing us in. So we decided to become a duo—in a nutshell. [laughs]
Talk about your British-Nigerian roots. How does that play into your music?
Mikey Akin: Being British and Nigerian helps our production because it's a mesh of both worlds, basically. Growing up in Southeast London you come across so many cultures. People from Ghana, Kenya, Sierra Leone, Asians, Mexicans a little bit, so that plays a huge role in taste for music. The Nigerian side helps with cross rhythms, instrumentation, sharing of sound. You hear the influence in our music. You hear the bass in our movement. You hear the percussion rhythms as well, so it's a good dimension.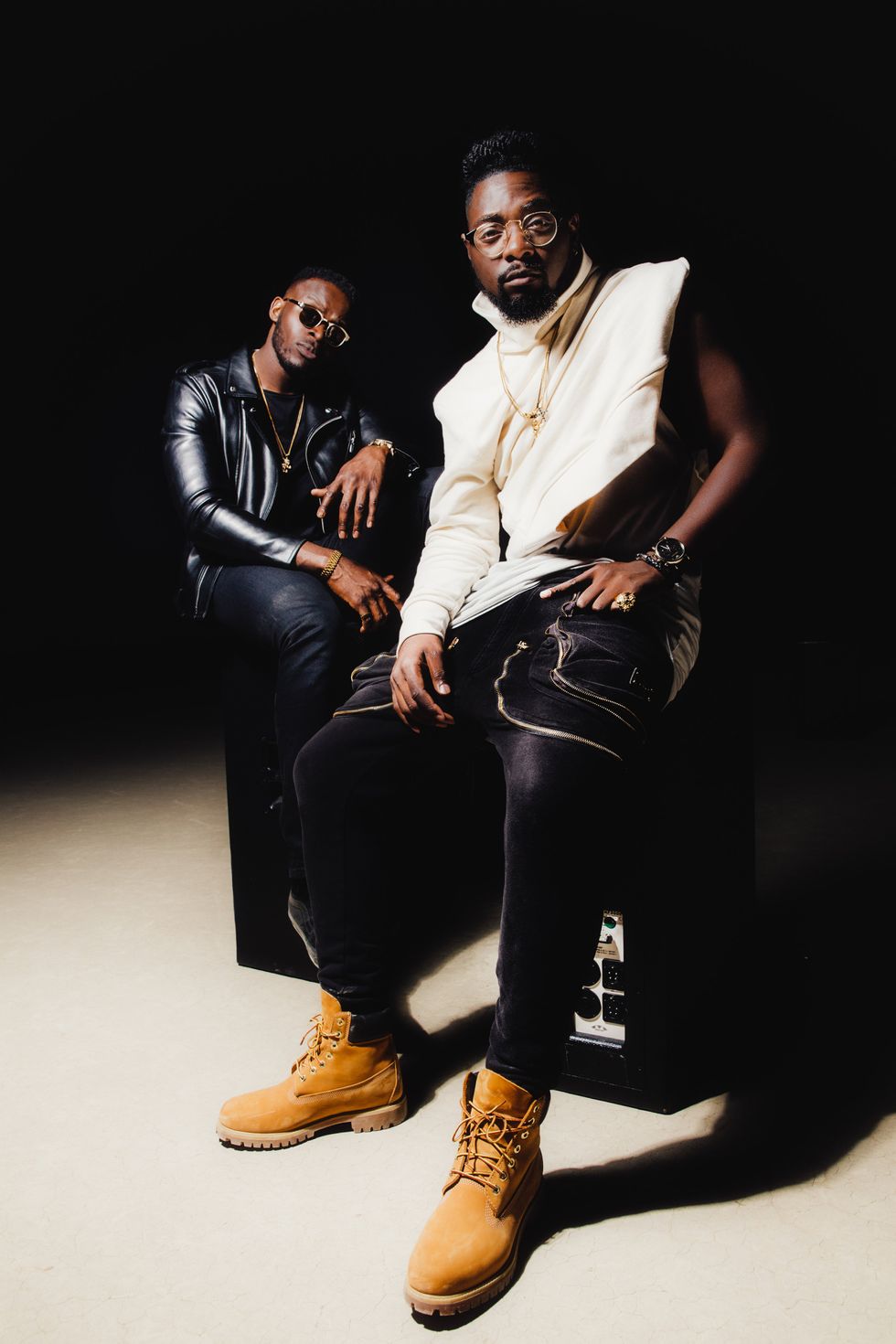 SOS. Photo: Jose Cardoza Photography.
What's the dynamic between you two?

Mo: There isn't any dynamic, it's just how the vibe of the day is. It could be him starting on music, it could be me starting on drums, it just depends. There's no specific strategic way that we work. We just go with how the artist is, or wherever the room or the energy of the day feels like.
Who has the final say?
Mikey: I wouldn't really say it's a final say, it's more of a final agreement. We may discuss amongst ourselves. Let's say for example, to see if this kick works. We'll both try it, then we'll agree like, "You know what, this kick makes more sense." It's a mutual agreement.
Who are some of your biggest influences?
Mikey: I think growing up, the usual Timbaland, Rodney Jerkins, Pharrell. More recently, it's been writers. People such as Poo Bear. Growing up as a producer, you realize the importance of a record in the song. That's heavily been on our influence radar.
Mo: Personally, it's definitely been Harmony Samuels, my blood brother, who's been living in Los Angeles for a long time and made hit records. Some of the best. For me, it's a bit more personal. He won a Grammy for Chris Brown's album, F.A.M.E. He's built his own empire, he's had his own label, had a hit record with his own major artist, Major.
He's scoring movies. He did soundtracks for movies like For Colored Girls, Think Like a Man (and Think Like A Man Too). He's done a lot of stuff for some of the biggest and best artists in the game. Among the people that everyone knows, this one's a bit closer. Because I've watched him craft and work hard to get to where he is. I definitely put him in that category of people that inspire.
Sons of Sonix - Full Speed ft Verse Simmonds [Music Video] Link Up TVyoutu.be
How did you guys get into music?

Mikey: We both started in church. I think church was the initial testing ground for just understanding music. Understanding rhythms, melody, harmony, vocals, singing in choirs, choir directing the singers as well. Then going into school, you have that interest in music technology classes, audio classes, then you realize "yeah, this is what I want to do." It was just a natural transition into different roles. It started with making beats, then going into writing songs, then engineering, then mixing. It's still progressing, just at a higher level.
What Nigerian music influences you guys?
Mikey: Right now, I'm listening to a lot of Sarz. Growing up, I listened to a lot ofDon Jazzy, P-Square, and Dagrin. A lot of my parents' Nigerian gospel music influenced me as well. You could hear it every Saturday morning while they're cleaning and getting ready for the following week. They were playing these kind of records, so my ear was always tuned in.
What were your Nigerian parents into?
Mo: My parents were into different types of music. From Ebenezer Obey to Sunny Adé to Orlando Owoh to Tope Alabi, there was just so many people. There was a lot of cross rhythms. I remember waking up on Saturday mornings—on chore days—and hearing the sounds of African rhythms and songs going through the house. I'd put my pillow over my head because it was too loud. [laughs] That's what we grew up on, and evidently it became a part of the music we make today.
At what point did you realize this music thing was for real?
Mikey: I think there were certain points of the career that made you go, "Okay, this is really happening." The first point for me was when I was 16. I was like " I want to be a record producer." After crafting and crafting, and forming SOS... I think it was when we made our first check. It was like okay, this is a "career" that you can live on. 'Cause when you're an artist and your parents ask you, "What are you doing? What are you doing?" And you tell them, "I'm a producer. I look after myself from that," you realize it's serious now. Also, when we got our first charting record back home. It was a highlight for us to keep going. Keep going, and keep crafting, and dreams can come true, without being too cliche.
Stormzy - Birthday Girl (Music Video) (Starring Maya Jama)www.youtube.com
You guys have been in the UK underground scene for the past 10 years. Talk about transitioning into the US market.

Mo: While we were in London, we had the privilege of working with some of the best. From Stormzy, Tinie Tempah, Chip, Wretch 32, Krept & Konan, Emeli Sande. There's a system that works over there. We've been coming to Los Angeles consecutively for six years before we moved a year ago. Coming here and watching Harmony, for instance, was kind of like the basis of us learning how to trade and what happens over here. Where the buildings are, who to meet and what not. It wasn't that difficult because we've been coming here, and Harmony has been the blueprint. Everything we needed to know, he was teaching us. We were watching and learning.
In London, we had done and worked with everyone we possibly could. The politics of the game over there, in general, only allows you to work with certain people. Because you're a black producer, you can only work with urban acts—or they think you only can. That's part of the things we faced. They weren't allowing us to go in with the Ed Sheeran's or Ellie Goulding's for whatever reason possible. They would blame this person, and this person would blame this person, and so on. After a while, we just got tired. We were like, "You know what? Since you're not giving us the opportunity, we're going to create it ourselves." We started coming to America, and the love over here has been immense. From Ty Dolla $ign to Trey Songz, to you name it.
Can you talk about that first Ariana Grande meeting?
Mikey: That experience was great, because it was in our early journeys of coming out to LA. I remember landing and thinking we were going to the hotel we were staying at, but we ended up going to the studio. Harmony at the time was executive producer of the album, Yours Truly. We met him at Paramount Studios in LA. They told us, "We're finishing Ariana Grande, the piano." It was like "oh okay, this is real." She's an amazing spirit. At the time, it was a transition for her coming from a TV personality lifestyle to now becoming this new artist that everyone's deeming the new Mariah Carey. That was a great experience, and we're forever grateful to Harmony for that opportunity.
Stormzy - Velvet / Jenny Francisyoutu.be
Talk about working with Stormzy on three records from his debut effort, Gang Signs & Prayer.

Mo: It was great. In 2013, 2014, we were working with this young lady called Tanika. She was signed to Virgin at the time, and we were doing on her project. At the end, we had a specific song, and she was like "Oh, Stormzy." Obviously, Stormzy was starting to have a buzz, starting cause some noise. This was before he even blew up. She sent him a message on Twitter, and the next day, he came to the studio and recorded his verse. Ironically, he says that was his first proper session. Prior to that, he had never been in a session.
Mikey: He was getting songs sent to him. We made a record with him there, and we recorded it.
Mo: He was just getting beats sent to him, and he was just recording them. We just kind of built a rapport and relationship with him. Within a year or two, we had started working on his projects. At the same time, we were also working on Wretch 32's album, Growing Over Life (shout out to Wretch). Stormzy had the privilege of coming in and listening to what we were doing for Wretch, so it kind of inspired him to make Gang Signs & Prayer. A lot of songs we made for him are just the one or two sessions we had here and there, and he loved it.
Do you guys know if a song is going to land on the album, or not until it's released?
Mikey: With Stormzy, pretty much yeah. With him, the songs he finishes in the session, or he's done the majority of the song in the session, he's keeping. Songs he may do a verse for here or a hook there, he's not 100% sure it might not make it onto the project. But working with him, like I said, he's a good brother of ours. We had the privilege of making the song for his Mrs., called "Birthday Girl." The video starring his girlfriend went viral in the UK. With Stormzy, once he knows what he wants, it makes it easier for us. We're not shooting in the dark. We have a lot of numbers with him on there. If you look at the album, we came up with "Velvet," and "21 Gun Salute," which is a lot of people's favorites. We're grateful for that.
You recently worked with Kida Kudz on "Again." Talk about working with a fellow Nigerian and how you guys blend sonically.

Mo: Good question. Firstly, like I said, we come from a family that constantly played African music. For us, our new slogan is 'expensive music.' Whenever we listen to a lot of the afrobeats, it's kind of like the mix isn't right, or the certain sound selection isn't right. We wanted to bring this edge where all the boxes were checked: the snare was right, the drums were right, the mix was right, the song was right.
Mikey: So it's expensive.
Kida Kudz x Geko - Again [Music Video] | GRM Dailywww.youtube.com
Mo: It's taking what's already been done, and doing the best version of it. With Kida Kudz, he didn't want to go to the session, and we didn't want to go the session. Then we were like, "You know what, let's go." Mikey had heard this chord and thought it would be perfect for him. We played it to him, and he was like "perfect." Then we just built it. We didn't even realize what we had until the end. We realized, "Oh snap, this is a hit record, this is a smash." It's opened us in that world way more than we expected. Obviously, because it's a hit for him. He's got over close to half a million streams on Spotify in the last two weeks, so it's gone absolute viral. It's going crazy. Everyone in the world is vibing to it.

You just released your first single "Full Speed" with Verse Simmonds. How has the fan reception been?
Mikey: A lot of people connect to the music because of the quote we always use, 'expensive music,' where again, we try to check every box. When you listen to "Full Speed," the rhythm is there, the mix is there, the song is there, the catchiness is there. I can't find someone that listens to that record and doesn't move, or doesn't feel the vibe. That's one thing we want to maintain with anything that we put out, as ourselves as artists.
We had to maintain the same level in the video. A lot of people didn't expect it to be like that: clean and cut. We took our time with it. A lot of people were like, "Where's the video? Where's the video? We edited that video about a good 12 times, just to get it right. [laughs] It's the first video we ever put out, so it's our baby. We want to make sure we spend time on it. The reception so far has been really good. A lot of people are trying to jump on the record and do their own remix, so we're trying to get the right one to make it. You got to take your time sometimes.
How do you plan on preserving that Nigerian sound as you continue to build your name?
Mo: I think it's just about reinventing ourselves. In order for the Nigerian sound to constantly remain pivotal and potent in our music, we have to constantly find ways to share it. Something that sounded a certain way five years ago, can't be used now. 'Cause it's dead. It's about reinventing yourself. If there's anything I've learned in this game, it's that any artist that's been around a long period of time, it's 'cause they know how to reinvent themselves. Usher is one of them. He went from 8701 to Confessions to, "OMG." It's about finding ways to make yourself look new and sound new. Every generation that comes doesn't know what the generation was listening to before. To the kids, it sounds like it's brand new. That's how you keep something fresh. If you can keep finding ways to take the African sound and make it sound fresh and new, it will always be here.
Ty Dolla $ign - Side Effects [Music Video]www.youtube.com
"Side Effects" is a bop of Ty Dolla $ign.

Mo: It goes back to what I was talking about, about the dreams and aspirations we had in London. Coming here, they were being made a reality. Working with Ty Dolla $ign was one for sure. Like I said, we worked close with Poo Bear, and made a bunch of records with him. He happened to be in with Ty one day. Ty heard it and was like "this is a smash." We cut a record, and then had a session with Poo Bear again and Ty turned up. He was like "guys, I love the record, whatever whatever." He finished the record there. It was exciting. Working with Poo Bear is always a blessing. He's opened a lot of doors as well.
He brought us Trey Songz as well, on the record, "What Are We Here For." We had originally made that beat for a different artist in the UK, then he wrote the record. Him, Poo Bear, his A&R went through two hours of listening to beats, and they didn't get anything. They played our beat and were like "perfect, [snaps] this is what we're looking for." And they recorded over it.
A lot of people are saying how producers are becoming the new A&Rs.
For sure. Producers and writers, 100%. 'Cause they're connected to the artists. No one believes what the A&R says. The A&R tells you to send something, they probably won't play it for the artist. If you want to get to an artist, you become friends with the producer or writer.
Anything else you want to let us know?
Keep following SOS. We're here to stay, and we're making waves. Here, Nigeria, and London.