The morning Soraia Ramos woke up to the news brought by her manager, she thought it was an April Fools joke. "I saw the photo she sent me on WhatsApp and, at first, I said it was a fake, but then I realized it was true and cried for hours. It's amazing to see the effort I put on my work being rewarded," she says over a Zoom call. Indeed, to star one of Spotify's humongous billboards in New York City's Times Square was nothing but incredible for the Portuguese-Cape Verdean singer, whose explorations in music started back in 2010 when she began posting self-made videos on YouTube.
Today, Soraia has a place at the top-charts of the disputed Africa's Luso-pop landscape. Her soulful vocals fit in a blend of kizomba flavors and R&B-esque melodies as in "O Nosso Amor," a single with 24 million views on YouTube — an impressive achievement for an artist that hasn't even released her first album. From her beginnings in Lisbon to the day she went global through New York, the path to becoming a rising star was also a comeback home journey to Soraia.
"I've met Cape Verde through music," she says. "The first time I went there, in 2010, it was to play in a show. I got in touch with my roots through music." Born in Portugal, and having lived a couple of years in France and Switzerland, Soraia kept coming and going to her family's home country in the following years. In 2019, she recorded her first hit singing in criolo, the love song "Bai", with a music video recorded in the streets of Praia.
---
Soraia Ramos x Calema - O Nosso Amorwww.youtube.com
"It was a Cape Verdean singing in criolo in Cape Verde, it was a video that only made sense to be shot there," Soraia recalls. "Knowing the shining colors of my voice, I had to sing in criolo, and I think it's important to leave a mark in the country with my music. Also, my job is to take Cape Verd's culture with me around the world. I want to continue what Cesária Évora has built."
Whether in Portuguese, Criolo or French — a language she learned as a teenager — Soraia's lyrics are whole-heartedly love and hate letters. In "Não Dá Ah Ah," she sings: "Para mim não dá, não aceito esse desrespeito, eu sou linda e sou do meu jeito," that is "I won't take it, I won't accept being disrespected, I'm beautiful and have my own way."
"When making music, I think of instrumentals first, I like to create melodies that touch me, and when I grasp a melody I go where it takes me," Soraia reflects. "I the beginning of my career, my songs were directed to women, to open up their eyes, to give them strength, but I think that, today, my music speaks to everyone. And even if some people don't understand what I'm saying, they feel touched when they listen to my songs."
It's also Soraia's fusion of kizomba and R&B — besides being an overtly pop act — that made her music travel beyond Cape Verdean boundaries and hearts. As a child, she looked up to the likes of Rihanna and Beyoncé, while also listening to lots of kizomba. Blending the soulful notes and swinging melodies of both genres seemed a natural path to the singer once finding an identity to herself.
Soraia Ramos - Baiwww.youtube.com
"Kizomba is a genre that opens doors for artists in Portuguese-speaking countries, and I'm thankful for it," Soraya says. "But I don't want to be a one-genre singer. I'm an artist and I can perform different genres."
Self-conscious of her capabilities, Soraia was rather a shy girl before her first steps on music. It was her aunt who gave her a first push to grab the mic after signing her up for the music contest Vozes da Diáspora in 2009. Soraia won first place in her second attempt, and started to make a buzz among the Cape Verdean community in Europe with the help of low-budget music videos she and her family recorded.
Along with the first gigs, a big decision had to be made. "I used to work at Subway, in Switzerland, and I received a proposal to work with the music label KlassziK, in Portugal. I spoke with my dad about it and, eventually, got on a plane to Lisbon with just one bag."
The bet turned out to be a good one. Once part of the KlassziK roster, Soraia expanded on her musical aspirations with the label's owner, Nellson Klasszik. The producer, a sort of Timbaland of kizomba-infused sounds, broadened up Soraia's creative routes.
"Nellson is a genius," exclaims Soraia when asked about her music-making partner. "He could be with us now, talking to us, but his head would be somewhere else, he'd be having ideas with a creativity that's everything but normal."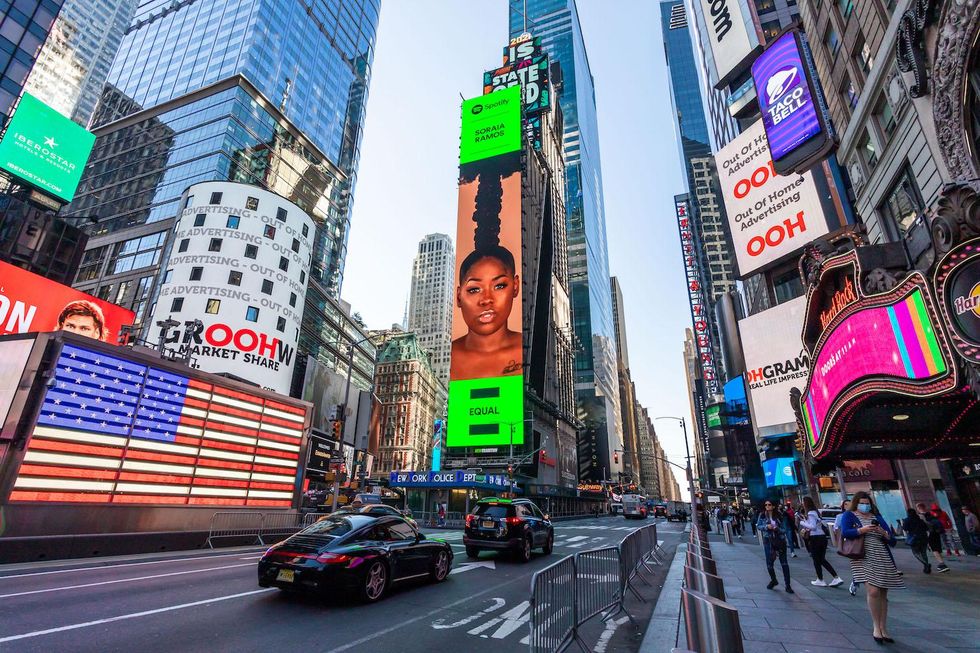 Spotify's billboard for Soraia Ramos in Times Square, NYC.(Photo via Spotify)
Back in the first months of 2020, before the pandemic set the world on hold, Soraia went to the studio to start working on a new song with Nellson. Lyrics were ready, the beat was on top and the singer was good to go. She tried once, twice, three times to kick in the first bars. "He made me sing the first lines 50 times," Soraia recalls.
Once again, the bet turned out to be a good one: "O Nosso Amor," the song recorded that day, has more than 20 million views on YouTube: Soraia's number one hit. "When I see we've got that far, I understand why Nellson is so exigent," she says.
Soraia shares the numbers with fellow up-and-coming artists from another African island nation, the São Tomé and Principe's duo Calema. They joined her in "O Nosso Amor," and the singer lent her vocals to the duo's single "Kua Baru," released in September. Fueled by cyclical guitar arpeggios that sound both as West African rhythms and Shakira's "Waka Waka," the upbeat song is a joyful cry for hope and union of the Portuguese-speaking countries — from Angola to Brazil.
Reaching Brazilian audience is among the next steps in Soraia's stairway to the top-charts of Africa and beyond. When performing in Portugal, the Brazilian artist Ludmilla had the Portuguese-Cape-Verdean on stage for a couple of special numbers. "She made a version of my song 'I Love You Too' and we will release another song together," Soraia says.
If this is not a single to be released anytime soon, it might be one Soraia's first album tracks. Her debut would've hit streaming platforms in early 2020, but the pandemic postponed its release, leading the artist and her team to work on several adjustments and new songs.The album's title remains the same: Cocktail. "It's a mix of the many Soraias that exist inside of me," says the artist, planning to take all of her musical personas as far as possible.