We're just a few days away from Women's Month in South Africa—a time to reflect on the strong, courageous and brilliant women of South Africa's past and present. With regard to literature, Kopano Matlwa, Panashe Chigumadzi and Lebo Mashile are dominating the country's writing scene. But it's also important to remember and celebrate the black women writers that paved the way. Below, we take a look at just a few of the many influential black women writers, young and old alike, whose work changed South Africa's literary game.
---
Miriam Tlali
It's only right to start this list with Miriam Tlali, the first black woman in South Africa to publish a novel, "Muriel at Metropolitan", in 1975. The Apartheid government banned the semi-autobiographical work in 1979, though it went on to be published internationally under the title "Between Two Worlds". Tlali's second novel, "Amandla", was also banned.
A pioneer of South African literature in the most heroic sense, Tlali's work documents the trying times of black South Africans under the oppressive apartheid regime. Tlali, 82, has been honoured with some of the country's highest accolades in writing and the arts, including the Literary Lifetime Achievement Award and the presidential order of the Ikhamanga in Silver.
Sindiwe Magona
The work of Umtata-born, Gugulethu-raised literary legend Sindiwe Magona reflects experiences of impoverishment, femininity, resisting oppression and domestic work in the days of apartheid. It speaks to the hardships of black South African women back then—a painful yet necessary history. Her works include "Mother to Mother", "To my Children's Children" and "Please, Take Photographs". Magona's most recent novel, "Beauty's Gift" (2008), is an earnest interrogation of the stigma around HIV/AIDS in South African society as well as the role of patriarchy entrenched in African culture.
In an interview with Elaine Salo, of the African Gender Institute, Magona attributes her passion for writing to having observed how few black female writers there were—five to be exact—during her time as a student, as well as having identified the need for black voices during the tumultuous period of Apartheid South Africa. Magona, 72, has also been awarded the order of the Ikhamanga in Bronze in recognition of her contribution to literature.
Angelina Sithebe
Photo by Imani K Tsotetsi.
Soweto-born geologist-turned-novelist Angelina Sithebe is perhaps best known for her 2007 debut novel, "Holy Hill", and the humorous short story collection, "Target Life". "Holy Hill" is an evocative work which highlights the way in which children are raised in South African society and delves, at times uncomfortably, into issues of religion, xenophobia and crime. Sithebe was shortlisted for the world's richest literary prize for a single work, the International IMPAC Dublin Literary Award.
Angela Makholwa
Photo courtesy of Angela Makholwa.
Angela Makholwa is regarded as the first black author to write crime fiction in South Africa. Her debut novel, "Red Ink", is a psychological thriller that tells the story of fictional public relations consultant and ex-journalist, Lucy Khambule, as she investigates a horrifying series of rapes and murders in Johannesburg. Makholwa followed this up with "The 30th Candle", an exploration into the sexuality of women in modern times. "The Black Widow Society" followed shortly afterwards and is set around a secret organisation established by three black businesswomen in an effort to liberate women from abusive relationships by carrying out hits on their abusive partners. Makholwa was recently shortlisted for both the Alan Paton Award as well as the Barry Ronge Fiction prize.
Lebogang Mashile
Photo by Andile Buka.
American-born Lebogang Mashile is probably the first name that comes to mind when thinking about a female writer making colossal waves in the poetry space. Her unique hip-hop style delivery has earned her award after award, including the prestigious Noma for her first anthology, In a Ribbon of Rhythm. The panel of judges described the work as having a "distinct oral flavour, developing oral poetry and performance beyond the boundaries of the poetry of the era of resistance." Mashile went on to publish her second anthology, Flying Above the Sky, with most of the work centreing on the dynamic of the "rainbow nation" post-Apartheid and the status of women in South Africa.
Panashe Chigumadzi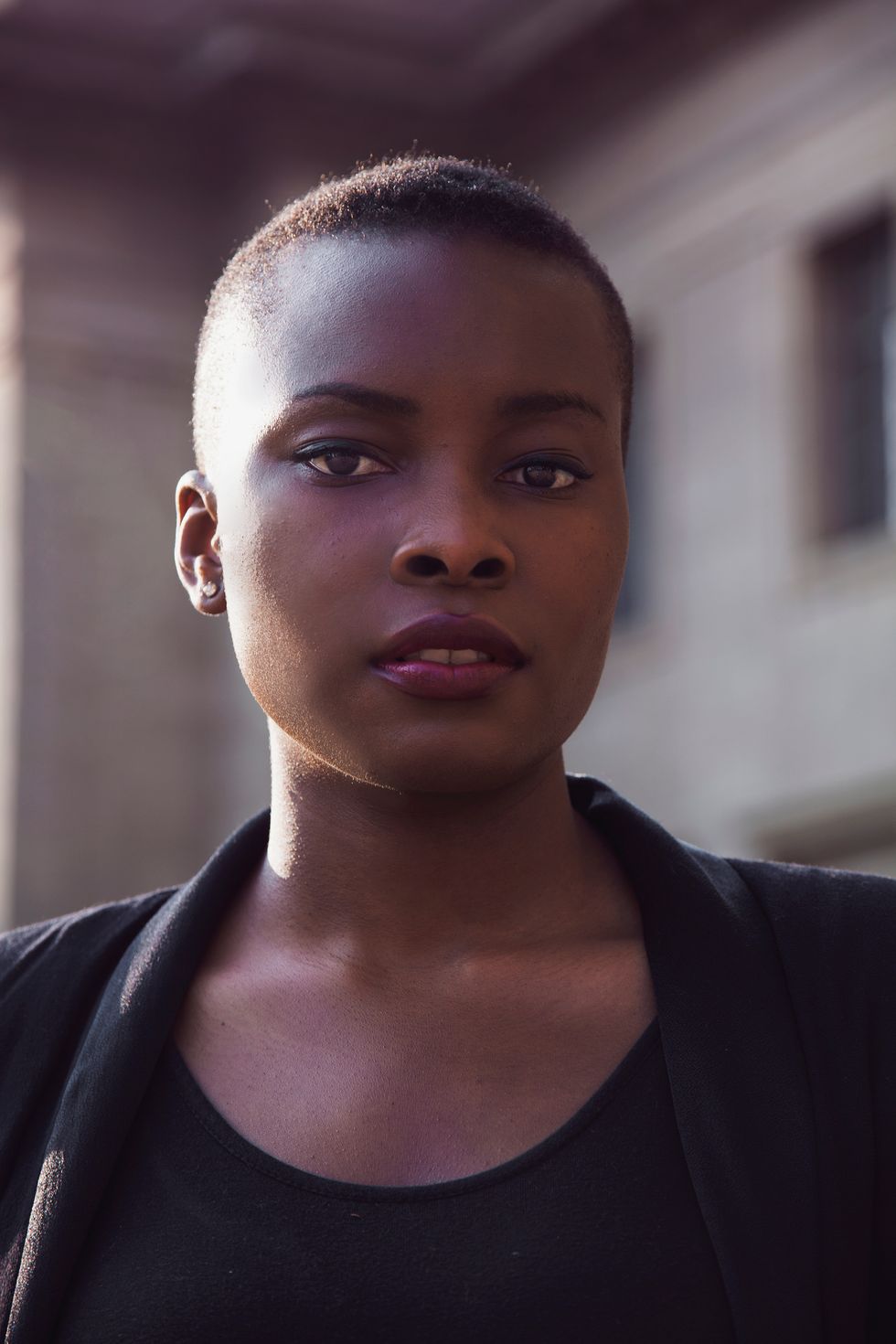 Photo by Tarryn Hatchett.
Zimbabwean-born Panashe Chigumadzi is the founder and editor of Vanguard, an online magazine that offers young, aspiring writers the space to tackle themes central to black people free from censorship. Her recently-published debut novel, "Sweet Medicine", is set in Harare, and explores the journey undertaken by a young black Catholic girl in an effort to find romance and financial security through worldly means. It further explores feminism, patriarchy, political freedom and poverty in the post-colonial era.
Zukiswa Wanner
Photo by Lisa Skinner.
A journalist and novelist, Zukiswa Wanner is perhaps best known for "Men of the South", "The Madams" and "Behind Every Successful Man". In her books she explores issues affecting black men and women in contemporary South Africa, including the relationship between white and black people, affirmative action, homosexuality, gender norms and the pressures of city life. Wanner, who was born in Lusaka to a South African father and a Zimbabwean mother, has an uncanny ability to offer insight into life in new South Africa in both a humorous and light-hearted manner.
Kopano Matlwa
Source: Kopano Matlwa's Twitter
Kopano Matlwa, a medical graduate, received the European Literary Award for her 2007 debut novel, "Coconut." It centres on the lives of two black female characters born and raised in white suburbs and explores their journey as young women in a new South Africa. In her 2010 novel, "Spilt Milk", she provocatively explores African cultural dynamics in the face of an interracial love affair between an upright school principal and a disgraced former priest.
Rufaro Samanga is an intellectual, aspiring literary great, feminist and most importantly, a fiercely passionate African.