One Christmas Eve while still in primary school in the quiet South African mining city of Kimberley,Gabrielle Goliath tragically lost a friend to an act of domestic violence. This traumatic event impacted her profoundly, and ultimately pushed her to create artwork that commemorates victims of violence.
While still in school, Goliath moved to Johannesburg where she is still based. As an artists she is known for her conceptual pieces that address complex social issues. Using video, live performance and photography, Goliath's work highlights issues regarding gendered and sexual violence and the invisibility of women, people of colour and LGBTQI+ people.
Goliath studied fashion design at the University of Witwatersrand's School of Arts in Johannesburg, where she was influenced by experimental fashion designers such as Hussein Chalayan. During this time, her work evolved into creations that were more conceptual in nature and "unwearable."
---
Goliath's work has been very well received both nationally and internationally. She has exhibited widely, garnering several prestigious awards, and is part of numerous private and public collections. One of her most notable works, 'Elegy', begun in 2015, forms part of a long term commemorative performance project. The work staged in various locations across the globe , involves a group of female vocal performers who perform a physically and emotionally draining mourning ritual involving a continuous sung cry for the loss of a particular individual—provoking a sense of distress and sorrow in the viewer.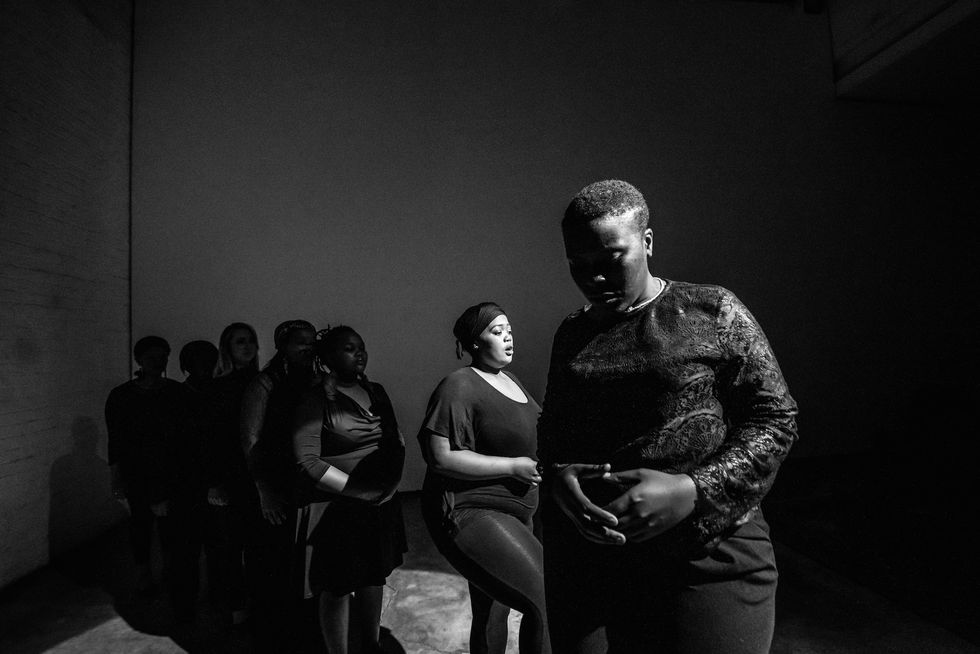 Eunice Ntombifuthi Dube, Gabrielle Goliath, Centre for the Less Good Idea, Johannesburg, 2018Photo by Stella Tate
'Elegy' was recently part of the Verbo Performance Art Festival (2018), São Paulo; the Palais de Tokyo's Do Disturb Festival (2018), Paris and the National Arts Festival (2018), Makhanda. The documentation of 'Elegy' over the years will be presented as part of a new work, consisting of a seven screen video installation featuring footage from seven different performances. It will be presented at the Goodman Gallery in Cape Town from the 12th of February till the 9th of March and will coincide with Cape Town Art Week 2019.

The artist's accolades include the Institut Français, Afrique en Créations Prize (Bamako Biennale), and most recently the prestigious Standard Bank Young Artist Award (2019). She has also been shortlisted for the Future Generation Art Prize 2019. Aside from developing her artwork, Goliath is also currently a PhD candidate and Fellow at the Institute for Creative Arts at the University of Cape Town.
Goliath's native South Africa has one of the most advanced constitutions in the world, in theory, it legally recognises and protects the society's most vulnerable. Yet, the society suffers some of the highest sexualised and gender violence rates in the world. This distressing reality mirrors the unreconciled traumas of colonialism and Apartheid on top of entrenched sexism and rape culture. In a society where gendered and sexualised violence is more common, many have become desensitized to the staggering reality. The power of Goliath's work lies in its ability to unsettle the viewer, while encouraging conversations about a society's values and revealing the strength and resilience of human beings.
We caught up with the Goliath ahead of a busy 2019.
Standard Bank Young Artist Award 2019 - Gabrielle Goliath (Visual Art)www.youtube.com
What and who influences you as an artist?

It's no secret that the art world is the province of men—in terms of economy, exposure and ego—and that women and minority artists have been and continue to be written out of the canonical narrative of modernism and its weird and violent afterlives. And so, I'm inspired by the recuperative, restorative and very socially and politically inclined work of those who seek to disrupt and, importantly, reconfigure this situation. Just the other day I visited an extraordinary exhibition of works by the great Mmakgabo Mapula Helen Sebidi, curated by Portia Malatjie, which really honoured the work of this undervalued but really magisterial woman.
As an artist, I draw from and am challenged by a constellation of influences: artists like Donna Kukama, Buhlebezwe Siwani, Tracey Rose, Regina José Galindo, Doris Salcedo, and so many more; the poetic but critical work of writers like Gabeba Baderoon, Christina Sharpe and Sara Ahmed, as well as the incredible Pumla Dineo Gqola, who has redefined the landscape of critical black feminism and queer theory in South Africa; and of course the advocacy work of organisations like Rape Crisis, Iranti, Gay and Lesbian Memory in Action (GALA), Sex Workers Education and Advocacy Task Force (SWEAT), and the Tears Foundation, and the list goes on.
You explore serious themes through your work, your performance pieces are an emotionally draining experience for both the viewer and performance artists. Do you have a particular process that you follow when developing each of piece of work? What does it entail?
I am not a very prolific artist, and this is intentional. Mindful of how regularly violence is perpetuated and normalised through forms of representation, I am careful about what I put out there, and spend a long time, sometimes years, on each body of work. Each project presents new challenges, and requires me to navigate a complex ethical field, one with no guarantee of a 'right way of working'—a space of ethical risk in which every decision holds within it as much the capacity to heal as to harm. A guiding principle for me is to ensure that my work is always subject-centred, and open to the specificity and accountability that demands. My process is often highly collaborative and social, in the sense that a project like Elegy, for example, calls for extensive dialogue and forms of collective labour. There's a lot of research involved—and given the traumatic experiences of individuals subjected to gendered and sexualised violence, and its repercussions—a lot of conversation: difficult conversations, but ones that inform what I think and do in the most profound and humbling ways.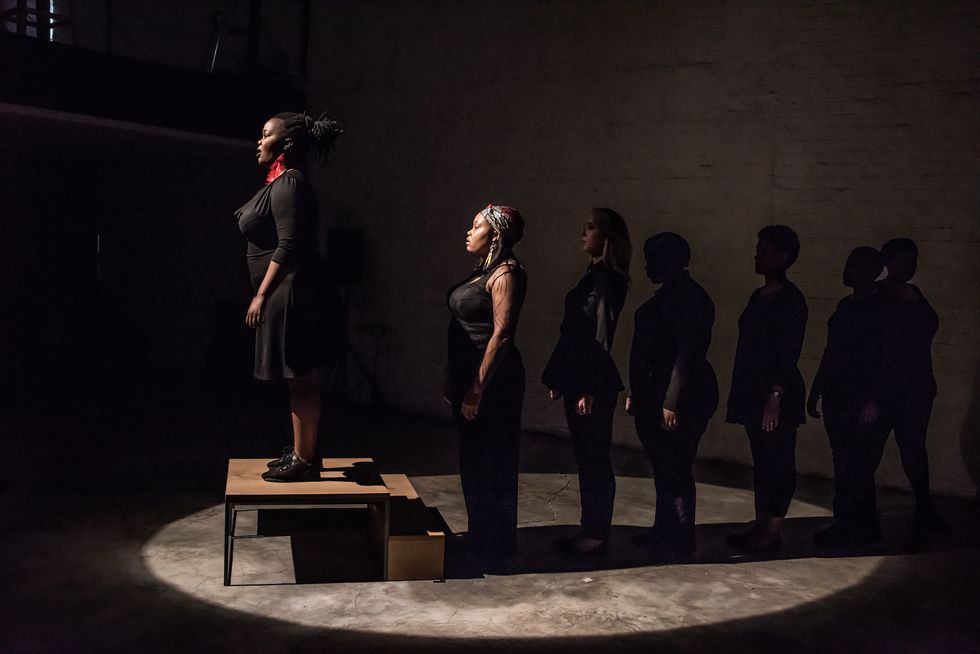 Eunice Ntombifuthi Dube, Gabrielle Goliath, Centre for the Less Good Idea, Johannesburg, 2018Photo by Stella Tate
Your work 'Elegy,' initiated in 2015, is part of a long-term commemorative performance project, each iteration marking the absent presence of a specific woman, or LGBTQI+ individual raped and killed in South Africa. The piece has been performed both nationally and internationally. Why do you think this piece, developed specifically within a South African context, resonates so powerfully abroad?

On the whole, I have been encouraged by the ways in which different audiences – in South Africa and in other parts of the world – have responded to Elegy performances. For me, Elegy is a political project, in that it calls people to acknowledge and mourn for individuals whose lives and even deaths are regularly disavowed on a social and political level. The social encounter of Elegy, and the insistence of each performance upon a specific individual, collapses the safe remove of a 'distant' suffering. I have learnt that one should never underestimate the capacity of others to empathise. Following performances in Europe and the US, I have had many very personal conversations with audience members, who found the piece to be both moving and challenging. There is also an intersectional work at play in each context, as people connect the commemoration of a specific individual with personal experiences or socio-political contexts. Recently, for example, after performances in São Paulo – commemorating Sizakele Sigasa and Salome Masooa – a number of audience members shared with me personal experiences of rape, which was devastating, whilst for others the piece recalled for them the recent assassination of political activist Marielle Franco, and the endemic nature of this violence in Brazil.
South Africa has some of the highest reported sexualised and gendered violence and murder rates in the world. As an artist, what role do you think the arts plays in contributing to popular discourse, attitudes and policy around these horrific acts?
I've never found it helpful to try and fix what art should and should not do. For me, it's not so much about what the role of art is, as much as what opportunities it presents, and what are the ethical implications of those opportunities. Can art inflict harm? In my opinion, yes—but it also allows for different ways of thinking and feeling, and for facilitating more affective and relational ways of encountering what is often difficult and sensitive subject matter. In my work, I seek to counter the kinds of symbolic violence through which traumatised black, brown, feminine, queer and vulnerable bodies are routinely objectified. And here I am referring not only to art, but to the field of representation at large, and the ways in which we image, write, sound, speak and perform violence. My objective is to make possible alternative aesthetic encounters that allow for the commemoration as well as celebration of disavowed subjectivities. And this I see as being in itself a kind of recuperative and political work.
Your work illuminates the deep emotional wounds and suffering of victims but also calls into question the values of society as a whole. How has your work been received by both the general public and lawmakers in your country? Do you think there has been a shift in attitude and sensitivity surrounding the issues you explore through your art?
I think that sort of impact would be difficult to gauge. Reflecting on the reception and impact of my work, I look rather to the kinds of relational encounters it brings about, and to the very personal responses people often share with me. This kind of feedback is very humbling, especially when it comes from individuals who have experienced or been touched by racialised, gendered and sexualised violence. Whilst I cannot lay claim to shifts in policy, I do know that for some, my work has deeply affected them, allowed for a shift in attitude, and even a measure of catharsis or healing.
Photo by Stella Tate
You are the recipient of the prestigious Standard Bank Young Artist Award 2019 (visual arts). What's on the horizon for 2019?

2019 will be a busy year for me. The Standard Bank Young Artist Award is a really affirming one for me, and will involve a touring exhibition here in South Africa. I have also been shortlisted for the Future Generations Art Prize, and for that I'll be presenting a new body of work – This song is for ... – in Kiev in February, and that will then travel to Venice. I am also excited about a number of Elegy performances that I have been invited to realise in Switzerland, the Netherlands and the US, as well as presentations on my work that I will be giving at different conferences. Grrr... and then there's my PhD – chapters one and two, here I come!