Ever since premiering her debut film, Love the One You Love, which won the Best Feature Film at the Jozi Festival in 2015, Jenna Cato Bass has been a name to watch on the international film festival circuit. Her 2017 feature, High Fantasy, was the first of her films to land on the Toronto International Film Festival (TIFF) lineup, followed by Flatland in 2019. Her latest offering, Mlungu Wam (Good Madam), debuted at TIFF in September of 2021 — marking her third time at the esteemed Canadian film event.
Often provocative, always thought-provoking, Bass' films have come to establish her as a director who looks at South Africa's youth, the lives they're living and the future that awaits them, with a nuanced, open-minded lens. For the first time in her career, Bass uses the genre of horror to dig into an enduring mark of the country's past — that of the fraught, complex relationship between madam and domestic worker, in Mlungu Wam (Good Madam). Set in Cape Town, the film follows the unusual, disturbing things that start happening when a young woman moves back in with her estranged mother, who is the longtime caretaker for a rich, white household.
Bass also co-wrote the film Tug of War (Vuta N'Kuvute), which became Tanzania's first film to be selected for TIFF this year, and she co-wrote Rafiki, which was Kenya's first film at TIFF in 2018.
She spoke to OkayAfrica about playing in a new genre and her hopes for African cinema.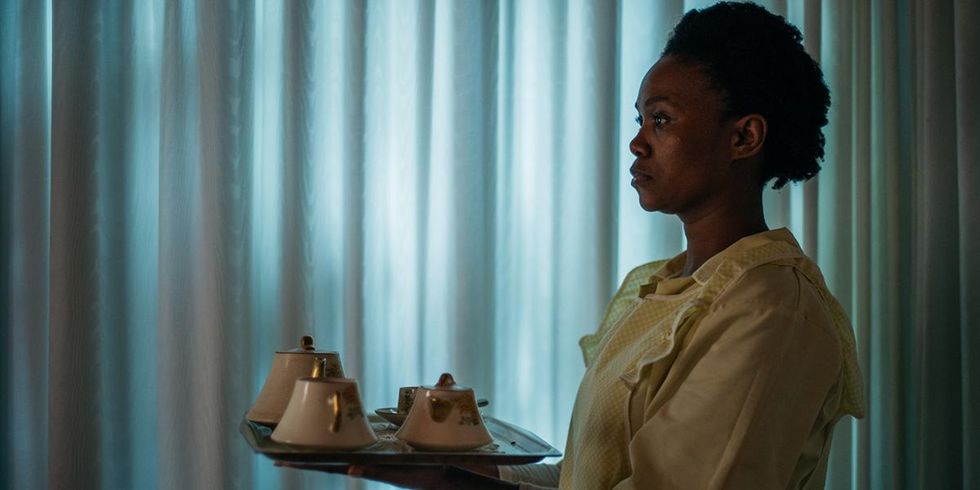 Still from Bass's film Mlungu Wam Image: Courtesy TIFF


This story revolves around the relationship between a domestic worker and her 'madam.' What made you want to make a film about this subject?
When I make films, I like the concept to revolve around something that we all have in common - because, despite the many fractures in our society, these shared places exist. And in South Africa, we felt that everyone - in some way or another - has been deeply affected by domestic work and domestic workers, who are a keystone in our society's structure. Additionally, the 'maid' and 'madam' relationship is the ultimate symbol of race relations in South Africa - as well as how they haven't changed significantly, despite almost thirty years of democracy. So a domestic worker was the perfect character around which to centre a South African horror.
The genre of horror works really well to explore this subject and tell this story — when did you know it would be the genre you'd want to use?
The early stages of developing a film aren't always linear for me. I'll be thinking about a genre I'm interested in, and then parallel to that I'll have an idea for a story or a character, and later on, will realize that these pieces all fit together. In this case, I'd been wanting to make a horror film for ages, but hadn't found the right story… until I had the idea for Mlungu Wam, and I realized I was finally ready to try this genre.
What challenges did you face in making a horror?
It was my first time working in this genre, and it was intimidating because there's no saving you if you fail. We were also working on a very, very limited budget, so it wasn't possible to show as much as we'd like to - but then again, this story was all about the subjective and the unseen, so I did as much research and planning as we could, and just had to trust it would work.
Where did you film, and did that have any impact on the process at all?
We filmed in a house in Cape Town, in a gated community in the Southern Suburbs. The house and the environment had a major impact on the film - especially because we were also quarantining there for the full 7 weeks of rehearsal and shooting. The house was our set and our accommodation, so it was very intense, very claustrophobic, and very triggering for many of our team members.
How did you and co-writer Babalwa Baartman work on the story? You've included cast members in the writing process in your previous work — did you do that here too?
Mlungu Wam was made along similar lines to my first two films, Love The One You Love and High Fantasy, where we started with an outline, cast actors, then workshopped the characters collaboratively before completing the story breakdown and using improv for the dialogue. Babalwa and I had worked together using this method on a short film we made in 2019 called Sizohlala. She really understands the process, and it was a really rewarding experience exploring the story with her and our cast.
How did Kristina Ceyton, who produced the excellent acclaimed horrors The Babadook and The Nightingale, through Causeway Films, come to be involved in this film?
I had met Sam Jennings, who is also a producer with Causeway Films, several years ago at a festival. We really connected and kept in touch over the years, sharing our work, and hoping there'd be a chance to collaborate. So when we were developing Mlungu Wam, I pitched her and Kristina the concept and they were immediately supportive. It has been a massive pleasure working with them both.
Your films are known to venture into themes of identity and healing from the past — how does this film speak to that?
Mlungu Wam is definitely about this too - it's a story about three generations of women (actually four, if you include Tsidi's grandmother, who is an unseen character in the film), how they are haunted by the past and eventually refuse to remain chained any longer. Their healing is collective, linked to each other, and wouldn't be possible for them alone as individuals.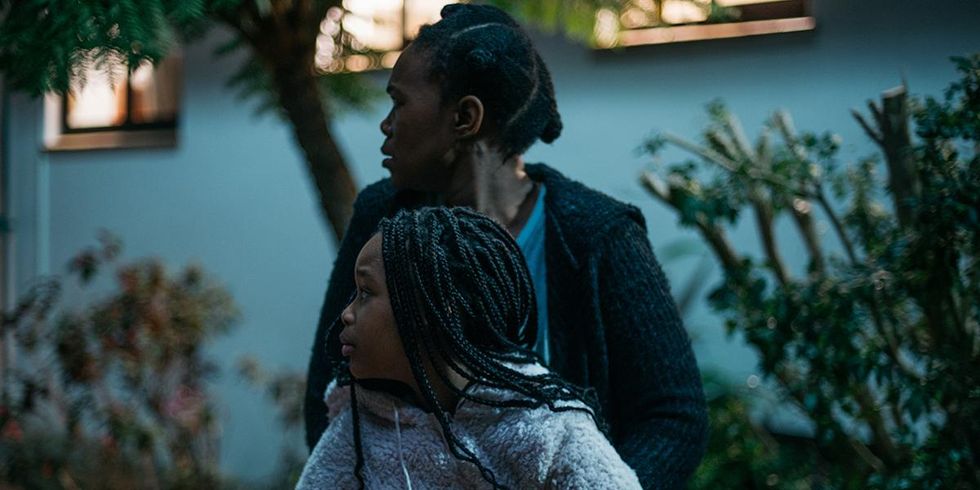 Still from Bass's film Mlungu Wam Image: Courtesy TIFF


You've been at TIFF before - how has your experience of it been this year, with it being a hybrid of virtual and in-person?
Things have been quieter and a bit harder to navigate, but the TIFF staff have done incredible work getting the festival off the ground, despite endless challenges. It has felt very surreal to be here, and a privilege - and inspiring too, that we can still get together to celebrate films, even though our world is in such a mess. We had over 200 (socially distanced) people at our last screening, and that was an amazing feeling.
Yours is one of few African films on this year's line-up - is there anything you'd like to see happen to try improve that?
Regarding African cinema, TIFF has a real range of films this year, across several sections. Compared to many other festivals, they seem really invested in supporting cinema from the continent. Of course, this could be better, but it's also an example to other festivals who claim there aren't enough African films, that this is clearly not the case.