Interview
Interview: Kazi Ya Sanaa's Debut EP 'Prephase' Is Rooted In Nostalgia & Honest Expression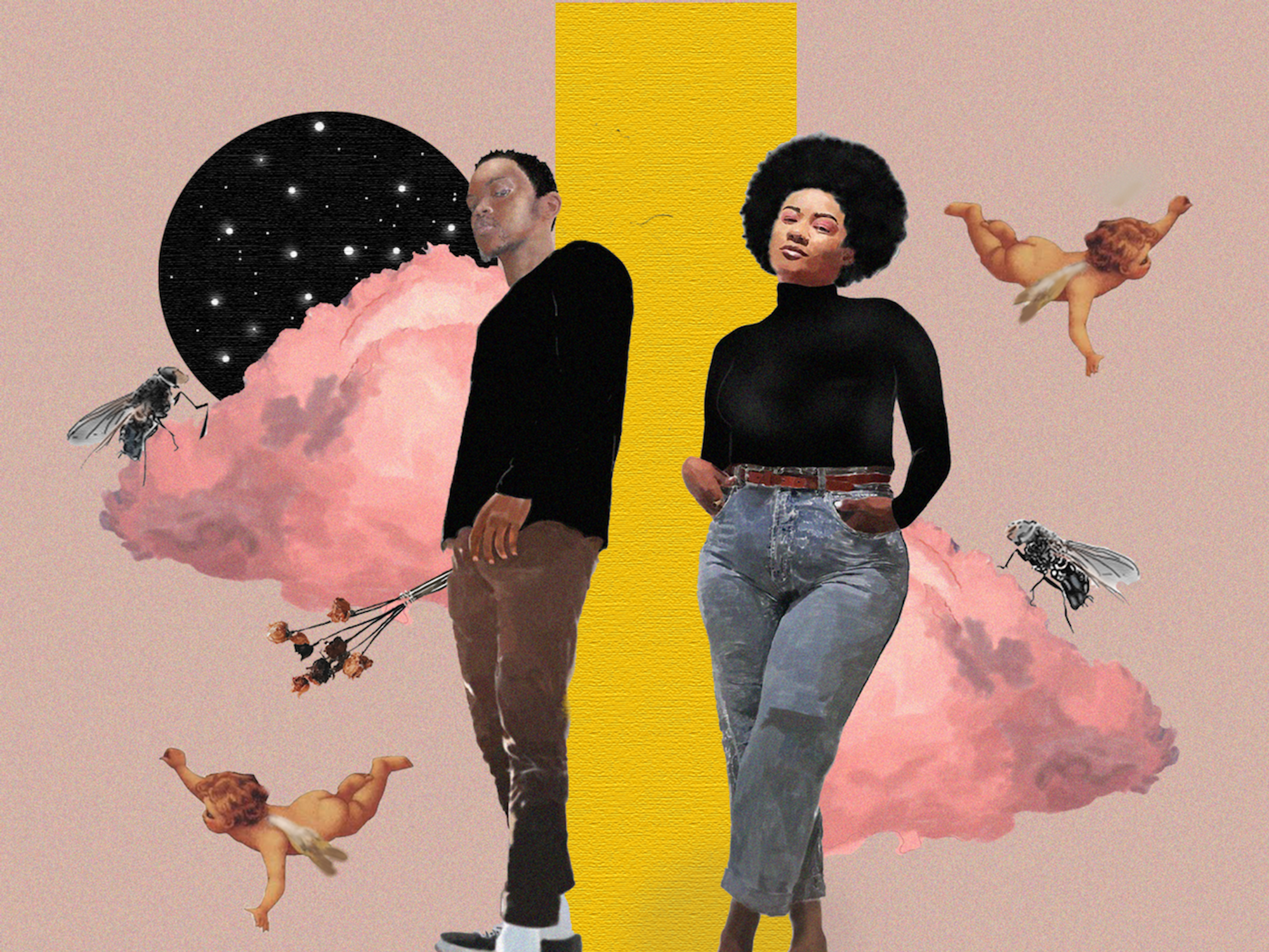 The emerging South African duo Kazi Ya Sanaa blends vintage jazz and soul with relatable lyrics.
Kazi Ya Sanaa's subversion doesn't only lie in them favouring vintage genres, but also in their lyrics. Take for instance "Saturdays are the Worst" in which the emerging South African duo's vocalist sings, "People drink, they talk shit, think they better than everyone," in a song about the downside of going out.
But that was before the so-called new normal kicked in, and going out on a Saturday night was still an option. That's when Prephase, the duo's first release, started taking shape about a year ago. The two Kimberly-born artists Estelle "Moulan" Jacobs and Lebogang Kaziwa decided to join forces and form a duo after a few years of playing together.
---
Prephase combines carefree vocal performance and honest and relatable songwriting with varied production that references the blues ("Sacrifices"), soul ("Saturdays are the Worst", "There Goes My Heart") and jazz ("Someone I Knew").
Tying the project together is the theme of melancholy alongside the minimalist approach to creating music reminiscent of smoky jazz clubs and the cushioned sound of vinyl records.
Almost a month after the release of Prephase, OkayAfrica caught up with the duo's vocalist who spoke about the duo's inspiration, releasing music during the Covid-19 pandemic, their future plans and more.
This interview has been edited for clarity and length.
---
What does Kazi Ya Sanaa mean?
It's Swahili for "work of art". We're very creative people. Lebs is a multi-instrumentalist. He plays the flute and the guitar. And he knows basic stuff on others, but his main focus is flute and guitar. I used to play the trumpet when I was 14. And I am an illustrator and a singer.
Your music sounds vintage. Where does the inspiration come from?
Lebs and I are both old people in young bodies. We relate a lot to your Miles Davis, Billie Holiday, those old school artists. And we love jazz and funk. So, our influences are mostly on that side of the spectrum, and we try to make it our own. So we're trying to be like modern-day Miles and Bille.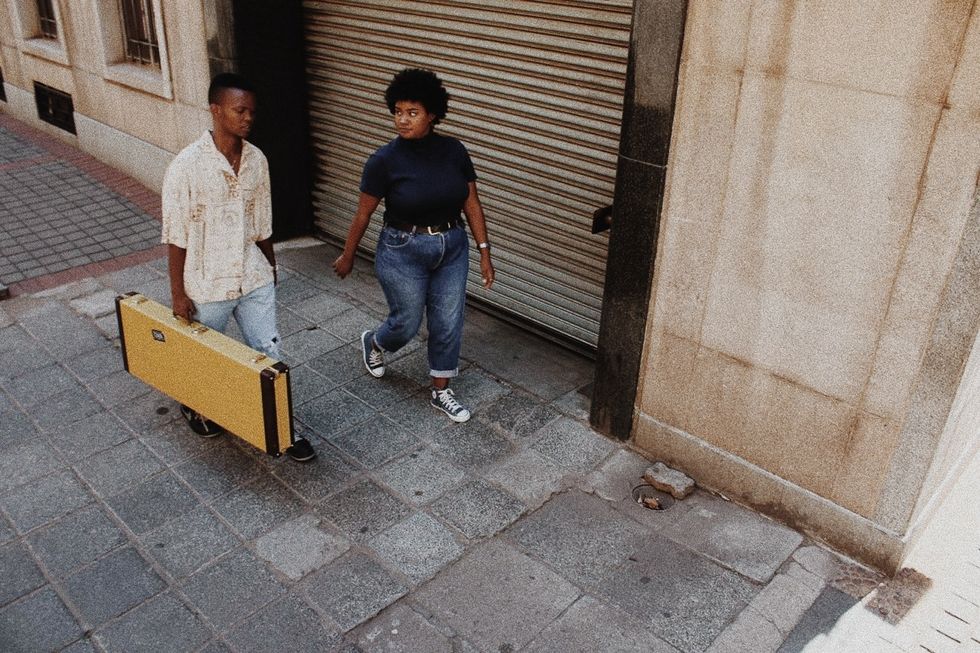 Lebogang and Moulan formed Kazi Ya Sanaa about a year ago. Image courtesy of artist.
The content of the EP is mostly melancholic.

The EP is about every aspect of our lives. It ranges from heartbreak to struggling with mental illness—depression and anxiety, and trying to find a way forward because it's really difficult when you're going through something that you don't understand. And now you have to live with it, you can't go back to your old self. You're a new and evolved person. "Saturdays are the Worst" [came about when] I was broke in my apartment, and I was alone a lot. And, when you go out, you just realize that people aren't really that dope. So you need to learn how to be with yourself and be in your own company. And "Somebody New," well, it's about getting dumped.
How do you incorporate his experiences into it?
So Lebs composes the music and I write the lyrics. He did write one song, "Somebody New," and I sang it. Me and Lebs are similar and compatible. Whatever I experience now, at a certain point he did. And the thing is our age difference is so big. He's 20 and I am 30.
You released your first project during a pandemic. How has that affected your roll out or just plans you had for the project?

The pandemic was a bummer. We had such big plans for us as Kazi Ya Sanaa. But one thing that I can say about the pandemic is that people want something to keep themselves entertained. They're realising now that artists are valuable, and we contribute to society. We have to find new ways of performing and getting our audience to know who we are as Kazi Ya Sanaa and not just listen to the music.
Artists are doing a lot of virtual shows, but they don't always make money. How do you guys work around that?
I know that money is a very big thing. We want to make money. But Kazi Ya Sanaa is still in its infant stage, and the focus at the moment is growing our following.
How do you feel about the response to the Prephase so far?
It is amazing. Me and Lebs were talking about it. The other day I was telling him, "Dude, I've never said thank you this much in one day." He's like, "Dude, I am exhausted." People are really enjoying it.
What are you currently doing now that you've put out the project?
We're working on more music for our album. And we're trying to get into funk now, but still maintaining the jazzy feel. And it's going to be dope.
Why funk particularly?
Because if I'm honest, I'm a big fan of this one band called Khruangbin. Their music always makes people dance. And that's what we're trying to do. We try to make upbeat stuff that makes you dance.
Stream Kazi Ya Sanaa's debut EP Prephase on Apple Music and Spotify.
Follow Kazi Ya Sanaa on Instagram.