South Africa's music history is inextricably linked to its political landscape–even if it's made in defiance of it or to escape it. From the artists who drew attention to the wrongs that were taking place within the system of enforced separation that was apartheid to the young up-and-coming bedroom wizards making music just to share among their friends, the range of music coming out of the country has made it the vibrant pot of influences and genres it is today.
A new book, South African Popular Music, aims to try to capture the most pivotal moments over the past one hundred years. It's part of the 33 1/3 series of short volumes about various facets of music, often honing in on a specific album by an artist like James Brown or Celine Dion. The series is known for being a deep but succinct dive into a particular music genre, and detailing the impact it's had on fans. Lior Phillips, a writer from Cape Town who lives in Chicago, jumped at the chance to showcase the abundant talent that falls under the umbrella of South African popular music.
Anchored by a deep love for her home country's music, Phillips starts the book with the story of how 28-year-old Miriam Makeba was unable to return home from exile for her mother's funeral because her passport had been revoked. She goes on to tie the evolution of Makeba's style of pop music to the struggle for freedom, and how it colored much of the music that was created in the years following. From Brenda Fassie to Mandoza, "Manneburg" to "Jerusalema," the book aims to give an overview of the flashpoints in South African music's storied journey.
Phillips talked to OkayAfrica about the challenges in researching a country's music history, and why world music is such an outdated term.
The interview below has been edited for length and clarity.
Some people are learning about Miriam Makeba through the song, "Makeba," which has gone viral on social media (7 years after it was first released). How important do you think it is for a country's music history to be preserved? To have the stories of the musicians that came before recorded?
The time that I started writing the book was when amapiano and kwaito and gqom and electronic and house music were all kind of booming on TikTok; TikTok was building. So I wanted to orient myself into the history because I felt like there was no way that you could talk to any artist right now and have them not remember the first South African artists or African artists that they listened to. There's no way that you cannot start at the beginning. I wanted that foundation to carry through. Is there a right or wrong way for an entire country's music to be found? No. But going on a TikTok reel and finding out about Miriam Makeba via somebody's video telling you about a parenthood hack or how to clean your cutting board with a slice of lemon and baking soda? I'll take it!
I'm always looking for ways to bring attention to South African artists that they deserve on the largest stage possible…People finding out about Miriam Makeba combats the idea that Die Antwoord or Ladysmith Black Mambazo — who I love, not so sure about the former — are the only ones worthy [of attention].
When you look at such a small pool of artists, you always think, 'Oh, only the strongest can survive.' And that is not true. The talent, even on the bottom rung — whatever the bottom is by Western standards — is at the top rung for us, it's at the top level. So honoring the roots of where other pop is built, and building from and refusing the term world music and really putting it to South Africa, is phenomenal.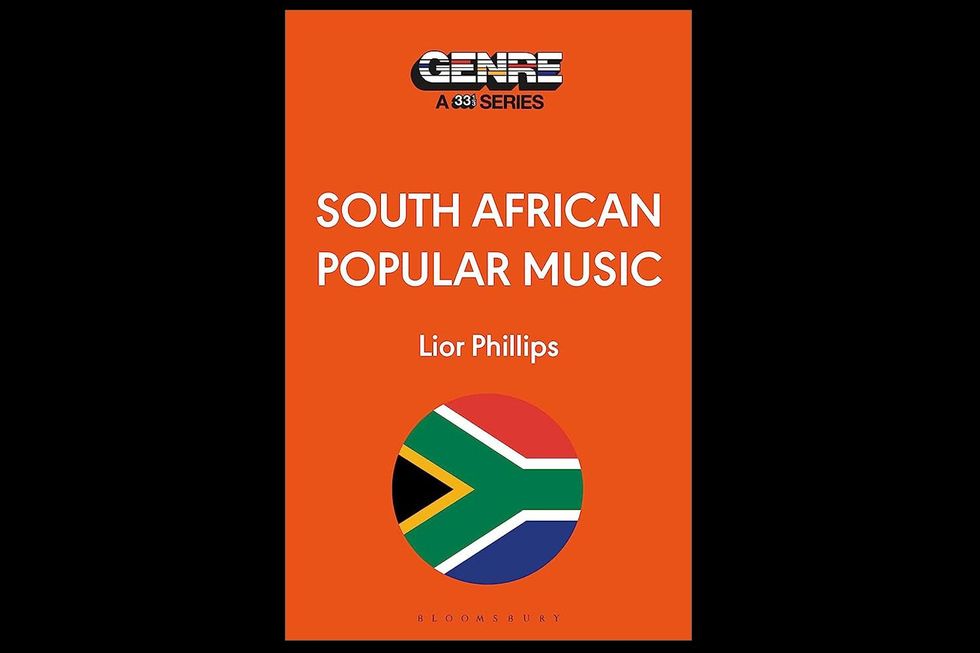 The book, 'South African Popular Music' by Lior Phillips, threads through major moments in South African music history.Photo courtesy Bloomsbury Publishing.
You mention world music, which comes up in your book. A lot of South African music, and many other genres around the globe, tend to get lumped into that category, which is just not useful.

The term "world music" is an unbelievably boxed, racist and lazy term because all it does is it lump an incredible culture full of rich languages, rich religions, rich traditions, it lumps them into one box, and that box is not fluid, and labeled forever. I understand why there was a need for it. It's like a menu at a restaurant — they're not going to add in each one of the recipe layers; they're not going to tell you how many teaspoons of salt is in there. But that was listening back then.
Now we do want to know how much is used, what producers are on a track; we want the lyrics, we want so much information. I just think the term romanticizes this and exoticizes this. Why be lazy? Why do we need to call all non-Western music Afropop, even? I have no qualms with the term Afropop as meaningful and helpful as it is, and yet again it lumps every type of music that sounds like it is from a certain place [together].
World music is an archaic term. I think we're moving far beyond it. That's what I kind of wanted to do with this book. I wanted to make sure that whilst you're looking at 100 years of music, essentially, we are going through the different micro genres but threading the meaning of each one's influence through each other. We are looking at how each one inspires the other, and after you do that, there is no way you can just lump it into a box and call it world music.
Now they're kind of shifting, and want to call a global and again, it's not global. It might be available geographically on a global scale, but it is still so hyper-focused. If you look at kwaito where it started, amapiano, each one — Durban, Joburg, Cape Town — each major city in South Africa, has its own rubric, and its own inspiration and set of influences, and I think that if we just dive a little deeper, it's so much more fulfilling to look at music that way.
Miriam Makeba - Pata Pata (Live 1967)www.youtube.com
Fulfilling is key – it's a much richer experience to do it like that. But talk about the research you did, because you had so many years, and so many artists, to cover?

I wanted to try and cram everything in without it feeling crammed. I'm not an academic and I certainly never want to posture as one. So I feel like when taking on such a large project, I wanted to make sure that I approached it with that balance of reliable sources and personal narratives, whenever I could. So that was my starting point. And then after spending obviously a long time digging through whatever old newspaper or magazine I could find while being remote living in Chicago during a pandemic, I then went to academic journals to look for sources from academic writers — these writers had gone through peer review to verify what they were saying on a factual basis.
So I knew that was where I wanted to go because the internet had massive amounts of inaccuracies, and so many holes in people's stories; so many artists just missing because they either passed away before anyone could write a little blog post about it. Or YouTube didn't have the correct audio, it had been sampled or remixed, and we didn't have the original.
I didn't want to be defined by this coverage from the past that was colored obviously by bias, whether intentional or not, in the lack of access to minority voices. I wanted to make sure that I balanced all of that with personal interviews. I did so many interviews for so many months to try and come at the story from as many different angles as possible, to get as full of a picture as possible.
And writing it while being in a pandemic couldn't have helped…
My goal was to travel to South Africa early in the process, and conduct as many interviews as possible, dig into library stacks, go through files of old labels and magazines and newspapers. I was able to do it, but with people over the phone, and a lot made it impossible because of the pandemic and the birth of my twins. I got the note that I was writing this book the day I gave birth.
In terms of my research process, I needed to reimagine that and that made me reimagine the book. The first plan had the goal of being comprehensive with a capital C, but I realized that would be impossible. Even if I'd been able to fly to South Africa. I was never going to be able to cover every moment, from the early '30s until now; the sources would be endless and the book would need to be thousands of pages long.
That allowed me, almost beautifully, to then narrow down the chapters that I felt could produce the most robust stories that were not only meaningful and impactful and complex to the history of South African music, but also to me [as a fan].
Scatterlings Of Africa - Johnny Clegg & Julukawww.youtube.com
Some of the artists weren't easy to reach?

Access to people was a huge issue in my research because so many of the important figures in the book have passed away, sadly. And so many are far too young — you look at Brenda Fassie, Johnny, Hugh Masekela, Miriam Makeba.
That wasn't the only challenge. Take Juluka [the band formed by Johnny Clegg and Sipho Mchunu]. You really only see information about Johnny Clegg. I wanted to get Sipho, to talk to him, but where is he? It took me from the start of writing the book to the time when I finished, about a year and a half, to track him down. [Like a lot of South African artists], he's not out there looking for an interview or to be in the spotlight. He's such an amazing artist; I just wanted him to tell his story.
In doing the groundwork and research, was there anything that stood out to you or was a surprise?
All of it! [chuckles] To talk to Salema Masekela about his experience. I didn't know the ins and outs and the details of his story, and how he used to travel with his dad and what he learned. I knew the highlights of his story, but actually sitting down with him – I'd say that was the biggest surprise, of how knowledgeable he was about current and contemporary music.
The other surprise was all of the stories that Yvonne Chaka Chaka gave me; the things that she has experienced in her career as a Black artist in a predominantly white genre, which pop was at the time. She was really open and candid in a really informative sense.
The last thing that was the most surprising was just tying it all together, from beginning to end. Whilst I say at the beginning of the book that you can go to any chapter at any time, I also do feel that they don't work without each other. Just to see how many artists now sample Miriam Makeba or Brenda Fassie, or use Brenda Fassie as this provocateur in their inspiration kit. I love being able to draw that line, and stitch those stories together.