For the 25th day of Youth Month, we present you with the 25 South African rappers under 25 killing the game right now.
---
And while many of SA's biggest stars—from Cassper Nyovest and Gigi Lamayne to Fifi Cooper, Stilo Magolide, Emtee, Anatiiand Duncan are all 25 or under—you already knew that. This list is something different. From Cape Town's"boom bap" emcees, Joburg's trappers, to Durban's innovators and the rest, these are the best of South Africa's next generation of hip-hop.
Nasty C
Photo: Sabelo Mkhabela
Age: 20
Nasty C's verse on the remix for his "Juice Back" single was one of the best of 2015. The only thing the Durbanite doesn't have is an album. He has the big singles ("Hell Naw," "Juice Back") and he's collaborated with stars (Tumi, Cassper Nyovest, Davido, DJ Speedsta, Emtee, Anatii). Nasty's one of the most impressive lyricists of our time. He doesn't just have a high-precision delivery, he has impressive lines and can tell a story. He displayed all those dynamics on his Price City mixtape. With co-signs from the likes of DJ Fresh, and a rumoured deal with Jay Z's Roc Nation, a Best Freshman South African Hip Hop Awards (2015) nod under his belt, all eyes are on the Durban rapper whose rise has been nothing short of amazing.
A-Reece
Courtesy of Ambitiouz Ent
Age: 19
A-Reece's "Couldn't" single, featuring his Ambitiouz Ent label-mate and hook machine Emtee, is buzzing. But the 19-year-old from Pretoria has been dope for a minute. His 2014 "Stan"-style track "Cassper Picture" to Cassper Nyovest revealed an honest young rapper with skills rappers ten years his senior only dream of. The Browniez EP released in the same year, under the producer PH's Raw X label, saw the rapper maintaining his skill––fluid flows, audible enunciation, blending vernac and English the way Khuli Chana does––over blunt boom bap kicks and subtle horns. In pure backpack rapper fashion, he made some references to the likes of Nas and Rakim. According to A-Reece, all he did was email his music to Ambitiouz Ent, they called him in, gave him the beat to "Couldn't," and the rest is history. Even though his latest material leans more towards trap than boom bap, lyrically, the rapper still carries those backpack sensibilities––his rhymes are fraught with battle-ready punchlines, metaphors and similes.
Patty Monroe
Photo: Sabelo Mkhabela
Age: 21
Patty Monroe was introduced to South African hip-hop fans through "High Fashion," a single that blends house and rap so well you ask yourself why there isn't a house-hop subgenre. The single was produced by house maestro Culoe De Song. The track led to house singer Busiswa giving Patty a slot during her Wits Freshers performance this year. The rapper went on to release "Talk" in 2015, produced by Durban producer Sketchy Bongo, who is also the man behind the smash-hit "Back To The Beach" by Shekinah. The Cape Town rapper has shared the stage with the likes of Rick Ross, AKA, Busiswa, K.O. and more, and has performed at Back To The City in 2015 and 2016. She's on the right path to be one of the few Cape Town hip-hop artists to make it big nationally. Apart from raps, Patty Monroe has charisma, a great stage presence and a striking image that sets her apart from the rest.
Youngsta
Photo: Sabelo Mkhabela
Age: 24
In the past year or so, Youngsta, the rapper who reps Cape Town like no other, fell into many heads' radar. From DJ Switch's "Way It Go," Revivolution's "DTK," to Priddy Ugly's "Come To My Kasi," his guest verses have been show-stealers. His journey begins a few years back, however. Between dropping more than 20 mixtapes in a period of one year from 2010 to 2011, an album with respected producer Arsenic in 2013, opening for Lil Wayne in 2011 and performing at the Cape Town International Jazz Festival in 2014 and Rocking The Daisies in 2012, Youngsta's been busy. This year, he gave one of the most outstanding performances at Back To The City. His stage game has always been on point: lively antics, a vicious delivery and always a freestyle––a real freestyle, not an unreleased verse. He'll tell the crowd to lift objects up, and he'll kick rhymes about those. South African hip-hop needs this guy.
FonZo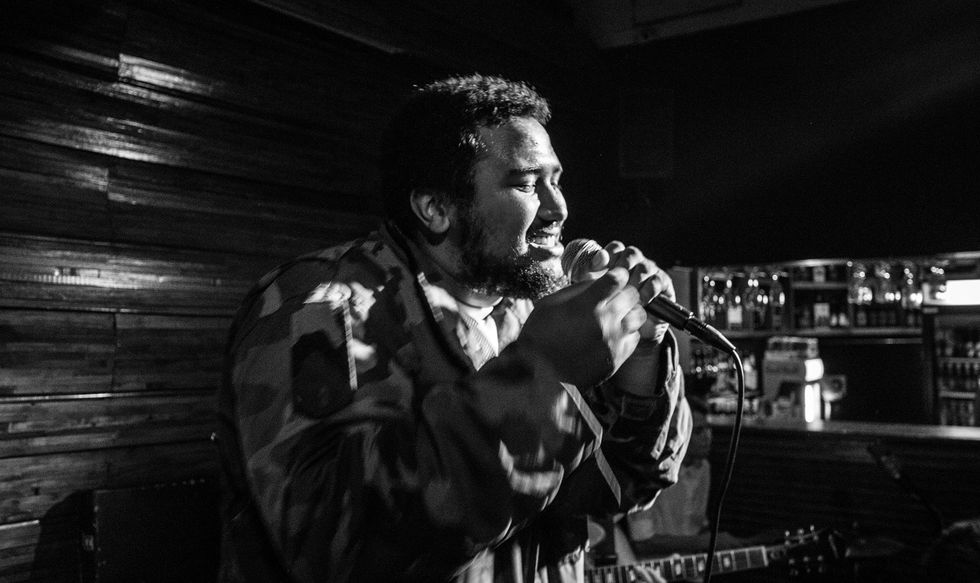 Photo: Sabelo Mkhabela
Age: 23
Ever since his rendition of AKA's "Jealousy" hit, FonZo has been one of SA's most promising hip-hop acts. His discography of mixtapes and EPs beats that of many. The man's skills on the mic are unquestionable. He shows no remorse when featured (peep E-Jay's "Hosh" remix). FonZo is an outstanding writer––he tells his story with a wide vocabulary and razor-sharp delivery. His diverse beat selection and versatile flows have seen him rhyme over trap, boom bap and everything in between, and coming victorious. A year ago, he quit his science degree at the University of the Western Cape to study sound engineering at SAE. There, he met up with like-minded musicians and they formed the label/ band AKMG. Their first EP, Vol1: Return of the Boss Don, recorded with all live instrumentation, remains one of South African hip-hop's hidden treasures.
Saudi
Courtesy of Ambitiouz Ent
Age: 21
Ambitiouz Ent––the indie label home to Emtee, Fifi Cooper and A-Reece––recently signed another young artist by the name of Saudi. The Soweto-born rapper delivers auto-tuned sing-songy flows over trap beats on his first Ambitiouz Ent single, "There She Go," which features A-Reece, as well as the Ambitiouz posse cut "Ameni." While two tracks might not be enough to judge an artist's longevity, Ambitiouz Ent's track record (in the form of Emtee and Fifi Cooper) should be enough to convince that Saudi will be making some noise, and might just hijack the industry. Get familiar, if you aren't already.
ByLwansta
Photo: Sabelo Mkhabela
Age: 20
ByLwansta's frustrated. Take a listen to his single "The Sigh," and hear how unsatisfied he is with where his career currently is. But for a 20-year-old, the Eastern Cape-born (by way of Kokstad) Durban-based rapper is doing great. His 2012 mixtape NORMVL contested against tapes by DJ Switch, E-Jay, Fratpack and Gigi Lamayne for Mixtape Of The Year at the 2014 South African Hip-Hop Awards. It was a solid offering––and included the ominous video single "Lindiwe."
ByLwansta's running his own lane––his music and videos aren't tailored for mainstream radio and television. His heartfelt rhymes are delivered with an Eminem-esque conviction and emotion. He has appeared on the South African Hip Hop Awards' BET Hip Hop Awards-style cipher The Corner, performed at Back To The City, Hype Magazine's Leader of The New Skool, among others. His song "The Year"––a reflective piece on 2014, a year his career saw a lot of highs––was produced by one of the most sought-after producers, Tweezy. It's only a matter of time until ByLwansta is up there with the best of them.
Andy Mkosi
Photo: Sabelo Mkhabela
Age: 25
Cape Town's Andy Mkosi is a silent killer. She's performed in major Cape Town hip-hop festivals and events like African Hip Hop Indaba, Cape Town's Most Wanted, Mayibuye Hip Hop Festival, The Ready D Show Live and more. Andy cut her teeth in ciphers and park jams around Cape Town, and has maintained a boom bap style that's set her apart. Her 2015 EP, iPressure, was a catchment of all the pressures she was dealing with, from sexuality, to money, the rap game and race. Andy's poetic and simple flow ensures you hear every word she spits. And she's got a fitting beat-selection from musical water-benders like Mokhele Ntho, Arsenic, FiveSix, among others. Outside of rapping, Andy documents the Cape Town hip-hop scene through her photography and as a radio show host. She's also part of the monthly events series Jam That Session. Andy doesn't sleep.
Tweezy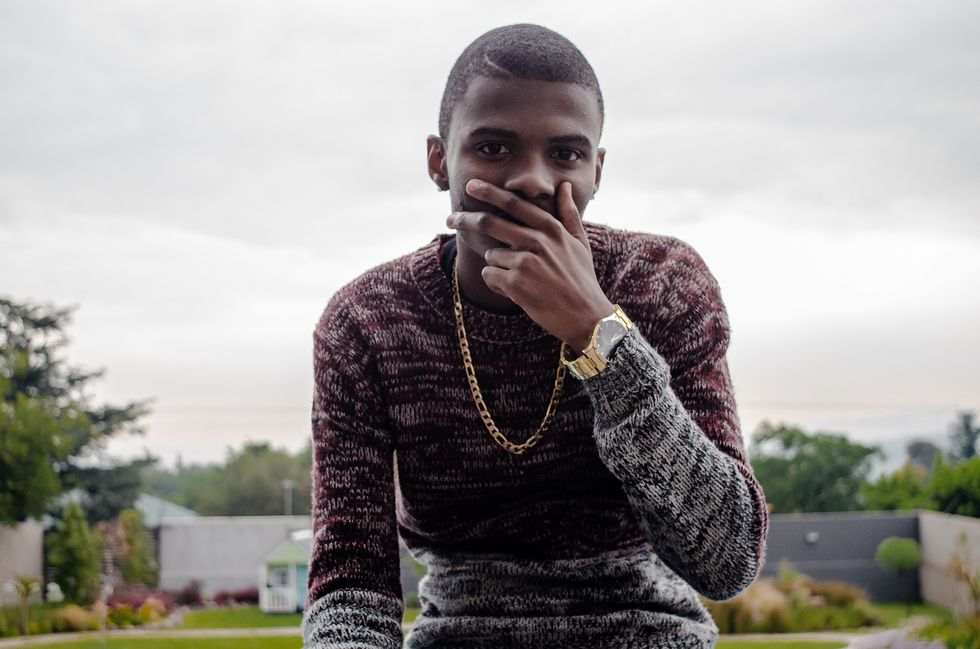 Photo: Tseliso Monaheng
Age: 24
Tweezy's claim to fame was the production he lent to AKA's 2014 album, Levels. AKA's hit singles "Run Jozi," "Sim Dope," "All Eyez On Me," "The Baddest," were all Tweezy productions. Prior to being known as the producer behind Super Mega's mega hits, Tweezy was a rapper/producer alongside E-Jay as part of the Ghetto Prophecy crew. He launched his first solo track since being on the limelight this year, and the future seems bright for him as a solo rapper. And let's not get started on his hook-writing skills––he did the hook on L-Tido's "Dlala Kayona," Kwesta's "Day Ones" and Benchmarq's "Get Lit." Tweezy has nothing to prove behind the boards––he has platinum-selling album (Levels) and gold-selling singles bearing his credits. But as a rapper, he still has a lot of convincing to do. With the clout he has, though, it shouldn't be that difficult. Only time will tell. Keep a watchful eye.
Yoma
Photo: Sabelo Mkhabela
Age: 24
Yoma's from George, a small town in the Western Cape. She's currently signed to Katalis––the same label as one of the most visible Afrikaans rappers, HemelBessem. Earlier this year, Yoma performed at Afrikaanse Kultuurfees Amsterdam, a music, film, literature and dance festival in the Dutch capital. Yoma has a fluid flow, simple yet clever wordplay, and her content is uplifting. Yoma is steadily coming up, and has great potential. A few years from now she'll be one of the key players in the Afrikaans hip-hop scene. Check out her display of skill and charisma in her single, "Sin."
Sipho The Gift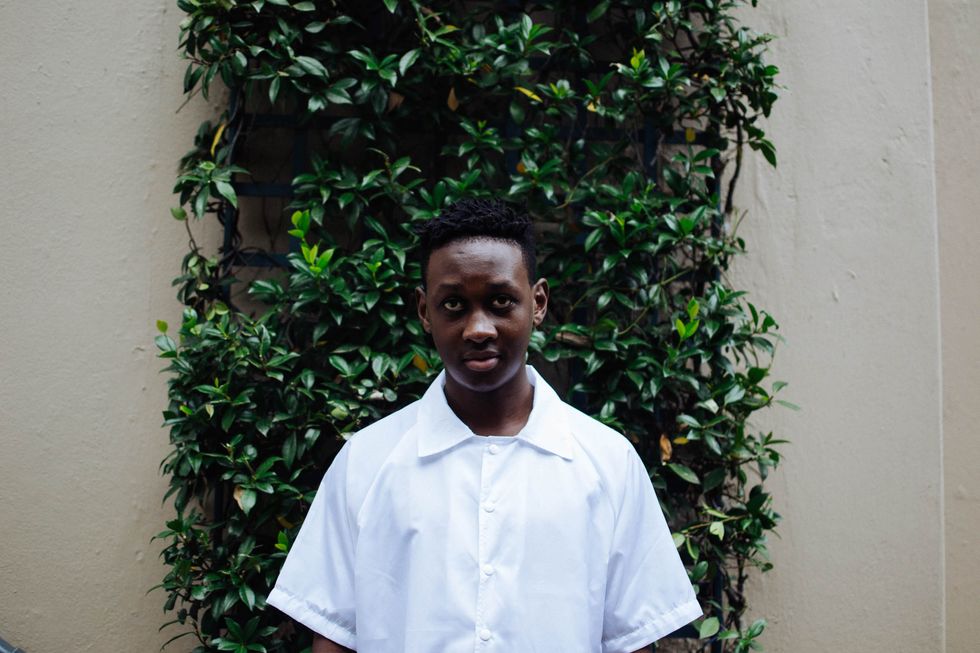 Photo: Simnikiwe Buhlungu
Age: 23
Sipho The Gift came from nowhere and dropped a few freestyles. After introducing himself through "Somewhere," in which he was rapping in English, his banging single, "Phanda More," proved he could go street, and spit some vicious Xhosa rhymes. His 2015 debut album, Coming Of Age, showed that the rapper can do this whole being dope thing over and over again, and that he could hold his own behind the boards, as he produced most of the album. The album had appearances from Congolese rappers (and cousins) Alec Lomami and Well$. Sipho The Gift is one of the best examples of an internet hustle that goes beyond spamming your Facebook friends with Datafilehost links.
Rouge
Courtesy of Rouge
Age: 23
Hailing from Pretoria, Rouge has Congolese roots. She's one of the fastest-rising rappers in South Africa, having managed to build a buzz off a few singles. She's collaborated with Reason, BigStar Johnson, Moozlie, among others. She's rapped over beats by some of the most respected producers in South Africa––Tweezy, Ganja Beatz and more. Last year, she was handpicked by AKA to be among the top women in South African rap on his "Baddest" remix. Rouge is one lyricist to watch––she can rap spheres around your favorite. Very impressive for a person who only started rapping five years ago. The rapper isn't planning to drop an EP or mixtape, but a full album. Hopefully in the near future.
Darne Maćino
Photo: Alain Kassa. Courtesy of Darne Maćino
Age: 20
AKA has a campaign called #ComeUpKingdom where he asks up-and-coming artists to tweet links to their SoundCloud pages, and he gives his feedback. After listening to Darne's music, AKA tweeted: "I look forward to hearing more from you bro… Best 'all round' artist I've listened to today on #ComeUpKingdom," in March. The AKA co-sign has done a lot for the Carletonville-born rapper. A swipe through his SoundCloud page will turn to a listening session––his music will grab your attention, like it has to Cassper Nyovest and publications like The Sowetan and Hype magazine. Darne's music will resonate with ambitious kids who want to live the high life of VIPs and fat bank accounts––as demonstrated on his "Alcoholix" single. He raps with conviction over warm thumping 808-based beats, and croons on most of his hooks. According to his Facebook page, his album is due for release sometime this year.
BigStar Johnson
Age: 25
BigStar Johnson impressed the public and a panel of judges, including AKA, Tumi Molekane and Khuli Chana, when he won the TV competition The Hustle last year. He was the most well-rounded of the contestants––he's a great storyteller, freestylist, can perform, and can sing his own hooks. The win came with a signing with Vth Season––a label affiliated with AKA and Da L.E.S. BigStar Johnson hasn't slowed down. His latest single, "My Year," a blithe breezy summer anthem that unfortunately came in winter, features popular Durban rapper Aewon Wolf. BigStar's sing-songy flows have blessed songs by the likes of Rouge, Priddy Ugly and a few more. It'll be interesting to see what this versatile artist will do in the near future.
Kid Tini
Courtesy of Kid Tini
Age: 18
Probably the youngest doing it, Kid Tini, who's from Butterworth in the Eastern Cape, came out of nowhere and released a coherent mixtape called Coming Of Age. On the tape, the young rapper spits with a consistent solid delivery––he doesn't fumble once. He doesn't swallow his words or sound uncomfortable. Kid Tini is signed to TinismDotC0m, the indie label previous home to well-known artists such as Flex Boogie and Ginger Trill. A Tumi co-sign doesn't come easy, and Kid Tini got it for Coming Of Age. His single, "Shayiwei," is slowly penetrating the airwaves. Keep a watchful eye.
Miss Celaneous
Photo: Andiswa Mkosi
Age: 25
Miss Celaneous' latest single, "State Of Mind," leans towards EDM and pop, but there's more to Miss Celaneous than that. The Cape Town rapper has been on a grind, churning out unapologetically trap bangers like "Trap'Em," "#1," "All I Do" and more. Miss Celaneous raps the way she speaks––with a mix of English and Cape Coloured slang. Apart from being an adept rapper, she has charisma, and a fashion sense you and I only can dream of. She's behind the up-and-coming clothing label Tsak Appeal and hosts a hip-hop events series, #WeLoveHipHop, alongside Goodhope FM radio host Celeste Mitchell. Miss Celanous has been consistent, collaborating with Youngsta, Patty Monroe, Kita Keez, G-Baby Da Silva and more. She also made a cameo on Cassper Nyovest and Riky Rick's "Mpitse" video. Don't sleep.
Priddy Ugly
Photo: Sabelo Mkhabela
Age: 25
Priddy Ugly's brilliant video for his equally brilliant "Bula Boot" single set him apart from SA hip-hop's customary rapping in front of a car or house with a swimming pool surrounded by half naked models video. His EP, You Don't Know Me Yet, should make a list of the most slept on South African hip-hop releases of 2016. The man raps effortlessly in both English and vernacular, with light auto-tune on his vocals, making his voice blend with the spacious cloud trap provided by his producer, Whichi 1080. His live performance game is strong too––he's light on his feet, and exudes a natural confidence that puts him in a league of his own. Priddy Ugly has performed at Back To The City, collaborated with HHP, Youngsta, Refi Sings, Ginger Trill and more. Definitely one of the most exciting acts currently out.
J-oNE
Courtesy of J-oNE
Age: 23
J-oNE is an outstanding producer, with credits on projects by some of Cape Town's finest––Camo, Ill Skillz, Indo and Innuendos, among others. His jazzy keys and pads, coupled with some 808s and ambient basslines, formed the basis for Ill Skillz's Notes From The Native Yards album, for which he was the main producer. It was on the same album that he dropped a few impressive verses. He is part of the Indo & Innuendos duo alongside another skilled emcee, M'Tunez-i. J-oNE, who grew up between Bethlehem (Free State province) and Lesotho, is currently based in Cape Town, where he's studying sound at SAE. Through the work he's done with Indo & Innuendos, and a few solo joints, he's soon to join the list of ambidextrous artists who rap and produce, and are great at both.
Robin Thirdfloor
Courtesy of Post Post
Age: 23
Robin Thirdfloor is broke. His chain is fake. Well, at least that's what he told the world on his 2015 mixtape, Sounds Empty Pockets Make. The Durban rapper's currently signed to the indie label Post Post alongside Moonchild, Elo and Fortune Shumba. He performed at this year's Back To The City, and is currently working on a mixtape he can't seem to stop talking about. Robin Thirdfloor sings most of his hooks, and raps mostly about the struggles of growing up, as illustrated on his singles "Rolling Stone" and "Fly Away," both of which got him airplay on stations like Ukhozi FM and Gagasi FM.
Shane Eagle
Courtesy of Shane Eagle
Age: 20
Shane Eagle has bars. For days. Check him out dropping some alongside ProVerb, Reason and Kwesta on DJ Switch's latest single, "Now Or Never." Or on Priddy Ugly's "Pray." His collaboration with BigStar Johnson, "Way Up," is also a banger of note. The Joburg-based rapper made the top 10 of The Hustle, Vuzu TV's hip-hop contest. He didn't win, but just after the show he was snatched by JR's FeelGoodMusic label. Shane Eagle's proven his rapping skills over and over again. He promises to be here for a long time, and it will be exciting to see what he'll become in the near future.
BlaQ-Slim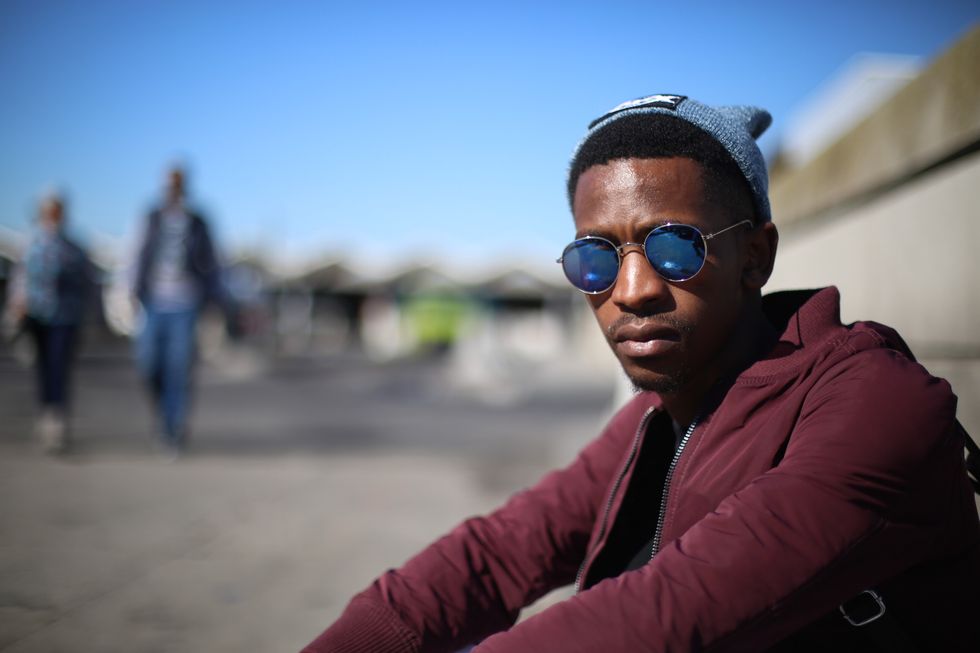 Photo: Andiswa Mkosi
Age: 23
BlaQ-Slim is not a rapper's rapper. His fanbase is mostly cool kids who party it up on Long Street on a Friday and grab a bite at Neighbourhood. Last year, he was a permanent fixture on the lineup for the Ikasi Experience series, where the crowd would lose their composure when he performed his hit, "Hai Sho Bhowzey." To prove he wasn't a one-hit wonder, he dropped "Man Of The Year" featuring the rapper BoolZ. The song's video was played on Channel O. BlaQ-Slim is one of the many young'ns who are changing Cape Town hip-hop, with a new sound and kasi slang. The rapper has opened for big names such as K.O., Cassper Nyovest and AKA, and performed at the iPotsoyi Spring Festival, among other major events.
Clara-T
Courtesy of Clara-T
Age: 22
Clara-T is a rappity rap rapper from Durban. She raps mostly over boom bap production, but throw a trap banger her way, she will tear it apart. In 2014, she was crowned Best Lyricist at Durban's Original Material Awards. The rapper has also appeared on The Corner Cypher at the South African Hip Hop Awards. Cee The Clara-T, her debut EP, was released in 2013. She's on the verge of releasing her long-promised follow-up, a mixtape titled Late Blooming. She recently released the tracklist, which includes features with notable names in Durban hip-hop like Nasty C, Sky Wonder, Project Kay, among others. From the singles she's been dropping, one of them being the breezy "City," it's safe to have our expectations high.
Devour Ke Lenyora
Courtesy of Devour Ke Lenyora
Age: 24
Devour's been at it for a minute. She released her debut mixtape, Preludes, in 2011. She dropped a stellar verse on the remix for Joburg rapper Kay-E's popular song "Bona Re Etsang" in the same year. In 2013, she performed at Back To The City and appeared on The Corner Cypher at the SAHHAs. She featured on Kenyan rapper Xtatic's 2015 mixtape, Let Me Explain. We're hoping the reason Devour has been quiet recently is because she's putting final touches to Vinegar Lakes, a project she promised a few years ago. The scene can do with more of that confidence and that laidback delivery. Devour feels herself and convinces you to do the same when she raps.
PinCode
Courtesy of PinCode
Age: 21
In 2012, PinCode was crowned the Cape Town King of Street Rap by one of the biggest street hip-hop movements, Slaghuis, which was responsible for putting street-centric emcees like Pro, F-Eezy, Siya Shezi on the map. PinCode went against the best street rhymers of the Mother City, and was the last man standing. He was 17 at the time. He had already garnered a buzz in the spaza scene, with street hits like "Unlocker," which sent heads in a frenzy in park jams and sessions. PinCode's style is flow-based, he's facile-tongued, and tells a story without beating about the bush. His 2014 mixtape, Unlocker, saw him prove he wasn't just a one-hit wonder––he demonstrated all his emcee dynamics, and delved into various topics. Given a potent PR team and the right guidance, PinCode could be rubbing shoulders with the likes of Nasty C and A-Reece.
Espacio Dios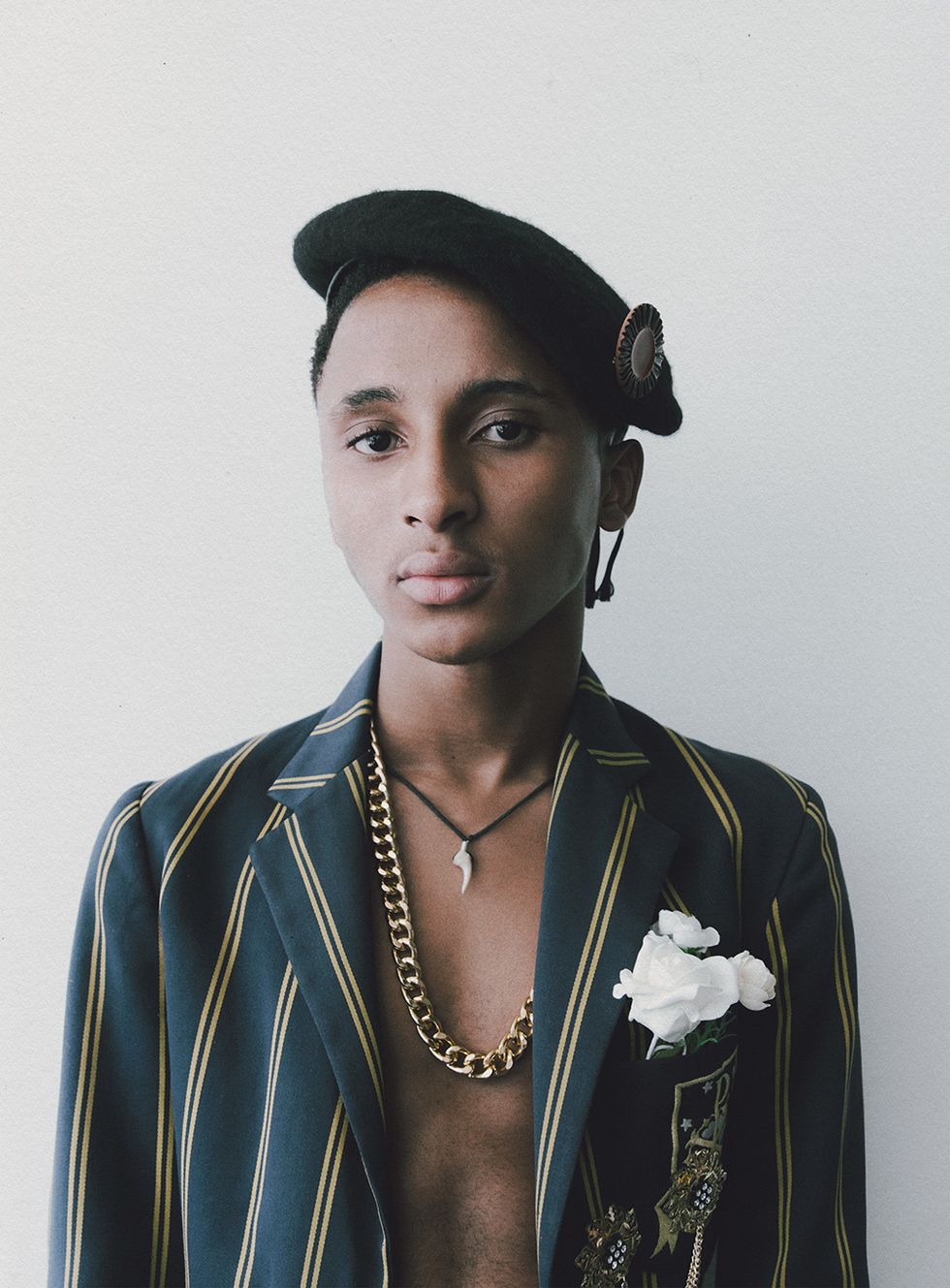 Courtesy of Espacio Dios
Age: 17
Espacio Dios is mysterious. So is his music. This 17-year-old from the Northwest province raps and croons over spacey pads and filtered drums–his music drips of emotion–think along the lines of Drake and pre-popstar The Weeknd. Reverbs and echoes on his vocals add to the heavenly feel of his music–he is a craftsman who understand his abilities and sound well. Espacio is relatively new, but he's raking SoundCloud plays by the dozens. His latest EP, Backseat Galaxy, is tied by a monolithic production style, and personal stories in the lyrics.
Sabelo Mkhabela is a writer from Swaziland, currently based in Cape Town. He also drops award-winning tweets as @SabzaMK.