In our 'Spotlight' series, we highlight the work of photographers, visual artists, multimedia artists, and more who are producing vibrant, original work.
In our latest piece, we spotlight Nigerian photographer Bade Fuwa. Most recently named one of FreshEyesPhoto's 2023 International emerging talents, Fuwa's love affair with the camera is still relatively fresh and the talent has already reached audiences across the globe. The young photographer's work elicits an intensity that one would assume comes from years behind the lens, however, his ability to capture emotions so vividly lies in how much he uses his own to create. "Photography was a way for me to channel my grief," he told The Phoblographer." I was paralyzed for about a year, and then the following year, I lost my mom. She took care of me." And, what has evolved from the dismay is a deeper understanding of self, other, and how to bridge the communication gap through art.
Fuwa using his camera lens to capture a firmer grip on the present moment has landed him high regard among the likes of Vogue, London-based gallery Open Eye, and an award for "Exceptional Merit" from Global Talents Art Prize. His educational background in fashion and time spent working as a stylist, no doubt lends well to Fuwa's complementary and contrary uses of color, visual textures, and the fluidity in how he captures human movement. The photographer is in pursuit of capturing his own story and memorializing his late mother and sense of home through art, hoping to validate those who share his experiences.
We spoke with the Lagos-based creative about capturing nostalgia and trusting in your journey.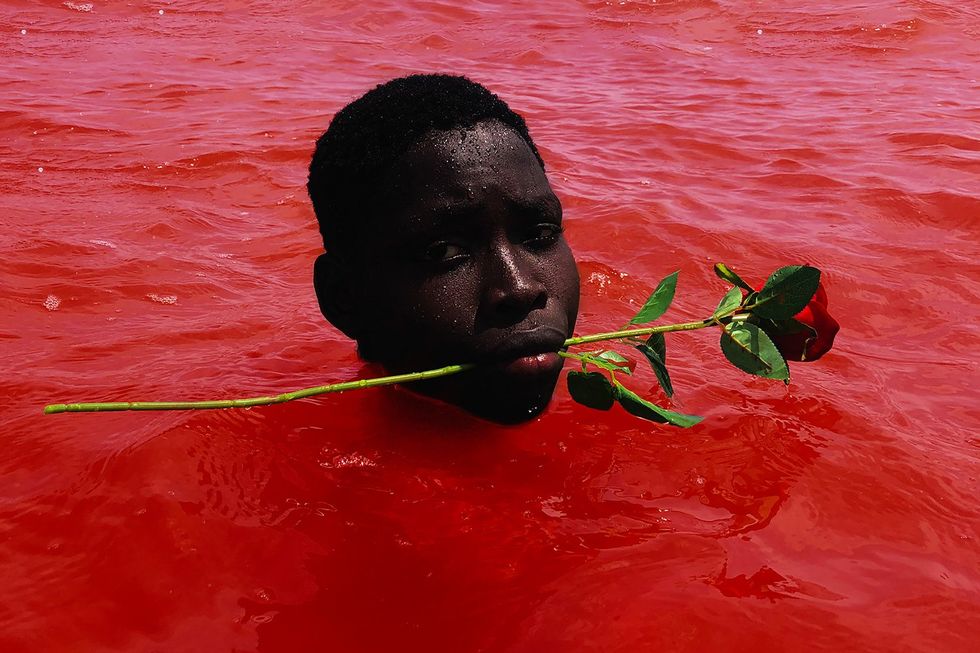 Photo by Bade Fuwa.
The interview below has been edited for length and clarity.
Can you tell us about the project that first inspired you to create?
Definitely "Home Is Far Away". It was the first time I attempted to shoot different designers' pieces for one project. I was challenged to create a fashion editorial and tell my own story through it. Since childhood, I've never really had a "home," or rather, I don't feel that I belong to any home. For me, home was the peace found in talking to my mother, and since she's no more, it's hard to grasp.
What growth have you noticed in yourself over the last year?
Over the years, I've learned to give my work time to grow and not be too anxious about what comes from it.
Where do you seek inspiration and how does it find you?
I get a lot of inspiration while traveling and meeting new people. I like to look at my life and share stories that are personal so that, even when I'm gone, those stories will still exist and live on forever.
What do you believe sets African artists apart from the rest of the world?
I believe it's in our minds. If we set our mind to do something, nothing can change it or hold us back until we get it. There aren't any in particular that I look up to, but I'm always inspired by and appreciate the uniqueness in telling personal stories.
Can you talk about your use of colors and accessories?
I enjoy using vintage colors and accessories that are more muted, than bright. I love for my art to have a dreamy feel to it, and somehow remind me of the past. I like to capture and communicate feelings of nostalgia.
In most of my work, I try to keep a record of my past, thoughts, dreams, and feelings so that I never forget them. I've had a brain injury that almost affected my memory, so my art is a way of documenting my life and experiences, in case I forget everything, again.
If you could start over, what would you do differently? Why?
Absolutely nothing. Everything had been a lesson and it's not in my power to control things. I'll leave that to God.