In our 'Spotlight' series, we highlight the photographers, visual artists, multimedia artists, and more who are producing vibrant, original work.
London-based Zimbabwean artist Charmaine Chanakira has designated art as her chosen channel of expression, moving towards self-acceptance in a shifting world. Having been raised in the U.K., the self-proclaimed "Afro-expressionist" has kept close to her roots through her creativity and love for African artistry and her culture. Chanakira earned her Bachelor's degree in Graphic Design in 2015, and her Master's degree in Art Psychotherapy in 2023.
The young artist spent much of her childhood on the move and in limbo, with art helping her to manage her own mental health and help others do the same for themselves, as growing up African tends to not offer space to discuss vulnerabilities. A self-trained painter, the artist's pull toward vibrant colors and eccentric figures stems from Chanakira's own discomfort with being an overly expressive person. "I use colors to let people know that I am in the room", "Color is the best way I know how to express myself," she told OkayAfrica. "I am not the loudest person in the room, and I tend to shy away from being the center of attention. But, when I paint or create artwork, I use colors to speak for me. I use colors to let people know that I am in the room. I use colors to say what I cannot vocalize." Her creative inspiration combs through every corner of the world, with Ghanaian artist Kojo Marfu and 18th-century Japanese artist Katsushika Hokusai being names she continues to praise, as their works have guided her towards finding her own lane.
Describing her art as, "a synergy of the unconscious mind and the tumultuous rollercoaster of existence" sets Chanakira on her own journey, disregarding any limits within her expressionist outlook. Each stroke manifests the artist's understanding of how beautifully human emotions can be channeled in healthy ways. Every layer and corner of her artwork communicates a different aspect of Chanakira's existence, offering unique insight into the mind of someone trying to quieten their own.
Still relatively new in her budding career, Chanakira's work is available from the U.K.'s art house Clarendon Fine Art Gallery, and she is currently a nominee for a number of Zimbabwe Achievers Awards including Young Achiever of The Year Award, and more.
We spoke with the Zimbabwean painter about creating your own sense of normalcy, and the magic of African artistry.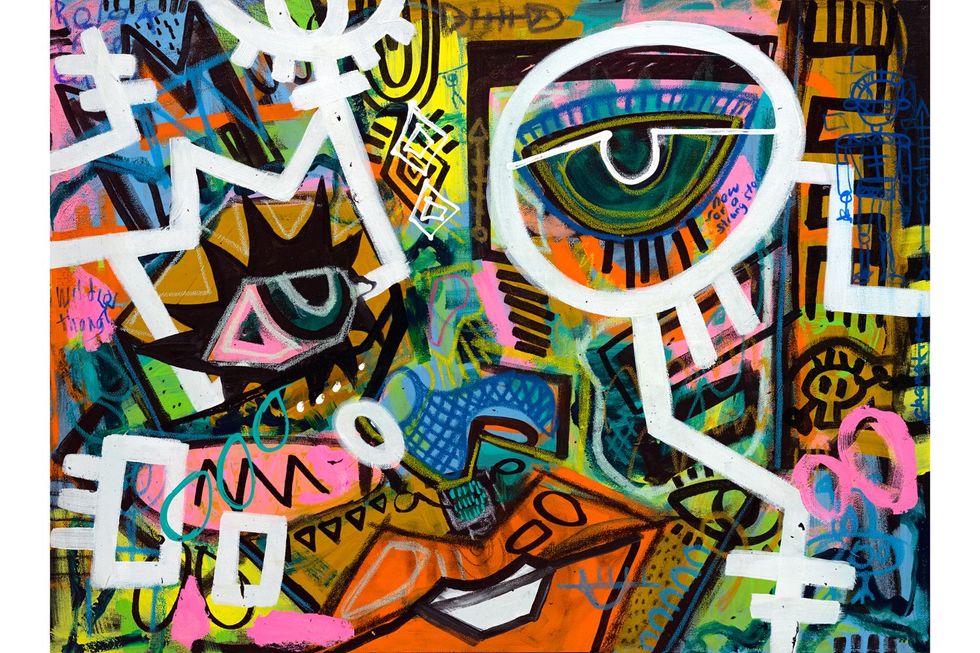 "Assasins" by Charmaine Chanakira.
The interview below has been edited and condensed for length and clarity.
OkayAfrica: Did you always want to be an artist?
Charmaine Chanakira: I never planned on becoming an artist; it happened by chance. I worked in graphic design for a while before deciding I hated it. I then entered the field of IT, and I quickly concluded that the 'Tech Bro' life was not for me. I made the decision to go back to school to become an art psychotherapist, and a requirement of the program was to experiment with and engage with various art materials.
Since I used to work as a graphic designer, picking up a pen, pencil, or other easily manipulatable material came naturally to me. I chose to pick up a paintbrush and try something new. I found painting very stressful at first, as I found it difficult to control the paint. My ability to be truly, creatively free came about only after I made the decision to accept the chaos. It was really freeing. I also wanted to find a way to connect with people and to raise awareness of the social causes I am interested in and I found that painting was the best way I knew to share my stories and experiences.
What are the central themes in your work?
The central themes in my work tend to be politics, childhood memories, mental health, and the Black experience. I'm quite politically driven and passionate about social causes which appears a lot in my work.
Where do you find inspiration, or how does it find you?
My artwork frequently reflects my emotional reaction to world events. I try to let my subconscious take control of what I create rather than making conscious decisions. I occasionally listen to music that reflects the mood I'm in at the time, which tends to inspire creativity and amplify certain feelings.
My Zimbabwean heritage has a significant impact on my art. My experiences as a Black immigrant woman inspires my work too, because they shape the lens through which I view the world. I am also inspired by Jungian psychotherapy and philosophy, and influenced by Japanese anime and manga.
What do you believe sets African artists apart from the rest of the world?
The magic of African artistry! The fusion of vibrant traditions, pulsating rhythms, and an unwavering spirit truly sets African artists apart. Their work resonates with a deep sense of cultural storytelling, evoking a rich tapestry of history and contemporary expression, making it truly unique on the global stage. For me; it's spiritual, it's ancestral and it connects old lives with the new. It feels almost generational.