In our 'Spotlight' series, we highlight the work of photographers, visual artists, multimedia artists and more who are producing vibrant, original work. In our latest piece, we spotlight Nigerian-American mixed media artist and filmmaker Jamal Ademola. His work was featured in an exhibition titled, "AFRICAN ANCIENT FUTURES" curated by Ethel Tawe at A Whitespace Creative Agency in Lagos, Nigeria fromFebruary 28th to April 2nd. The exhibition featured the black experience through an afro-surrealist lens. Follow Jamal's work on Instagram and on his site.
Nigerian-American mixed media artist and filmmaker Jamal Ademola effectively works across multiple mediums — film, visual art, video, drawing, painting, photography, and performance that creates conversations around such themes as black identities, the divine feminine, cultural consciousness and society. The dreamworlds he erects are indicative of an awareness of self and others that is otherworldly. His knack for storytelling and love for fine art permeate throughout his body of work.
---
Where in work I FOREVER AM, Jamal attempts to paint a clearer picture of the black experience, I DREAMED OF SEEING MYSELFstrings together pieces of our collective history. Prints like 'WHO SHOULD I BE IN THE WORLD?' and 'PORTRAIT OF DIONNE' place women at the forefront of the overall story Jamal wants to tell.
Below, he shares his views on identity.
Responses have been edited for length and clarity.
Tell me about the journey you walked to become the artist you are today?
I've always been artistic and creative. Since age three, my mother noticed that I would draw inside all of her encyclopedias. Like a lot of Black artists, I didn't know what I was doing was art. I was just being creative. And it wasn't until I went to school for media arts and animation in 2000 that I realized this...I dropped out of Georgia State where I'd been studying computer science. Like a lot of children born to African parents, I didn't have a lot of support for a career in the arts. I didn't know how I'd make a living being creative.
I was very rebellious. I went to school for animation but ended up dropping out. I went to one of those for-profit schools which wasn't that great. I started working in television and got into design and different mediums. I wanted to stretch out and expand into photography, filmmaking, and even acting. I found myself very drawn to lots of different things. My mind just wanted to find a way to combine different mediums into a new visual language.
About six years ago, I started taking my artistic practice more seriously. Before that I was doing, and still do, a lot of advertising projects like commercials and other stuff — these are usually animated or mixed media.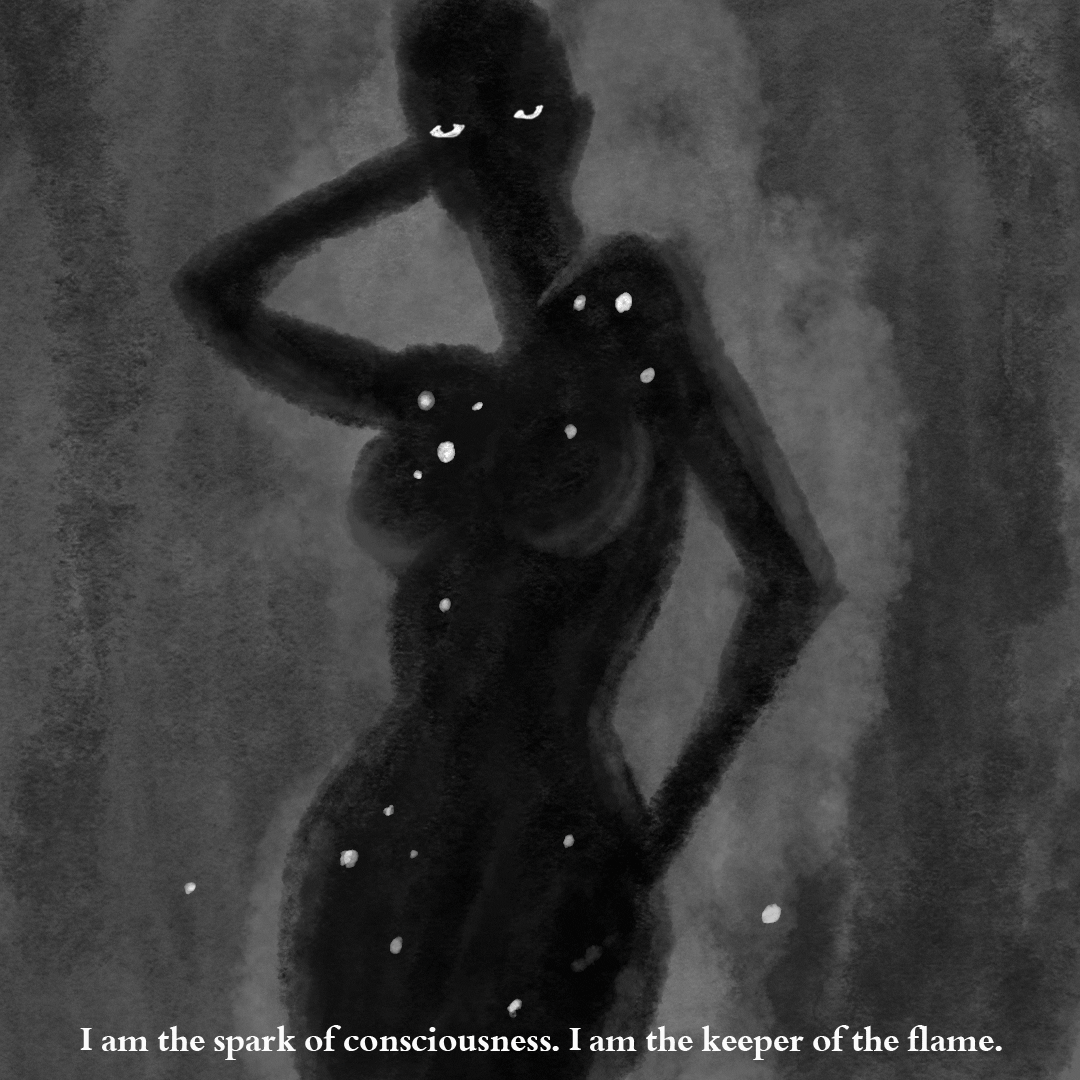 "I FOREVER AM"Supplied
Tell us about "I FOREVER AM", the piece which you featured in the exhibit "AFRICAN ANCIENT FUTURES" in Lagos.

I wrote a poem in 2020 when I was feeling really down. There was a lot of collective sadness following Ahmaud Arbery's killing, then George Floyd and Breonna Taylor. It was around Juneteenth.
I write poetry sometimes, but don't really publish a lot of it. I wanted to make something that was an affirmation. It felt like collectively, in the black and African consciousness or in the diaspora, our lived experience was always about oppression and struggle. We were seeing these images of us being killed regularly. It has been going on for Centuries, we're just catching it more on camera and that, to me, isn't the totality of the African story or the completeness of the Black experience. Our history is not just about that.
"I FOREVER AM" was this sort of cosmic affirmation that we are an incredible people that can exist beyond that narrative. I collaborated with a few artists on that piece. I asked Ihuoma Ofordire to help out because I wanted a female voice to embody this divine consciousness. I wanted this to go beyond gender. It was really important for it to not just be a male voice. I wanted it to feel more like a collective voice. I also collaborated with Tunde Adebimpe; he sang this poem that I'd written. I had no immediate plan to show this work. Then Ethel Ruth Tawe was curating AFRICAN ANCIENT FUTURES at "A White Space Creative Agency" in Lagos, Nigeria and she wanted to show some of my work. Then it became more of, 'How can we make this work in a gallery?' 'How can we make this look interesting and have a flow or tell a story as people move through the gallery?'
The piece "I DREAMED OF SEEING MYSELF" seems like a continuation of the aforementioned. Is that the case?
That's a film starring phenomenal poet and actress Yrsa Daley-Ward where I wanted to show something specific for the AFRICAN ANCIENT FUTURES exhibition that was made with Ethel's curatorial statement in mind. By juxtaposing surrealist narrative and taking the immense history that we share, and then also thinking about Afro-Now-ism in the future and Afrofuturism. That piece became a triptych of different pieces strung together for the screening.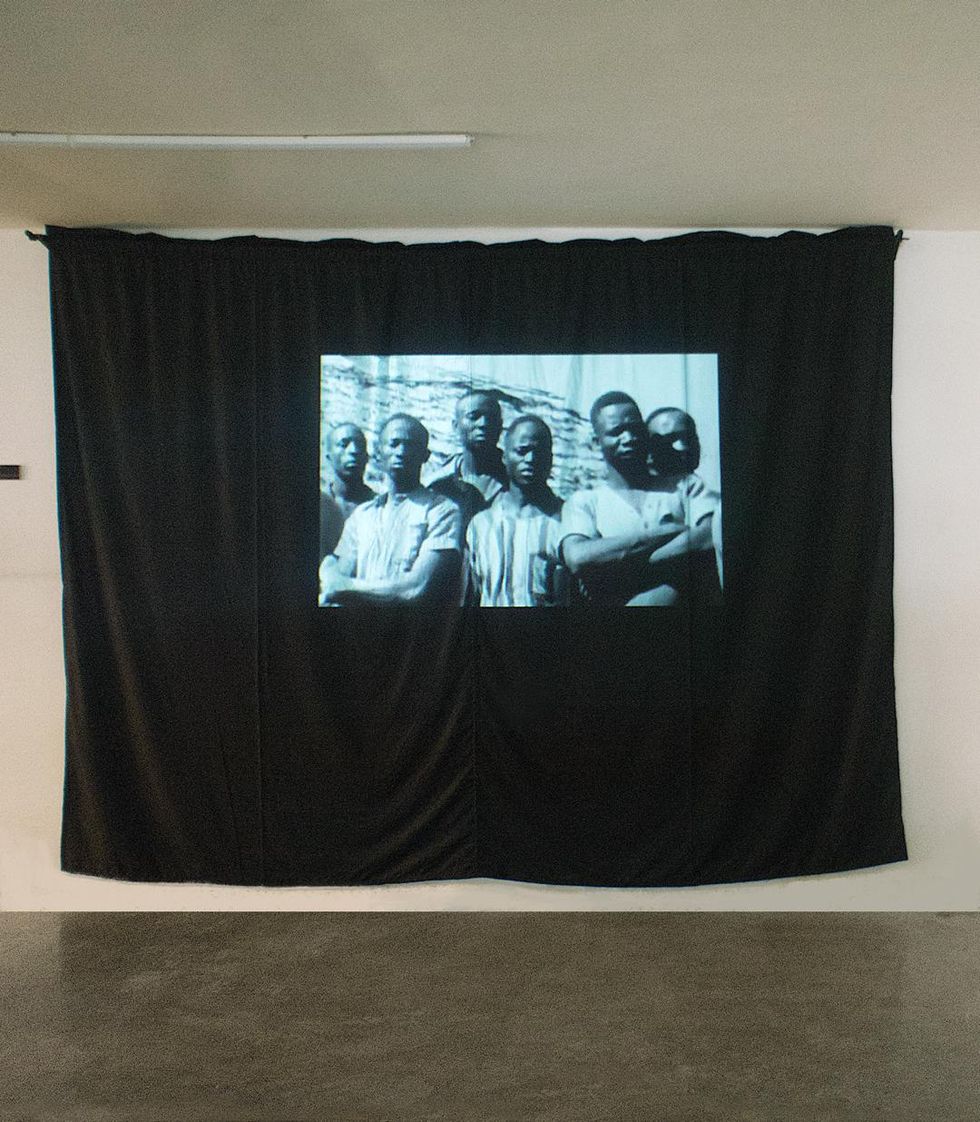 An installation view of "I DREAMED OF SEEING MYSELF"Supplied
Despite most descriptions of your works detailing the future, dreams, and the black identity, you don't consider yourself an afro-futurist. Why is that?

Part of the film "I DREAMED OF SEEING MYSELF" is about taking back our power to tell our own stories and define our realities. I had no real qualms with the term Afrofuturism until I discovered that it was a white male writer that created it. Finding that out made me consider the importance of controlling our own images and narratives. We don't even control our own descriptions of ourselves. It's hard for me to embrace it wholeheartedly even though I know that its intentions are good. And that is to essentially, radically envision ourselves in the future. Terms like Afro-Now-ism speculate on the possibilities that exist within the unencumbered Black mind, and this term was created by a Black woman.
Where do you draw inspiration from?
I have so many interests. Music is a huge inspiration. Oftentimes, when I'm writing or creating, I'm listening to music. Films and nature inspire me too. In visual media, there are a lot of artists that I'm inspired by...probably too many to name. I'm also inspired by my experiences and a lot of personal observations of our society and the quirky little things that we do as human beings.
What central themes are consistently found in your work?

I lived in Lagos for 10 years, and my family emigrated to Atlanta when I was 11. That was a big culture shock! I find that that's the quintessential African story, we're always migrating or emigrating. Sometimes we're escaping civil war, or some colonial destabilization, of our homeland in hopes of a better life. I find that that really permeates a lot of my work—telling, or wanting to tell, those stories of identity and displaced identity. How do you retain your African identity when you live in the West?
I feel westernized whenever I go back to Nigeria. Then you start questioning yourself despite knowing you're African and knowing you're Black. It's funny because before you were Black, you were African and then you got to America and now you're Black. There's just all these labels that one needs to sift through to get to self-discovery. The themes are migration, identity, self discovery, self-actualization, transformation, taking ownership, and taking back your power.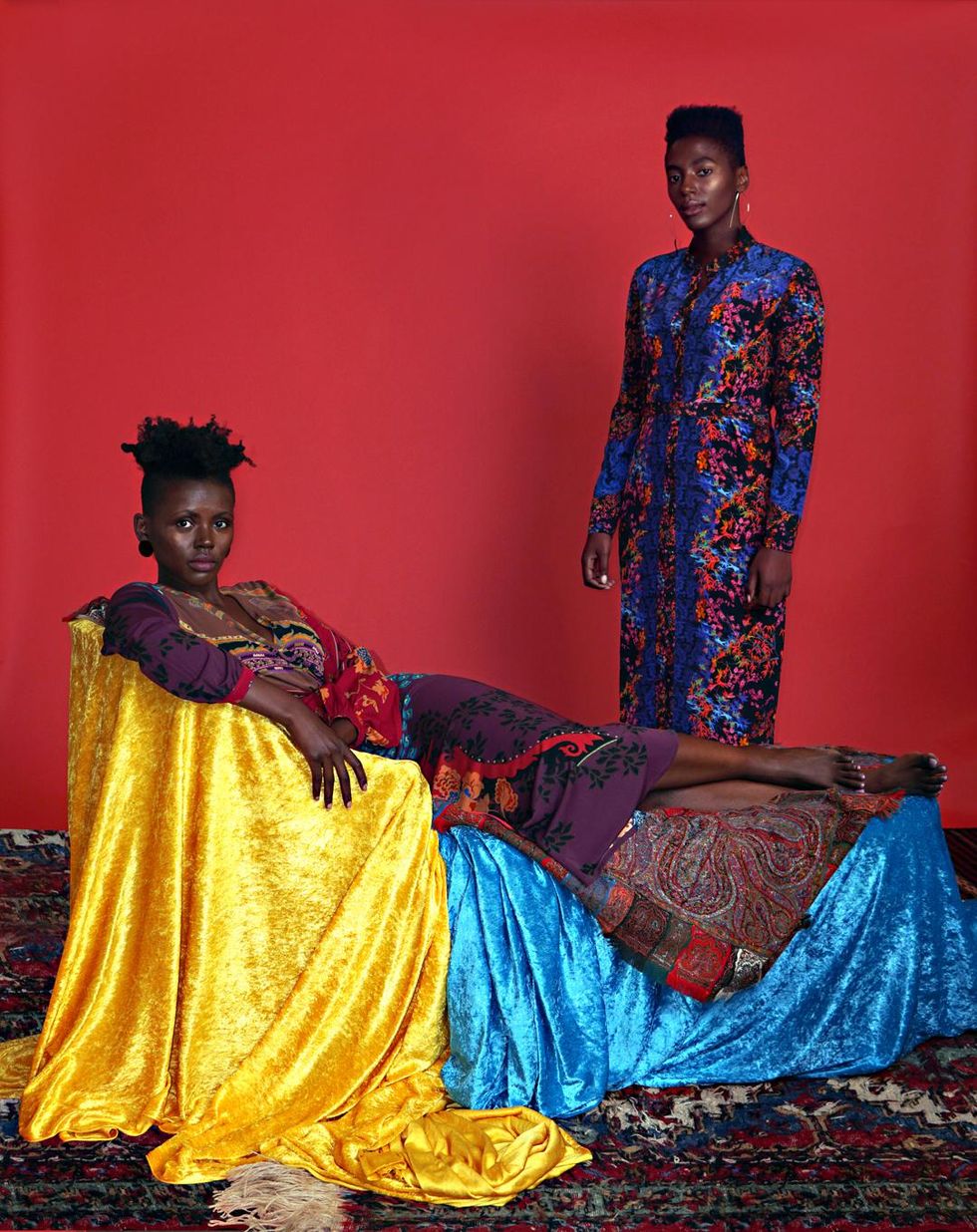 "WHEN THE SLEEPER AWAKES" by Jamal AdemolaSupplied
Tell us about your penchant for putting women at the center of your work.

I'm inspired by black women. I wrote my first script in 2013 and feel like there's now a push to tell women-centered stories. Intuitively, I just felt like they were more interesting. The dominant mainstream society was always told more from a male point of view. I was trying to tell more women's stories because we don't get to see a lot of those.
I feel like every human being has both a masculine and feminine energy. Being an artist, I'm allowed to explore the more feminine side of myself when photographing women or trying to tell a story from their point of view. It allows me to tap into aspects of myself that I don't get to discover often.
You work across so many mediums. Do you have a preferred medium?
At one point, I felt like I always had to choose one medium to be taken seriously as an artist or a creator. If you're doing too many things, people have a hard time identifying you in a certain way. If I had to box myself in, I would say storytelling and fine art. There's always a narrative present for me. Even if I take a photograph, sometimes I'll do a narration or if it's a film, I'll interview someone, and they'll do the narration. My work is always centered around a story.