In our 'Spotlight' series, we highlight the work of photographers, visual artists, multimedia artists, and more who are producing vibrant, original work.
In our latest piece, we spotlight German-based, Benin-inspired streetwear label Noh Nee Benin (NNB). The brand works to encourage a positive social impact, by redefining its relationship with the African continent, and shaking up the way we're used to wearing, designing, and producing fashion. The collective's latest (and first) collection aims to take viewers back to an Africa ruled by fair and just kingdoms. A place of colorful bliss, filled with energy and royalty in the everyday things life is filled with. NNB's debut collection, titled 'Postcards' comes from the now fallen kingdom of Dahomey, at least what photographer Sina Lesnik and 3D artist Andrei Warren image the kingdom would look like.
Responses have been edited for length and clarity.
---
Describe your background as an artist and the journey you've taken to get it to where it is today.
It's curiosity. And the need to express, that's what got us here. Understanding that we never stop learning and staying in touch with our inner child.

What are central themes in your work and how have you told the story this time around?
I think all of our themes are personal emotions and moments that happened. I don't think we can put it into categories or boxes... We don't like boxes, and it is nice to surprise people! I think each emotion or moment gets expressed in its own way. And needs its own tools. If it is music, jewelry, painting, dancing, or clothing - it's about the concept or the message and understanding how to translate that. With this project NNB, we have a very clear mission: retracing identities and keeping the worth of the heritage. And it gets told through clothing photography graphic design and creating spaces of comm(on)unity.


How are you using fashion to translate African stories to a global market?

We wear clothes every day because our society taught us so. But we can choose what to wear. We can choose cuts and fabrics and how to combine them. We are learning about African traditional techniques like batik or lost wax casting and we're looking at how to combine this with our experience, our way of seeing the world. After learning the technique you can start experimenting and finding other options and all possibilities of how to apply it. With batik for example, once we understood how it works we made our own stamp and created a fabric with our Logo, and later on, we went "free form" and ended up with two Batik- Paintings! Who knows maybe the next collection of fabrics will be like this?
Can you talk about your use of colors, hairstyles, and jewelry in this project?
We spent time in Benin while we were working on the collection so the influences and the colors are combined with the pace and volume of the country.
What exciting projects are you currently working on?

We will start building our own center in the north of Benin! An Education Center for men and women to learn how to sew, who then will also be offered to stay and work with us on the production of our collections. So it all becomes a circle. The more we grow as a brand the more work we can provide for our people. We already started the formation and production after a few local foundations offered us some space in their building for our Ateliers. And it was a big success. We started with only 5 students in January and now we are already 15! It seems small but is actually a big achievement. We know every person by name and keep very close contact with everyone. That's part of our philosophy and what makes the difference to a lot of other projects or NGOs. Apart from that we are currently working on our 2nd collection and using our shop and showroom in Munich to create a community in the European diaspora. Exhibitions movie nights or markets where we invite other young African brands are planned, and we are very excited!
The collection is available on Noh Nee Benin's website.
Image courtesy of NNB
Image courtesy of NNB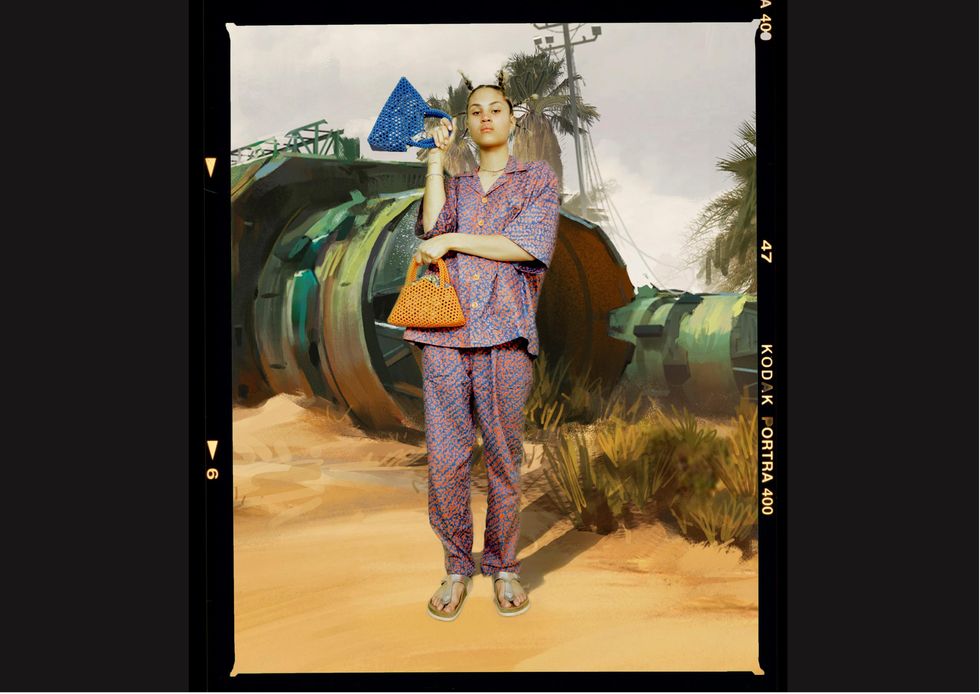 Image courtesy of NNB
Image courtesy of NNB