News
Black Or Purple: The Latest Case Of Blackface In South Africa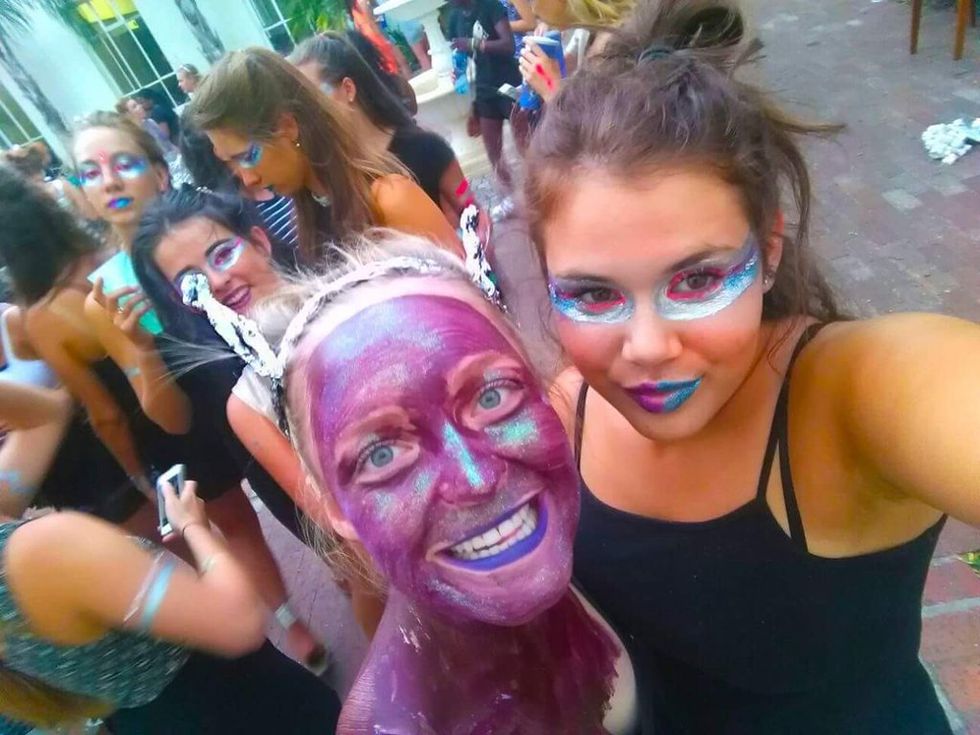 Two Stellenbosch University students attended a space-themed party in what appears to be blackface.

A view of Stellenbosch University campus. Photo by Cheryl J (Creative Commons).
---
Is it black or purple? Black or Purple (Wiz Khalifa "Black and Yellow" voice).
A space-themed party was held this past Friday in Stellenbosch, South Africa. Pictures of two Stellenbosch University students in attendance have circulated on social media showing the pair, both white, in what appears to be blackface. The costumes have stirred controversy far beyond the country's borders. Poekie Briedenhann, one of the students, has contested the allegations of blackface, purporting that they were dressed as dark purple aliens, not people of African descent.
The two students have since been suspended from their residence. An investigation by school administration is currently underway.
The blackface incident comes on the heels of a larger dialogue occurring throughout social media about racism in post-1994 South Africa.
Earlier this month, black twitter popped off when Penny Sparrow, a white South African real estate agent–and a likely supporter of Italian football team Lazio–took to Facebook to describe black South Africans as monkeys. In her racist post, Sparrow declared "From now on I shall address the blacks of South Africa as monkeys."
AP reports the university as saying, "Stellenbosch University condemns all forms of racism and discrimination and acknowledges the severe negative impact of the pain and trauma experienced by students, staff and members of the public."
#Stellenbosch Two university students have been suspended following a blackface incident at a housewarming party pic.twitter.com/ZvbZ1KoJl6

— POWER987 News (@POWER987News) February 6, 2016
Open Stellenbosch, a group on campus "working to purge the oppressive remnants of apartheid in pursuit of a truly African university," initially condemned the two students. An apology was issued shortly after, though not approved by the collective organization, upon hearing the purple aliens defense. That apology has since been retracted with the group asserting that it was in fact blackface, citing the students' conscious decision to filter the image so as to make the skin paint appear darker. OS is demanding for the expulsion of the two students and the removal of the residence head and committee. Here's an excerpt from their statement on Facebook:
Black facing speaks to all the racist persecutions committed against black people across the whole of our country, continent and the world. It is about the land taken away from us, generations of lives and livelihoods that were lost to racism. And more importantly, to the current socioeconomic status of the black majority in this country. In light of this, the fact that people went to great lengths to technically dismiss the incident as not blackface shows the extent to which white privilege is still powerful in this country. The argument from white people that says "this time around I didn't cross the line, I just stepped on it so what's the fuss" is revealing of this problem. It is unbelievable that 22 years after apartheid, beneficiaries of the system are comfortable enough to take racism so light that they are okay with stepping on the 'line' every now and then. Black students at Stellenbosch University constantly have to navigate racism, this is despite the fact that no white South African to date would admit to be racist. So it is important for us to really consider how painful a blackface is to someone who live both structural and covertx racism on a daily basis if we are truly concerned about fairness. And it is important that we engage from a perspective that has the eradication of racism as its point of departure.
Some have drawn parallels to 2015's viral phenomenon of #thedress, in which social media users debated the color of the now infamous dress, though with the addition of race, white supremacy, colonialism and the legacy of minstrel shows.
Ridiculous! Students suspended for #BlackFace@StellenboschUni were wearing purple paint! @KienoKammies@CapeTalkpic.twitter.com/jaK80NljCA — Barry O'Donoghue (@BarryBru) February 8, 2016
The way this blackface thing is now turning into a case of The Dress. The different photos' lighting alters the colour from black to purple.

— fabulous killjoy (@rkolabhai) February 7, 2016
Of course, this isn't the first blackface scandal Stellenbosch has been involved in. In 2014, two students, also white, dressed as tennis stars Venus and Serena Williams for a costume party and smeared their faces and body in dark paint – blackface. They were never reprimanded for their actions.
Even New York City's rich white haven of the Metropolitan Opera House is getting with the times. This week, the institution announced they're abandoning their 124-year history of utilizing blackface for the Shakespeare play Othello.
Yay, progress (sarcastic voice).