Accra House artists Steloo and Yaw P share the colorful and stylish new music video for their expressive single "Fashion Statement."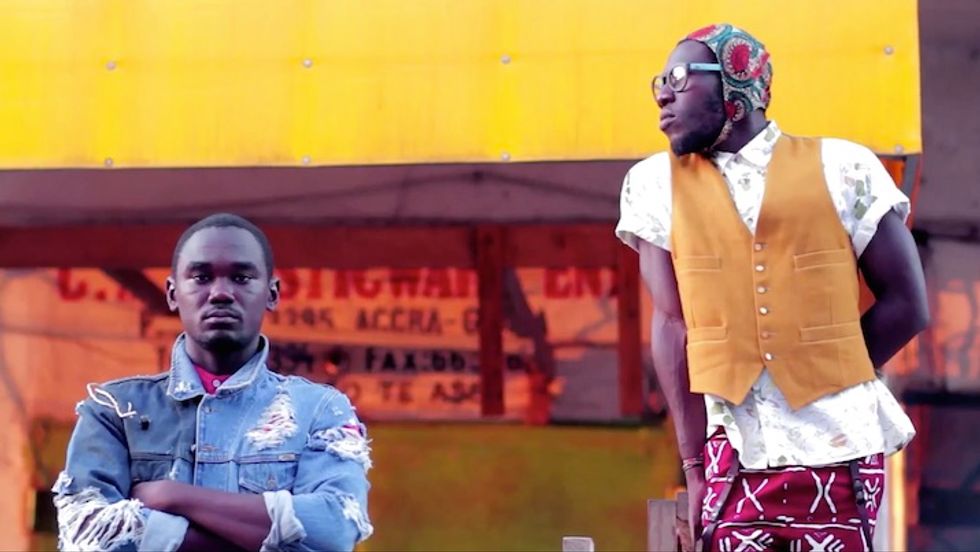 ---
Ghanaian electronic collaborators Steloo and Yaw P have released the vibrant new music video for "Fashion Statement," their Accra house single that celebrates individuality, encouraging listeners to use fashion as a form of self-expression rather than trying to blend in or follow trends. As Yaw P tells Accra Dot Alt, "the statement is a matter of liberation from a standard way of life embedded in our minds. This song and video just goes to show how we have decided to debunk the rules and forge our own path in music, fashion and art."
The pair certainly succeed in making a statement of their own in the Mantse Aryeequaye-directed video, which sees them shopping for colorful threads in Ghana's Makola Market, snapping selfies, and flashing their nifty garb throughout the city. They're joined by performance art collective Go Lokal, who can be seen rocking crafty, avant-garde ensembles including blazers embellished with CDs and old computer motherboards, as well as masks made out of recycled plastic containers. The clip ends with an apt quote from Steloo urging viewers to "make a statement with your own masterpiece of fashion." Check out the visuals for "Fashion Statement" below.