Afro-dancehall phenom Livingstone Etse Satekla, aka, Stonebwoytruly is the gift that doesn't stop giving.
The Grammy-nominated star, who favours and excels at dancehall, reggae and afrobeats, has been around for more than a decade but continues to stay relevant and in shape to deliver hit after hit for not only his fans, but anyone who wishes to celebrate Ghana and the beauty she has to offer. Stonebwoy's pride and adoration for his home country beams through his words, rhythms and actions.
The Ghanaian singer-songwriter is still riding high off the success of his Anloga Junctionalbum and is now sharing his latest collaboration with Nigerian heavyweight Davido. Anloga Junction, the Burniton Music Group CEO's fourth studio album, had something for everyone with notable features from US R&B songstress Keri Hilson and South Africa's Nasty C lending their voices and influences to the project.
Now, as the his final release of 2021, fans have been gifted early with Stonebwoy and Davido's electrifying hit "Activate".
"Activate" is the song we need to end off a year like 2020. The high energy, vibrant and hip shaking single and accompanying music video are all acting as tools towards manifesting an abundant, healthy, fun and carefree new year. And we really are convinced. We all need a somebody to activate and captivate us in 2021, if not ourselves.
We spoke with the musician about his latest and last release, decentralizing the West, quarantine style creativity and praying for good in 2021. Check out our interview with Stonebwoy below.
---
Do you want to tell us a bit more about how "Activate" came to be?

David and I have been communicating and working at it for a while. About two months ago, he was coming to Ghana. I was in the UK and due back the next day, but, he hit me up saying, "Yo bro, I'm coming." It was really cool. It all happened right there at his apartment. I had brought my studio over and called my producer to come over. So we were just having a nice time, vibing. It's just a beautiful party song, fun song, love song, feel good song and everything in between.
"Activate" is actually a crazy song right now. We've gotten a million views in five days already and I think a collaboration has been expected from us for a very long time. I think that's why people have gravitated towards the song like this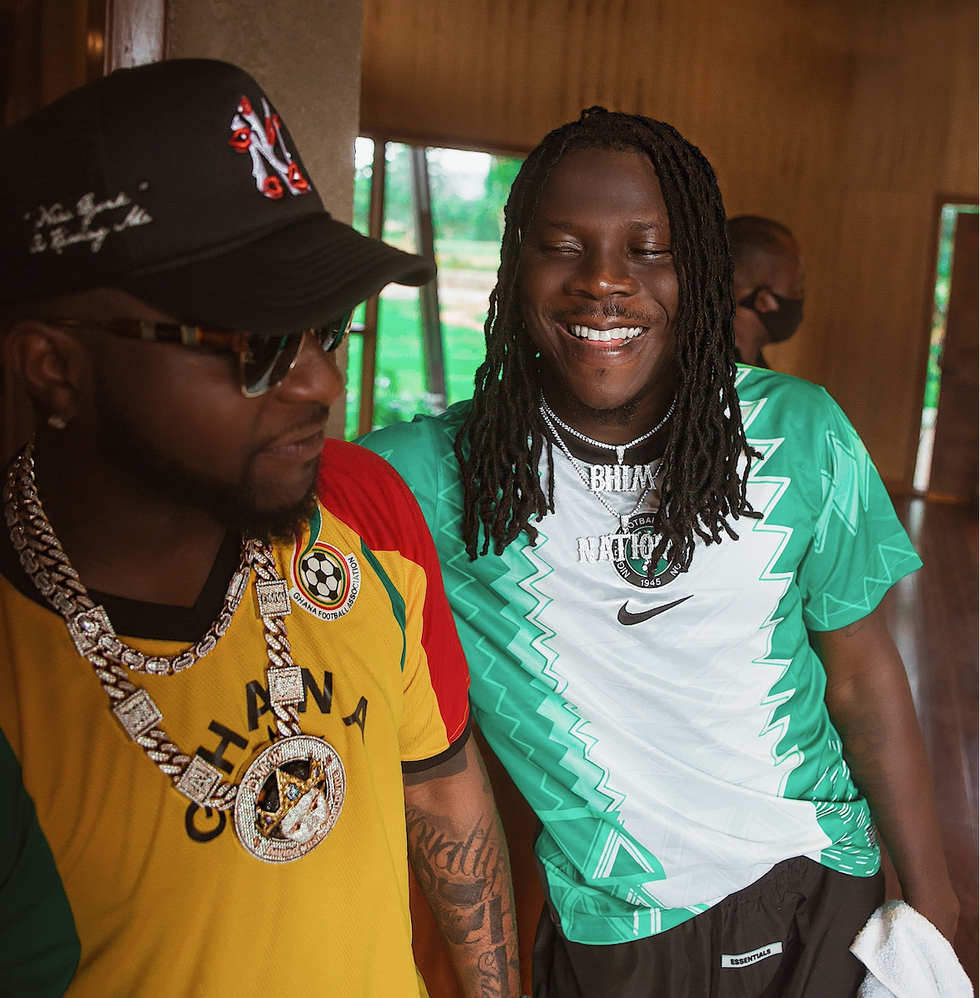 Photo: Courtesy of the artists
The music video feels a great representation of what you're saying the song is: it just feels good. What was that process like?

The shoot was done the day after the song was recorded. And that gives you little time to really prepare, but most often it's the things you do unannounced that come out to be the best ones.

This song is one of those and the video is just lively. It's got life in it. It has that energy we wanted to send across. I don't think we could have done any other video for this song. The vibe itself is self-explanatory and you can feel it. So to represent it visually is nothing to tell any big story about. It's just a feel good kind of vibe.
You have a very distinct sound and so does Davido. Even though it's a collaboration of West African sounds, what do you think separates Ghana's music from the rest of West Africa?
You see, the separation of Ghana's sound from the rest of West Africa is actually not to be dwelled upon as a separation. But rather as a unique addition or the foundation, and a catalyst through which other sounds from the African continent can sing through. Because the highlife music that we've had from time has been brewed from Ghana specifically, and has traveled through the West and the rest of Africa. So, David and I coming together is a further exploration of such sounds.
If you hear me sing certain lyrics without the rhythm instrumentals playing, that's straight Jamaican dancehall. When it matches with the afrobeat instrumentation, there's a feeling that you can't deny because a lot of people may not be able to sing back word for word, but they can feel the energy and even get into the vibe.
You're a Grammy-nominated artist with fans from all over the world, how are you managing to please an international audience while sticking to who you are and what your sound is?
It's just what I do by staying true to my foundation, which is my melodious singing ability, blended with the patois, dancehall attitude, while I switch in between both at certain points, and the swift use of my local dialect as well. So, the combination of all these has set me aside from a lot of musicians and artists. One minute, I go over to the Caribbean peacefully, and another minute I'm in African market peacefully. And in the third minute, the melodies sometimes sound R&Bish, so it's cutting across to the American market.
So this is all I've been continuing to do to keep the international audience and keep my sound, whilst I stay true, as I just stay true to my inspirations.
Photo: Courtesy of the artist
What do you think the Grammys should be doing more for African artists?

We just need an African Grammy, done. As far as I'm concerned, we're used to the West validating us before we actually do feel in our own selves what we are. I've always believed in myself so it never bothers me.

After every Grammy [announcement], there are some American artists who go out and express their displeasure with a lot of things. So, that tells you that this is a human institution that is not perfect. I wouldn't sit anywhere in the world as an artist and feel disadvantaged or feel some way about an institution that doesn't really know it all, or still stand a chance of being flawed.
We are gradually starting to get that, which is very cool. But, you can't blame just the music or arts industry, because it's also seated at a table with a lot of other things that are being controlled by the West anyway.
How have you been dealing with the pandemic? Creatively and with not being able to engage with your fans?

Creatively, I think I'm still in a very good space, but inspired by all that is going on as well. I'm 90% involved in my own creative process, so I always need to have to sit my butt down to be there. I always do find time to record anyway.
The part that has hit me the most is the touring part, because I had to cancel my tours. I actually jumped out of a tour and I have to cancel the rest of them. But hopefully in 2021 we'll be able to do all those. The year has been great for me, though.
What else should we look forward to seeing from you in 2021?
Right now, let's leave it in the hands of God and keep praying because no matter how expectant we are of good things to come, we can only take it easy. If we didn't learn anything at all, we learned that 2020 showed us that, my G, all your plans you have to take time. In 2021, we're looking to explore, experience and reap all that we have sewn in 2020, in music, business and everything in between. That's all I'm looking out for. But, ultimately, I'm praying to God to give us life.
Photo: Courtesy of the artists
Check out Stonebwoy and Davido's electric visuals for "Activate" here.

Stonebwoy, Davido - Activate (Official Video)www.youtube.com