You can't talk about major players in Ghanaian music without mentioning Stonebwoy. The singer—who specializes in dancehall, reggae, and afrobeats—is a titan in his field. Livingstone Etse Satekla's career has spanned over a decade through which he has forged a collective body of work that's made him one of the most loved and celebrated musicians in Ghana.

The singer isn't short of accolades either, having been the subject of a host of nominations and awards—from being a repeat nominee year-after-year at the Ghana Music Awards, to bagging A BET Award for Best International Act in 2015, to several others.
Now, the Burniton Music Group CEO has presented his highly-anticipated fourth studio album, Anloga Junction. It's a dancehall album, but it's full of elements that you typically wouldn't expect from a dancehall project like a collaboration with American singer Keri Hilson, or a guest feature by South African superstar rapper Nasty C.
Laced with creative expressions of diversity, Anloga Junction is Stonebwoy's way of showing the different perspectives he's experienced in his life and music. From his hometown in Ghana to the Western world, Anloga Junction is the juncture between those two contrasting perspectives. It's also the singer's musical representation of what it means to fuse the two worlds together—you hear one more than the other, but a fusion all the same.
We spoke to Stonebwoy about the process behind creating the album and some of the interesting experiences he had while making it. Check out our interview below.
This interview has been edited and condensed for clarity.
---
Stonebwoy, Chivv, Spanker - Good Morning (Official Video)www.youtube.com
What's the idea behind the name Anloga Junction?

"Anloga" is an African word, a Ghanaian word, an Anlo word. It's my countryside, my village, and that's my ethnicity as well. So it takes me grounded into my roots, where you find me speaking a lot of languages on the song. The language that you don't understand is mostly Ewe, which is the Anlo language. And "junction" is an English word which stands for all the experiences from the Western world and the rest of the world, so when I put these two together I'm at Anloga Junction in my mind. All these things inspired the sort of songs and the collection of this whole beautiful body [of work] that we put together for thealbum.
Does the album have a particular theme or message you're trying to pass across?
Yes, this album actually has a theme. You can see [it in] the rollout, the pictures, and the videos. The theme is to represent Africa in the era that we're in right now, without having to Westernize it too much. So when you see the video of the kid [on the album cover], he's in regular clothes but in a typical African setting. If you look at the whole rollout, it's morally and culturally based on African soil, with a little touch of Western influence. We're trying to send across this message to the rest of the world of how beautiful that combination is, but with 70% of an African foundation in it. So the theme is: a beautiful African scene with a touch of the Western experience and influence.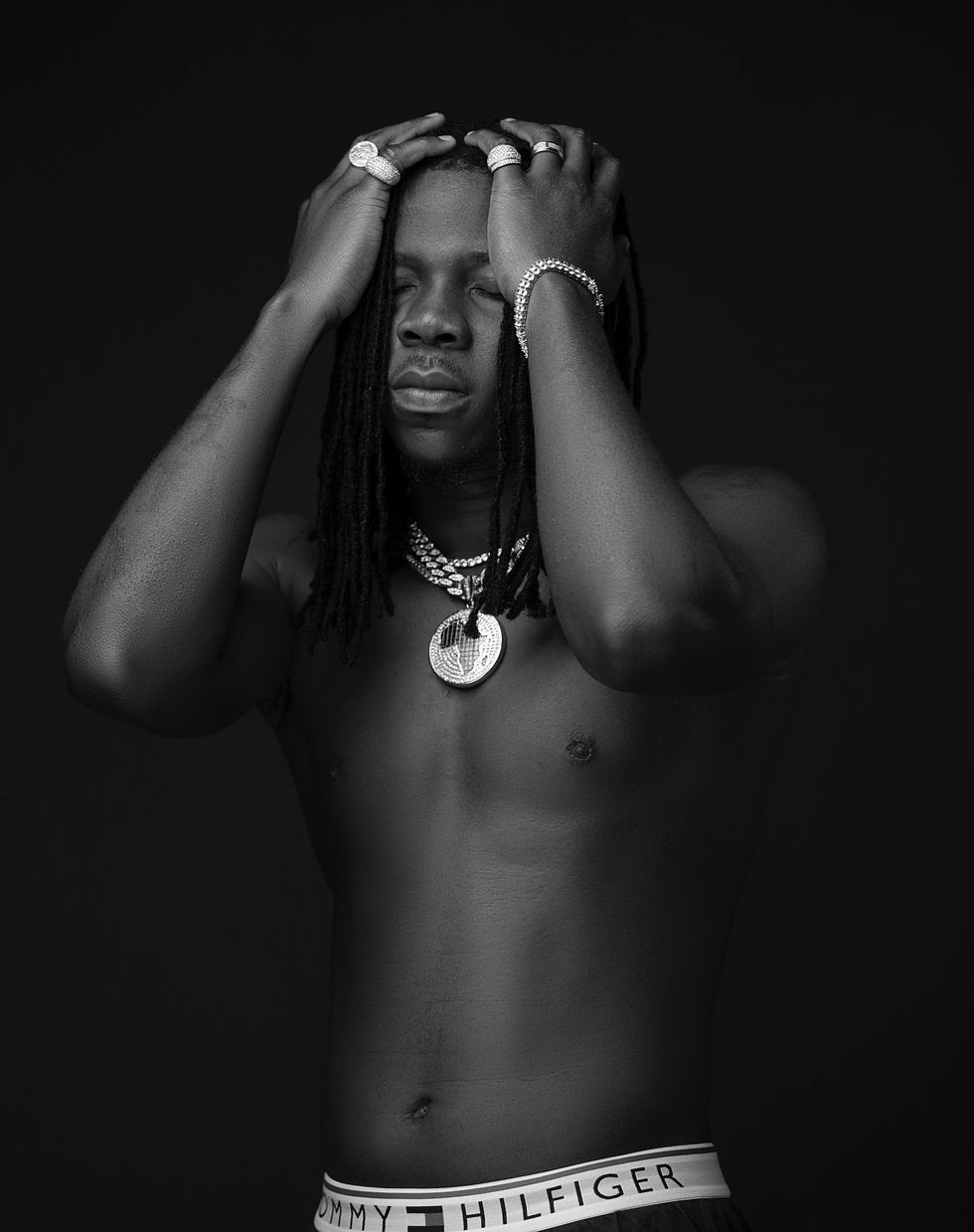 Stonebwoy.Image courtesy of the artist.
There's a lot of diversity on the album, from the featured acts to the producers. Why did you decide to take that road this time around, instead of just working with all the people you normally work with?

The acts were tactically chosen to continue a certain plan that we've had over the years... something different, something in a direction of progress as well. The producers I have always stuck with: Mix Masta Garzy, StreetBeatz, and Beatz Dakay, these are people I've worked with the most in my journey, you know. I also had Fox Beatz, and a couple producers from the UK, Nana Rogues, N2TheA, Andre Harris (Dre Bombay from America, legendary). This science is what is called for; finding and identifying what is needed and answering it is part of growth.
Why 13 producers?
Yo 13 producers, I wasn't even counting. And we have 15 songs, so that means each producer literally produced about one song, which is right. So you find out that they are all individual powers, individual energies on the album.
Tell us how "Nominate" happened. What was it like working with Keri Hilson?
"Nominate," that's the song featuring Miss Keri Baby! Beautiful, beautiful, beautiful song. She's like a sister to me now, a beautiful human, a beautiful person, a beautiful soul. A friend of mine met her on a flight and realized that was Keri Hilson. The conversation took a turn to the musical route so... he mentioned me to Keri, the name sounded somewhat familiar but [she] needed more details. So they went on and that night I was called upon to meet Keri and we vibed. It was very organic. Fortunately I was visiting the States [shortly after] and I went through to her studio. Dre Harris was there, he was going to work with her already, and this became a blessing. No wonder [the song] has amazing energy... [it] was put together by divine power. Thanks to everybody who made it happen.
Stonebwoy - Nominate ft. Keri Hilson (Official Video)www.youtube.com
What made you choose her as the feature on "Nominate"?

I didn't even choose Keri, nor did she choose me. But in my plans of plans, [I wanted] to feature an American [act] for this album because we wanted to tap into that area. Afrobeats and afro-dancehall music has entered that side, with a lot of features that I've done with Jamaicans who promote in America and all of that. I promote down there too, and I do a lot of shows in America. I've done a lot of appearances, non-paid ones just to support you know? Done a couple shows as well… So I knew there had to be an entrance, but how God worked it out for it to be Keri Hilson, for ten years she's not released anything and the first international feature for an African is on this project. Man, everything is just divine and working smoothly. That's why I believe in prayers and energies because it's not only physical.
Tell us about working with Kojo Antwi.
Kojo Antwi is a legend, you know. They've been there, they've done that, they've seen it all. When I created the song I felt that this would suit him, so I mailed it to him. He said yes, he loved it, and that was a go. To create the music and send it to people to vibe with... it's somewhat difficult for them to catch the same vibe when both of you don't sit in the studio and cook it together. So it's a blessing when he said he liked it and put a verse to it, and I was so elated. [We're both] Ghanaians, the merger of a new school and a legendary old school is beautiful.
Stonebwoy - African Party (Official Video)www.youtube.com
For Stonebwoy fans who don't understand your native language Ewe, what were you saying in the intro track "Le Gba Gbe"? What's the song about?

Yeah man, for those that don't understand my native language, I think that captivates them more. Because sometimes things that you don't understand, when they come out to be very beautiful, you want to get closer to understand more. "Le Gba Gbe" means "alive," and I was saying a very poetic native adage in that song. The song is about being alive and living, and even the purpose of our lives, you know. We just have to keep going, keep fighting, keep living, not be too concerned about things that distract us, especially the negative ones, and focus on positive things that will get us to an expected end. That's what the song says, being content and being focused as well.
How long did it take you to complete the album?
I think in all it took me like a span of two years to complete the album. Some songs are five years old you know, so the mindset and the agenda has been [there]. I dropped an album three years ago, some songs didn't make it to the album, especially the one with Kojo Antwi, because I felt that the time was not ripe yet for the theme... so it's been a while. Some of the songs have been there waiting on the right timing, and I've created new pieces. So I can say, aside [from] the songs that were recorded [long ago], it took me like a span of two years to get this project together.
What's your personal favorite song on the album?
Yo, my personal favorite on the album would be very difficult to choose because all the songs are my favorite. But I'll go with "Strength & Hope," "Nominate," "Journey," "African Idol," "Le Gba Gbe" and "Understand," so choose one for me yeah? [laughs]