In the latest Studio Africa, Chaze Matakala sits down with Mozambican artist and pilot, Ricardo Pinto Jorge, following the opening of his debut South African solo exhibition at Erdmann Contemporary in Cape Town.
---
For Mozambican creative Ricardo Pinto Jorge, balancing life as a pilot and an artist has come naturally. Born in Portugal to Mozambican parents, Pinto Jorge grew up in Maputo, where the local graffiti, music and art scene penetrated the mind of a young man eager to express his emotions and world sense.
When he isn't flying planes or painting on the floor, Pinto Jorge works as an art director for the Mozambican Chinguirira magazine. Beyond that, he also dabbles in video art, graphic design and photography.
Heands Up, his latest project, is a surrealist meditation on human behaviour in which the character's heads are replaced with oversized hands (hence the "heands" in the title). Using stencil and paint as a medium, the series transmits the conversation between a person's innermost thoughts and their outermost expressions. The striking collection of images explore the gestures, body language and signifiers that link us as consumers and creators of postcolonial fabric of the continent.
The series, curated by Carine Harmand, debuted at Maputo's Centro Cultural Franco-Moçambicano in August. It's currently on view at Erdmann Contemporary in Cape Town through 31 October. I caught up with Pinto Jorge at the show's opening.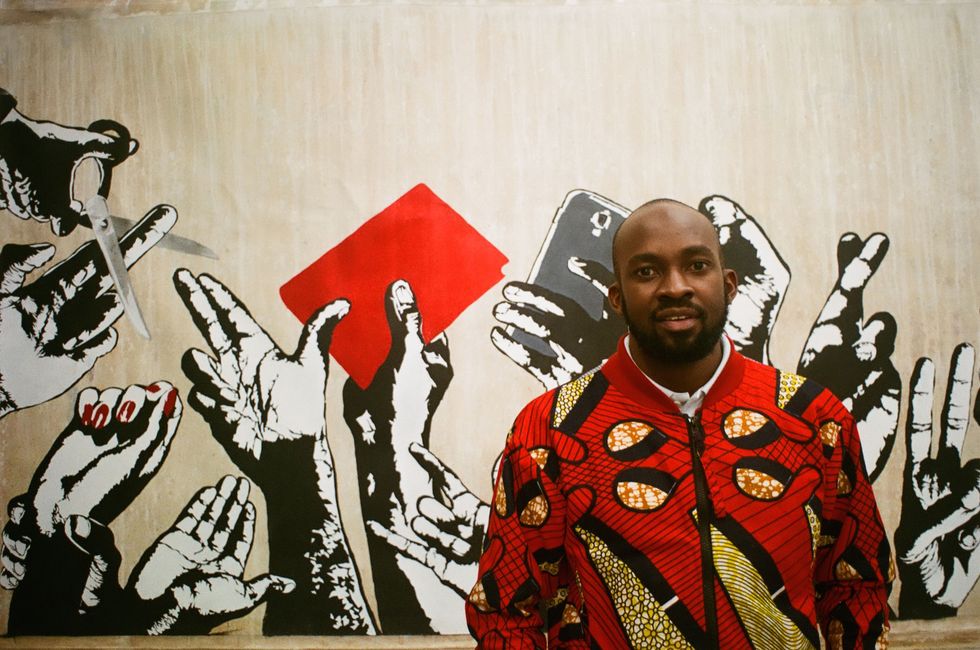 Ricardo Pinto Jorge in front of a piece titled "Democrazy". Photo by Chaze Matakala.
The following interview has been edited and condensed.
If given the chance, would you have flown yourself to Cape Town for your exhibition?
Hell yeah! That would have been awesome!
How does being a pilot overlap with your artistic practice?
They overlap because it's the same person—I am myself. But I don't see them as overlapping in the sense that I have to stop doing one to do the other. If I'm not flying then I have time to paint, if I'm flying then I can't paint. But I don't see it as a conflicting thing at all.
My whole life I've always been allowed to be myself. If I flew and I didn't paint, there would be a part of me that's missing. They are quite complementary in the sense that they both bring me balance and they both fulfil me in a certain manner. So I will fly better if I am able to paint. I will paint, not necessarily better but I will be happier painting knowing that I can fly tomorrow.
Could you tell us about your upbringing… How does it manifest in your new body of work?
So, I was born in Portugal. My mom had two miscarriages before that and they were told that they wouldn't be able to have children. And so my parents fought for having children and they eventually had to go abroad to find a different doctor who could maybe help. It just so happened that I was born. Three years later my sister was born.
I feel like my parents cherish me and my sister's lives and we've been fortunate enough to feel love everyday. We've always been fortunate enough to be exposed to a multicultural situation—at school, at home, friendships. So the fact that my parents have allowed and pushed me to be myself and know myself and express myself the way I feel has been influential in this body of work, but it's just in general.
[oka-gallery]
How do your artistic roots in graffiti manifest in Heands Up?
So basically I used to watch cartoons and I used to want to create images as strong and as powerful as the ones I'd seen on TV, but I just didn't have the skill. So I'd pause the video, and trace the image over and over again. I must have been eight or so.
What elements of postcolonial Mozambique are you tapping into in Heands Up?
I've never been conscious of that because I am so submersed in a postcolonial Mozambique that whatever I do is postcolonial. There are so many complexities, so many nuances, that if I had to try to tap into a postcolonial Mozambican context, I will have missed.
At the moment I would say we are about twenty-eight million Mozambicans, so we've got twenty-eight million postcolonial Mozambicans. I'm trying to raise awareness about certain things, but I only have my eyes and I can only sense as me. Many times I do share common views, because I am a human, and sometimes what has happened to me might have happened to you.
Some of the issues that I'm trying to talk about are political, unfortunately. But not in the sense that I'm trying to state that what is going on is wrong. But to talk about a country that is so young and is expected to behave so old.
So in a postcolonial era where so much information is now available, it's much easier to criticise. But it's hard to be in that skin, to actually have been holding a rifle at 16, going out into the bush and fighting for the freedom of your country. And then having to learn how to be a diplomat. There are countries which have existed for over 200 years, and the diplomats might not have had to go through the same experience. So those are some of the issues that I'm trying to talk about when I talk about democrazy.
Ricardo Pinto Jorge and "Democrazy." Photo by Chaze Matakala.
Do you view your artistic practice as a form of political protest?
No, I don't. These are things that I see as a human being. It's more social than political. I believe that a political statement or a political move would have political repercussions. My intent is not to directly affect politics. I want to affect my community and society, which of course dwells in politics.
Do you see your art and that of your creative colleagues as contributing to the building of an African archive?
That's the idea. I was having this discussion with my friend… For the longest time a lot of content was not archived, was not saved, was either lost or distorted through time as it was told from person to person, mouth to mouth. And now finally we get a chance to take a photo, to write. It's really fortunate because we are now at a point where my generation in Mozambique is just creating content for themselves, and fortunately it's all being recorded.
I would like to within the next twenty to fifty years to build an art centre in Maputo. The main intent is to have a larger than life archive of as much content mainly produced by Mozambicans or in Mozambique as possible. We do have some, but I strongly believe that as Mozambicans we could do better, and I would like to contribute in that sense.
Ricardo Pinto Jorge, Heands Up at Erdmann Contemporary. Photo by Chaze Matakala.
What can we look forward to from you in the near future?
The art centre is a long-term goal. In the meanwhile, the idea is to just create more and express what I feel and share. I'm currently working on two solo projects: one is called Xapa100 (reads as chapa cheim) and the other one is called Bits of Maputo.
So basically Chapa Cen is a dialogue. I use the Mozambican public transportation system as an analogy for the country. And I'm trying to surface discussions about a postcolonial Mozambique, about how we do what we do—to discuss what we call Moçambicanidade—like eating the matapa, getting into a chapa, wearing a capulana… It's a search of Mozambican identity. That's probably going to happen next year, hopefully, if all goes well.
And then Bits of Maputo is a project which I started last year. I started taking photos of the city, ideally just the edges of the buildings. I've always been attracted to architecture. If I see a beautiful building I just wanna hug it and take photos and just be inside the building and just explore that space. And I've been fortunate enough to live in Maputo which is a beautiful city. There's some amazing buildings and really beautiful stuff which is done by architects which are borderline artists.
I want to tap into that feeling, that navigational issue that we tend to have in cities, even the cities that we believe we know so well. So Bits of Maputo is about the little tiny bits of Maputo which I know, but at the same time I might not—you know the building, you don't know everybody that lives there; you know the neighbourhood, you don't know the neighbours. So how much of your space do you actually know?
Chaze has got Zambian roots and is currently making the most out of a polyamorous relationship between poetry, photography and documentary filmmaking in Cape Town.