In the third instalment of Okayafrica's new Studio Africa series, Thabang Buthelezi sits down with South African photographer, documentarian and 2016 Elle Style Reporter, Themba Mbuyisa.
---
It's been three years since Themba Mbuyisa picked up a camera professionally. Already, the Soweto-born-and-based photographer has shot in different countries across the world, namely Italy, Brazil and Kenya. And at 24, Mbuyisa's star is on the rise.
In June 2014 he did his first artist residency, in São Paulo, as part of the Rural.Scapes lab. Filmmakers from ARD German TV caught wind of Mbuyisa's work, and in 2014 they featured the young photographer in a mini-doc about South Africa's changing photography landscape 20 years into democracy.
Mbuyisa, who stumbled on photography after taking a gap year from his BSc studies at Wits in 2013, says he's always had an interest in street fashion and art. So when he enrolled in a foundation course at the Market Photo Workshop in Joburg, jumping straight into photography proved second nature.
That same year, the rookie photographer entered Elle South Africa's Style Reporter competition, but only made it to the final round of the competition. Two years later he re-entered the competition, and in May he was crowned Elle's 2016 Style Reporter.
I caught up with Mbuyisa at a cafe in Braamfontein, Johannesburg, shortly after the conclusion of his and Nkosinathi Khumalo's recent exhibition at Goethe On Main, What does it mean?, in which the two artists invited viewers to share their own interpretations of their photographs.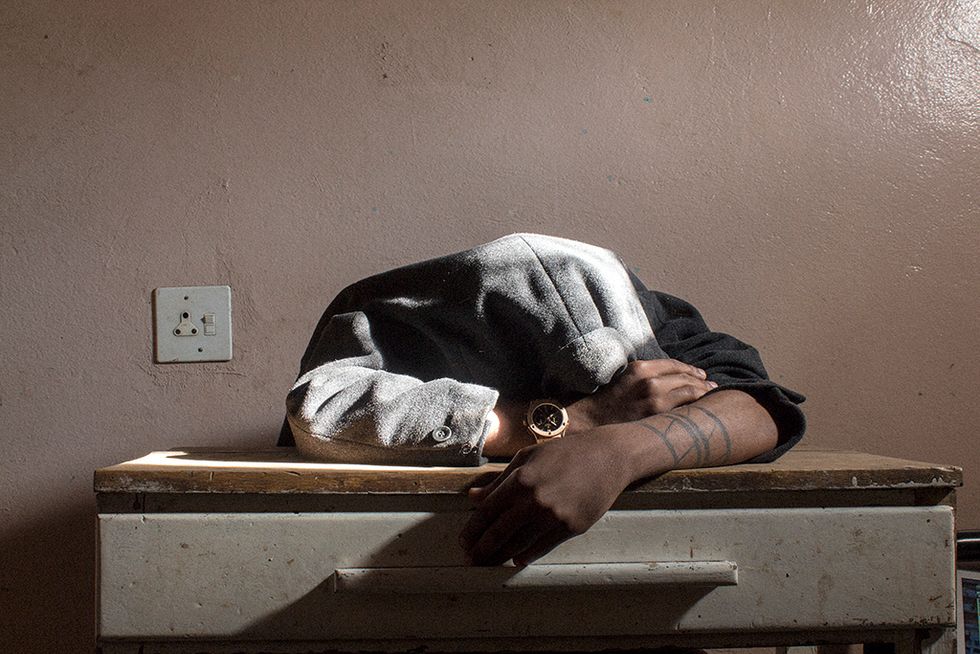 Themba Mbuyisa, Behind Tables. Courtesy of the artist.
Thabang Buthelezi for Okayafrica: Tell us about your most recent exhibition, What does it mean?
What does it mean aspires to fill the gap between what the artist intends to say and how the audience receives the work. The exhibition invites the audience to participate in the whole exhibition, as opposed to them coming and viewing work on a white wall, as with every other gallery. Nkosinathi Khumalo and I aimed to present work that will be developed through people's participation, by having them engage with the show by writing and recording their thoughts and opinions of the exhibited work.
Galleries are structures made for the public. It's where the public is meant to be informed and inspired. If you do not resonate or engage with the work, there is no reason for you to come back, but our project is an interactive space for the public to engage with our work. We wanted to find a way to make people stay and engage socially in a gallery, and the only way we could achieve that was if we included them.
The project does not end with just a photography exhibition, there is a short film which documents the creative process and the undergoing of the whole exhibition. There will also be a photography book which also documents the creative process of the project. Everything will be released at once.
How does one gain success, stay consistent and make a sustainable income from a variable career like photography?
As an artist, it's safer for you to succeed if you're changing the game as opposed to following what's already there. If you make great effort to challenge the norms and bring in new creative ideas, people will remember you for that.
It's hard to break into the industry, especially if you're black. Although this country is known to produce some of the best photographers in the world, it's not easy to make money from photography alone in South Africa. What has kept me going is that I have found success in almost everything that I do.
What were the most surprising discoveries from the exhibition and what were your overall expectations?
I only expected 50 people to come to the opening of the exhibition, and out of the 50, I expected 15 to 20 to agree to participate in the project. However, the exhibition was received well. The overall response was overwhelming. We did over 200 interviews and got over 500 notes from people sharing what they thought the artwork meant. I was surprised to learn that people liked our innovative idea and many were eager to get involved in the project. This made me believe that South Africa is ready for young talent. It's just that young artists are not getting the exposure that they need.
Themba Mbuyisa, Closer To Home. Courtesy of the artist.
Describe the evolution of your photography style over the years.
I have started to think critically about how my work contributes towards society and I started looking at photography differently. I asked myself what the world needs from me as a young black South African and how I can make a change in the photography world. My photography style has evolved to a more documentary approach with a narrative behind it.
What is the social significance of art?
Art is a platform that gives people the opportunity to have uncomfortable conversations and speak about real life issues that they wouldn't normally talk about.
And lastly, who would you like to work with in the future?
Rich Mnisi and Isaac Zavale. Collaborations are vital to me.
Moving forward, Mbuyisa plans to open his own creative agency. Keep up with his work on memoryquai.tumblr.com and Instagram at @themba_mbuyisa.
Themba Mbuyisa, self-portrait. Courtesy of the artist.
Thabang Buthelezi is a Johannesburg-based writer, communication science student and art and food enthusiasts.