Sudan Uprising
Sudanese Security Forces Have Attempted to Disperse Protesters in Khartoum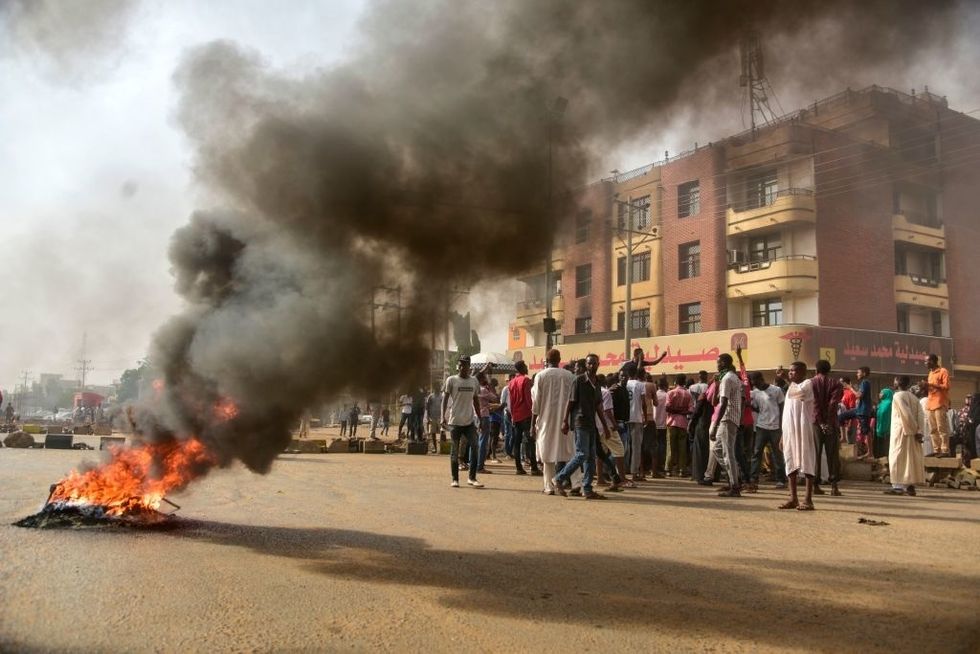 Photo by Ahmed Mustafa for AFP/Getty Images.
At least 13 people have been reported killed after security forces opened fire at the protest camp.
Sudanese security forces have attempted to disperse the long-standing protest in the country's capital Monday by opening fire on protesters, Reutersreports.
At least 13 people have been reported killed with over 116 wounded in Khartoum—making this the worst violence since President Omar al-Bashir was pushed out of power in April.
Sudanese dissidents on the ground have utilized social media to share images and video footage of people fleeing and rushing to carry protesters who have been hit by gunfire.
---
Things in #Khartoum are really bad. The military is trying to break up the sit in at army headquarters. Civilians h… https://t.co/CTOX23HVN8

— Nanjala Nyabola (@Nanjala Nyabola) 1559542872.0
At least 12 people reportedly died in Sudan as gunmen moved to crush a sit-in demanding the military surrender powe… https://t.co/YlszL9LZtN

— TicToc by Bloomberg (@TicToc by Bloomberg) 1559553110.0
Reports from witnesses say the sit-in that was positioned next to the Defense Ministry—a key location of the protests—has cleared, but protesters continue to take space elsewhere in Khartoum in response to backlash.

Despite the Sudanese Professionals Association calling the action a "massacre," the military council has denied trying to disperse the camp, saying security forces were targeting "unruly" groups. The association has called its fellow citizens to take part in "total civil disobedience" to topple the military council, AFPreports. The Alliance for Freedom and Change has called for "the end of all political contact and negotiations with the putschist Council" following the incident, as Egypt has appealed for the two sides to continue to negotiate.
Irfan Siddiq, Britain's ambassador to Khartoum, condemned the attack, calling it "an outrageous step."