C.J. Obasi's third feature-length film MamiWata has taken Sundance by storm. The mesmerizing fable, which marks the first time a home-grown Nigerian film scores a competition prize at the Sundance Film Festival, delves into the myth of the Mami Wata folklore, a terrifying mermaid goddess popular across West Africa. Obasi's MamiWata tells a simple enough story of good versus evil, and the importance of maintaining balance while hurtling towards societal change. But Obasi is not your basic filmmaker, and his interpretation of this well-known folklore is a startling cinematic achievement that advances his singular vision.
---
Shot in dazzling black and white, and envisioned as an expressionist exercise, MamiWata tells the story of a beach-side community that must interrogate previously held beliefs when a stranger washes up ashore and forces a reckoning. At Sundance, Mami Wata impressed jury, critics and audiences alike. The film won the special jury award for cinematography for Brazilian DOP Lílis Soares' striking work.
OkayAfrica spoke with Obasi from Park City, Utah about the seven-year process that brought Mami Wata to life.
Interview has been edited for length and clarity.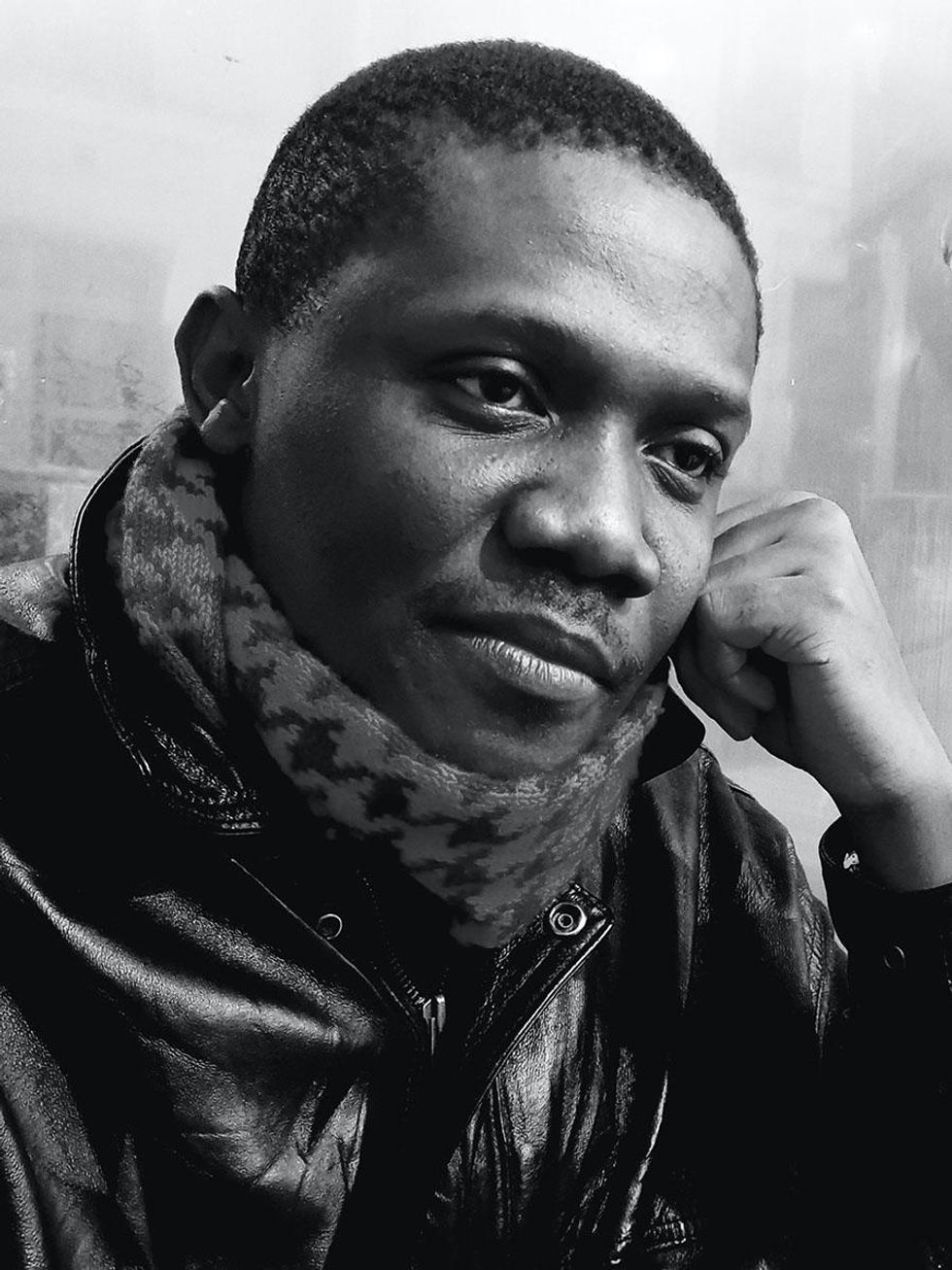 C.J. "Fiery" Obasi took seven years to make 'Mami Wata,' which he started writing in January 2016.
Photo: The Sundance Institute
You really saw a vision of Mami Wata and lived to tell the tale?
After the lackluster reception of my 2015 film, O-Town, I was at a place where I was worrying about what to do next. I have had three or four encounters all through my life where even though I am awake, I kind of zone out and recall no presence of time. I went to this beach where I saw this vision of a goddess whom I believe to be Mami Wata. If you see a giantess standing in the ocean with red glowing eyes staring at you, you kind of assume she is Mami Wata. She was beckoning on this young woman who was walking into the ocean. I said to myself that I am going to make MamiWata as my next project. That began a process of figuring out what kind of Mami Wata movie I wanted. I envisaged an emotional narrative that speaks to individuality and our identity as (West) Africans. Instinctively I realized that to go on that path I would need to follow the journey of the young woman and not necessarily Mami Wata. Who was this woman? Where was she coming from? If I could find the journey of the young woman, then that would lead me to Mami Wata.
Guitar Boy, the classic song by Sir Victor Uwaifo about his encounter with a Mami Wata readily comes to mind.
Of course. And to my credit when I saw Mami Wata I did not run away…
Sir Victor Uwaifo's music appears in the film also. This was deliberate?
Absolutely, those who know, know. I did not want to use Guitar Boy because that would be too on the nose, but I also feel that Victor Uwaifo's style of music imbibes the style and aesthetic of the film. And if you notice the scene at the bar, we call the bar Joroma but it is obviously a node to this Joromi genre which he created.
Pidgin language, which is native to various communities in Africa, and the diaspora even, is central to the film's narrative.
For me it is about the history of Pidgin and how the language came to the West African region. Before even the slave trade, the West African coast was a commercial hub and people had to find a common language. Then we had the Europeans colonizing this region for hundreds of years. There had to be a common language and Pidgin morphed out of that necessity. There is a misconception that Pidgin is derived from English - and there is Pidgin English - but Pidgin is not necessarily a broken form of English. It is a mash up of several local languages including English. If you go to Delta state in Nigeria, the Pidgin is different from that spoken in say Ghana or Liberia. The idea of Pidgin as culture is what I wanted to reflect in the film, which is why as a Nigerian you will understand the Pidgin but will not necessarily call it Nigerian Pidgin.
Even when the film is specific to the West African region, it travels because there are versions of Mami Wata in several cultures that people can connect to.
We hope that it translates. You start from Nigeria, Benin Republic, rest of West Africa, Africa, the diaspora and beyond, because, like you observed, even non-Africans have a mermaid story. But they also have stories about their folklore, about spirituality and tradition. So, whether the mythology is Greek or Nordic or Celtic, you will find common themes.
You mentioned spending five years on this project…
That was just for the writing process. It took seven years to complete the film. I started writing in January 2016, and we premiered at Sundance in January 2023. I wrote about eight or nine drafts, maybe even 10. It started as a traditional genre film because I am a fan of genre and that was easy for me to do. But I soon realized I had put myself in a box. Looking back, I guess this maybe could have worked but that isn't the direction I was going for. I wanted to do something that had more layers of meaning. After trying and failing multiple times, I decided to destroy all those drafts and start from scratch. And this led me to the development labs like Ouaga film lab and Less is More.
The setting is such that the film appears timeless and could be happening anytime in the past, present or future.
This was always there from the beginning, even when it was still in the genre drafts. We had this line in the script where the description was, "set in a West African village frozen in time." I did not keep that line but that allowed me get into that world, and I think that is intricate to the story. I love period pieces, but I did not want to make one because I think there is something about them that can put up a chasm, and prevent the audience from going fully into the experience. The mind engages with stuff it finds relatable. We didn't want that for this film, and one way we went about this was with the symbols that are related to the present. And also, with conversations around modernity, such as wanting schools and hospitals, that are present in the film.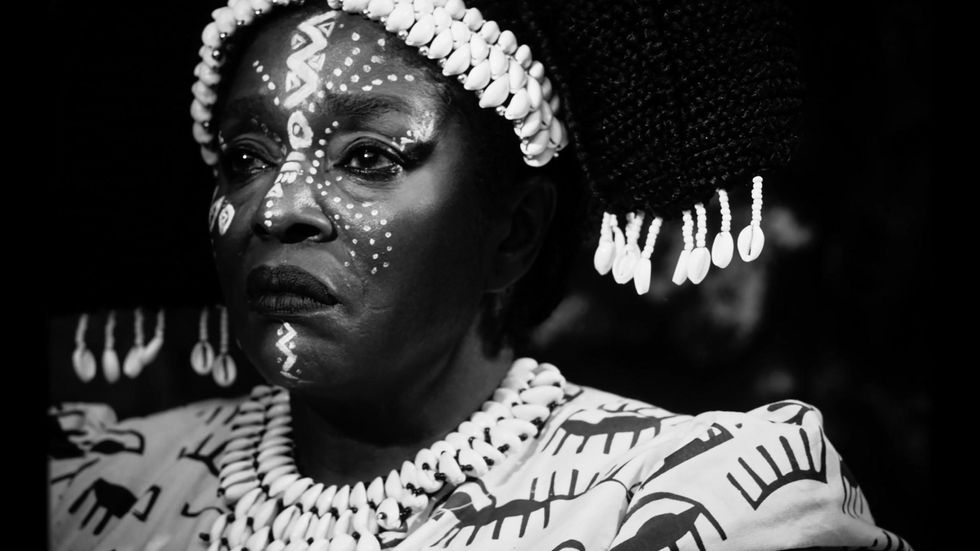 Nollywood veteran Rita Edochie stars in 'Mami Wata,' alongside Evelyne Ily Juhen.
Photo: The Sundance Institute
The performances are great but also framed and delivered in a certain stylized way. The lead, Evelyne Ily Juhen, is a revelation, and Rita Edochie who is a Nollywood veteran has such a strong presence.
I have always been a huge fan of Rita Edochie, from just watching her in stuff. She is someone who elevates whatever she is in. But I always felt like she could do a whole lot more. When MamiWata presented itself, and she agreed to do it, I was excited to try. It is actually the first time she is doing a project that is cinema and she is very proud of that, which makes me very proud. I remember when she first came on set for her costume and makeup test. She put them on and everyone on set went crazy, and this was just the screen test. In terms of the framing and the stylistic choices, these are things that were already rudimentary to the storytelling. How do you capture the intermediary between the people and the water goddess? How do you capture the people themselves? This is all rooted in the cinematography and the conversations I had with DOP Lílis Soares. We wanted a specific gaze to capture Africans, one that is more empathetic rather than sympathetic, which is usually the go to style whenever rural Africa is represented on film.
Not only is the cinematography amazing, but also, everything from production design to costumes, hair and makeup is stunning.
I am glad you said this because the cinematography is great, but it works because of all these other elements. They had to come together to make it work.
What were your influences for Mami Wata?
We watched a lot of stuff, I must say, but mostly to understand what not to do for our film. We did not have a lot of direct references for what we were trying to do so we were watching things and consciously eliminating them. On the other hand, we watched things that inspired us in terms of innovation, but even those were not directly related. We would watch western genre films and classics from Asia. There are a lot of African filmmakers that inspire me, and my favorite film of all time will always be Yeelen. It is a very different film from MamiWata but the thing I love about it is Souleymane Cissé's unabashed way of telling African folklore. That kind of audacity will always be influential to me.
You mentioned at the premiere that it was tough convincing people to back a MamiWata story because of the spiritual dimensions.
It was hard convincing investors. We actually had one who was interested in investing in my film but as soon as we said MamiWata, she actually said, "Holy Ghost fire," and sent us packing. This is not a joke. But with the actors, there was no push back. They had questions certainly, concerning what I was doing but they were mostly excited. The job as a director is to constantly reassure your collaborators that they are in good hands, and I am pretty good at that.