It was Drake that inspired a change of heart in the Swazi rapper 80 Script. 25-year-old Zolile Motsa met the Toronto superstar while he was in Johannesburg for a music video shoot (which would turn out to be the short film Please Forgive Me).
---
"He told us, 'Guys, I'm from Toronto, and when I go around the world, I always put Toronto out there. What I want to say to you guys is 'rep where you from. You have so much to be proud of,'" 80 recalls as I chat to him in the CBD of Manzini, one of Swaziland's major cities.
Whereas the ultimate goal for most Swazi musicians is to get South African recognition and thus relocate to the neighboring country, 80 plans to continue finding success in Swaziland.
He is, after all, the Kingdom's most promising rapper. "I feel like this is where I'm most celebrated," he tells me. "These are the people who are gonna elevate me to the heights I wanna reach. You can never go to South Africa and be better than their own. They have artists sitting on the bench waiting to get on next. So, for me to be an AKA, the only place I can do that is here."
Photo by Sabelo Mkhabela.
"The thing about Swaziland is that it's fertile soil," says 80. "Just like Swazi Jive, I saw a huge gap in the market. I want to take full advantage of it."
Swazi Jive is the company behind the country's biggest hip-hop gathering, Hipnotik Festival. It was on a Hipnotik stage in 2014 that 80 proved himself Swaziland's most promising rapper. He became that dude for hip-hop fans. He had just released These Are The Basics, an EP so solid and focused one wonders why it wasn't released as an album. (But then again, what's the difference between the two in the 21st century?)
Two years later, 80 Script is on the Hipnotik stage once again. Things are different this time. The festival is running behind, and his set is cut after two songs. Backstage, he tells me he was just about to perform his most popular song at the moment, "Call Me Already."
He's composed, though—as composed as he is the day I meet up with him in Manzini, a few days before the festival. Clad in a black t-shirt, faded blue jeans and a pair of black Jordans, one could easily think he's a regular young Swazi man. Maybe it's the two gold chains around his neck that sell him as a rap superstar about to headline his own show, The Soiree: My Silver Jubilee, at the classy Swaziland International Convention Centre. A few weeks after The Soiree, he'll go on to win two major awards (Best Male and Lyricist of the Year) at the inaugural Swazi Hip-Hop Awards in October.
We take a taxi to Malkerns, the small town 80 calls home. He's due there for a meeting in a studio. As we walk into the building where the studio is, he tells me about his plans outside of rap. They involve business and marketing, which he says he's passionate about.
80 comes from a business family. "I've seen all types of Bimmers, even saw a Bentley, even seen an Aston, even seen a Rolls, those were my granddad's/ so respect my last name or get ransacked," he raps on "The Aristocrats," a track off These Are The Basics.
The grandfather he raps about is one of the richest men in Swaziland, and one of 80's biggest inspirations.
After elaborating on his business plans ands dreams, 80 drops a bomb on me. His last rap project will be in five years' time, he mentions. "So, you will stop rapping after five years?" I ask. "I won't stop, I will finish," he says nonchalantly before he chats to the building's receptionist.
The studio's currently in use, so we take a walk to a nearby shop to buy some water and sweets. On the way, he expands on his five-year plan. It's an eight-year plan actually—he's already three years deep. "I plan to release a project every year," he says.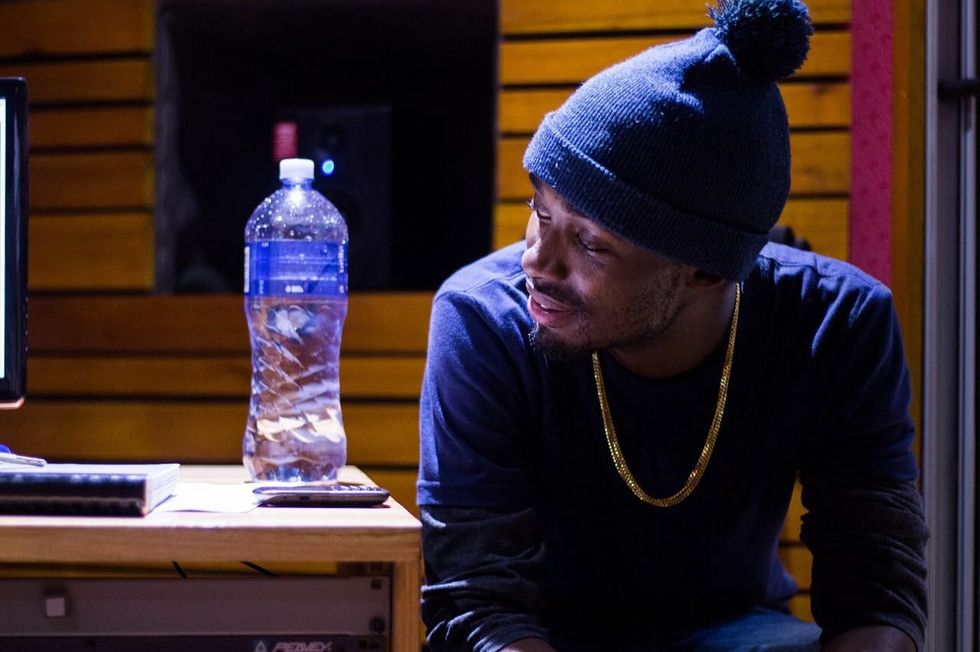 Photo by Sabelo Mkhabela.
He plans to approach each project differently—like he has with his previous two (2014's These Are The Basics and 2015's You Do The Dishes) and That Of Greatness, the album he's currently working on.
"All my projects will have a personality of their own. The way Kanye does it," he says. He reveals These Are The Basics' main focus was rapping. And oh boy does he rap on the project. "With You Do The Dishes, I played around a lot with the hooks," he says, adding that he worked with a number of producers, including Swaziland's Rendition and the South African-based C-Tea.
"I'm also introducing an African vibe into my music," he tells me of his new album. "It's gonna have dance tunes and the message will be happier because I'm in a happy space. I've also got some R&B songs. And obviously to cater to my day-ones I will have the rap songs."
80's sure of himself and his ideas. I ask him to break down the concept of greatness. His response is erudite and spontaneous. "For me, greatness is stretching it beyond imagination. The imagination here at home unfortunately doesn't go too far," he says.
"That of Greatness" was originally a track off of a mixtape 80 did with a friend during his high school days. The song was supposed to develop into a full project, but when his mate quit rap, 80 took it upon himself to carry it forward.
This idea of "greatness" extends to his personal brand as well. He tells me he once shot a music video but wasn't happy with the final product, so he canned it. "Even on Twitter," he says, "I keep my personal life away from the public eye. You won't see me going on about who I'm dating."
After his Soiree concert, a number of fans gave 80 Script the nickname "Swazi Mega," after South African rap superstar AKA's Supa Mega nickname. Just like AKA, 80 Script is breaking new ground that not many before him have reached.
Sabelo Mkhabela is a writer from Swaziland, currently based in Cape Town. He also drops award-winning tweets as @SabzaMK.