Obama has appointed Nigerian-American Adewale "Wally" Adeyemo his new Deputy National Security Adviser for International Economic Affairs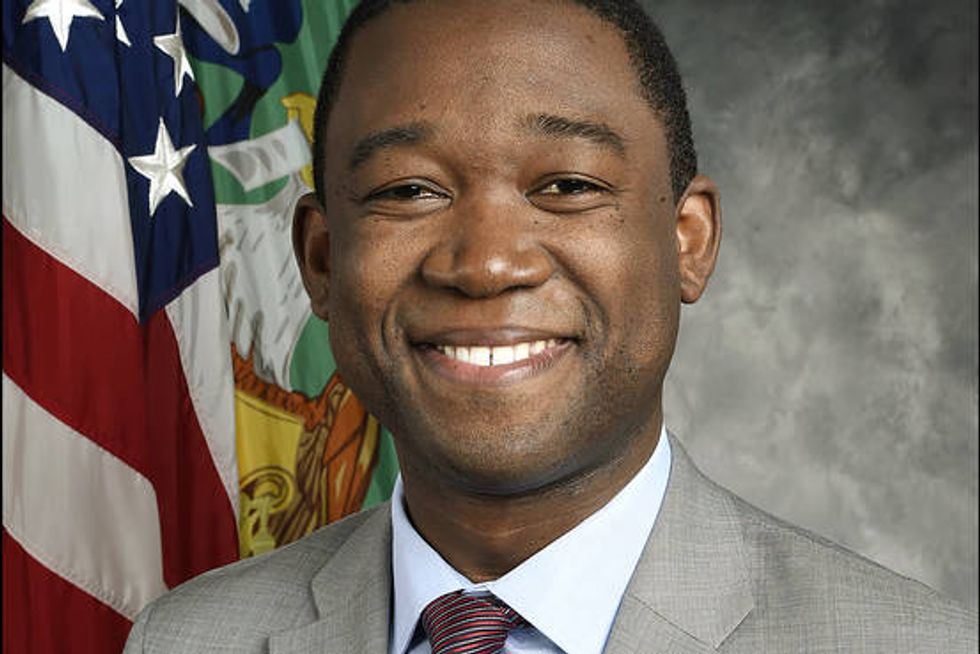 There's a Nigerian in the White House.
President Barack Obama has appointed Adewale "Wally" Adeyemo to be his next Deputy National Security Adviser for International Economic Affairs. He'll succeed Caroline Atkinson, who's held the post since June 2013.
Adeyemo, 34, has served various positions in the U.S. Treasury department since 2009. After becoming the Treasury's Deputy Chief of Staff to Secretary Jacob Lew in 2012, he joined the White House's National Economic Council as deputy director this fall. He was the Treasury's lead negotiator on the currency agreement that was part of the Pacific trade deal and also worked on the Treasury's response to crises in Ukraine and Greece, the Wall Street Journal reports. In 2010, he was one of the first officials charged with standing up the Consumer Financial Protection Bureau.
Adeyemo, a second-generation Nigerian-American who grew up in the Inland Empire region of Southern California, gave special thanks to his parents in a statement to the Senate Committee on Banking, Housing, And Urban Affairs:
"While they could not be here today, I want to acknowledge my father and mother who immigrated to this country in search of the American dream and the opportunity to give my brother, sister, and me a better life. They have worked hard, as an elementary school principal and a nurse, to give tremendous opportunities to their children, but along the way, they have instilled in us the values that guide us every day. They often remind us that this country affords the chance to do anything we wanted if we work hard. And they have taught us that we have a responsibility to serve the community and the country that has afforded them so many opportunities."
He also spoke on Nelson Mandela's legacy and impact on his own childhood dream to serve in government:
"This desire to instill the value of service in me led my father to wake me early on the morning of February 11, 1990, to watch as Nelson Mandela was released from prison. Although the images on my television were of a reality thousands of miles from our home in California, I could feel the hope Mandela inspired not only in South Africans but also in my father. Watching Nelson Mandela go from prisoner to president and start the process of bringing together a country was more than inspirational, it motivated me to imagine how I could use public service to improve the world around me. And it continues to remind me that events far from home can make a meaningful difference in the lives of Americans."
Prior to joining the Administration, Adeyemo, who attended Berkeley undergrad and Yale Law, served as an Editor for the Hamilton Project at the Brookings Institution from 2008 to 2009.
The President's statement on Adeyemo's Deputy National Security Advisor selection reads:
"I am grateful that Caroline's work will be carried on by Adewale 'Wally' Adeyemo, who has served in my administration since 2009," Obama says in a White White statement. "At the Treasury Department, he was part of the team that helped coordinate our response to the global recession, laying the foundation for renewed growth at home and abroad. He helped establish the Consumer Financial Protection Bureau, and he's been our point person on a range of international economic issues, including negotiations on strong currency agreements around the Trans Pacific Partnership. I will be calling on Wally's intellect, judgment and dedication as we sustain America's global economic leadership, which reinforces our national security, and as we work with allies and partners around the world to create jobs and opportunity for all our people."
Keep reading...
Show less