Promote
Apr. 03, 2013 01:49PM EST
View a collage compilation of current fashion trend bag style clutches in our series You Need It Bubu.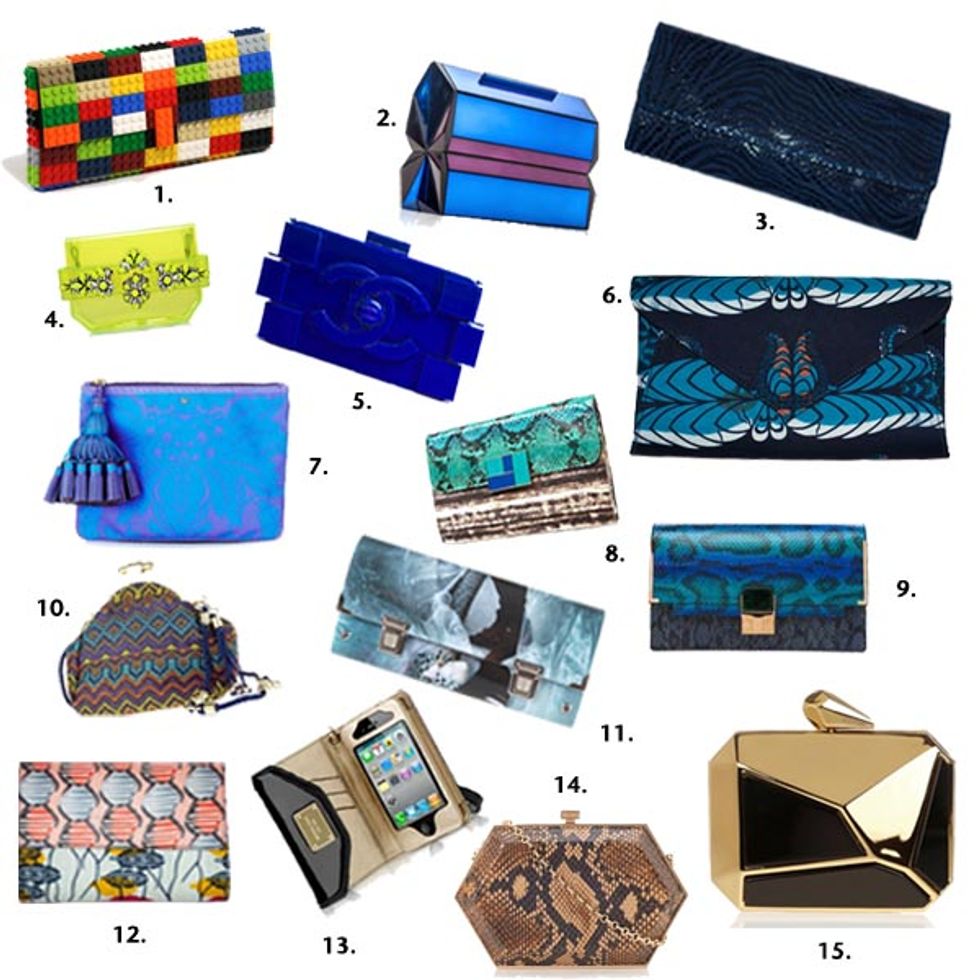 A tiny bag with no handle, the clutch contains what you always need at your side — it carries those few essentials (money, touch-up makeup) every woman needs to make it through the day. The focus here is on style, so don't expect too much space. Bag ladies: leave your three pairs of shoes at home, we're sure that you'll appreciate a lighter bag! For the first collage in our You Need It Bubu  series, we've compiled some selections of this must-have item encompassing in different designs and price ranges. You can find some of these clutuches at the Okayafrica store.
———————————————————————————————————————————————————————————————————————
1. Agabag, Multicolor Clutch, 182$ - agabag.com 2. Rauwolf, Sapphire Classic Faceted Clutch, 2480$ - modaoperandi.com 3. Okayafrica, Sapphire Tiger, 50$ - shop.okayplayer.com 4. Shourouk, Neon Yellow Clutch, $770-1160, available at Grethen House, 952.926.8725 5. Chanel, Blue Lego,7100$, contact chanel.com 6. Okayafrica, Nights of Teal, 45$, shop.okayplayer.com 7. Anya Hindmarch, Courtney Damask, 395$, anyahindmarch.com 8. Duro Olowu for JC Penney, Canvas & Faux Snakeskin Foldover, 30$, jcpenney.com 9. Lanvin, Blue Elaphe, 3400$, net-a-porter.com 10. Duro Olowu for JC Penney, Tapestry Handbag, 30$, jcpenney.com 11. Spanaki, Double Clip Clasp, 85$, spanaki.bigcartel.com 12. Okayafrica, Sherbet Helix Clutch, 40$, shop.okayplayer.com 13. Michael Kors, Iphone Wristlet, 79$, michaelkors.com 14. Be & D, Kumamoto, 199$, bandd.com 15. Kotur, Pearce metal and Perspex octagonal clutch, 390$, fashion2us.com
Keep reading...
Show less