Swazi-born actress Noma Dumezweni has been cast as Hermione Granger in the London West End reimagining of Harry Potter.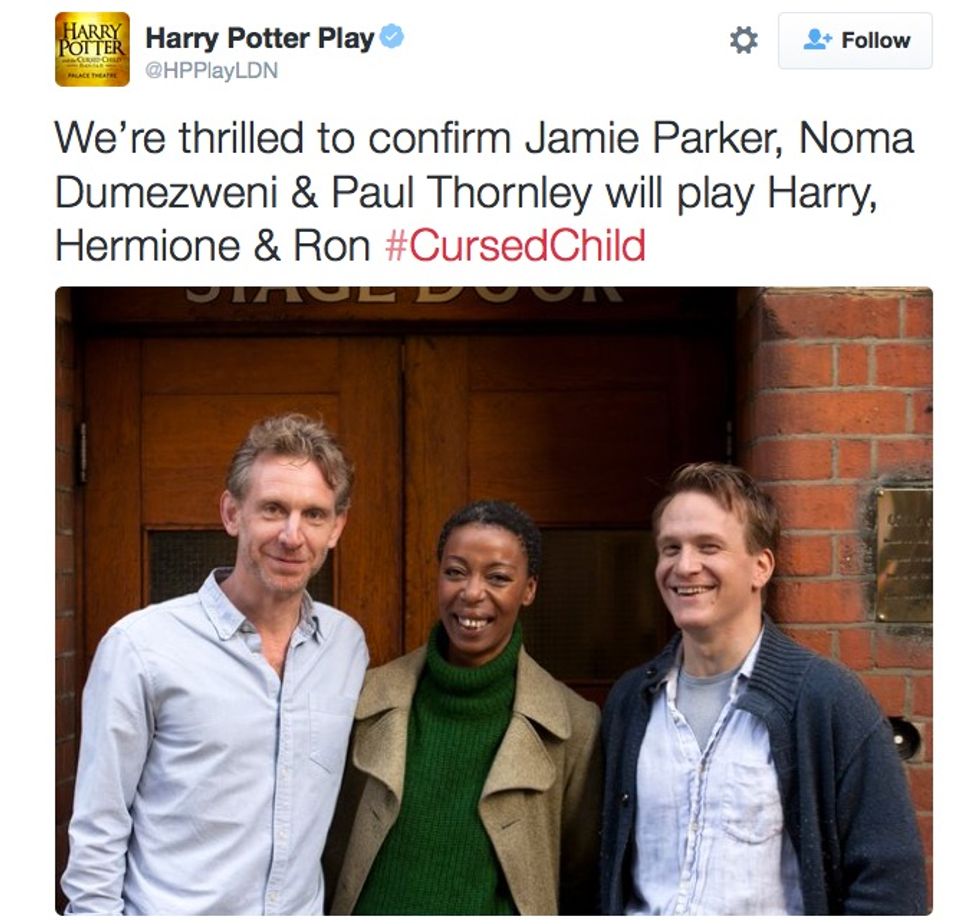 Amazing news from London's West End. In the forthcoming stage reimagining of Harry Potter, Hermione Granger will be played by the Swazi-born Noma Dumezweni.
Titled Harry Potter and the Cursed Child, the Palace theatre production is based on an original story written by Jack Thorne (the play's writer), John Tiffany (the play's director) and Harry Potter creator JK Rowling. The show will open in July 2016 as a two-part play intended to be seen in order on the same day (matinee and evening) or on two consecutive evenings. Dumezweni will star alongside Jamie Parker (as adult Harry Potter) and Paul Thornley (as adult Ron Weasley).
The story is set 19 years after the book series ended, and casts Potter as an overworked employee of the Ministry of Magic, a husband and father of three. A synopsis on the play's website explains:
"While Harry grapples with a past that refuses to stay where it belongs, his youngest son Albus must struggle with the weight of a family legacy he never wanted. As past and present fuse ominously, both father and son learn the uncomfortable truth: sometimes, darkness comes from unexpected places."
Born in 1969 in Swaziland to South African parents, Dumezweni, 45, moved to England at a young age. Her work in the 2005 London West End revival of A Raisin In The Sun won her the 2006 Olivier award for best performance in a supporting role. In February, she'll make her directorial debut with South African writer and playwright Mongiwekhaya's I See You at the Market Theatre in Johannesburg.
Last month, Dumezweni was heralded for stepping in last minute to fill the title role in Penny Skinner's Linda after Kim Cattrall withdrew. The actress had just one week to prepare before press night. Speaking with The Guardian on how she managed to pull it off, Dumezweni brought up her South African upbringing:
"I met the company on Friday afternoon, read with them and was blocked so I knew where to move... They said: 'Don't worry, just read it.' So I had my script on stage until the beginning of last week. What's been amazing is I haven't had time to think about it. And the company has been extraordinary. I'm from a South African background and there's this phrase – ubuntu – 'I am because we are'. And that's what this is about."
With one fell tweet, JK Rowling expressed her approval of the casting and dismissed any of the impending backlash: "Canon: brown eyes, frizzy hair and very clever. White skin was never specified. Rowling loves black Hermione"
Canon: brown eyes, frizzy hair and very clever. White skin was never specified. Rowling loves black Hermione ? https://t.co/5fKX4InjTH — J.K. Rowling (@jk_rowling) December 21, 2015
Some of my favourite Hermione fanarts next to our new Hermione! pic.twitter.com/80bIkcLBMJ — alice in wonderland (@alwaysdragxns) December 20, 2015
The lead actors are cast for @HPPlayLDN! Here's what @jk_rowling had to say: https://t.co/PDkUmP3jdr #CursedChild pic.twitter.com/RmfJO7lZ3k — Pottermore (@pottermore) December 21, 2015
Keep reading...
Show less