News
Oct. 28, 2014 11:20AM EST
Cameroonian poetry slam champion and author Pages Matam talks African writers, identity, Cameroon and much more with Hannah Giorgis.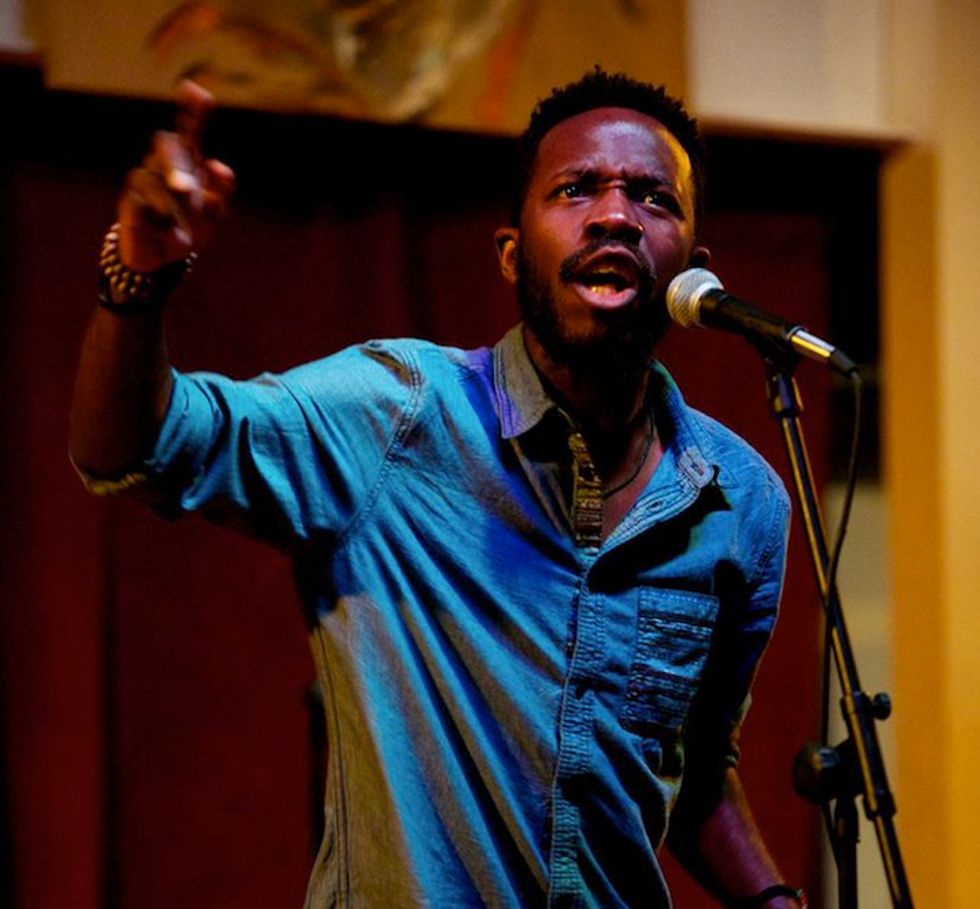 Photo via Pages Matam
Pages Matam is a Cameroonian poet, artist, educator, playwright and event organizer. He is a WriteBloody author and 2014 National Poetry Slam champion, and the recipient of numerous other awards for his work spanning education, violence and abuse trauma work, and youth advocacy. His collection of poems and short stories, The Heart Of A Comet, was published last month. Among other community roles, Pages is a cultural ambassador in the "Immigrants Contribute" campaign of the Office of Human Rights of D.C. and a teaching artist and assistant coordinator of youth programs at Split This Rock, which uses poetry to foster social change. He also leads workshops on creative writing, visual and performance art therapy for youth dealing with trauma. Pages has opened for Chrisette Michelle, Raheem DeVaughn, and Afrika Bambaata, and has shared the stage with Common, Mos Def, Rosario Dawson, Amiri Baraka, Sonya Renee, Sunny Patterson, Rudy Francisco, Saul Williams, Black Ice, Ainsley Burrows, Joshua Bennett, and many others. I caught up with him to talk poetry, identity, Cameroon and African poets, and much more.
Hannah Giorgis for Okayafrica: Tell me a little bit about yourself. Where were you born? Where do you consider home? What language do you curse in when you are the angriest?
Pages Matam: I was born in Yaounde, Cameroon. I lived between Africa and Europe for a bit, then immigrated to the U.S. when I was about 11 years old--first to Northeast DC, but I've been living around different parts of Maryland and such since then. I am a gummy bear elitist, bow tie enthusiast, anime fanatic, professional hugger. I consider home wherever there are people filled with love ready to welcome me. I've found home in many places I never thought I would, but I definitely identify with Cameroon being home before anything else. When I am the angriest, I curse in English.
OKA: When and how did you first start writing poetry?
PM: I wrote my first poem in English, in middle school. I had a crush on a girl, so I wrote her a poem after an episode of Power Rangers where the yellow ranger fell in love with this 16th-century French poet who wrote her a poem. And I was like, "Oh shit, you can write poems and girls fall in love with you...bet." [laughs] Pages wasn't born until years later...
OKA: When did you decide to start going by Pages? How did you come to that decision and what has been the response to it?
PM: I was first given the name Pages in high school while part of the poetry club. I used to write a lot, these 5-6 page poems. So a friend was like you should be "Pages" because you write so many pages. I said okay, then I thought I was cool and made an acronym of it. It stood for "possessing artistic gifts eloquently spoken." The acronym stopped holding weight by the 11th grade because it was corny, but I went by Pages, no acronym, and left it at that.
Honestly, I love it way more than my actual first name, Patrick. I always hated my first name. All my siblings had dope traditional names, and a lot of my friends and other family growing up. I had Patrick—so white and Irish. Pages kinda became another place of safety for me, the first name I ever owned where I could write my story and vow that no one else will do that for me. A lot of people believe it is my actual first name...which for me in a lot of ways it is. I don't go by Patrick anymore, and I don't enjoy particularly people calling me that.
OKA: What does poetry mean to you? What does it allow you to express that other parts of your life might not?
PM: Beyond a means of expression, it is a mirror. It is where I go to truly experience all of me. It is healing, it is unbecoming, it is letting go while simultaneously holding on. It is the bridge to all of the parts of me I wished to forget. Poetry takes me to the hard places, allows me to confront them and come out at the other end still alive and ready for the next breath.
OKA: Where do you draw your inspiration?
PM: From anything and anyone--as of late though, I've been garnering a lot of my inspiration from my deep desire to reconnect with my identity, my culture and such. For so long I didn't write about that part of me, or I didn't write poems about me, or honest poems because again that fear of putting myself out there, being rejected, or giving myself to people that will end up not cherishing it. But of late I've been writing hella African ass poems and poems about me overcoming depression, and my trauma, and my healing. Some poems I will share, most I won't.
OKA: Do you feel tension as a Cameroonian poet who writes and performs mainly in English? If so, how do you negotiate that?
PM: As much as E.E. Cummings is my favorite poet, I'm tired of him, Shakespeare, and all these other whitey white ass poets...give me black and African poets. Give me Chimamanda and Yusef and reading Chinua [Chinua Achebe] on Okonkwo and Iyeoka Ivie Okoawo. English is unfortunately one of our two national languages in Cameroon (shoutout to colonization). But I do feel this sort of angst or grief sometimes that I cannot write in the native tongues. I can speak them but can't write in them, I know some words and I can write them phonetically but language existed way before pen and paper, the written word is way young. Language got passed down through communication, or "Eyala" (which means "to communicate" in Douala, which is one of the tribes I am from on my father's side).
OKA: How has your community responded to your poetry? How do you define community?
PM: Community is the same way I define home, which is the same way I define love, and all three can be used interchangeably. The community has responded well to my poetry over the years. If it wasn't for the community I wouldn't be where I am today. I am constantly in a conflict though, community hasn't always felt safe. Part of community is understanding that there will be challenges, but how we come together to overcome and learn from them is important. Every poem I write has a life of its own, its own little community it creates and/or grows every time I read/perform, or someone else does. That's the whole point of what I do: to connect with people, and empathize and show that there is someone out there who cares and is able to reach out even when it feels the whole world doesn't.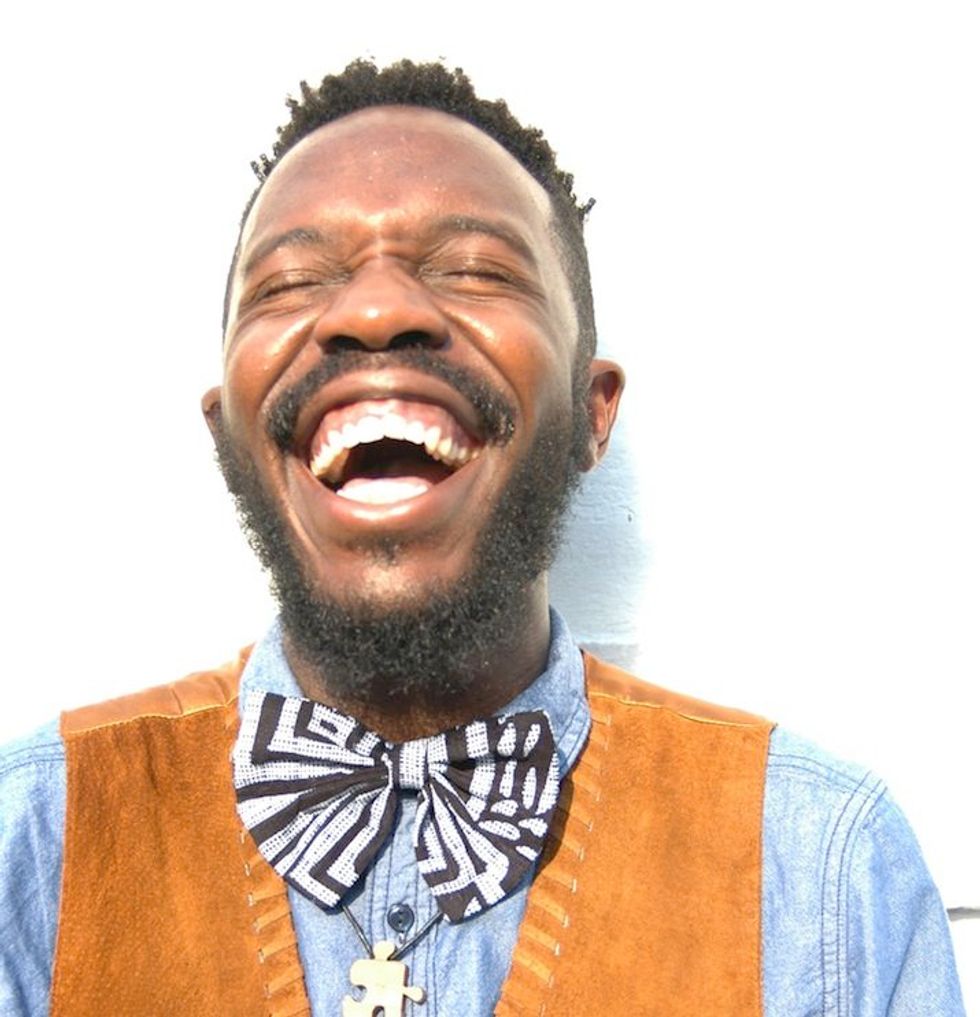 OKA: Who do you look to as a role model, or "possibility model," as an African writer?
PM: Chimamanda [Ngozi Adichie] definitely; I knew her work even before she got all Beyoncé famous. Also Yusef Komenyaaka, Warsan Shire, and honestly a lot of my dope ass friends I know that are African and writers like Safia Elhillo; she is super dope. Ainsley Burrows is Jamaican; I fuck with his work a lot. Alephonsion Deng is also dope. I feel like I should say Chinua [Achebe]. He was the first African writer I was formally exposed to, though I would say the first African writers I was really exposed to were all musicians like Richard Bona. His music and the way he writes it is absolutely incredible. And Les Nubians--they are my favorites, French Cameroonian just like me, too. I'm really digging Nayirah Waheed's work too; I just got into it, but Salt and Nejma are powerful. Binyavanga Wainaina, and Iyeoka Ivie Okoawo, too. Honestly, my mother and my sister Joelle-Ines--they are incredible, hard-working women of faith; they inspire me every day. Marc Bamuthi Joseph is also someone whose work and person I greatly admire and hope to one day produce things as powerful as he does. Oh, and Kanye West--definitely Yeezy, his fearlessness as an artist and a person, dope.
OKA: What's the most dificult poem you've ever written? What made it so hard? What range of emotions did it take you through?
PM: "Piñatas" and the Nina Simone poem I wrote. "Piñatas" took me through fear, sadness, sacrifice, confusion, a challenge to finally begin facing my own trauma. The Nina Simone took me through a lot of fear sadness, confusion, and feeling like ready to give up...the last bit of rage I had in my body readying itself to potentially evolve into hope. And I still haven't even gone in with "Piñatas" like I wanted to--still afraid of judgment and being looked at a certain way, people not thinking it is real or it doesn't happen to a man. The Nina Simone piece I started 3 years ago and could never finish it...until Mike Brown happened. The poem called out to me and wrote itself.
OKA: How have you tried to make sense of different understandings of Black/African masculinity in your work?
PM: By understanding and accepting that is layered and complex...because I am human. I do not have to subscribe to traditional and societal standards whether African or U.S., just be me. A lot of that has come out through my latest work.
OKA: Tell me about your book, The Heart of a Comet. What was the process of writing and editing it like? How does it feel to be sharing it with the world?
PM: The Heart of A Comet is a collection of poems and short stories. It reads like a novel and tells the story of Comet, the main character who fell from the sky and is on a journey of purpose. In essence the book is one big allegory, or an extended metaphor for my life. Writing felt rigid...a little tough, editing was a nightmare most of the time, and I sat on the book for like a year. But the theme and concept never wavered, I like a lot of stuff on astrology and celestial things.
A comet is actually a cluster of rocks frozen over and ice and such, not a ball of fire. Everyone thinks it's a ball of fire because it appears so but actually the thing that surrounds it and causes a tail to appear is called a coma, which is created when a comet falls close to the sun or when close to a planet's atmosphere. All my life I've always felt like a comet. Everyone only sees me for what they think is the fire and the warmth that surrounds me when in fact I've always felt so cold and hard on the inside. So the heart of a comet is a journey of purpose at figuring out what truly lies there: what am I to be when I crash-land, what impact do I make, what beauty do I resonate, how am I making a difference. It was my first attempt and follow-through at self care and truly loving myself in the most holiest and holistic of ways--all of me: the good and bad, the light and blazing coma, and the cold and hard place inside. All of it.
OKA: Where is your tour going to take you? What else is coming up?
PM: I've moved on from The Heart Of A Comet already because it did its purpose. My tour takes me around to connect with people. I want to continue teaching and do this traveling, teaching artist thing. I enjoy workshops even more than performing now. I'm so excited to grow as a writer, a person, an educator, someone who believes and has faith in himself and what he creates.
Hannah Giorgis is the daughter of Ethiopian and Eritrean immigrants and a product of bittersweet diaspora. She is a black feminist writer and organizer based in New York City, and a regular contributor to The Guardian US's opinion section. You can follow her on twitter @ethiopiennesays or on her blog, Ethiopienne.
Keep reading...
Show less