Download a new Africa In Your Earbuds mixtape of African music from DC's Sol Power All-Stars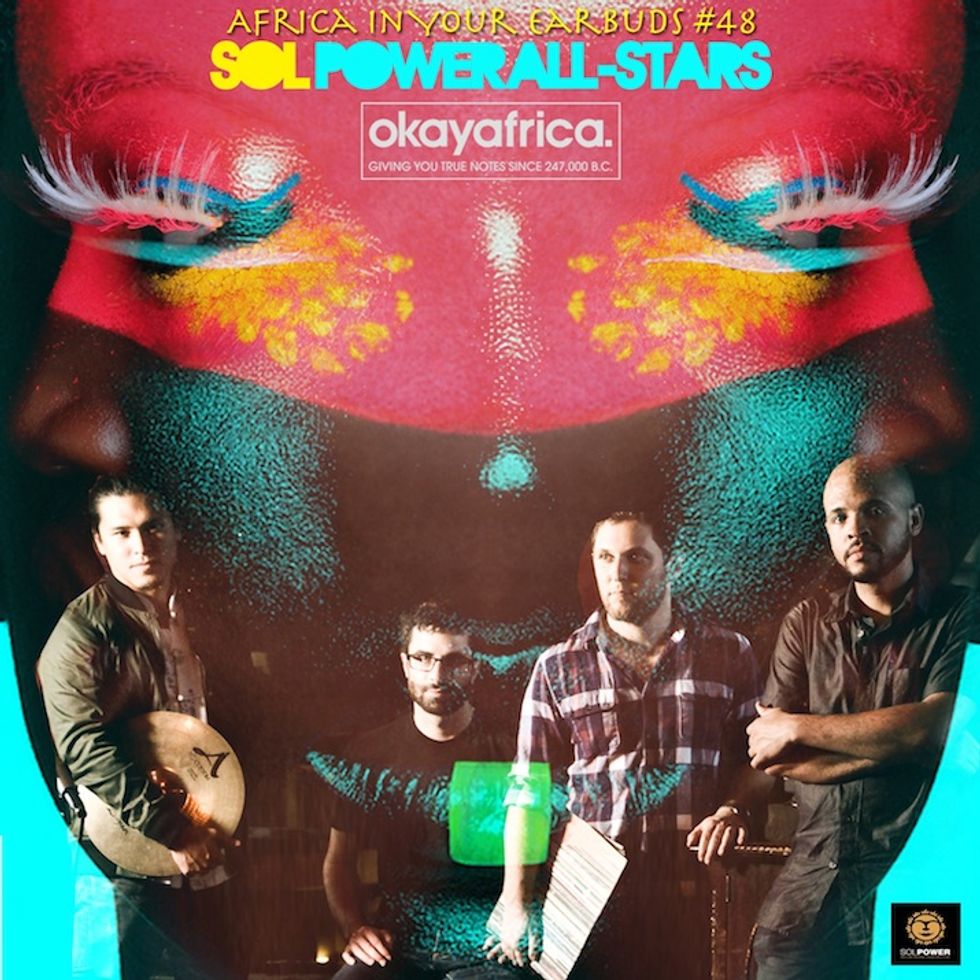 Washington, DC's Sol Power All-Stars are a diaspora dance collective comprised of spinners DJ Meistro, DJ Deep Sang and DJ Stylus alongside percussionist Hermon Farahi. Its four members typically pull sounds influenced by Cuban beats, Lagos discos, and Rio de Janeiro beach parties when crafting their infectious live sets.
For this installment of Africa In Your Earbuds the Sol Power All-Stars deliver one of the most summer-appropriate mixes we've heard this season, featuring sunshine rhythms and dancefloor remixes from Four Brothers, Orchestre Poly-Rythmo, and Cheick Hamala Diabate as well as their own compositions. Sol Power told us a little about their tape:
This mix reflects our tastes and live DJ'ing style, which is a blend of classic, vintage and organic African diaspora sounds along with new tracks for the modern dancefloor. We love connecting the dots, exploring regional traditions, smacking up parties and flipping sweet boots from old records.
Stream and download AIYE #48: Sol Power All-Stars below, shout-out to Underdog for the cover artwork! Follow Sol Power on Facebook / Twitter/ Soundcloud.
TRACKLIST
01...Four Brothers - Rudo Imoto (Meistro Sol Power Bump)...Zimbabwe
02...African System Orchestra - My Dear Mama (Meistro Sol Power Remix)...Nigeria / Cameroon
03...Sofrito Specials - Rift Valley Groove (Tropical Treats edit)...Kenya?
04...Orchestre Poly-Rythmo - Ne te fache pas (Whiskey Barons edit)...Benin
05...Sol Power All-Stars - Catch Monkey (2 am Dub)...Nigeria / USA
06...Da Lata feat Diabel Cissokho - This is Not Your Job (Da Lata House Mix)...UK / Senegal
07...Sol Power All-Stars - Afrika Afrika...Senegal / USA
08...Bunny Mack - Supafrico (Jose Manuel Edit)...Sierra Leone
09...Eufórquestra - Ogun (Danny Massure Remix)...USA
10...Bosq of Whiskey Barons feat. Kaleta - More Heavy...USA / Nigeria
11...Keyboard Masher - Tcham Tcham (Remix of Andre Maria Tala)...UK / Cameroon
12...Atakora Manu - Bebo Me Nkomo (Sol Power All-Stars Remix)...Ghana
13...Thornato - Marimba....USA
14...DJ Mumia feat. Gari Sinedima - Naua Naua (Original Afro)...Angola
15...DJ Aka M - Bayeye...Angola
16...Blick Bassy - Massé (DJ Stylus Sol Power Edit)...Cameroon
17...Cheick Hamala Diabate - Fatou Kounkoun Sissoko (Sol Power All-Star Remix)...Mali
Like African music? Previously on Africa In Your Earbuds: DJ NUNAS, NIC OFFER OF !!!, LARRY ACHIAMPONG, KYLA-ROSE SMITH OF FRESHLYGROUND, THE GTW, RADIO TANZANIA, JON THEODORE, DESMOND & THE TUTUS, MATHIEU SCHREYER II, YOUNG FATHERS, BBRAVE OF AKWAABA, OLD MONEY, DJ NEPTUNE, SAHEL SOUNDS, BEATENBERG, M1 [DEAD PREZ], BODDHI SATVA, L'AFRIQUE SOM SYSTEME, NOMADIC WAX, THE BROTHER MOVES ON, LV, BEN ASSITER [JAMES BLAKE'S DRUMMER], JAKOBSNAKE, CHRISTIAN TIGER SCHOOL, SAUL WILLIAMS, TUNE-YARDS, MATHIEU SCHREYER, BLK JKS, ALEC LOMAMI, DJ MOMA, AWESOME TAPES FROM AFRICA, PETITE NOIR, OLUGBENGA, RICH MEDINA, VOICES OF BLACK, LAMIN FOFANA, CHICO MANN, DJ UNDERDOG, DJ OBAH, SABINE, BROTHA ONACI, DJ AQBT, JUST A BAND, STIMULUS, QOOL DJ MARV, SINKANE, CHIEF BOIMA
Keep reading...
Show less