Watch the music video for "Claire," the first single off Nigerien rock band Tal National's forthcoming 'Zoy Zoy' LP via FatCat Records.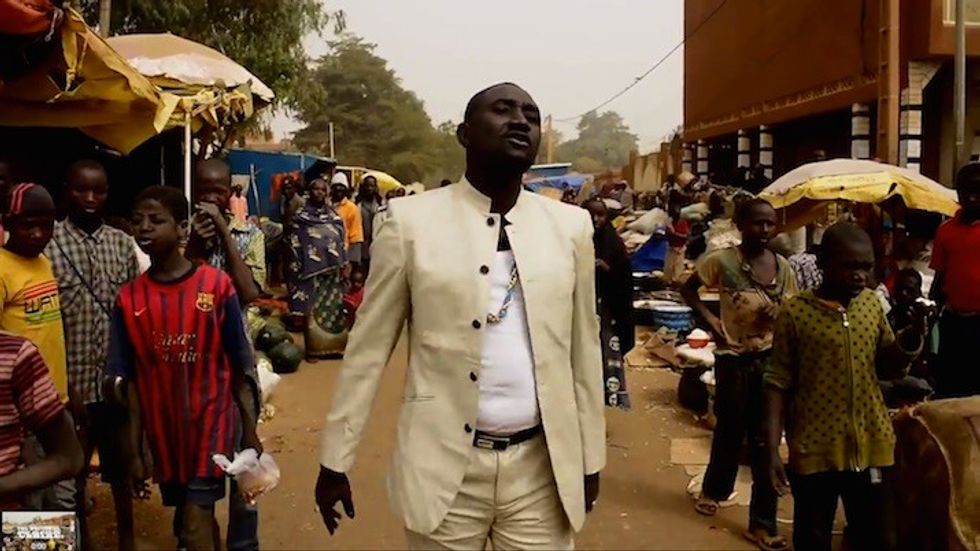 ---
Following the international success of their previous album Kaani (2013), Niger-based rock collective Tal National will drop their forthcoming LP Zoy Zoy this spring. Today, we premiere the group's music video for "Claire," the lead single off that new record. The Flo and Frederic-filmed visuals for the track show Tal National vocalist Massaoudou walking through a bustling city, singing in his warmly scrappy voice while swaying to spiky guitars and quick drums alongside groups of children. Tal National founder/guitarist Almeida also makes an appearance, cheering his bandmate on and then joyfully listening to another.
Zoy Zoy was recorded in the Niger capital of Niamey, where Chicago-based engineer, producer, and musician Jamie Carter (who also worked on Kaani) held sessions in a non-traditional Niger studio. A sense of ongoing creation seems to have been in the making of the record as "the band would record all day, then head out at night for more lengthy performances, bringing the energy of each night's show back to the studio," a press release mentions. Zoy Zoy, which mixes together original compositions and renditions of West African folk songs, will drop April 14 via FatCat Records. Tal National, who can number up to thirteen members in performance, will go on a North American tour this spring and fall. For those in NYC, the group will be playing Pace University's Schimmel Center on April 2. In the meantime, watch the video for "Claire" below.
Zoy Zoy Tracklist
1. Zoy Zoy
2. Koana
3. Claire
4. Say Wata Gaya
5. Farila
6. Tenere
7. Kodaje
8. Saraounia